Mum and I have visited a European Christmas market every year for the last 12 years or so. Having become somewhat something of a Christmas Market connoisseur, I've put together my guide to the Top 5 Christmas Markets in Europe.
While a lot of people think visiting Christmas Markets is all about shopping, for me it's the food and drink that draws me in. Every one of these markets has the evocative smell of mulled wine wafting through the air. Depending on the location, this often mingles with the scent of hot sausages, roasting chestnuts or melted cheese. Over the years, we have worked our way through countless mugs of glühwein, along with hot chocolate mit rum, bratwurst, waffles, gulaschsuppe, crêpes, raclette, tartiflette and, one of my favourites so far, hot wood-smoked salmon.
What I really love about visiting these markets in mainland Europe is that they are social hubs. While during the day the markets are full of tourists, it is after dark when the markets truly come alive. This is when locals venture out after work, to meet up with friends, for a steaming mug of vin chaud and hot food. There's always a lovely, sociable atmosphere and a festive spirit in the air.
Here's my guide to the Top 5 Christmas Markets in Europe
Basel, Switzerland
Although the Christmas Market in Basel is the largest in Switzerland, it doesn't feel anywhere near as large as some of the markets in German cities such as Cologne or Munich. The markets in Basel are located in two squares, with just a short walk in between. One is in the heart of the shopping area at Barfüsserplatz; the other is in the old town at Münsterplatz. Approximately 180 stalls sell a wide range of products including jewellery, Christmas decorations, clothing, crafts, sweets and treats.
The market in Barfüsserplatz had a lovely cosy feeling, with lots of stalls crammed into the small square. Aside from the various hot food and glühwein on offer at the market stalls, there are a couple of pop-up wooden restaurants serving rösti, raclette and, that other Swiss classic, fondue. These little restaurants are extremely popular, so reserve ahead if possible.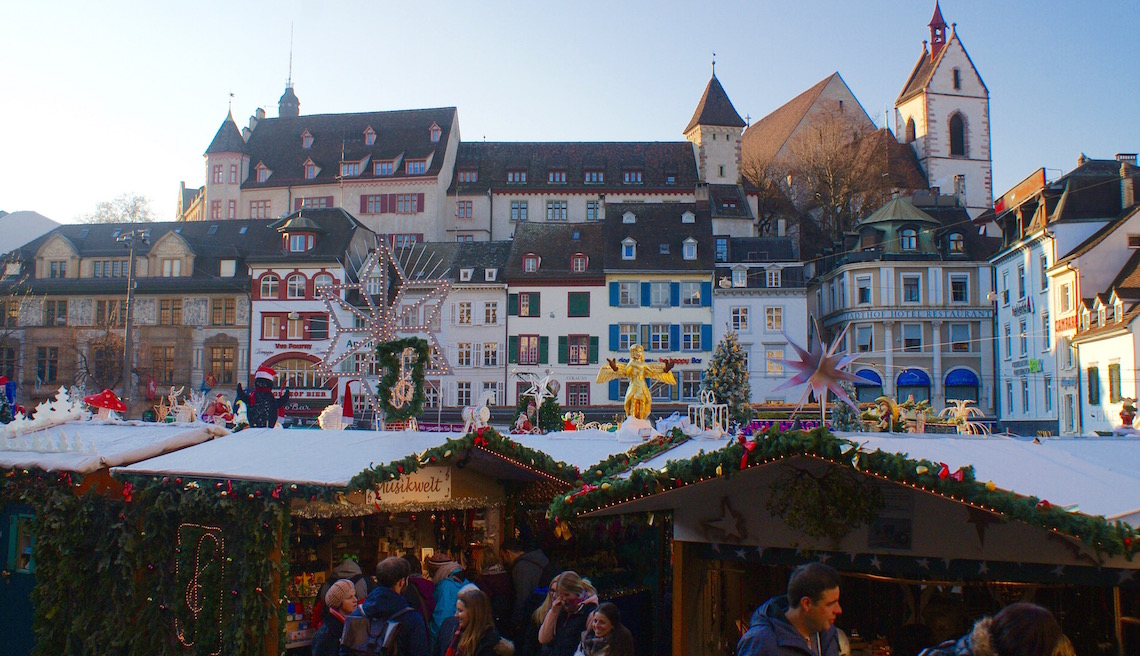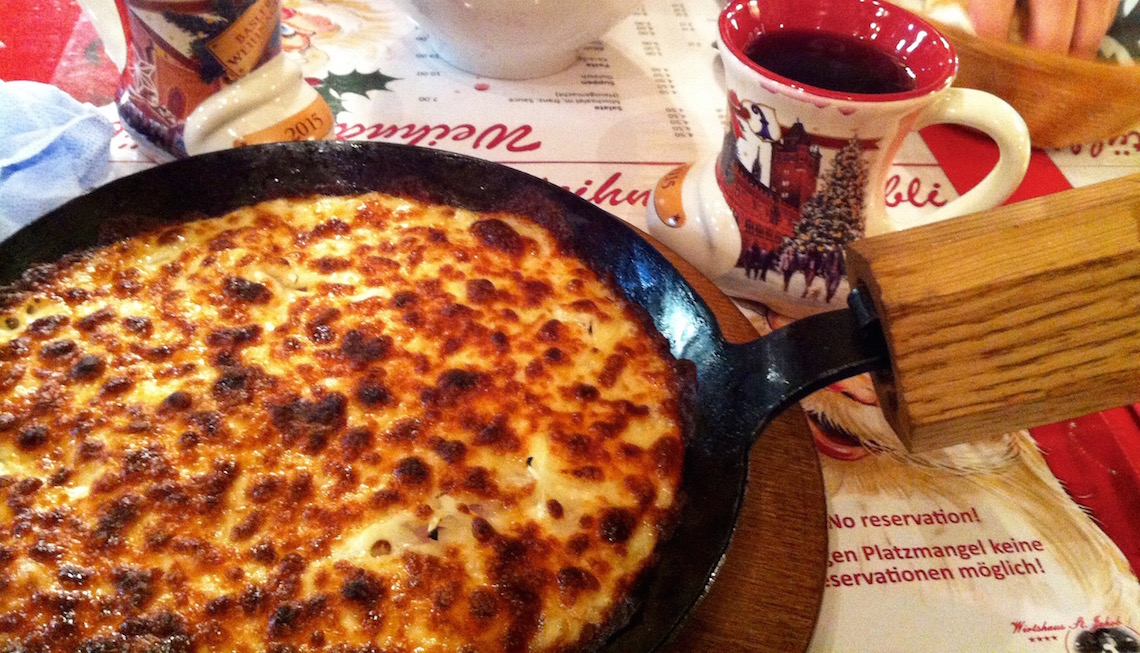 The Münsterplatz market sits next to the cathedral. There's an enormous Christmas tree and it's surrounded by beautiful buildings. My foodie highlight was the hot salmon smoked over fire, in one of the wooden chalets. This is served al fresco with two different sauces, shredded lettuce and delicious potatoes. It was lovely to catch a choir singing carols in this market, as well as randomly popping up on streets around the city.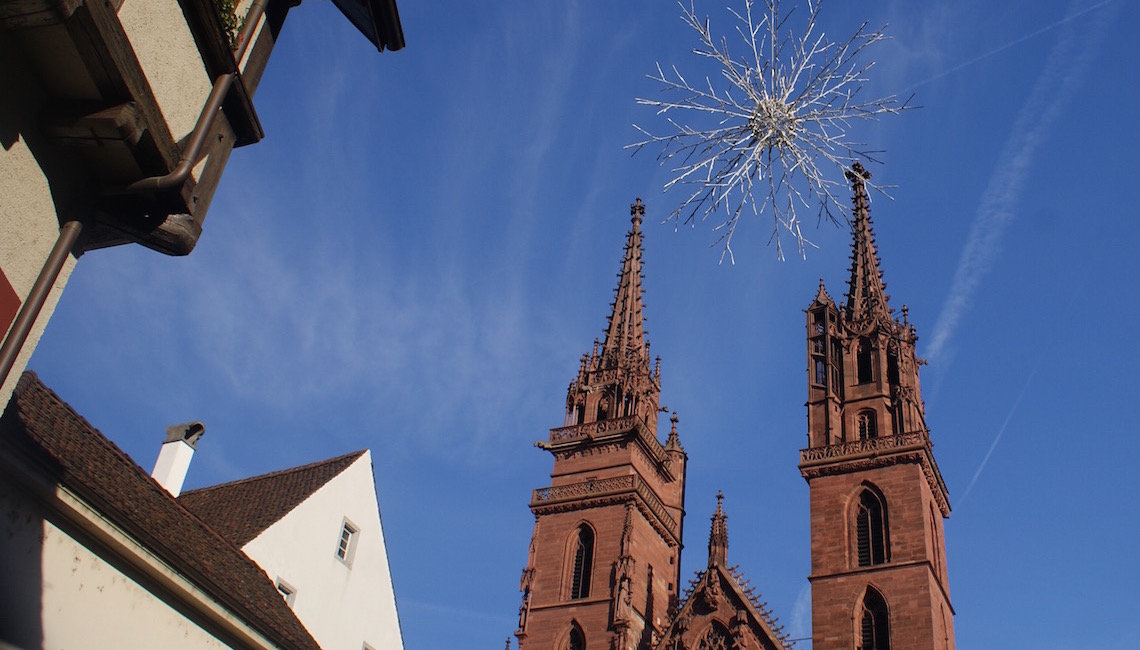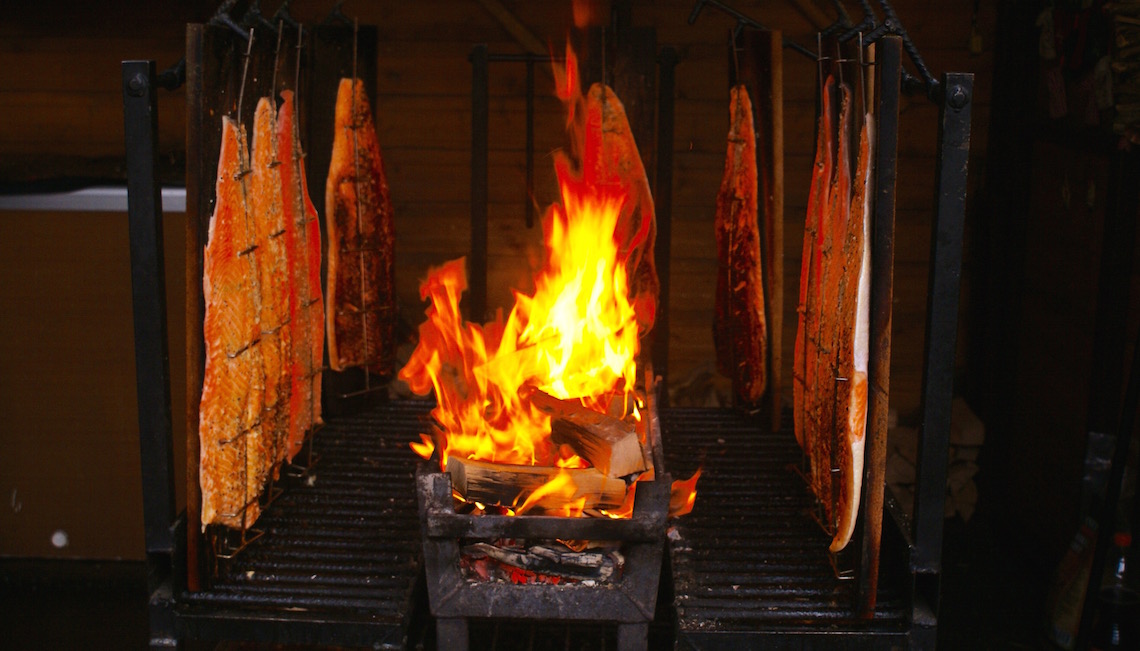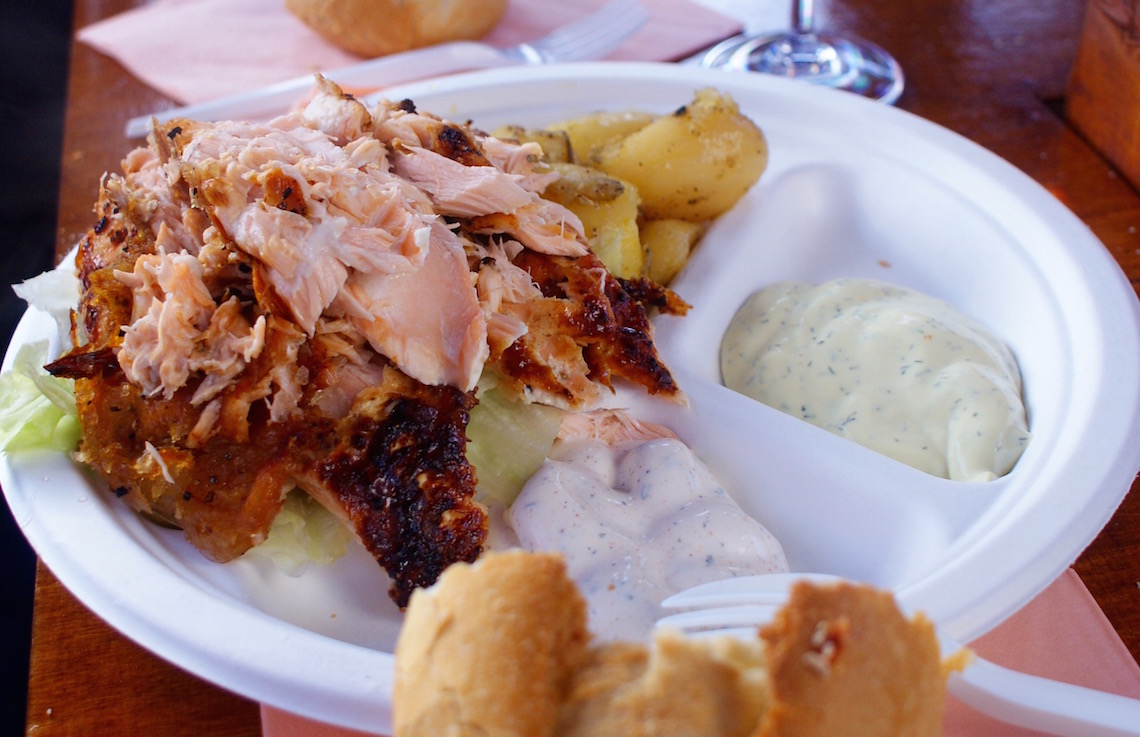 Must try: Rösti, raclette, cheese fondue, hot smoked salmon, glühwein, Basler leckerli (spiced biscuit originating from Basel)
Skylark's Verdict: Basel has made it into my Top 5 Christmas Markets in Europe as it is a very walkable city, with some lovely architecture and friendly people. The markets are very festive and there are high quality products for sale. Aside from the markets, there are lots of museums, good shops and tasty food. Be prepared though, food and drink in Switzerland is expensive. If you pre-book accommodation, you may qualify for a 'mobility card' allowing free public transport.
Bruges and Brussels, Belgium
I've managed to sneak in an extra 6th destination into my Top 5 Christmas Markets in Europe, by suggesting a two-centre Christmas Market break in Belgium. It's only one hour by train between Brussels and Bruges, and it really does give you the best of both worlds. The medieval city of Bruges has beautiful cobbled streets and two smaller markets. While Brussels has a cosmopolitan edge, but a much bigger selection of market stalls.
The Winter Wonders Christmas Market in Brussels contains around 240 wooden chalets overall. The best place to start is on the Grand Place. There are no markets on this impressive square, but an amazing sound and light show animates the buildings after dark.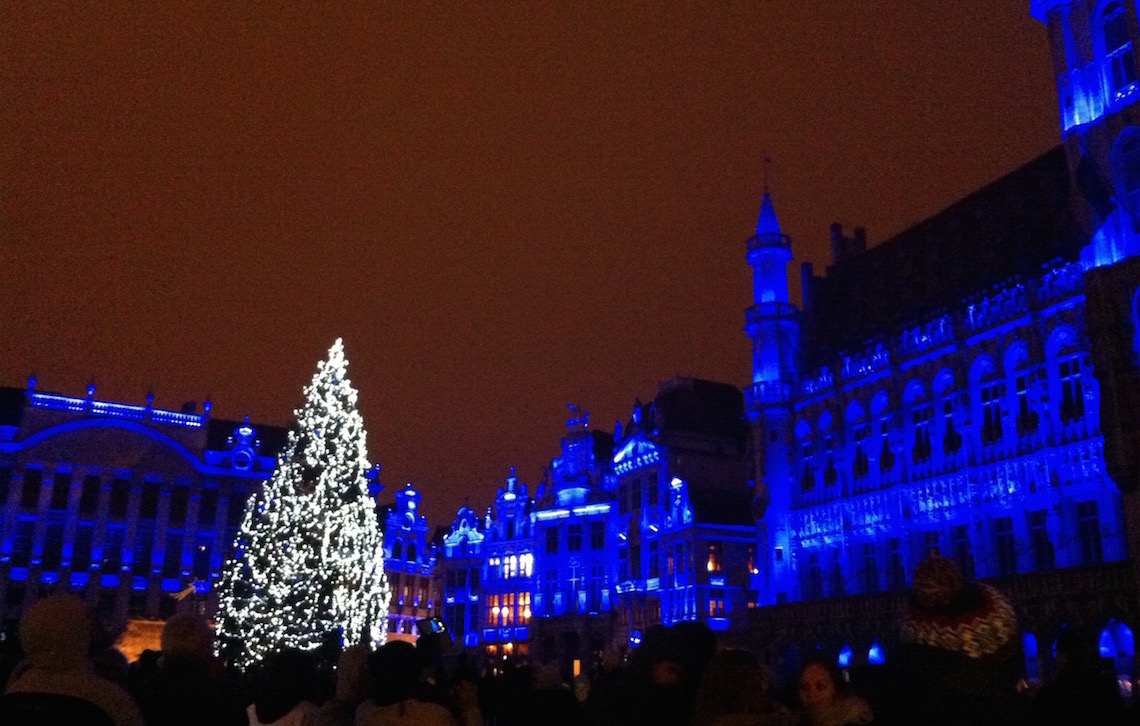 From here, you will spot the start of the Christmas Market trail, which takes you through streets lined with wooden huts to the various squares, opening out onto even more stalls. The square of Sainte Catherine has the most chalets, as well as some fair rides. There's an ice-skating rink at Place de la Monnaie.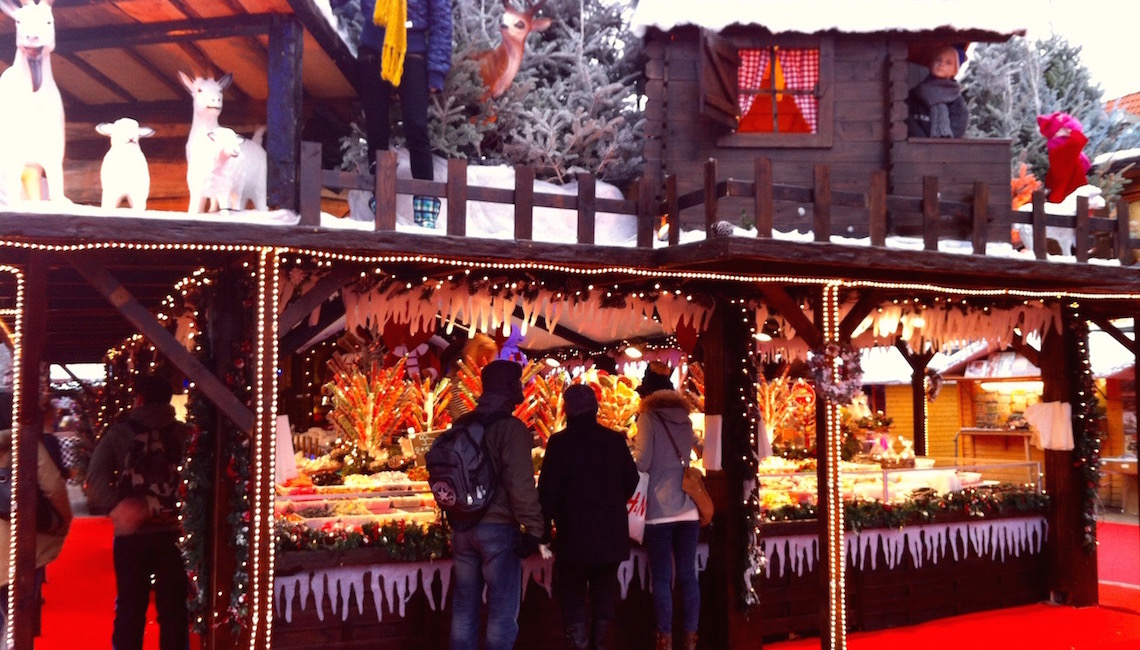 The Christmas Markets in Bruges are located in the Grote Markt and Simon Stevinplein. There's an outdoor ice rink in Grote Markt. You will notice there's hardly any traffic in the centre of Bruges, making it easy to walk around. If your feet get tired, try a horse and carriage ride. Bruges has lots of traditional-style bars and restaurants as well as some lovely cafes. There are some great independent shops here, as well as chocolate shops and Choco Story – a chocolate museum. Near the train station in Bruges, there is often an ice sculpture festival coinciding with the Christmas Markets. Be prepared to queue at busy times.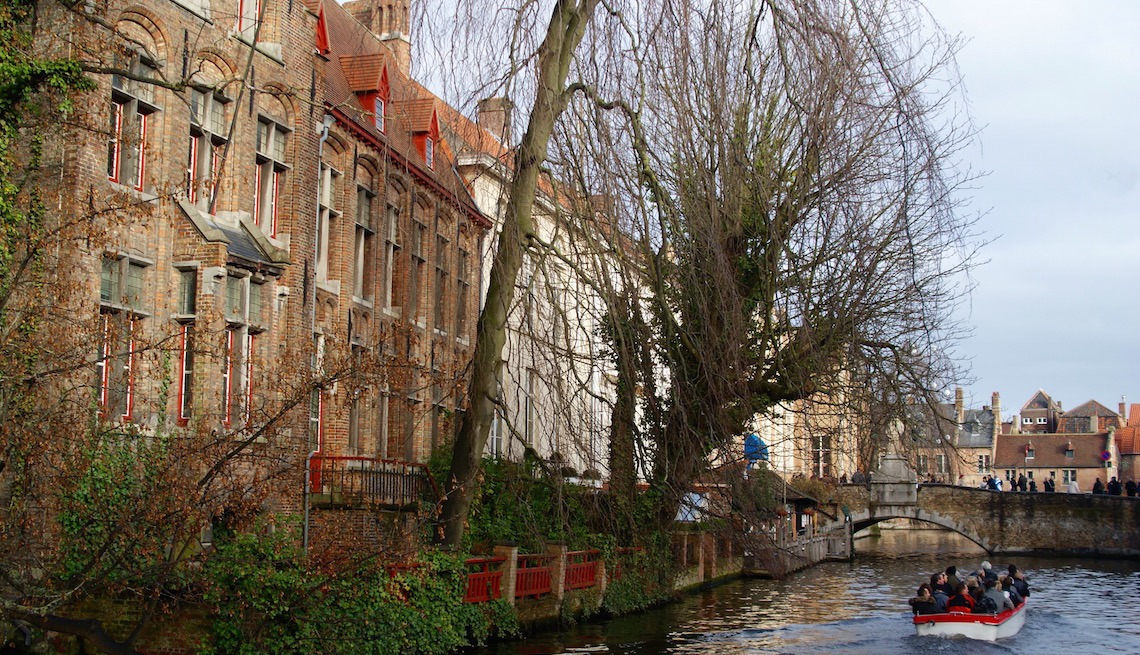 Must try: Waffles, vin chaud, hot chocolate, Belgian beer, beef in beer, frites, tartiflette, Belgian chocolate.
Skylark's verdict: Although the market in Brussels is very spread out, which involves plenty of walking, it's lovely to follow the market all through the streets. Aside from the markets, there is plenty to see and do in Brussels, good shopping (including luxury chocolate shops), bars and restaurants. In fact, I had the best hot chocolate I've ever tried at the Neuhuas Chocolate Shop in Galleries Saint-Hubert. It is easy to get to by Eurostar from London. Only an hour from Brussels, Bruges makes a lovely contrast as the markets have a cosier atmosphere. This beautiful city is easy to walk around, offering some great independent shops.
Lille, France  
The Christmas Market in Lille is based around Place Rihour. Around 80 chalets sell festive food, Christmas decorations, crafts etc. There's a giant ferris wheel and spectacular Christmas tree. You can pick up speciality gingerbread and inhale the smell of vin chaud and roasting chestnuts.
In addition to the Christmas Market, there are lots of great shopping opportunities in Lille. Alongside well-known European fashion stores, don't miss experiencing the lovely French boulangeries and patisseries (such as Maison Meert). Lille was once the capital of Flanders, and you will notice this connection on restaurant menus, where you will find some tasty Flemish specialities.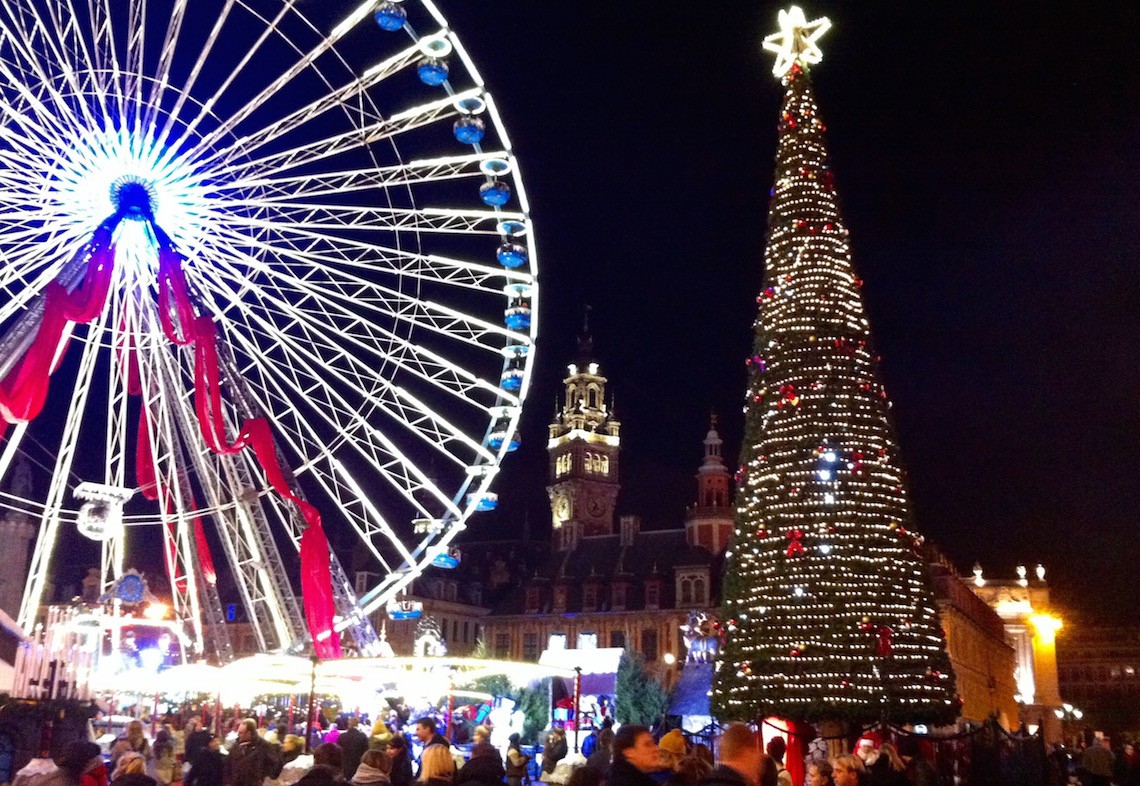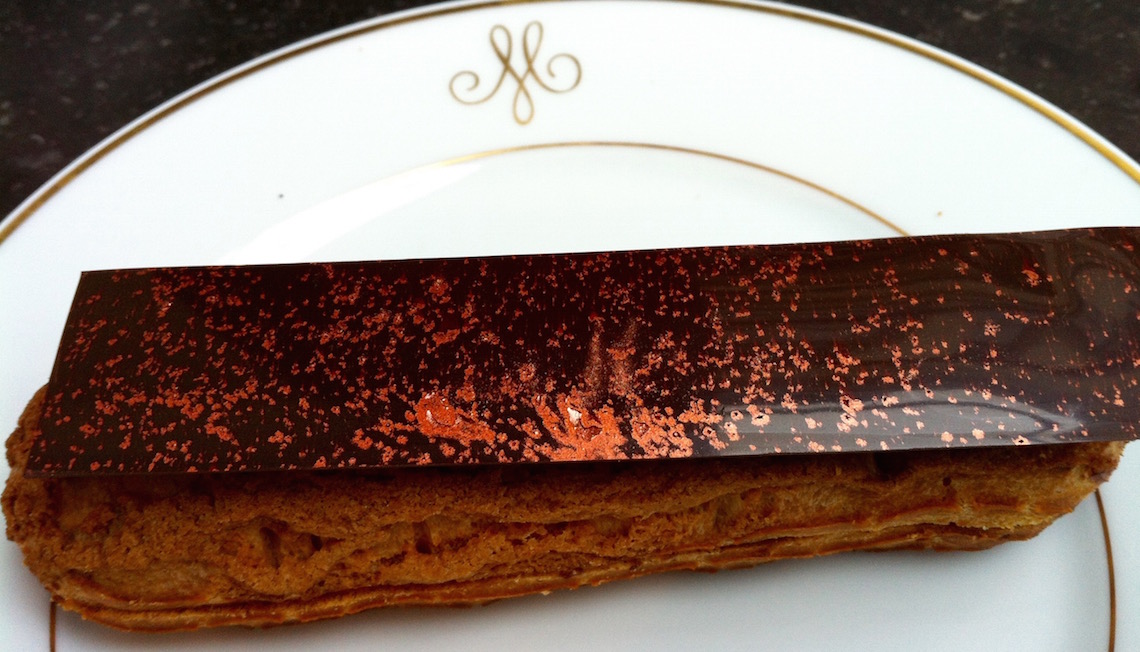 Visiting the Old Town in Lille (Vieux Lille) is a must. You'll find narrow, cobbled streets with lovely cafes, bars, restaurants and small shops. For art lovers, the impressive Musée des Beaux-Arts is worth a visit, where you will find anything from Monet and Picasso to Rodin.
For a different type of market, if you're visiting on a Sunday morning, head to Wazemmes for a giant flea market. This is a hive of activity and full of local people shopping for food and nick nacks.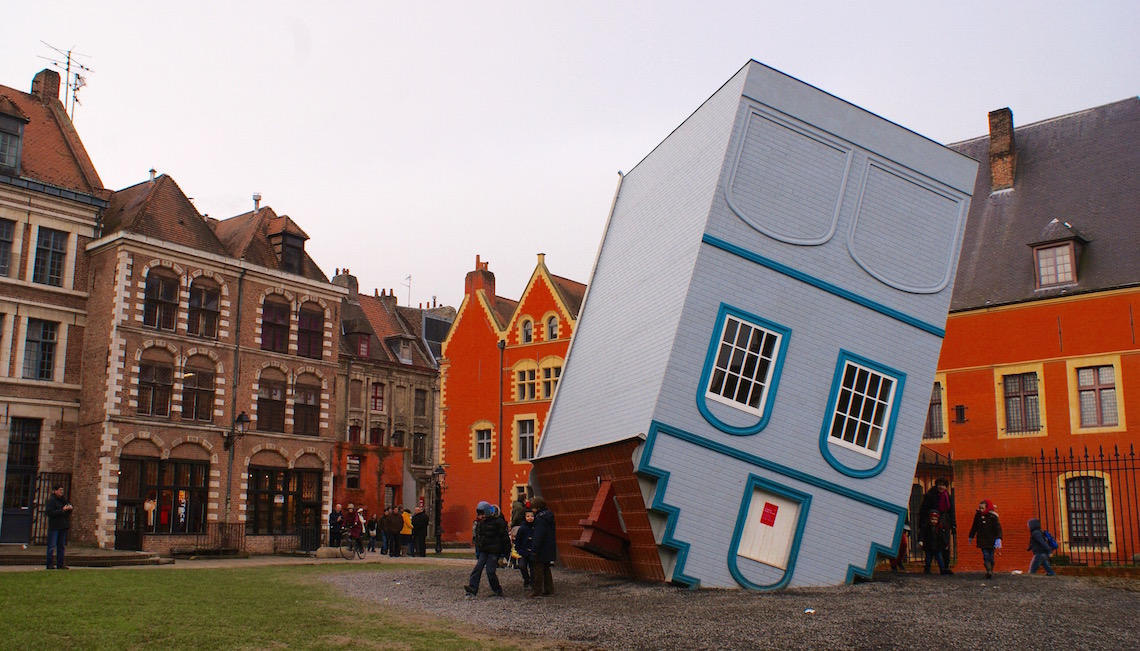 Must try: Tartiflette, vin chaud, gaufres (crisp wafer-like waffles, at Maison Meert), Belgian beer, moules frites, macarons (my favourites are from Patrick Hermand).
Skylark's verdict: Lille has made it into my Top 5 Christmas Markets in Europe as the market is a very manageable size, with a festive atmosphere. The architecture is very grand and there are great cafes and patisseries to explore. Lille is an easy city to walk around. The Old Town is beautiful and a must-visit. Lille is easy to get to by Eurostar from London.
Vienna, Austria
If you prefer to mix it up a bit and visit several Christmas markets in one city, Vienna has 20 official advent markets to choose from. The largest is located in front of the dramatic backdrop of the Rathaus (city hall), featuring 150 stalls and two ice rinks. Nearby, the Christmas Village on Maria-Theresien-Platz (in the museum district) has over 70 chalets.
The Old Viennese Christmas Market on Freyung dates back to the 18th century. It is a great place to buy crafts, decorations and nativity scenes. There's a smaller market located in front of the Baroque-designed Belvedere Palace. I recommend a trip out to the Christmas Market at Schönbrunn Palace. There's a lovely atmosphere, beautiful backdrop and good quality gifts.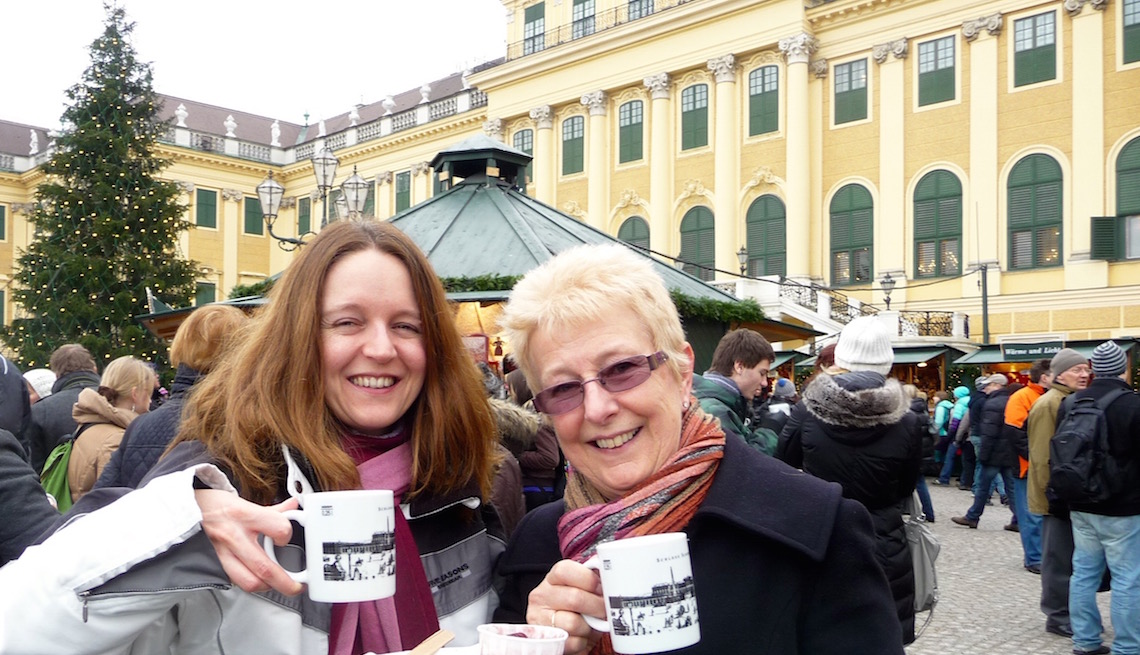 Vienna is a beautiful city. Even if you don't get a chance to explore all the historic buildings from the inside, it's great to walk around to admire the architecture. There are some fantastic museums, many conveniently located in the Museum Quarter. You can book to see a performance at the famous Spanish Riding School, or you may get a peek at the horses from the outside if you're lucky. Our indulgence, for a real treat, was to head to the Sacher Café at Hotel Sacher, where we tried the famous and decadently chocolaty Sacher Torte.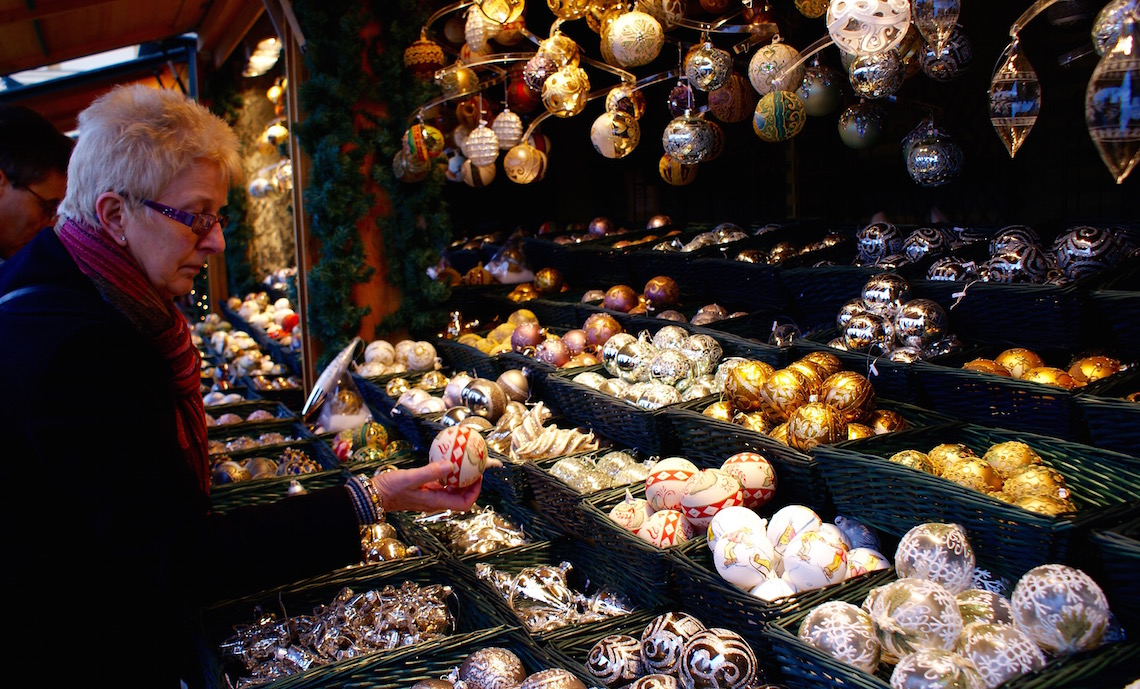 Must try: Gulaschsuppe, glühwein, lebkuchen, hot chocolate, Sacher torte (in the Sacher Café), bratwurst
Skylark's verdict: Vienna has made it into my Top 5 Christmas Markets in Europe, as you'll be spoilt for choice with all the markets to choose from. However, I definitely recommend you make time to explore the rest of this beautiful city as well. The tram system is good to get around. It can be hungry and thirsty work, so take the opportunity to stop off at some of Vienna's traditional coffee houses for a well-earned break.
Salzburg, Austria
Salzburg is a pretty and welcoming, riverside city. The main Christmas Market in Salzburg, Christkindlmarkt , is located on Cathedral Square in the heart of the historic centre. There are choirs singing and nativity displays. And of course, the festive smells of hot sausages, gulaschsuppe and glühwein. You'll find another traditional market at Mirabellplatz, near the railway station, and other smaller markets tucked away.
For a view from up high, make your way up to Fortress Hohensalzburg. This imposing fortress overlooks the city, providing great views. The advent market here (weekends) sells local arts and crafts, as well as the usual Christmas treats.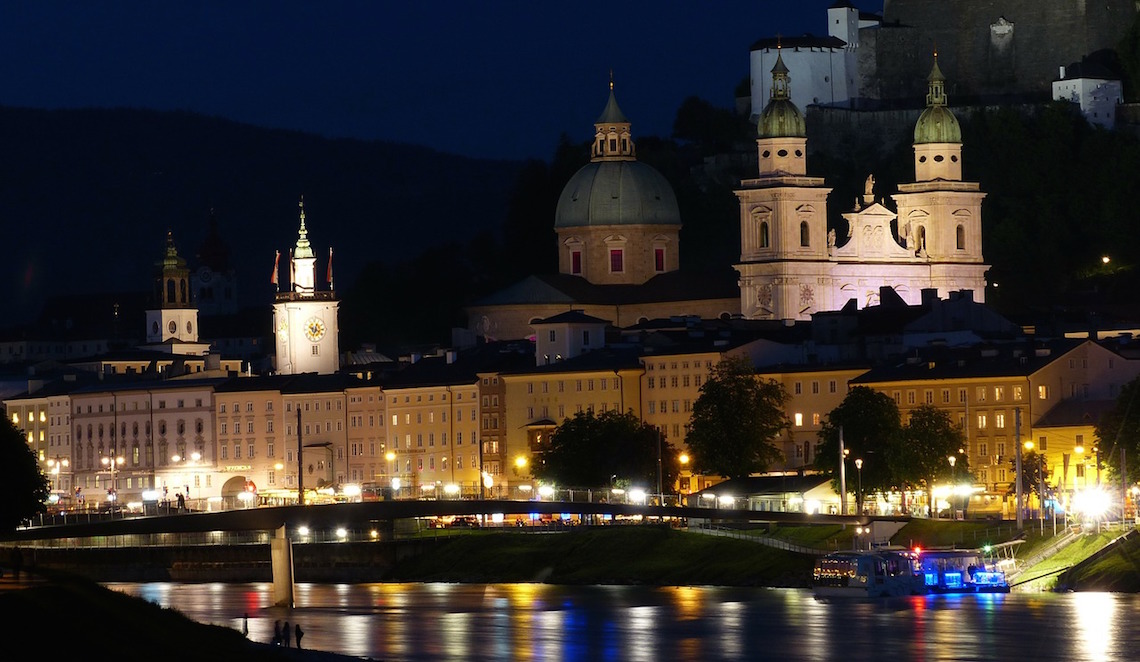 This is a musical city and you will find advent concerts and choirs popping up here and there. You can visit Mozart's birthplace and also the font in Salzburg Cathedral, where both Mozart and Joseph Mohr (who wrote Silent Night) were baptized. We took a Sound of Music tour for a bit of fun, and were the only two people on the coach singing along to the soundtrack. It takes you out of the city to visit some of the movie locations.
There are plenty of lovely cafes, restaurants and traditional inns to explore. Salzburg has a great tradition of brewing.
Discover more about our Christmas Market weekend in Salzburg.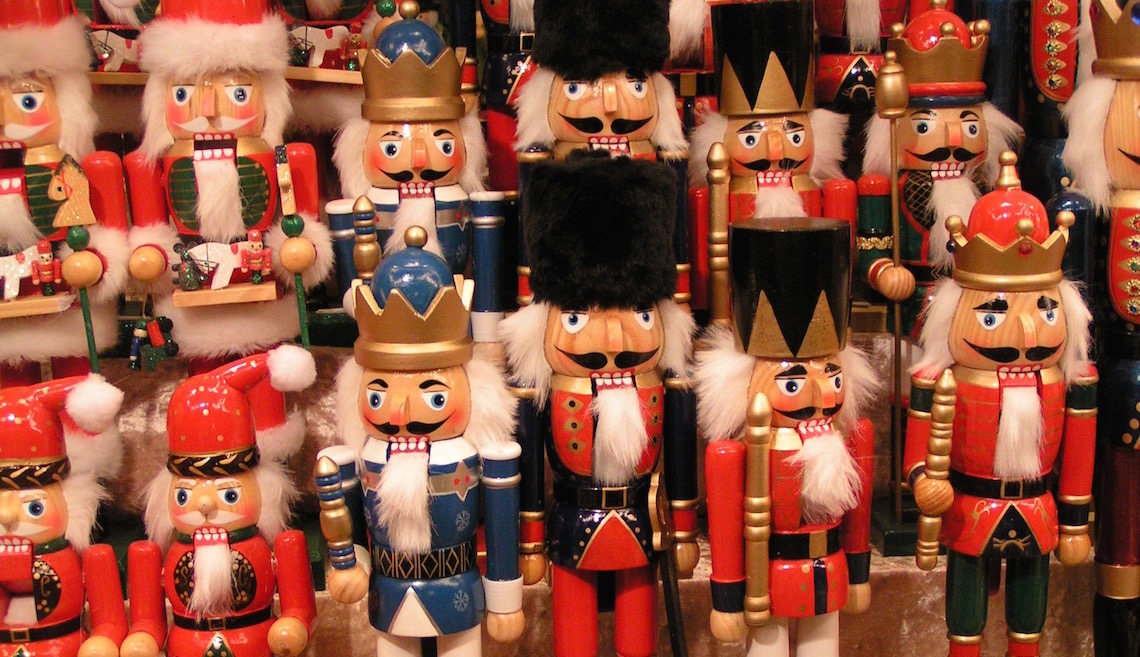 Must try: Mozartkugel (the original silver blue chocolate balls available from Café Furst), gulaschsuppe, glühwein, lebkuchen, beer brewed in Salzburg, Sacher torte (in the Hotel Sacher)
Skylark's verdict: Salzburg has made it into my Top 5 Christmas Markets in Europe because it is a lovely, festive location. You may even be lucky enough to get snow, although you might have to travel outside of the city to see it. It's easy to walk around the city and there are plenty or restaurants and cafes, as well as all the delicious food on offer in the markets. In fact, we liked Salzburg so much, we went back again recently for a second visit!
Pin for later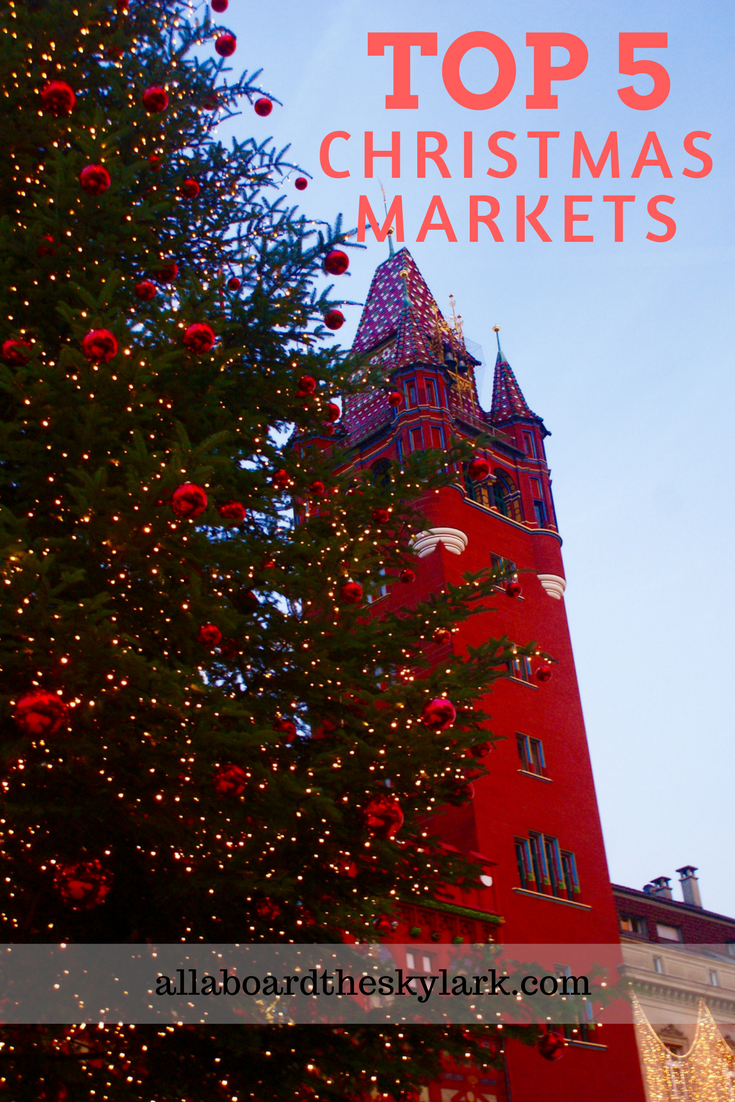 Let me know which Christmas markets you've been to and which are your favourites?
SaveSave
SaveSave