Only 1 hour 40 minutes' flying time from London, Salzburg in Austria is an ideal quick-getaway destination for a short break at any time of year. Mum and I chose a weekend in Salzburg for our annual Christmas Market pilgrimage. We discovered this beautiful, riverside city has a wonderfully, festive atmosphere.
About Salzburg
The baroque city of Salzburg is divided in two by the Salzach River. The old town, on the left bank, is designated a UNESCO World Heritage Site. It's compact and easy to walk around. You can pick any one of the numerous bridges to cross to the other side.
During our weekend in Salzburg, we spent most of our time in the old town, with its fairytale architecture. Many of the narrow streets are pedestrianised, with pretty, little alleys linking them together. There are plenty of museums to explore, as well as fabulous shopping, cafes and restaurants.
British Airways operates direct flights from London's Heathrow and Gatwick on various days of the week. A taxi takes about 15 minutes to the city centre and costs around 15 to 20 Euros.
Christmas Markets in Salzburg
The Christkindlmarkt in Salzburg dates back to the 15th century. It runs from mid November until Christmas, offering over a 100 market huts in Cathedral Square. There is an ice skating rink on neighbouring Mozartplatz. Whilst the main markets are on Cathedral and Residence Squares, you'll find other small, festive markets around the city and at Fortress Hohensalzburg and Hellbrunn Palace. These beautiful, historic markets bring a magical atmosphere to the city.
One of the main reasons we visit a Christmas Market each year is to enjoy the food and drink on offer. On our weekend in Salzburg, we enjoyed gulaschsuppe; raclette cheese and bacon on bread; bacon, spring onions and sour cream pizza, apple fritters with vanilla sauce and baileys; and plenty of gluhwein. For each mug of gluhwein, leave a deposit, which you get back when you return your mug. Or keep the mug as a souvenir. For further dining options in Salzburg, carry on reading below.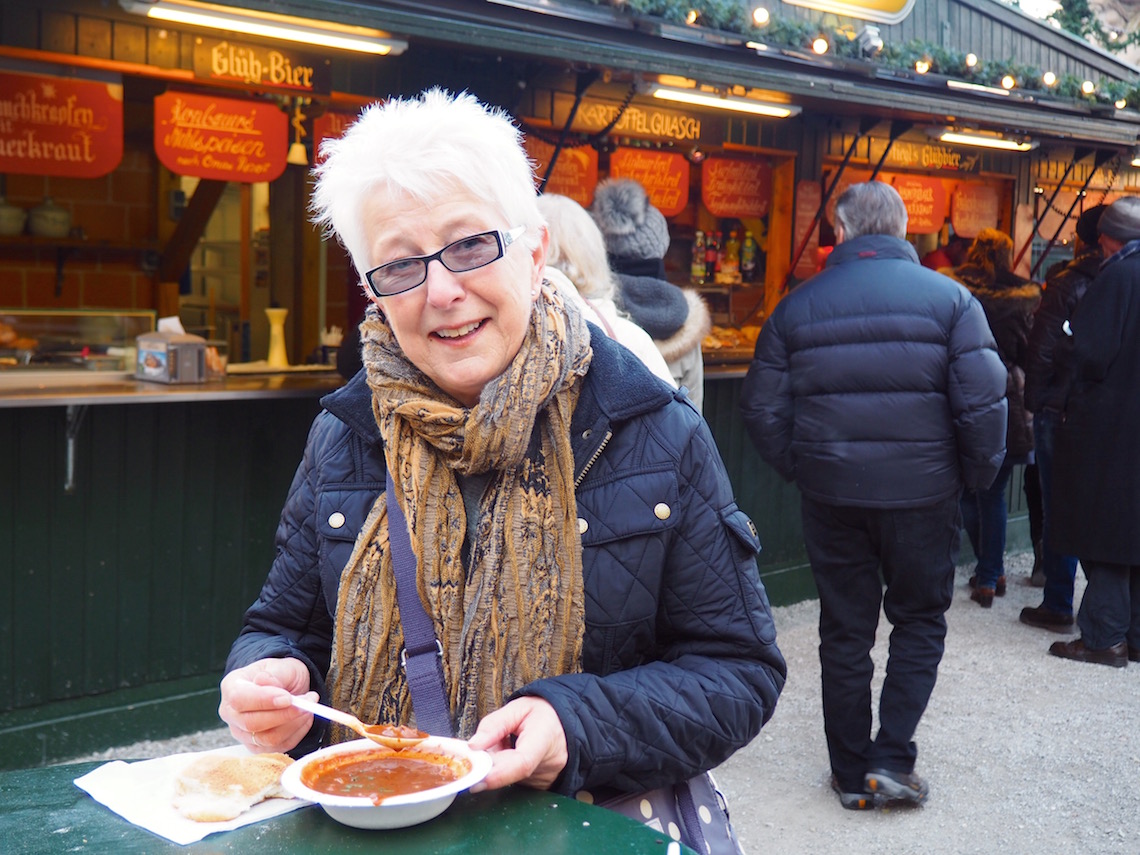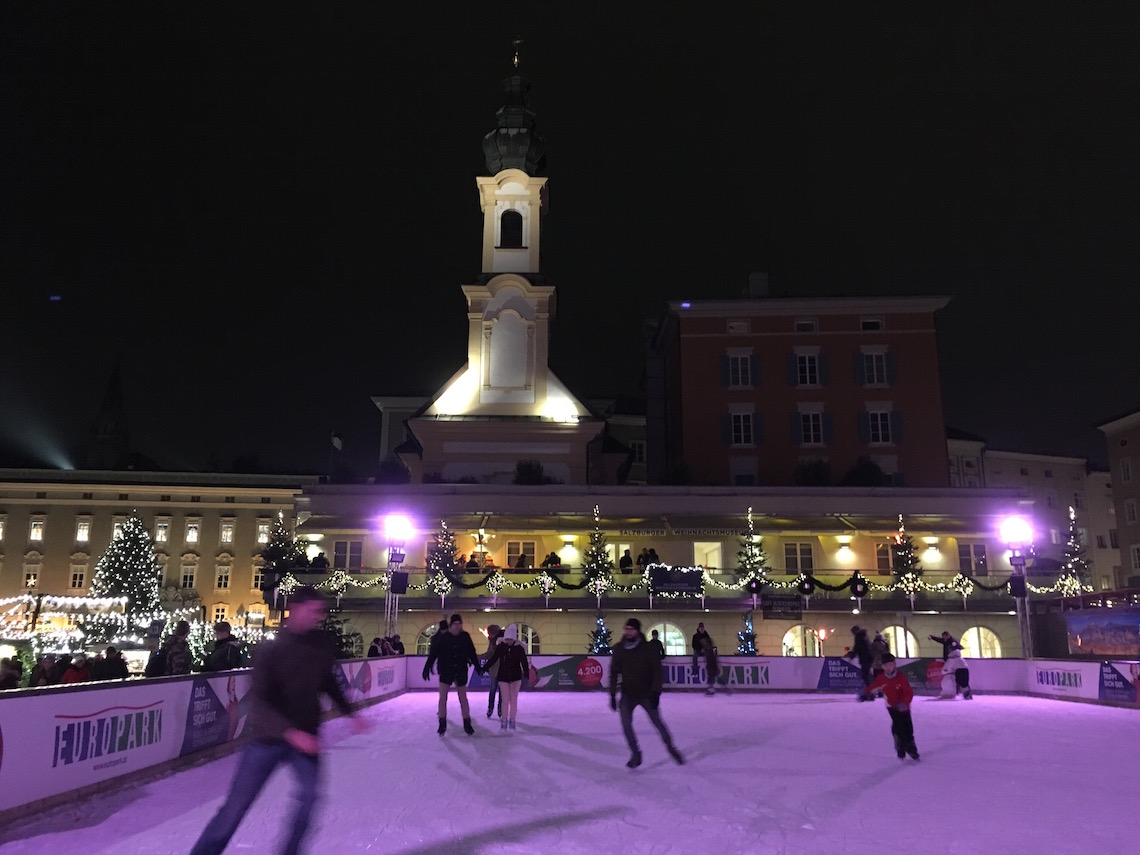 We were lucky to catch the traditional Krampusrun during our weekend in Salzburg. It was role-reversal time, looking after Mum who was a bit wary of these evil-looking creatures. They rush through the dark, crowded streets, to the sound of banging drums. This is a deeply rooted folk tradition in Austria. Legend has it, the devil-like Krampus are looking for the naughty children, while St Nicholas only rewards the good ones.
I enjoyed the Salzburg Christmas Market so much, it appears in my Top 5 Christmas Markets in Europe.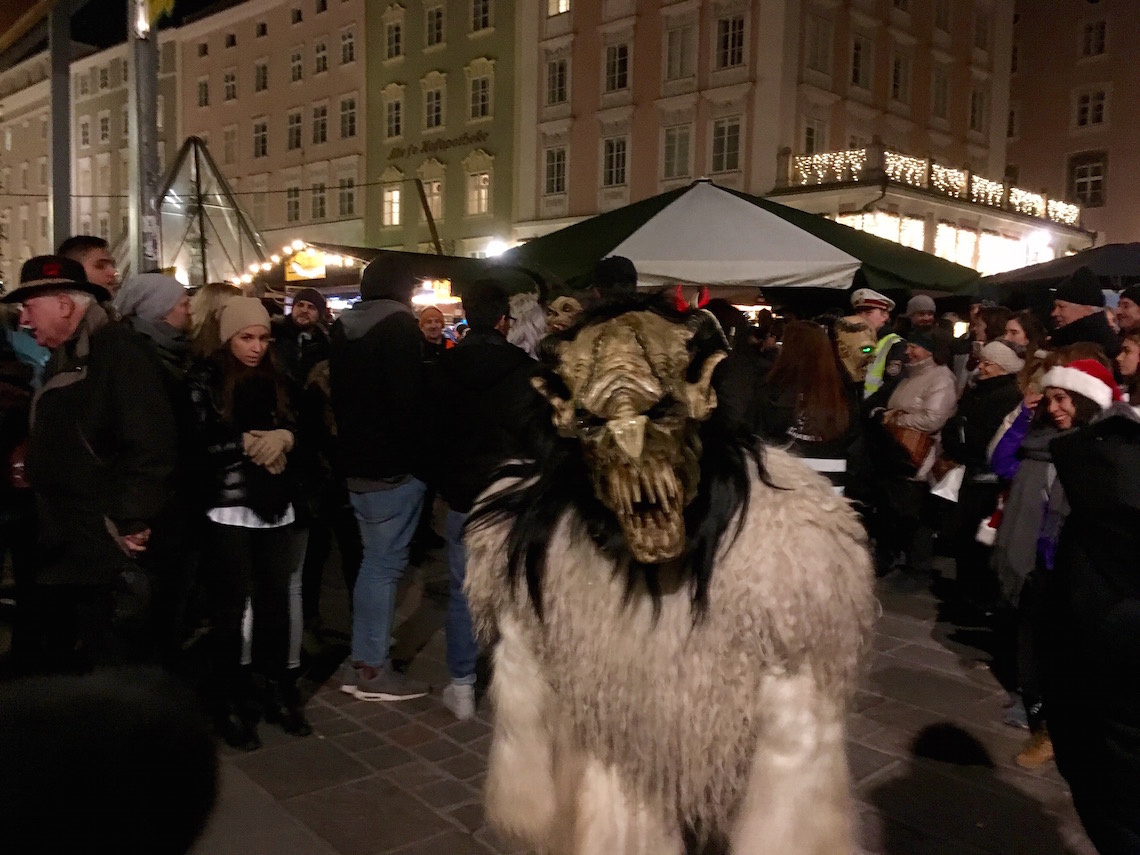 Shopping on a weekend in Salzburg
Although shopping wasn't our main reason to come to Salzburg, we were delighted to find such a great choice. The Getreidegasse is the main street running through the heart of the old town. While the likes of Tommy Hilfiger and Prada grace this street, you'll also find names such as Zara and Mango, as well as small boutiques, gift shops and Austrian brands.
Don't miss a visit to the (unusually attractive) Spar grocery store on this same street. We found it to be a great place for picking up local foodie items to take home, such as the deliciously chocolatey Mozart liquer, Augustiner beer and Austrian chocolate. You'll actually be following in the footsteps of the Mozart family, who were once customers in this very same shop – before it became a Spar!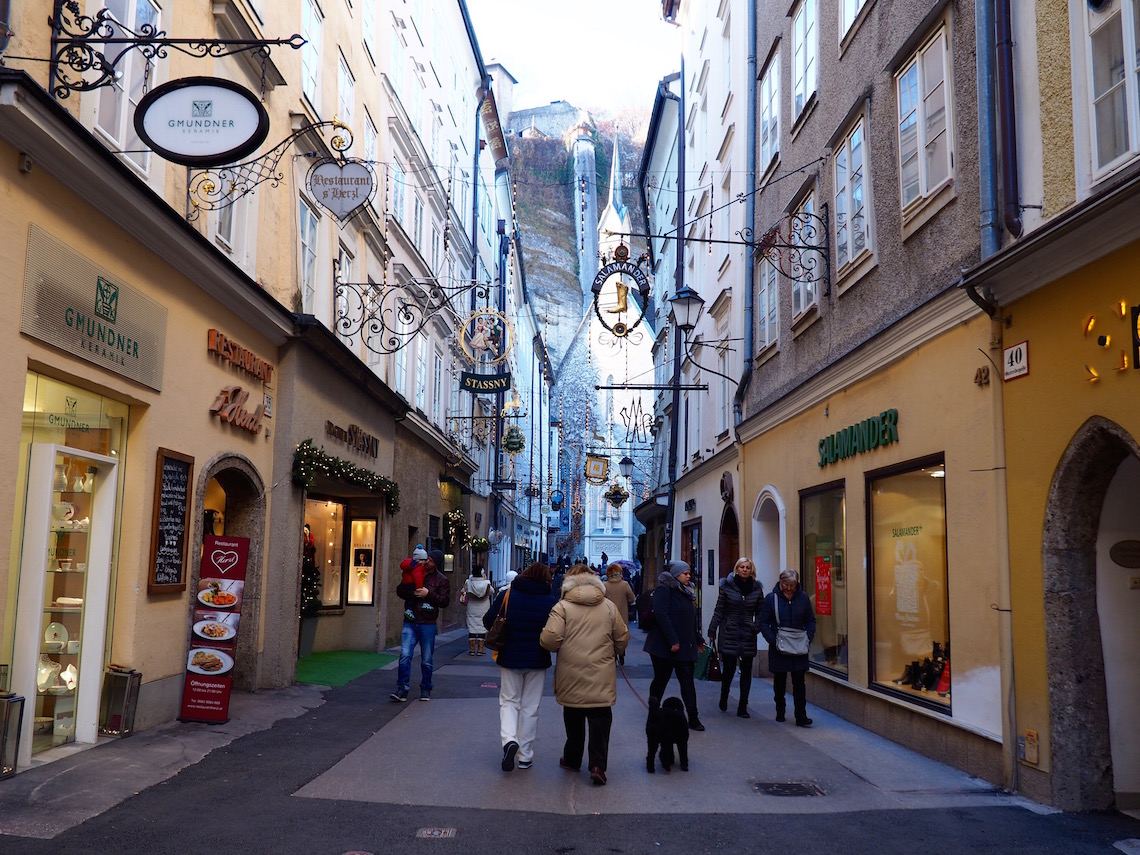 While you will see the famous Mozartkugel chocolate balls all over Salzburg, you'll mostly find the mass-manufactured gold ones. To buy the original silver-blue ones, still made in the city, head to Café Fürst.
Look out for the Christmas in Salzburg shop on Judengasse, open all year. It is brimming with delicately hand-painted eggs. Despite the name, it's not just about Christmas, there are eggs themed with all different designs.
It pays to duck down the pretty, narrow alleyways to unearth even more treasures off the main street. One of the larger passageways is Goldgasse, home to jewellery, antique and traditional costume shops.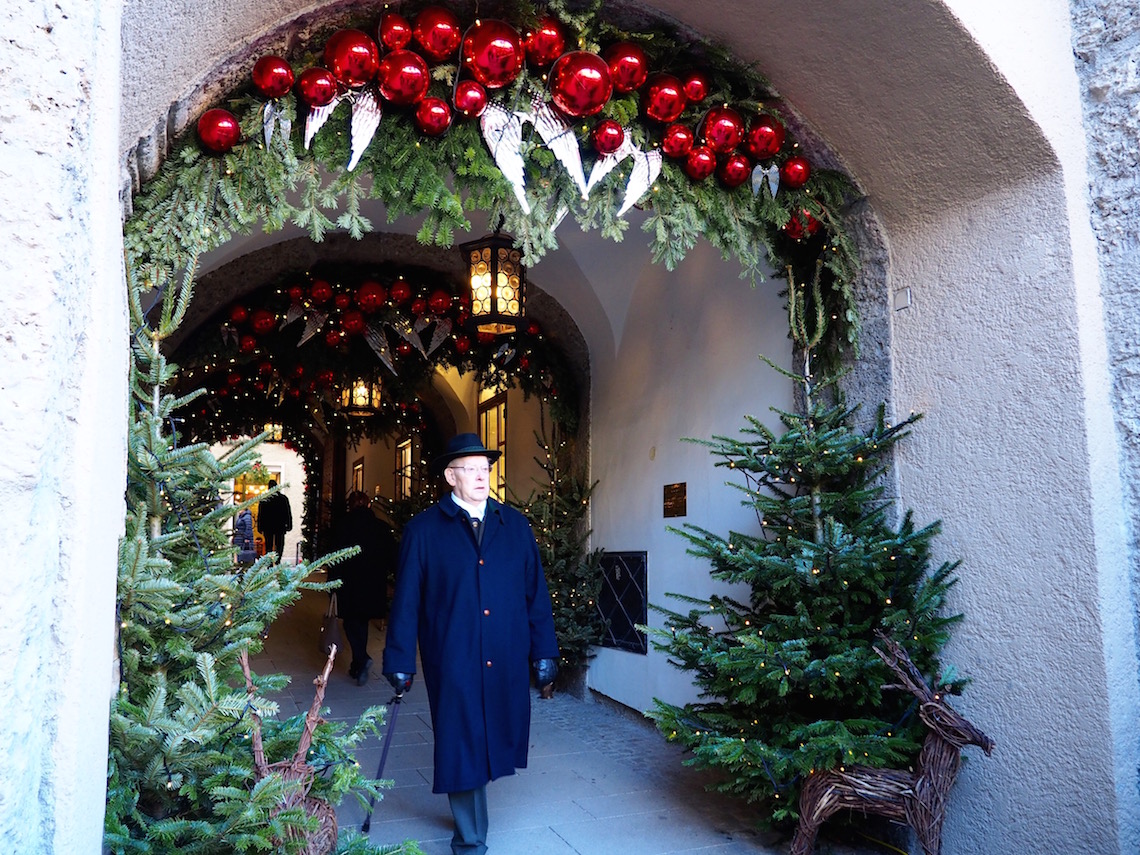 Foodie markets in Salzburg
If, like us, you're partial to wandering around foodie markets, there are a few to explore in Salzburg. The Grünmarkt has been held at Universitätsplatz since 1857. It's open every day, except Sunday, and stocks an array of bread, cakes, vegetables and meat.
The Schrannenmarkt is one of the largest markets in Austria and takes place every Thursday morning. It specialises in local and regional produce. The city's organic farmers' market takes place every Friday morning on Kajetanerplatz.
Sightseeing on a weekend in Salzburg
If you're planning on visiting a few museums or using public transport during your stay, it pays to buy a 24-, 48- or 72-hour Salzburg Card allowing free admission to lots of attractions, as well as further discounts.
Mozart
Salzburg's most famous son is Wolfgang Amadeus Mozart. His birthplace, the Geburtshaus, is located on Getreidegasse, one of the city's main shopping streets. I was amused to discover the museum's current next-door neighbour is the prettiest Spar supermarket I'd ever seen.
We enjoyed exploring the rooms inhabited by Mozart, his sister and parents. There are some fascinating artifacts including paintings of the family, Mozart's violin and letters written by family members.
Across the river, Mozart's Residence, the Wohnhaus, is also a museum. The family moved here after outgrowing their suite of rooms in the old town. Each January, Mozart Week celebrates the child-genius with a programme of concerts in the city.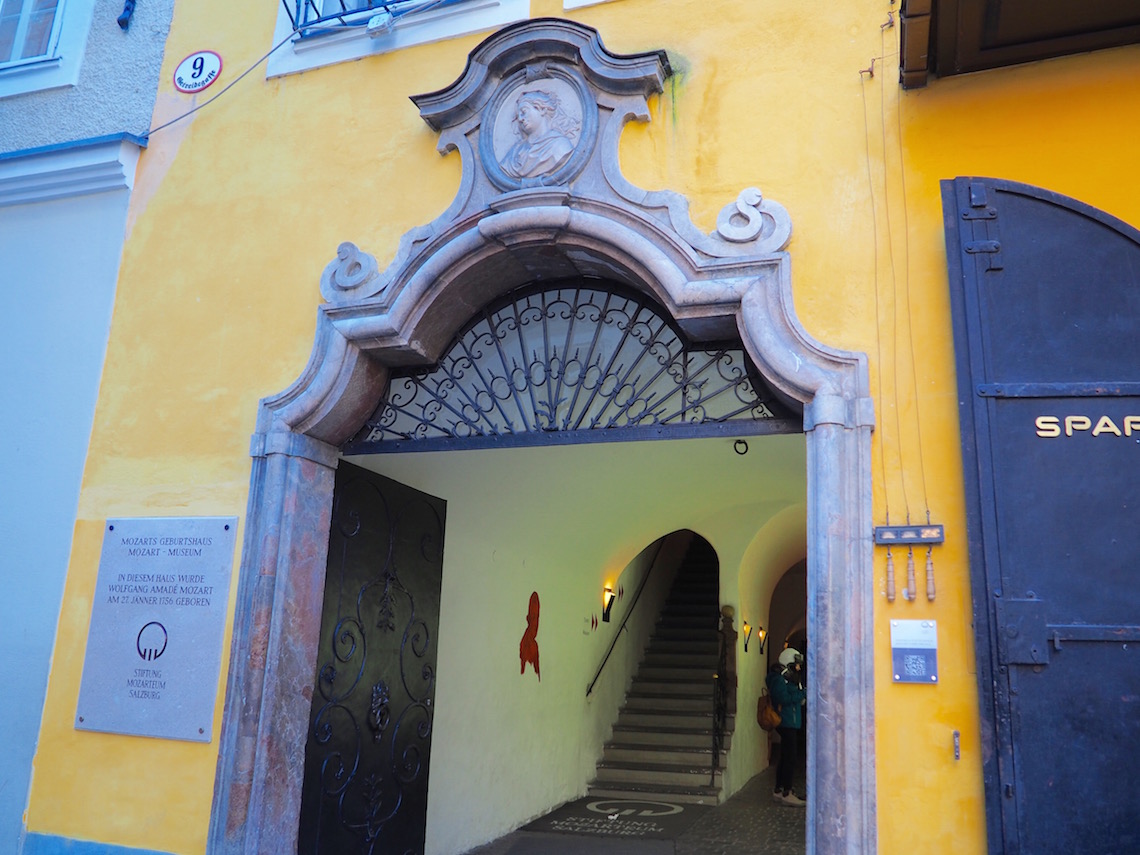 Fortress Hohensalzburg
The most striking landmark in Salzburg is the Fortress Hohensalzburg, looking down majestically over the city. Rather than walking up to it, we took the Festungsbahn funicular railway, taking us to the top in less than a minute.
This is the largest, fully preserved castle in central Europe and it's interesting to explore inside and out. I was most enthralled with the views outside. On one side, panoramic views over the city, on the other, unexpected spectacular views across to snow-capped Alpine peaks.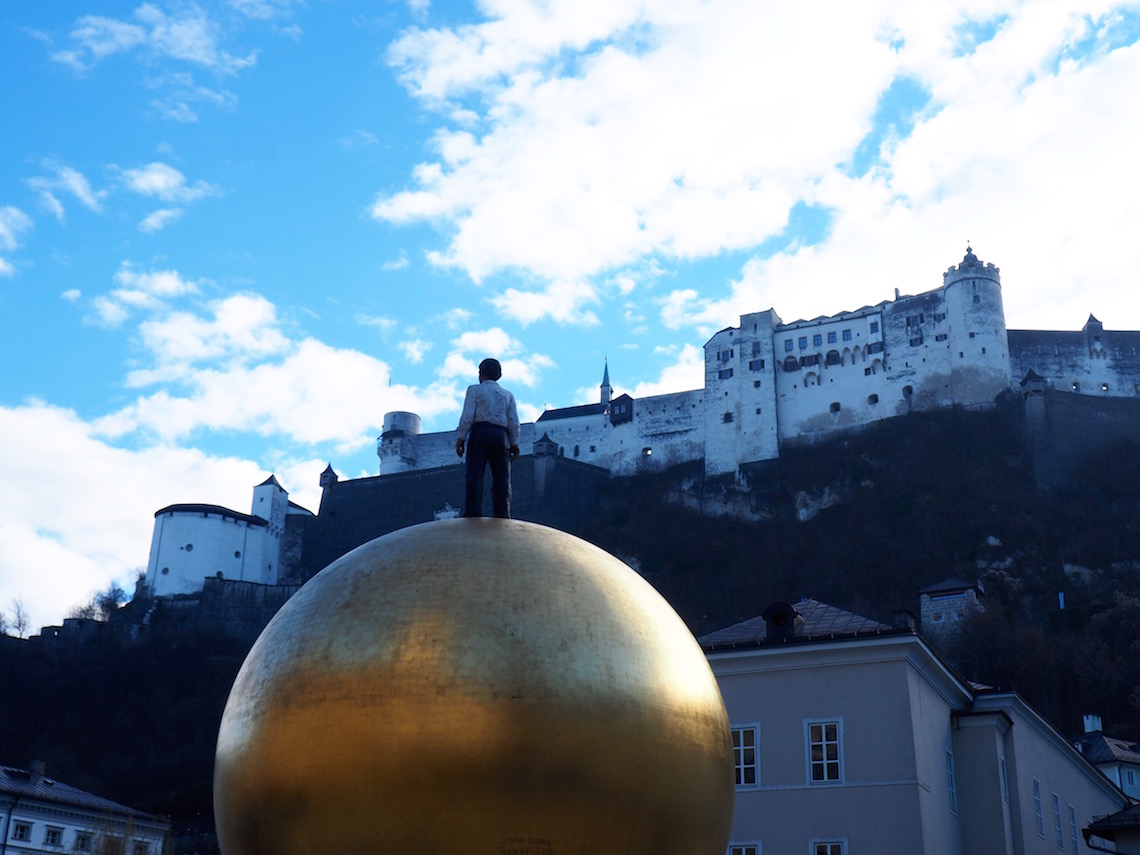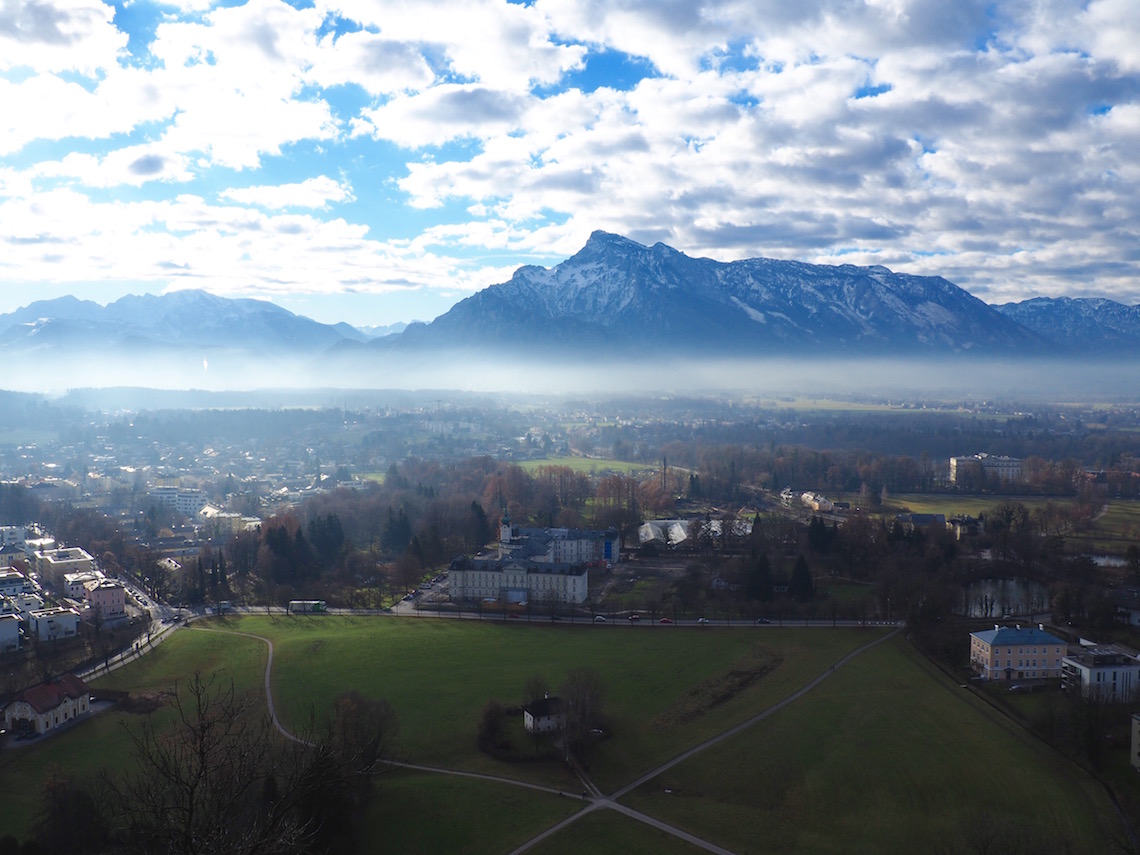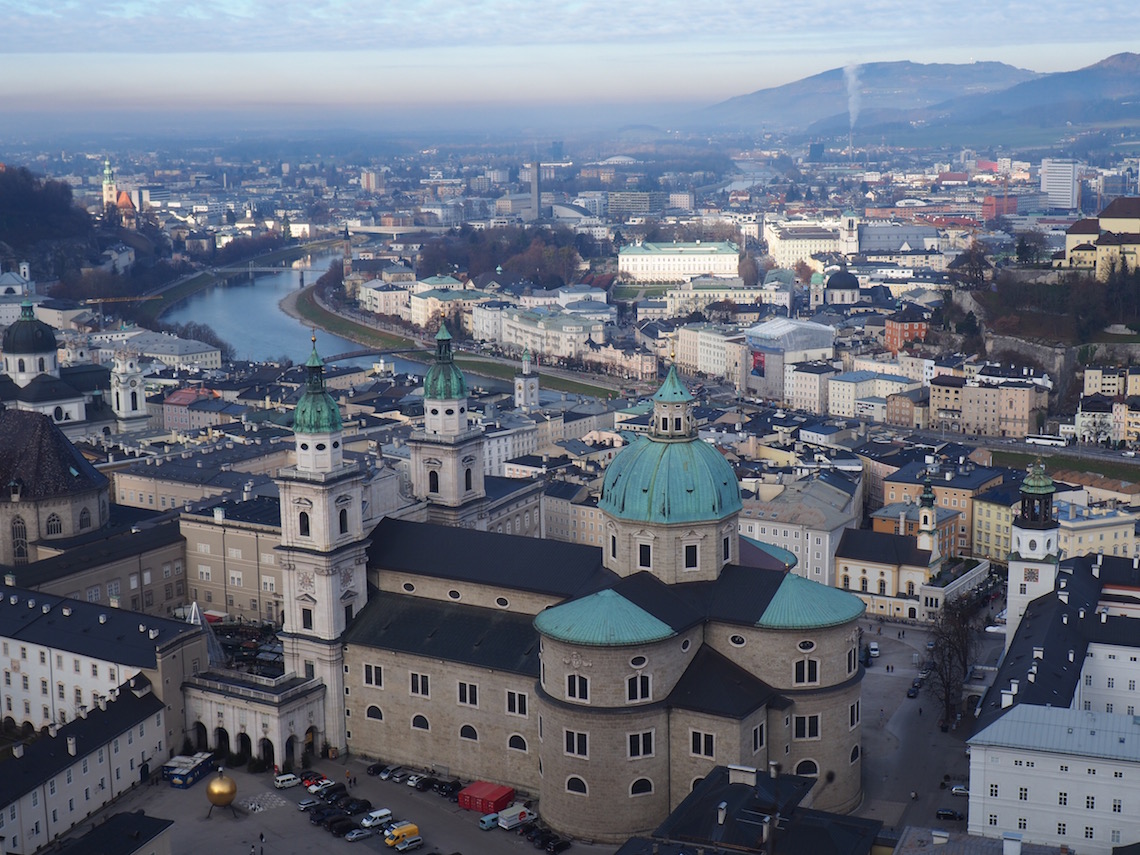 The Sound of Music
You can't be on a weekend in Salzburg, without thinking of The Sound of Music. For nostalgia purposes, we took a stroll through the Mirabell Garten (singing 'Do-Re-Mi' under our breath) and then headed to St Peter's Cemetery, the inspiration for the dramatic flight scenes at the end of the movie. It's possible to take a Sound of Music Tour to explore further locations outside of the city, such as the pavilion at Hellbrunn Palace where Liesl meets Franz ('I am sixteen, going on seventeen').
Whether you're interested in the movie or not, it's definitely worth a visit to the beautiful St Peter's Cemetery, with its catacombs hewn out of the Monchsberg rock – the dramatic backdrop to the city.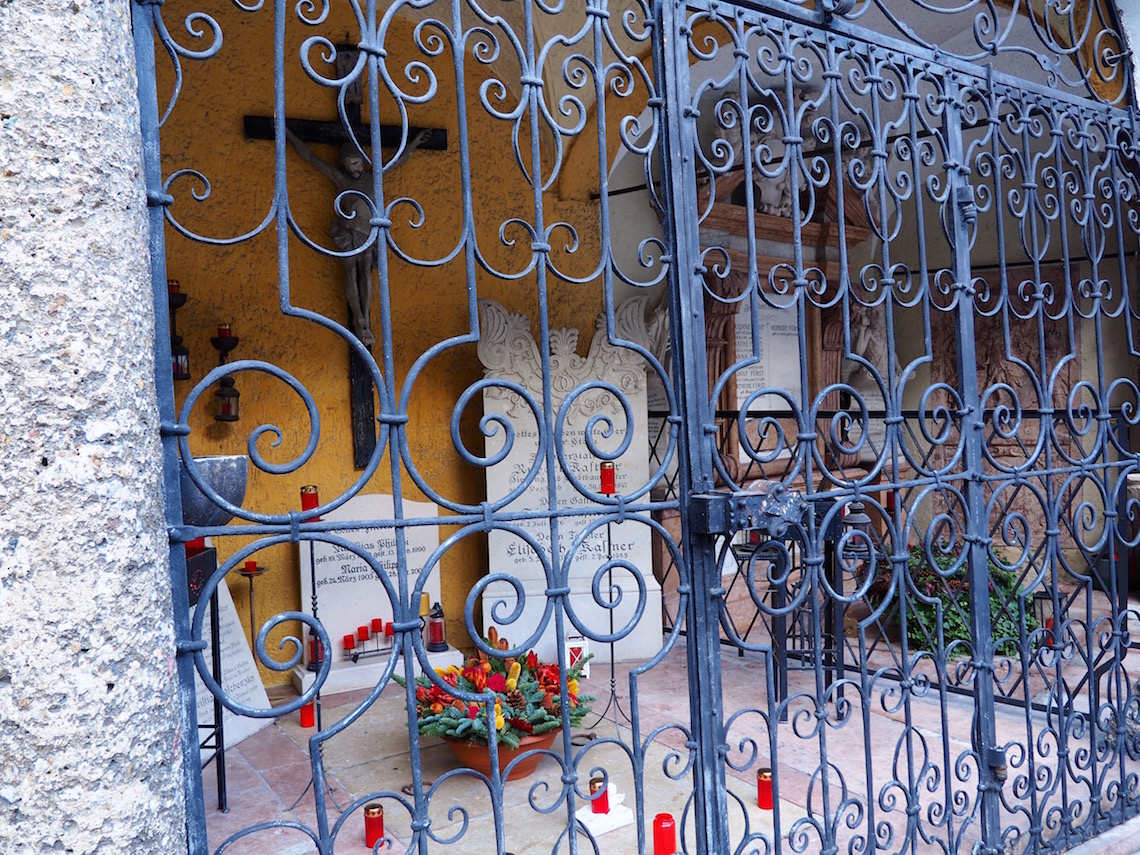 Hellbrunn Palace
On the outskirts of the city, Hellbrunn Palace is a lovely spot to visit. The 400 years old palace is surrounded by beautiful gardens, mazes and trick fountains. The gardens and fountains are closed during winter, but there is a magical Christmas market in the palace courtyard during Advent.
Eating on a weekend in Salzburg
Don't miss visiting a traditional coffeehouse to embrace the Austrian way of life. A trip to Café Bazar, Café Tomaselli or the Sacher Café is like stepping back in time. We found elegantly dressed ladies and gentleman reading newspapers or enjoying a bite to eat. While you will find the likes of apple strudel on most menus, a visit to the Sacher Café will provide a decadent treat: their famous Sacher Torte.
In the evening, head up to M32 for the best sunset and beautiful views over Salzburg, as well as high-end gastronomy. To reach M32 and the Museum of Modern Art, take the Mönchsbergaufzug (monk's mountain elevator).
For good value, traditional fare, head to the Zipfer Beerhaus or Goldene Kugel in the Old Town, or Fideler Affe across the river. We enjoyed trying hearty local dishes, such as the pork-version of wienerschnitzel, beef goulash, sausages and roasted meat with dumplings and sauerkraut. And for pudding, either dampfnudel (sweet dumplings), pancake strips with plum compote or apfelstrudel.
We were surprised to see smoking sections in the cafes and restaurants, but got used to asking for non-smoking.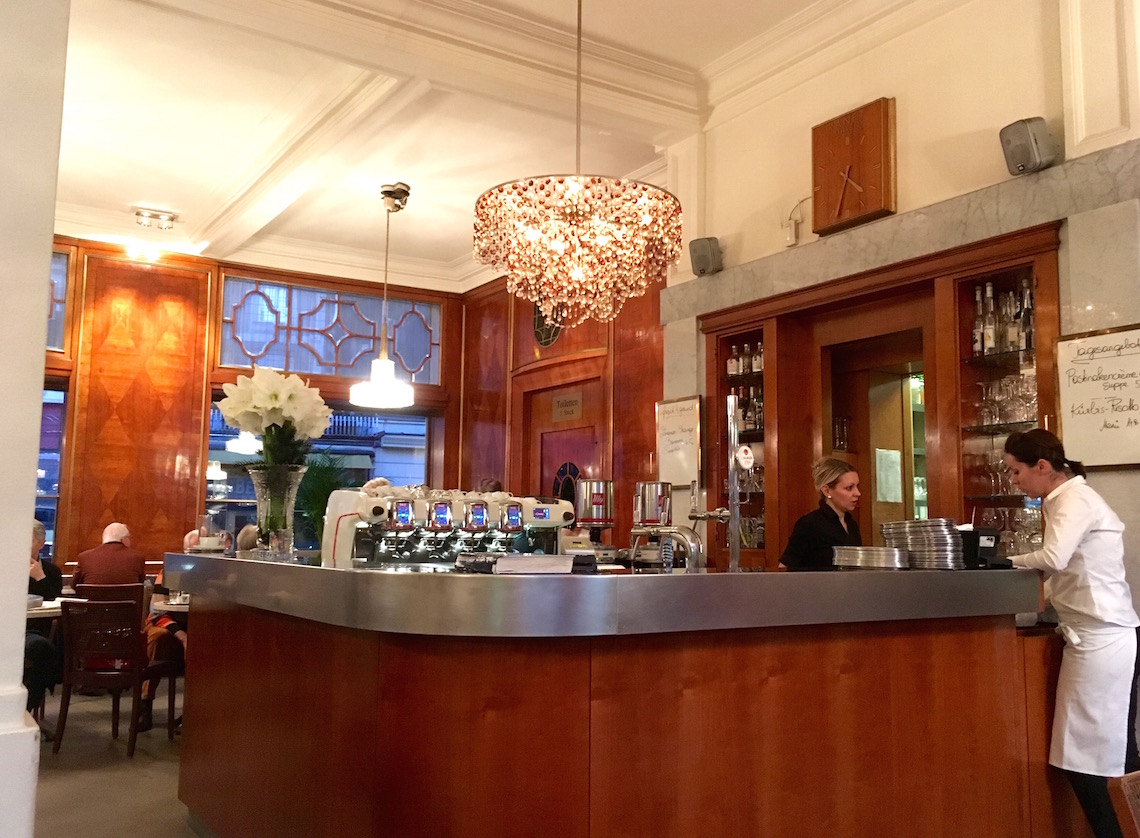 Where to stay on a weekend in Salzburg
We stayed at The Hotel Sacher on the riverside, looking across to the beautiful buildings of the old town. This elegant hotel is the Grand Dame of Salzburg. The luxurious rooms have a traditional feel with a contemporary twist. The amenities in the bathroom are fragranced with chocolate. Dining options include the Sacher Café, home to the famous Sacher Torte, and the slightly more formal Salzachgrill. The breakfast buffet included such delights as their renowned truffled ham and a choice of amazing cakes. Who could resist eating Sacher Torte, marble cake and chocolate fudge with egg liqueur cake for breakfast?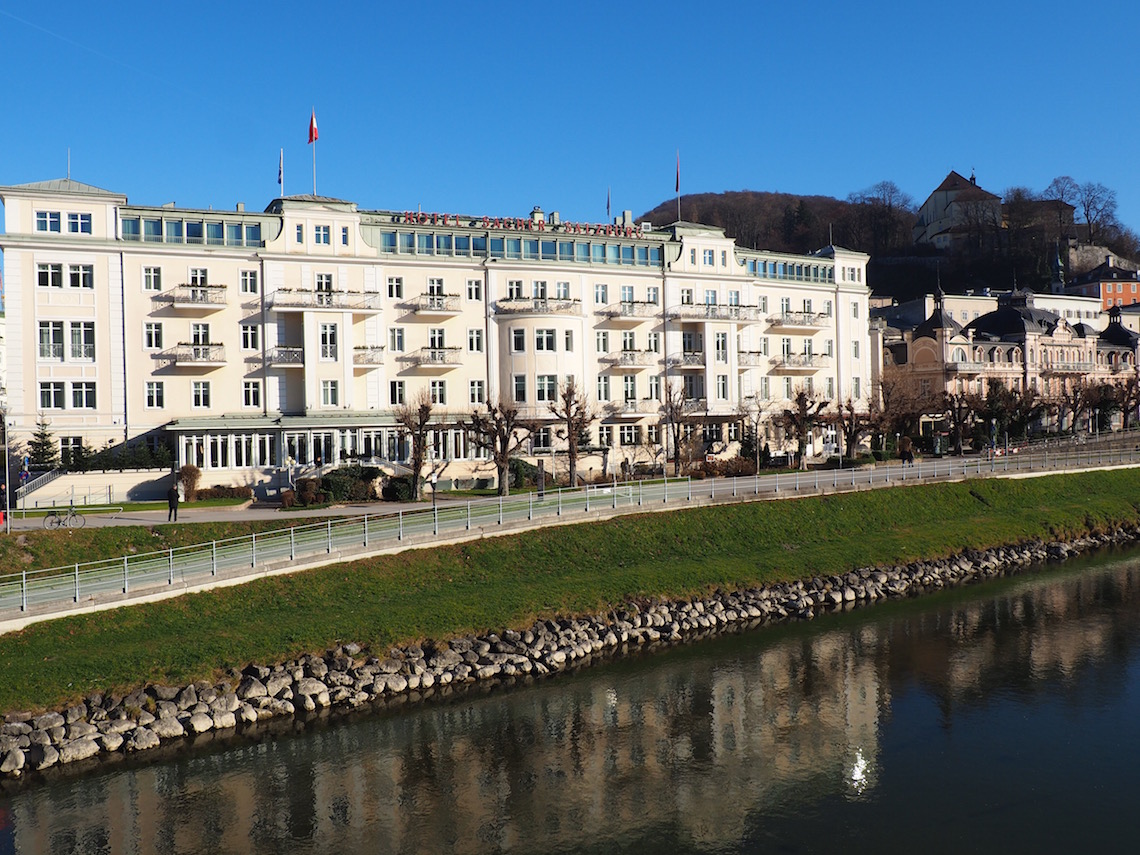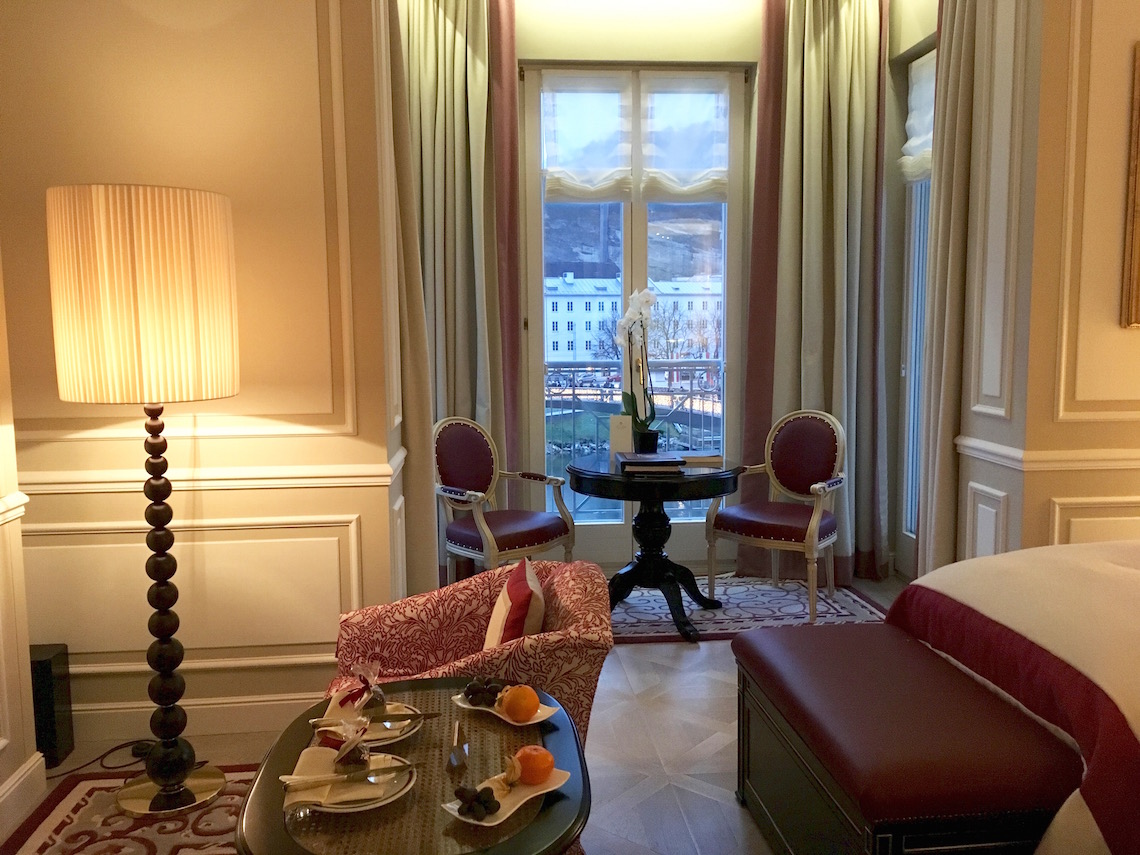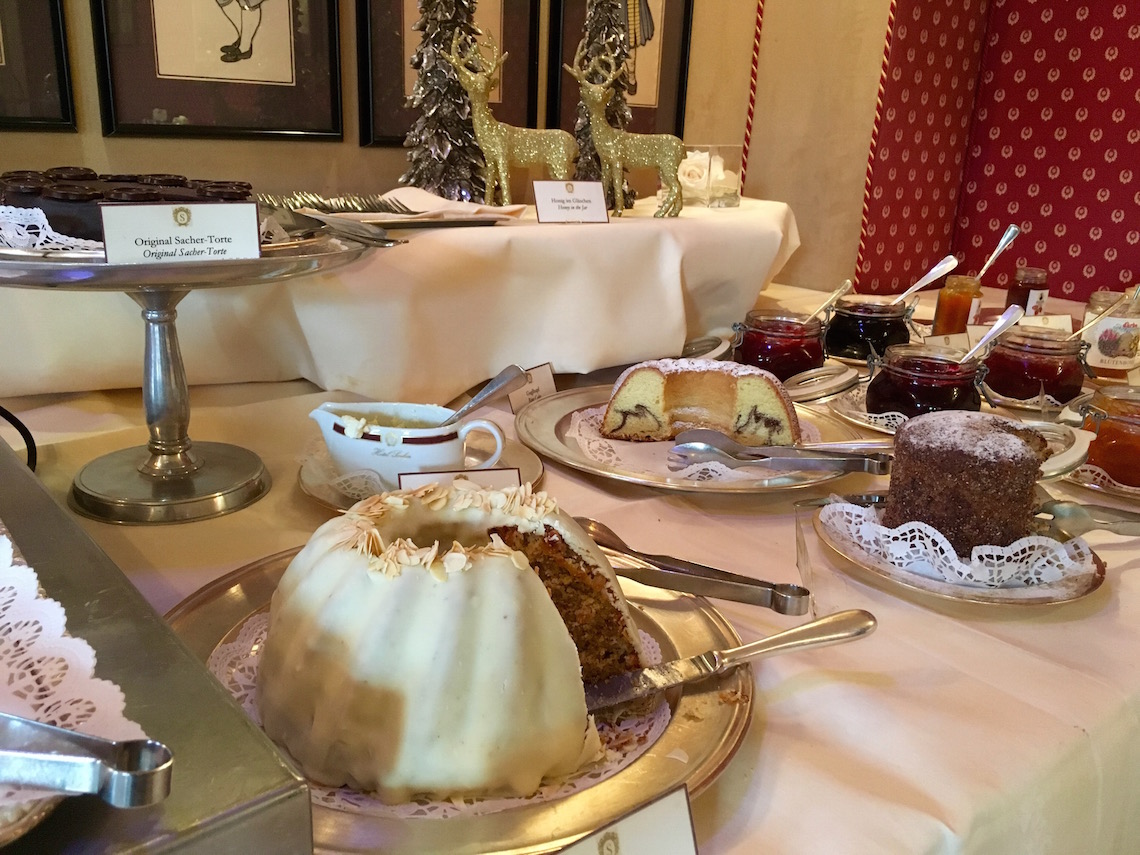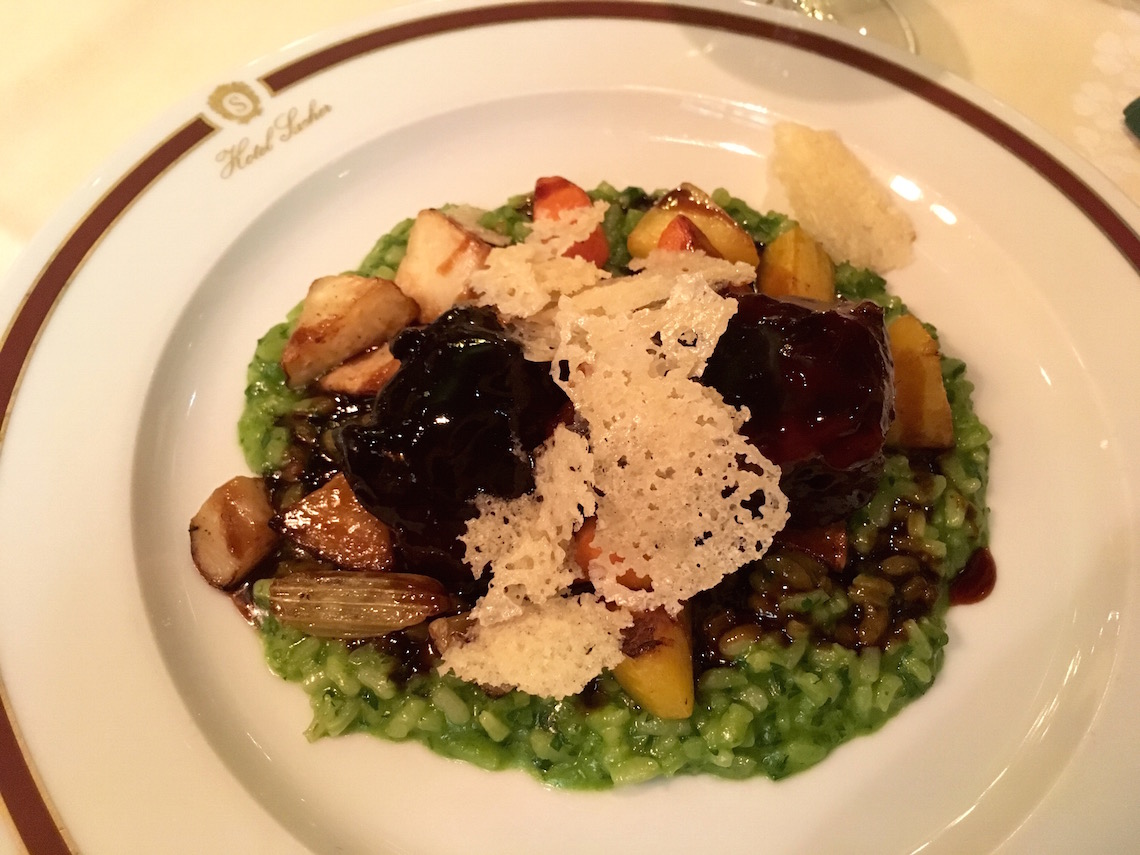 Have you been to Salzburg? I'd love to hear your recommendations in the comments below. 
SaveSave
SaveSave
SaveSave
SaveSave
SaveSave
SaveSave
SaveSave
SaveSave
SaveSave