I had a Saturday afternoon free to myself in London and wanted to make the most of exploring a different side to the city. I have trained in and out of Liverpool Street station countless times over the years, but never explored the surrounding areas of Spitalfields and Shoreditch. I took a Shoreditch street art tour to find out what gives this newly fashionable area, its beating heart.
We met our guide, Esther from Shoreditch Street Art Tours, under the goat statue near Spitalfields Market. We were a mixed group: friends, couples, a family with two children, me, and a dog called Rudy. It was raining, on and off, so Esther moved us under the shelter of Spitalfields Market to introduce herself and the tour.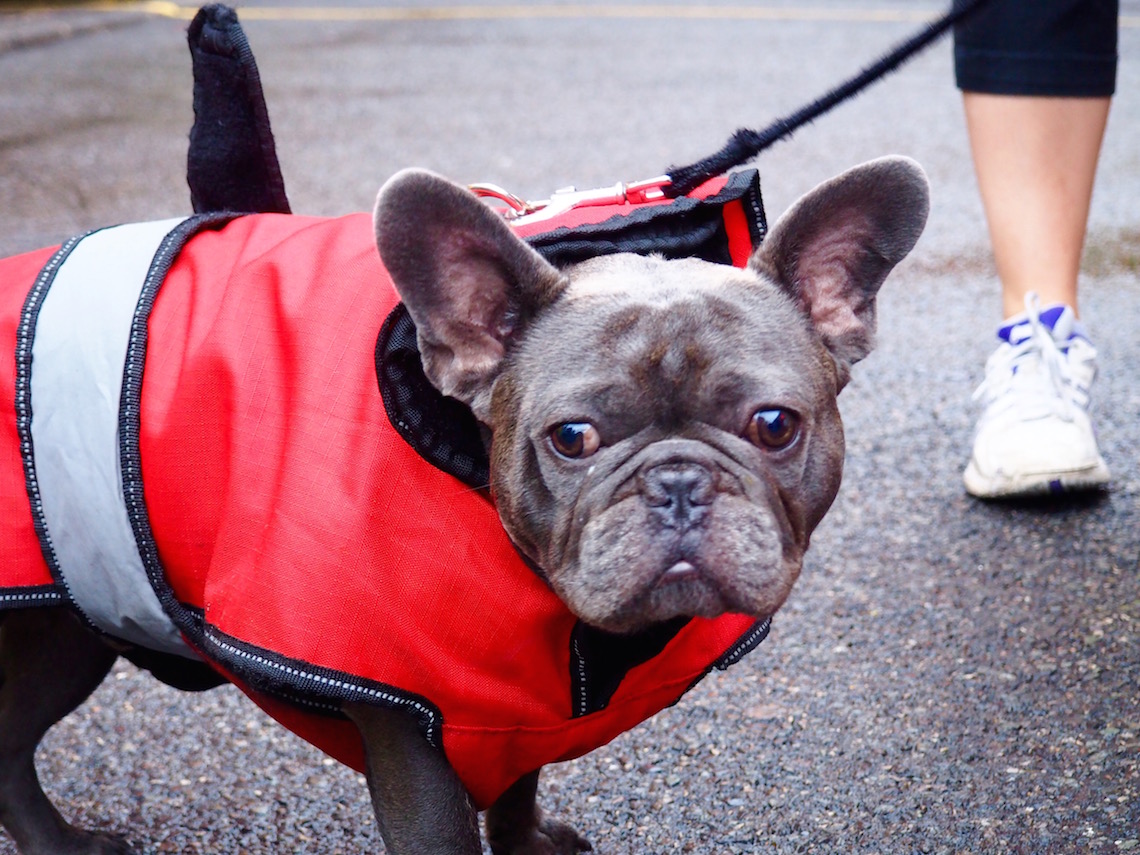 Originally hailing from Spain, Esther has lived in London for a while and has a huge passion for street art. In fact she is so enthusiastic about art that she works in a London gallery, having previously run her own, and is currently undertaking a PhD in the subject.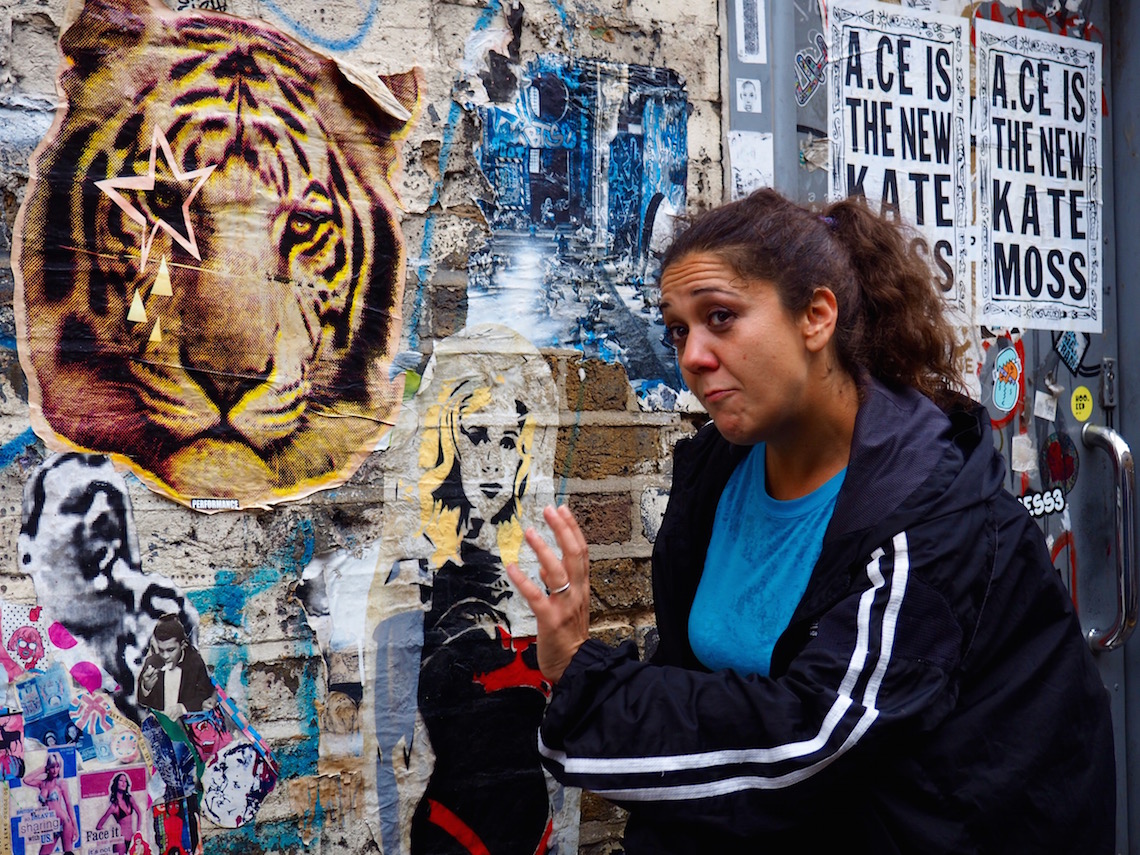 We walked to the first stop, a lamppost, just across the road. I had previously thought that stickers littering lampposts represented some kind of vandalism, but I was about to have my eyes well and truly opened.
Esther explained this is an alternative way for street artists to display their art and make it accessible to the masses. Artists sometimes use stickers to mark their territory. This means you can tell when an artist has visited a particular area.
Esther pointed out an unusual sticker on this lamppost. It was a handmade silk-screen printed sticker by Israeli artist Dede. His trademark use of sticking plasters (band-aids) is often used in his work. While his work has been shown at galleries around the world, it seemed, rather luckily for us, he had also visited this unassuming lamppost in Shoreditch.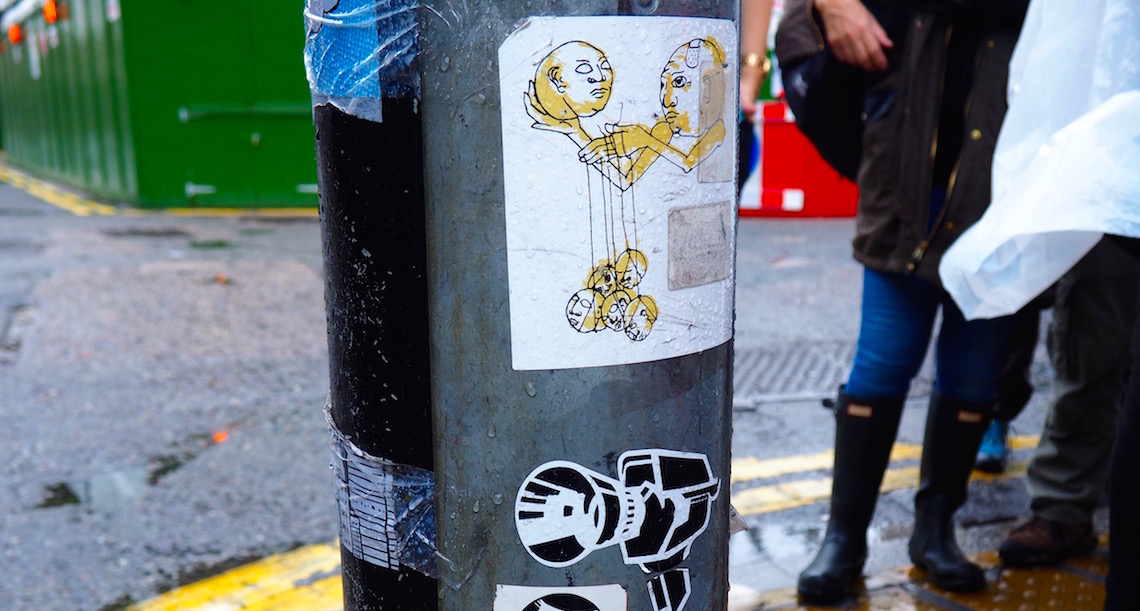 Another sticker on this lamppost belongs to Shepard Fairey, an American street artist and founder of OBEY clothing. Fairey has been described as one of the most influential street artists and became more widely known during the Barack Obama "Hope" poster campaign.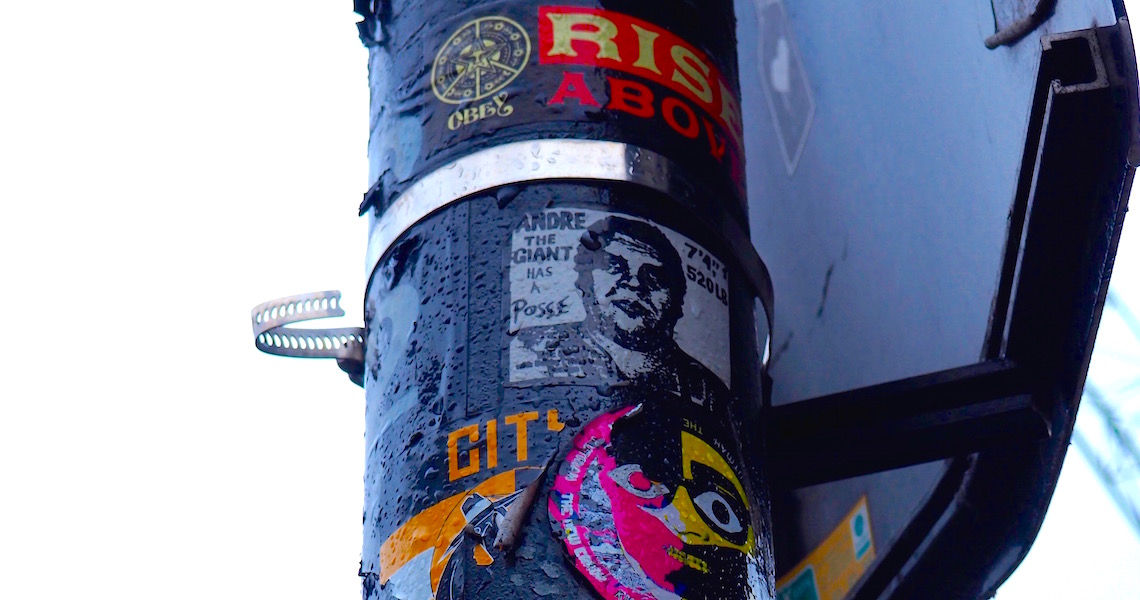 While anyone can go and see Fairey's work in MoMA, The Smithsonian and the V&A, Esther told us he was arrested last year for putting up illegal street art in Detroit. I find this a fascinating paradox. On one hand, the elite are paying top dollar to show your work in hushed, enclosed spaces; while on the other, you display your work free, for the masses, and are arrested for it.
Peeking out above another of Fairey's artworks (painted high on the side of a building, how did he do that?), is one of Ronzo's credit crunch monsters. Look carefully and you'll see he is munching a coin.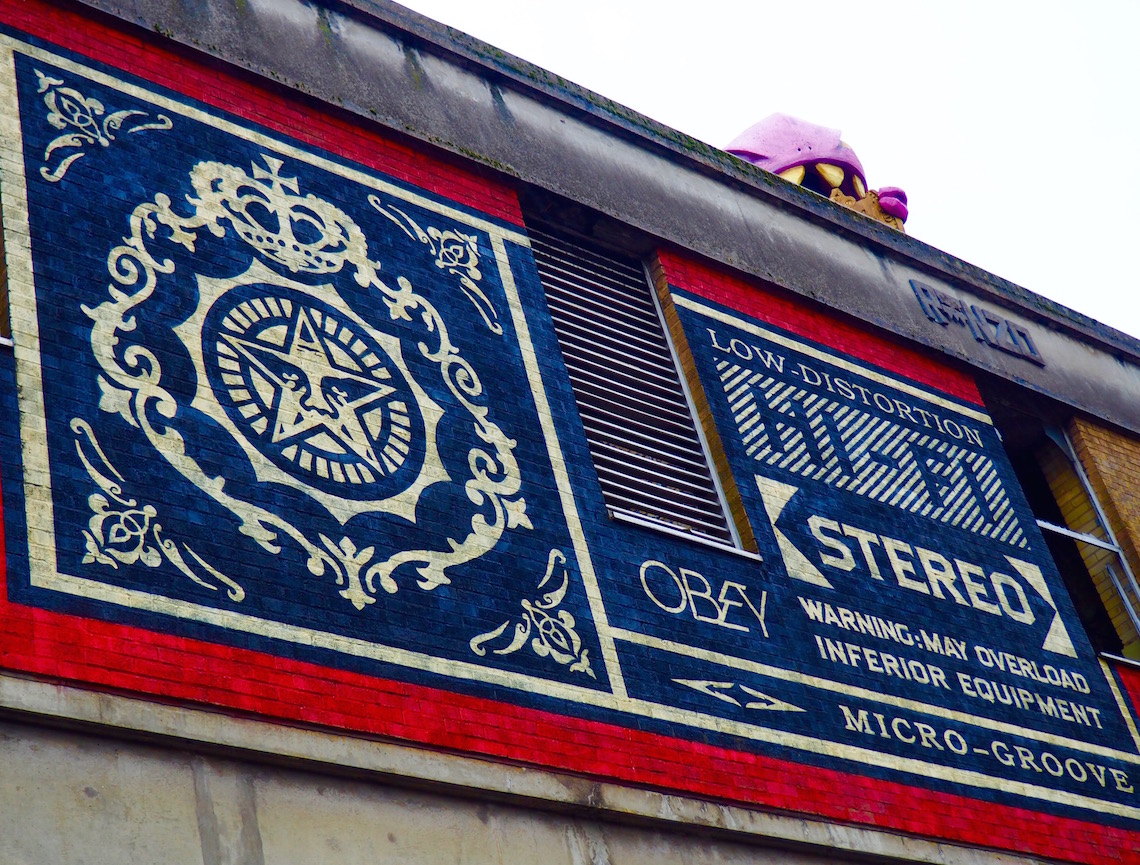 Esther teased us with the idea it was now our turn to look for the next piece of art as we walked along the street. I scanned around and couldn't spot anything, except some stickers on a lamppost. "You need to look up," Esther said. On the top of said lamppost, was an intriguing sculpture. This bronze, mythical creature turns out to be the work of Jonesy – an environmentalist and sculptor.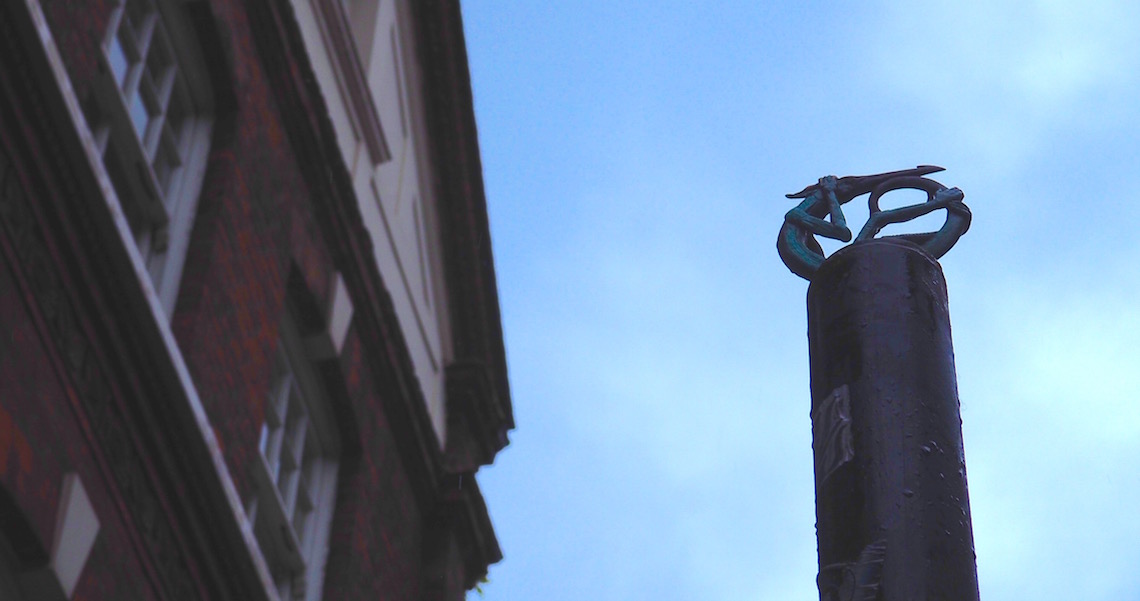 We later saw an even more beautiful piece by Jonesy, seemingly randomly attached to the front of a building and clearly showing an environmental message.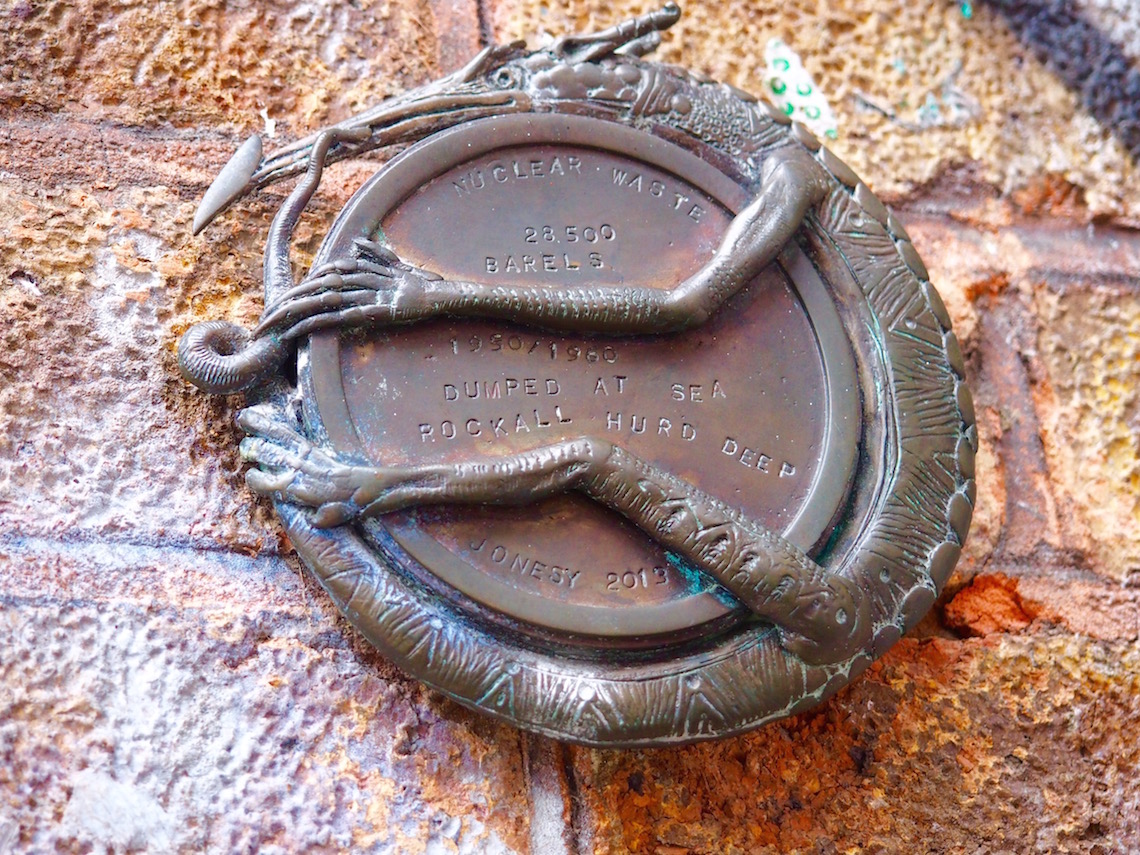 Back to the lamppost. It also featured a sticker marking the territory of D*Face. Described by Dave Stuart, founder of Shoreditch Street Art Tours, as, "The father to London's street art scene" and "globally significant."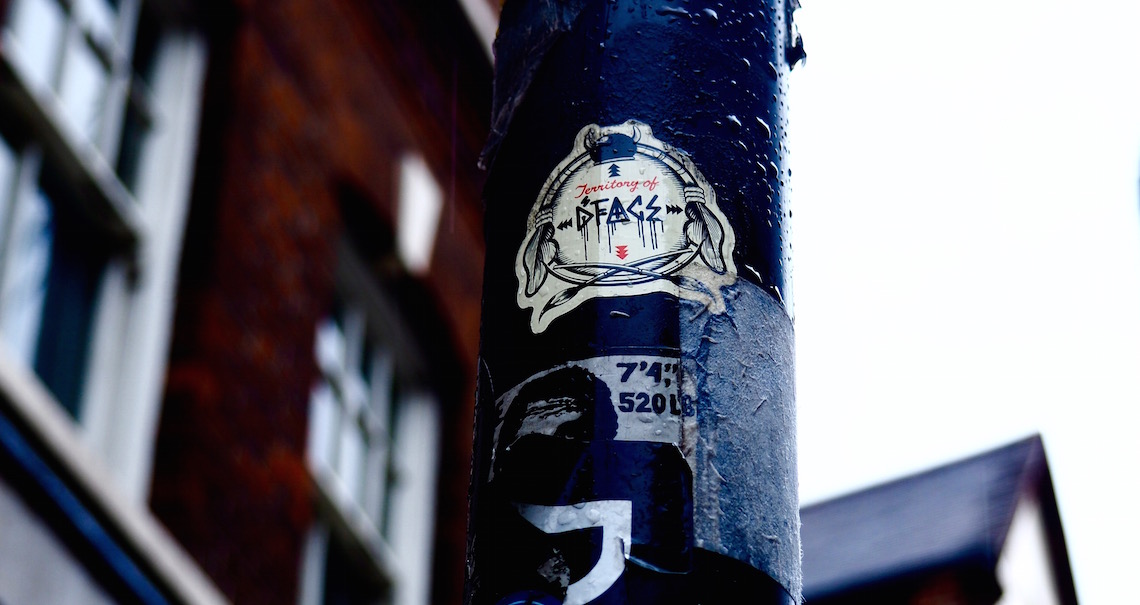 Later, just off Brick Lane, we spotted D*Face's car crushed by a winged bomb. The band, U2, have used different street artists in some of their videos. Some of D*Face's characters can be seen in their California video.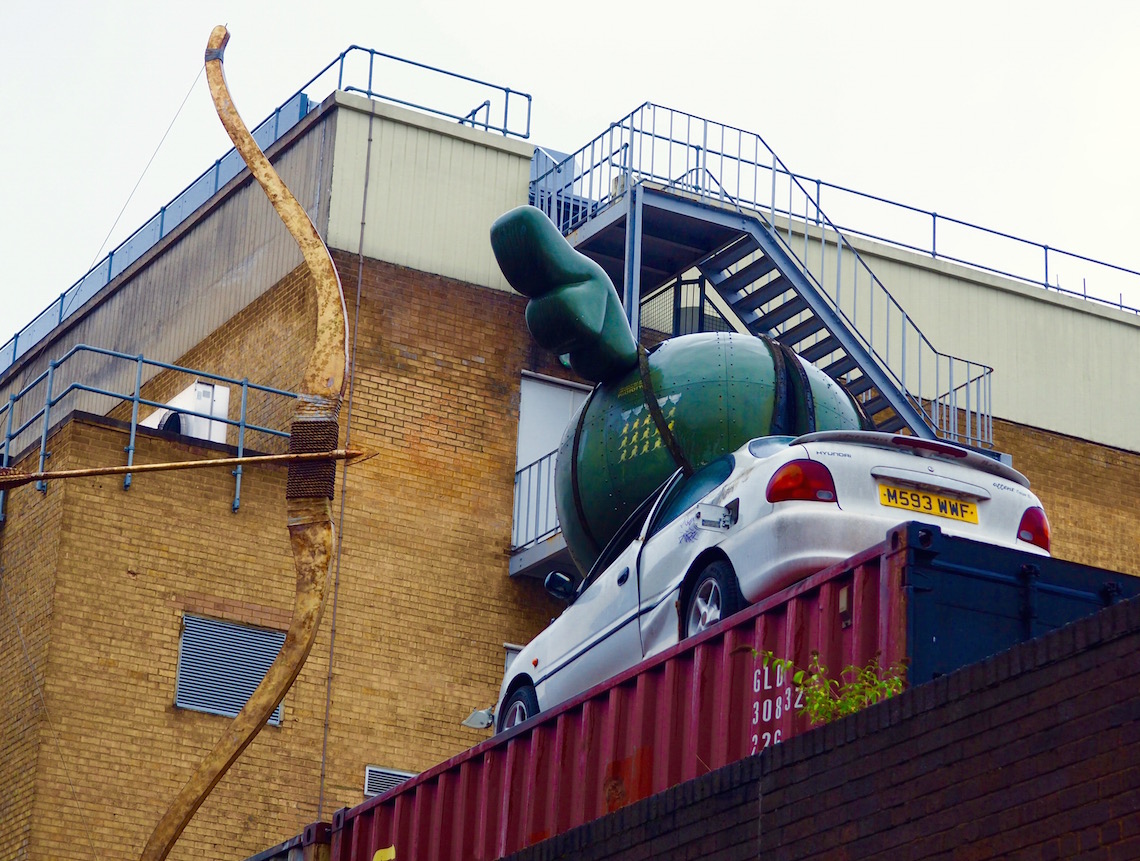 Street artist, Conor Harrington, has also worked with U2. We saw his soldier on horseback, in Fashion Street, and a larger colourful mural by this Irish artist later in the tour. Esther explained how a trademark of his work is to leave deliberate drips, which is apparently quite a skill.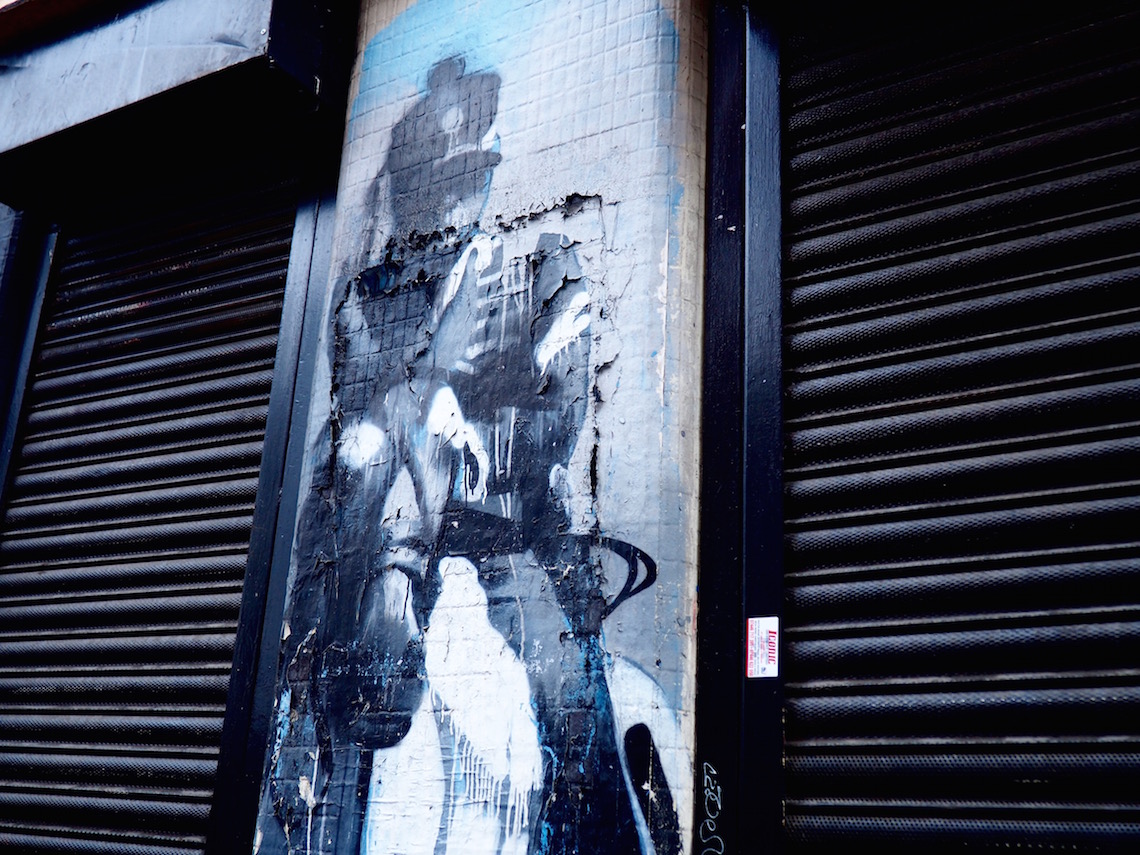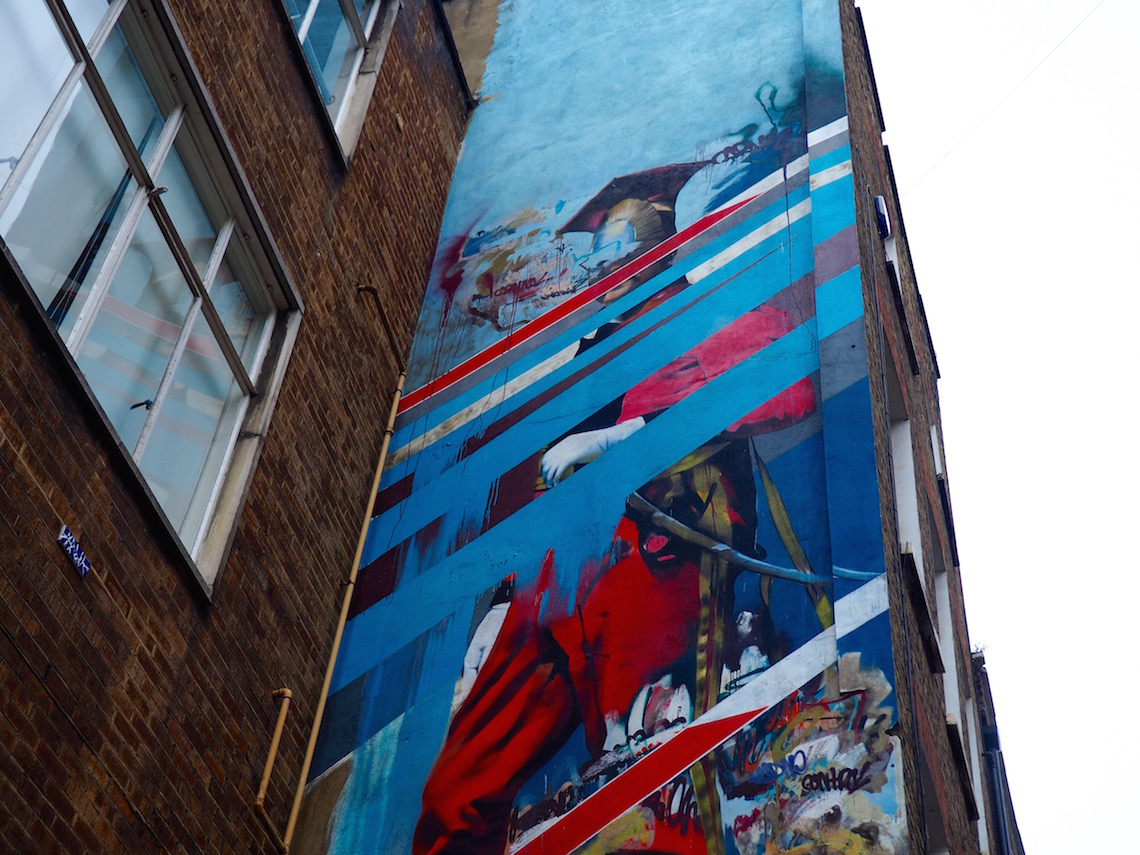 Also in Fashion Street, I loved the colours of Chilean artist, Otto Schade. Esther explained how he layers the colours up to get this sunrise/sunset effect.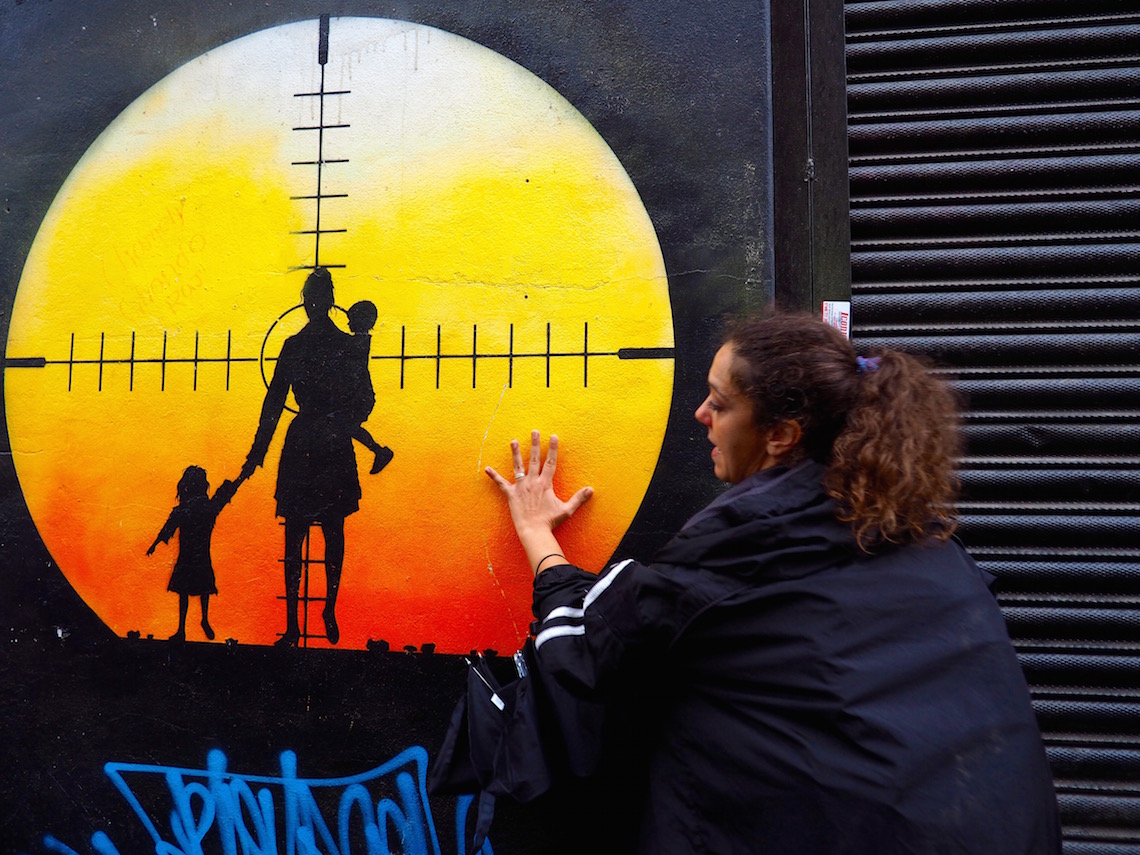 We later saw another piece by Schade. I found his works certainly thought provoking, with his style of combining weapons and children in his paintings.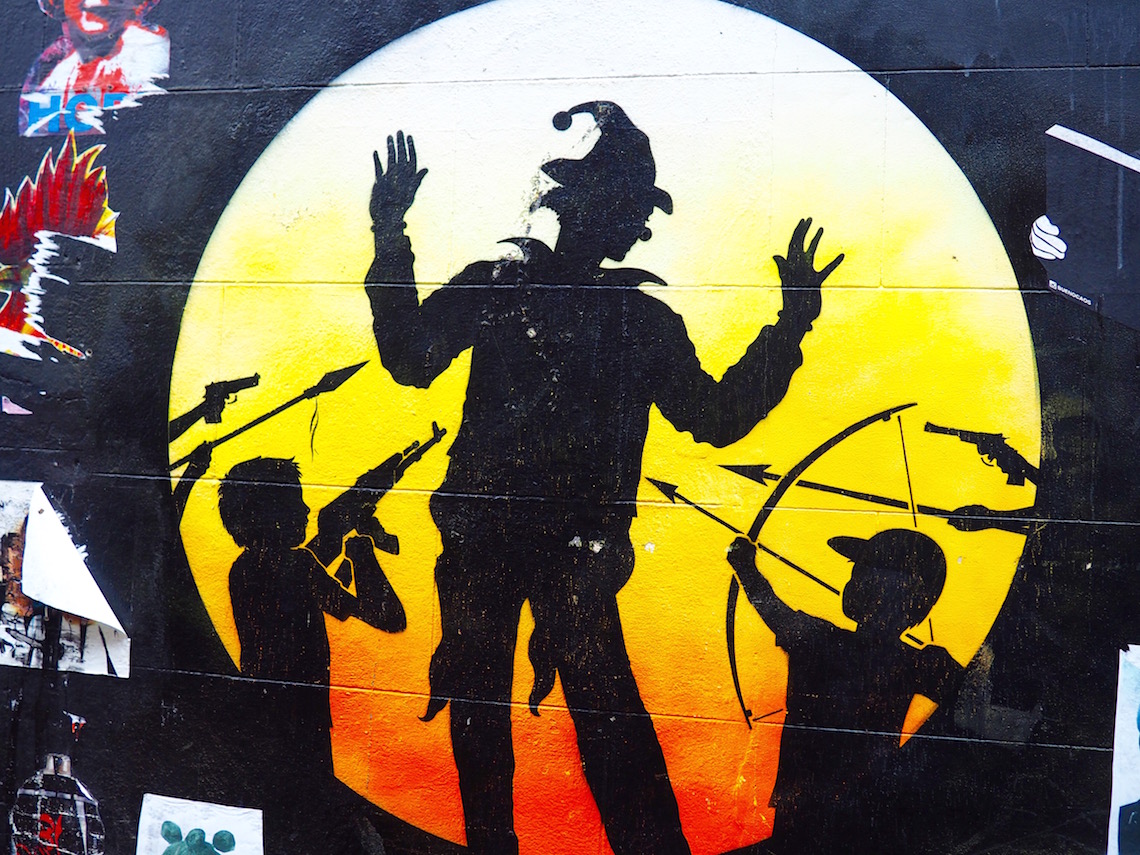 This piece by Mr Fahrenheit certainly caught my eye. It portrays the 1960's icon Twiggy. I found it quite apt, that it's located in Fashion Street. To me, this painting is all the more striking because of its minimal use of colours and few borders.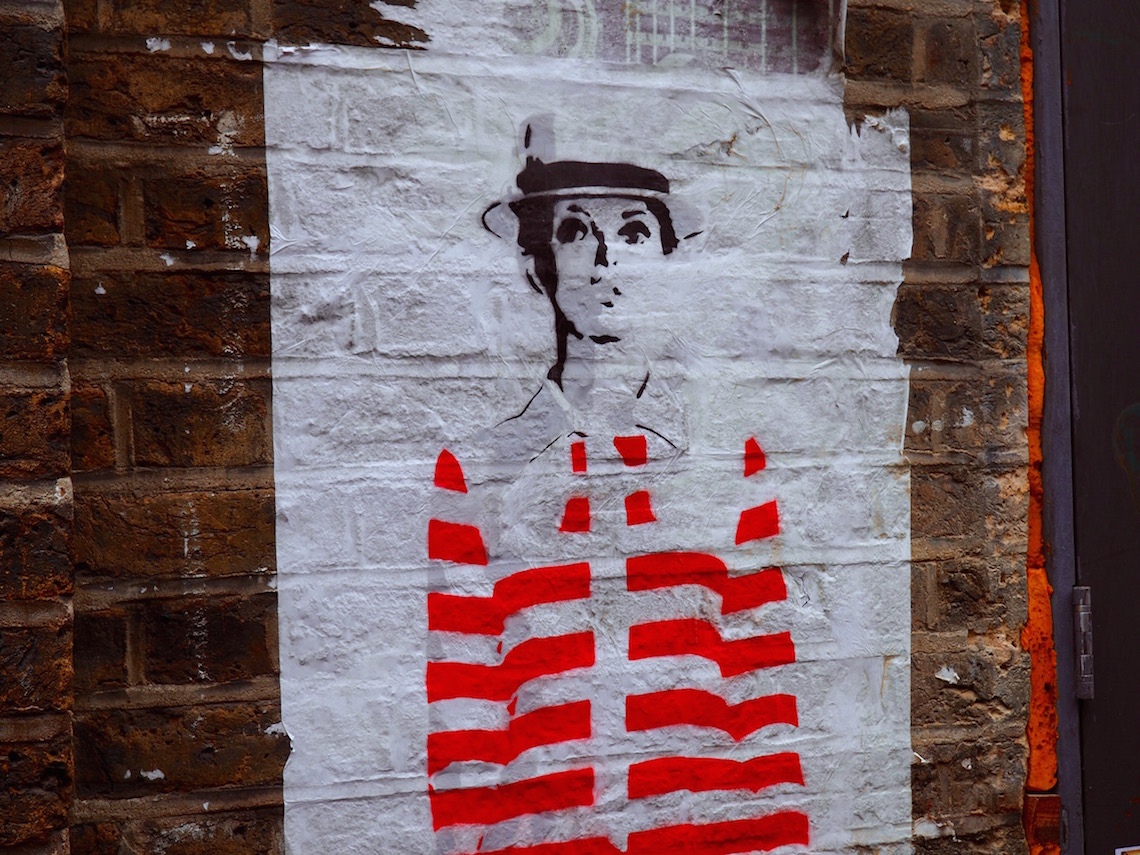 This snarling wolf was created by Mazatl, a Mexican artist. Esther explained that it had been adapted later by Mr Fahrenheit to include a leash and somewhat familiar looking dog-walker. I wonder, is this humour, cheek or vandalism to change the appearance and the meaning of another's artwork?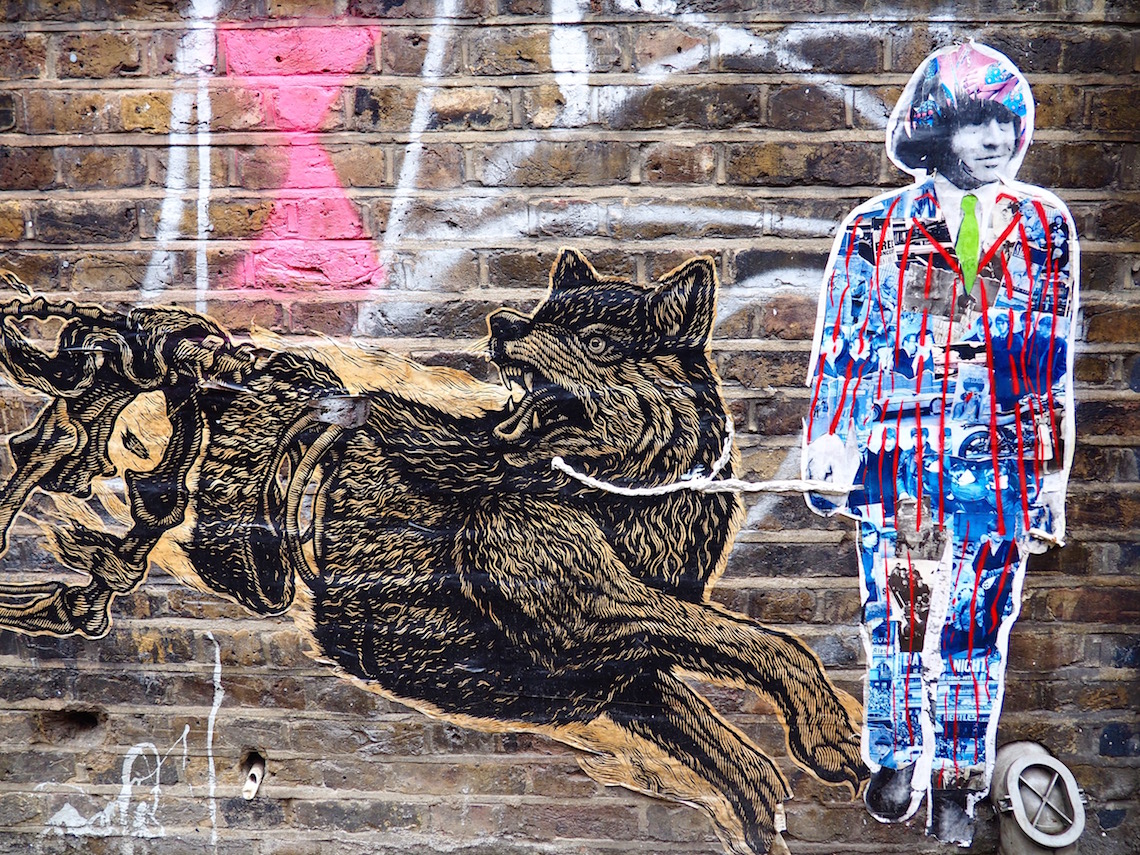 Just along from the wolf was one of my favourite pieces, created by Mr Cenz. His work features various layers and is full of beauty and movement. We later saw a similar, but contrasting piece by the same artist.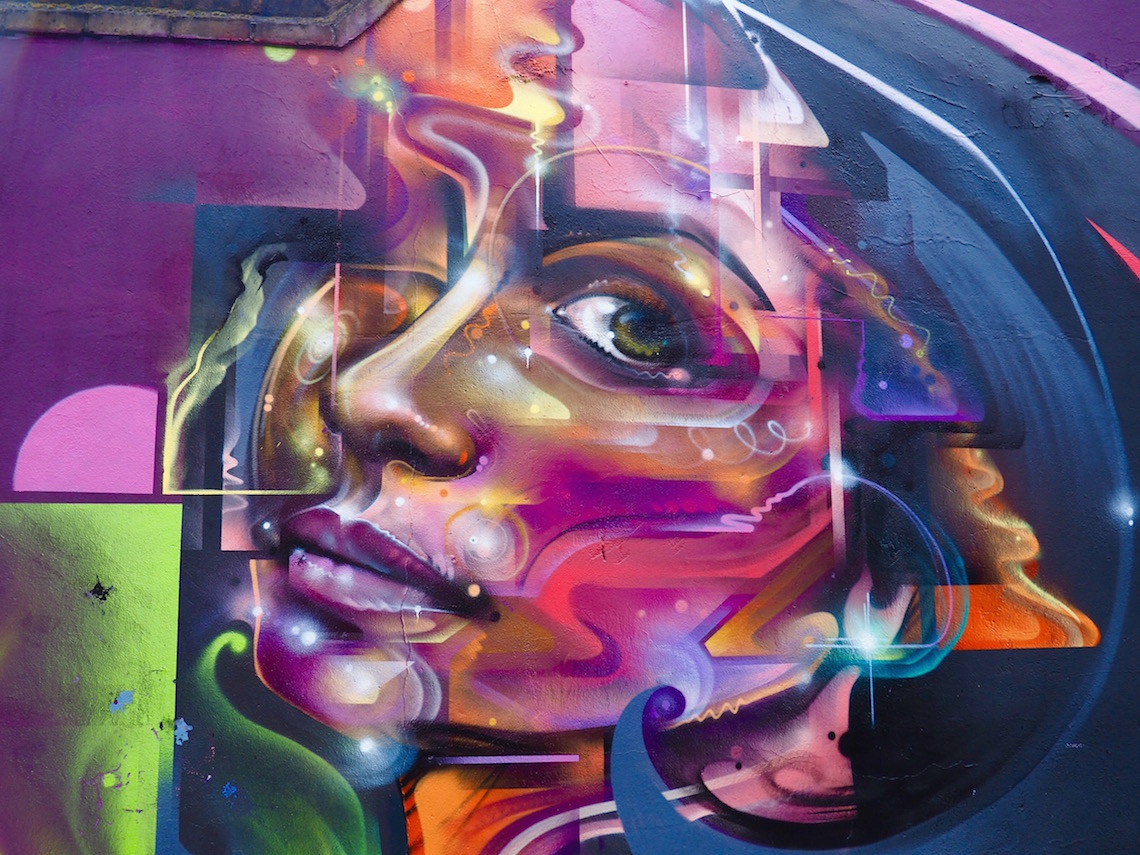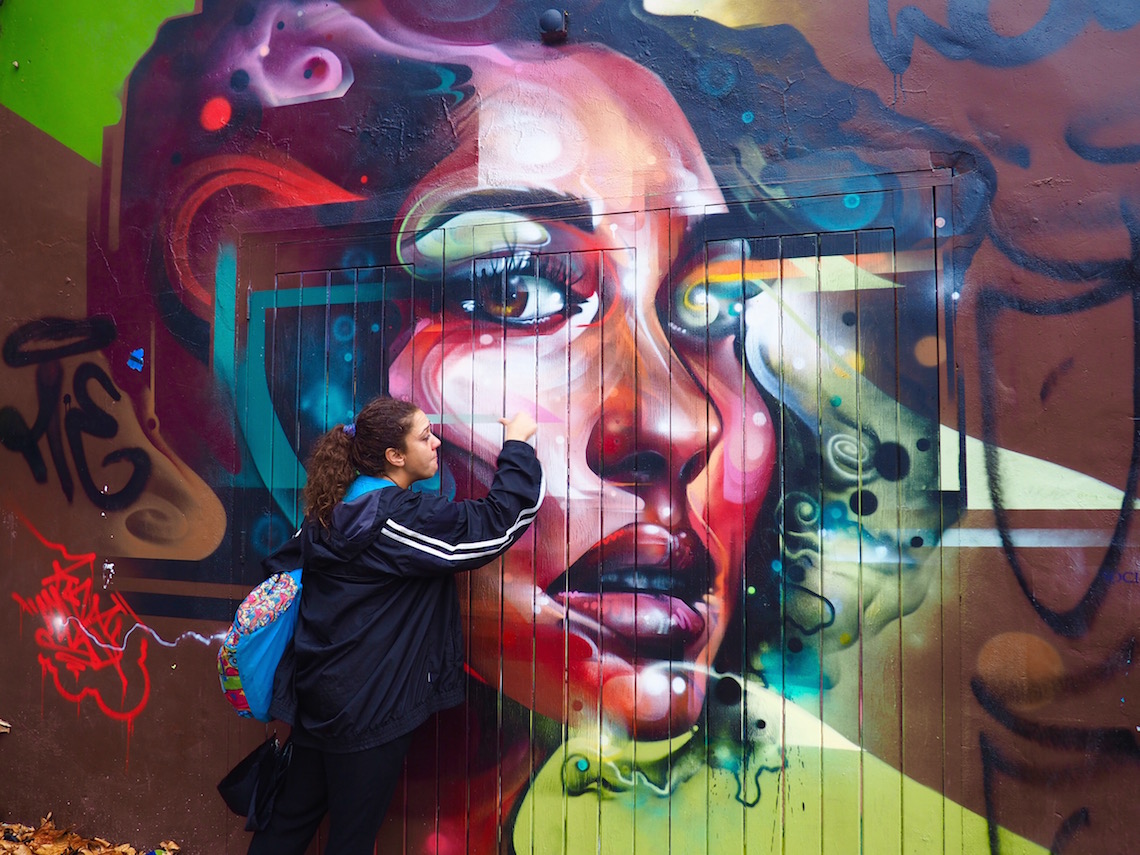 On the opposite side of the road, was this amazing commemorative piece to Muhammad Ali.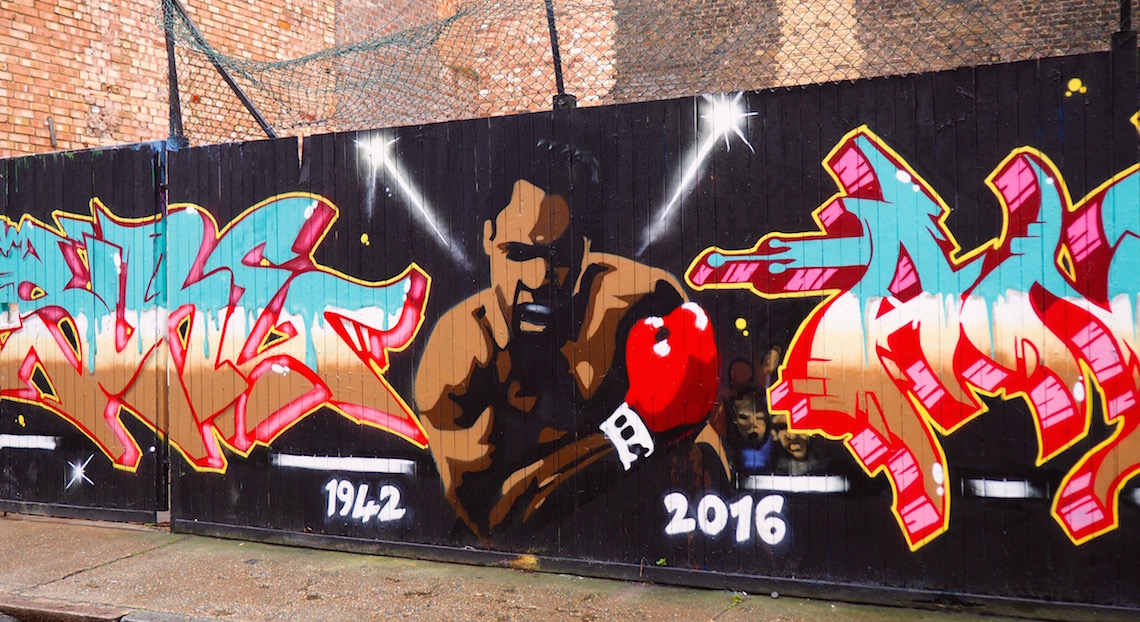 Venturing into Brick Lane, it was time to look up again. This time we were looking at road signs. These 'No Entry' signs have been cleverly adapted by Clet Abraham. Wouldn't it be a bit of fun if No Entry signs in other places could be adapted to include a bit of humour?

Walking through an alleyway, Esther caught sight of a furtive artist putting a paste-up up on the wall. It was signed by 'ODDO.' Pretty exciting that we would see a street artist in action in this clandestine world.
Esther ushered us into a car park off Brick Lane. This turned out to be a mecca for street art and there were quite a few people with cameras popping in and out. Here was another of my favourite pieces of the day, created by WRDSMTH. His work can be found all over the world from LA to Melbourne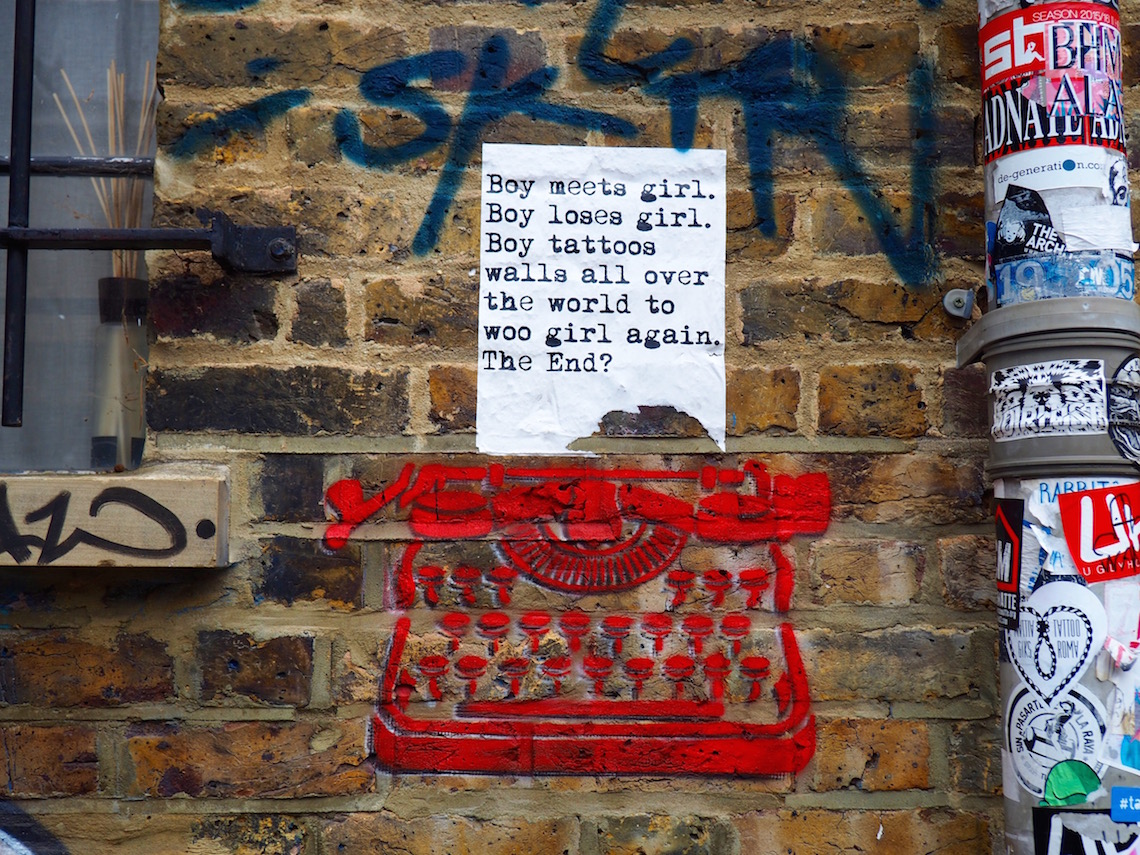 These two other works in the same car park, caught my eye: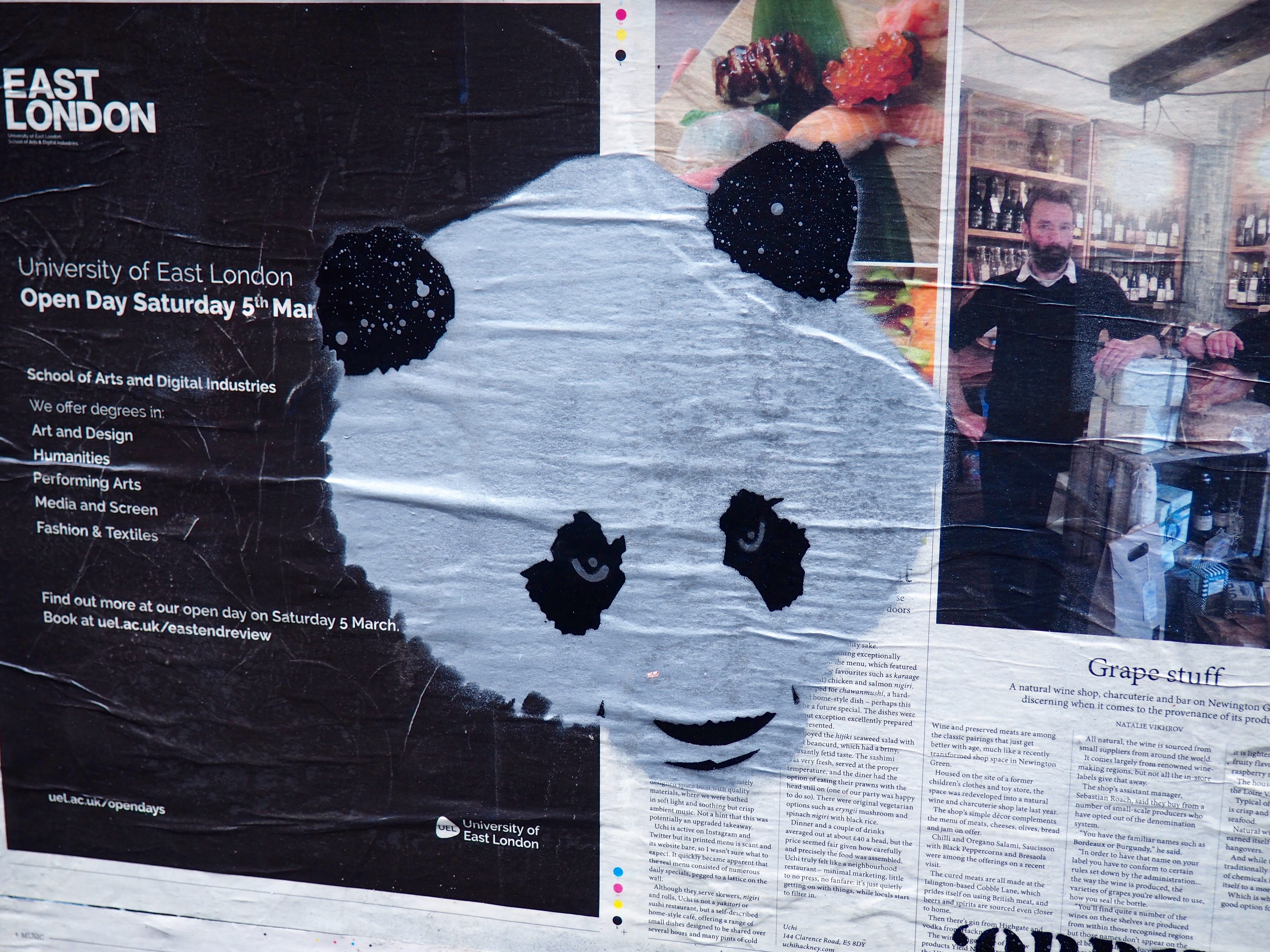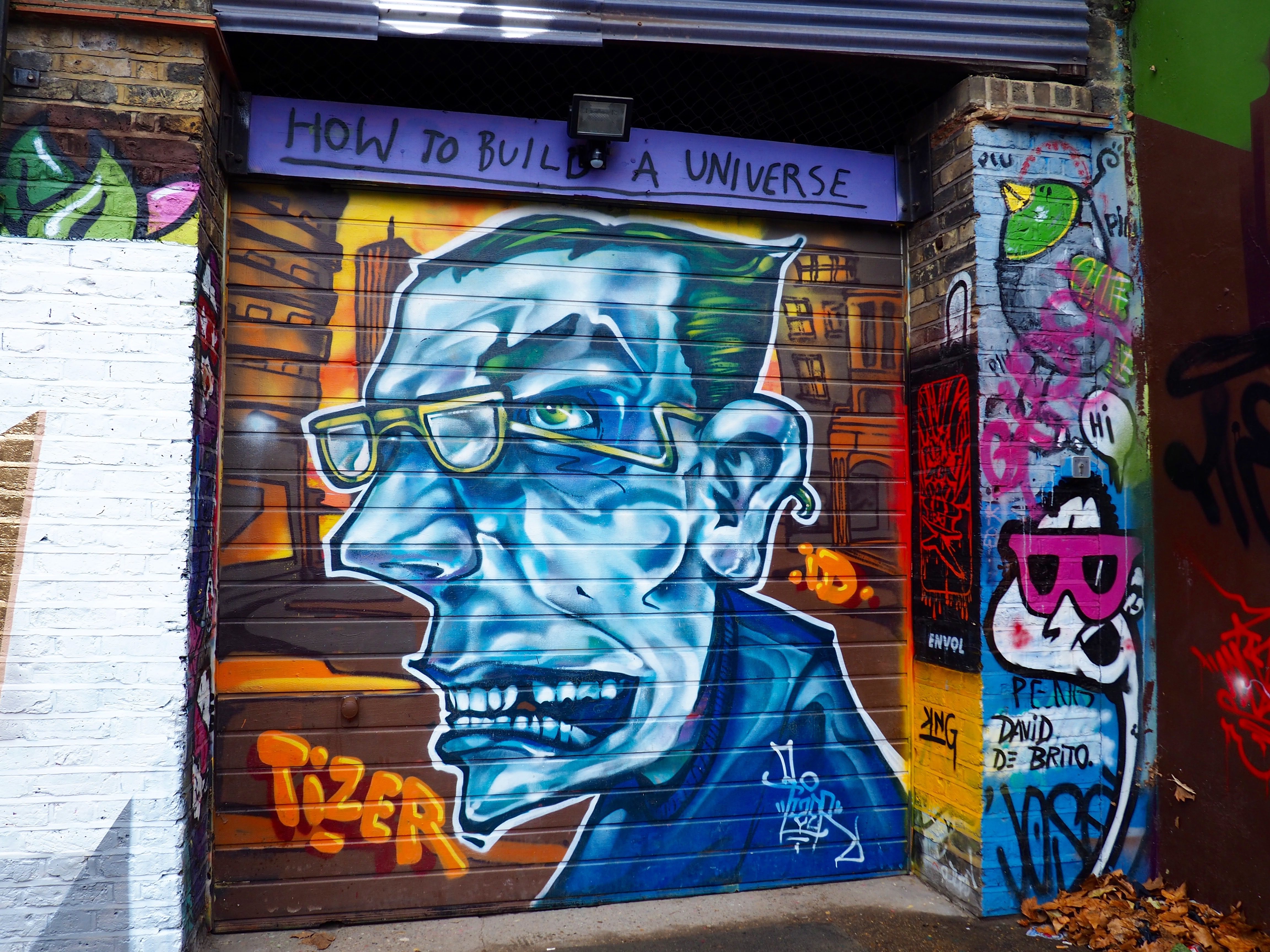 Around Brick Lane, we spotted this hand-embroidered photograph by Mexican street artist, Victoria Villasanna.  When I previously thought of street art, I thought of spray cans and paints, I hadn't realised the different uses of mixed media to create art on the street. We even saw a picture made of pistachio shells on this tour.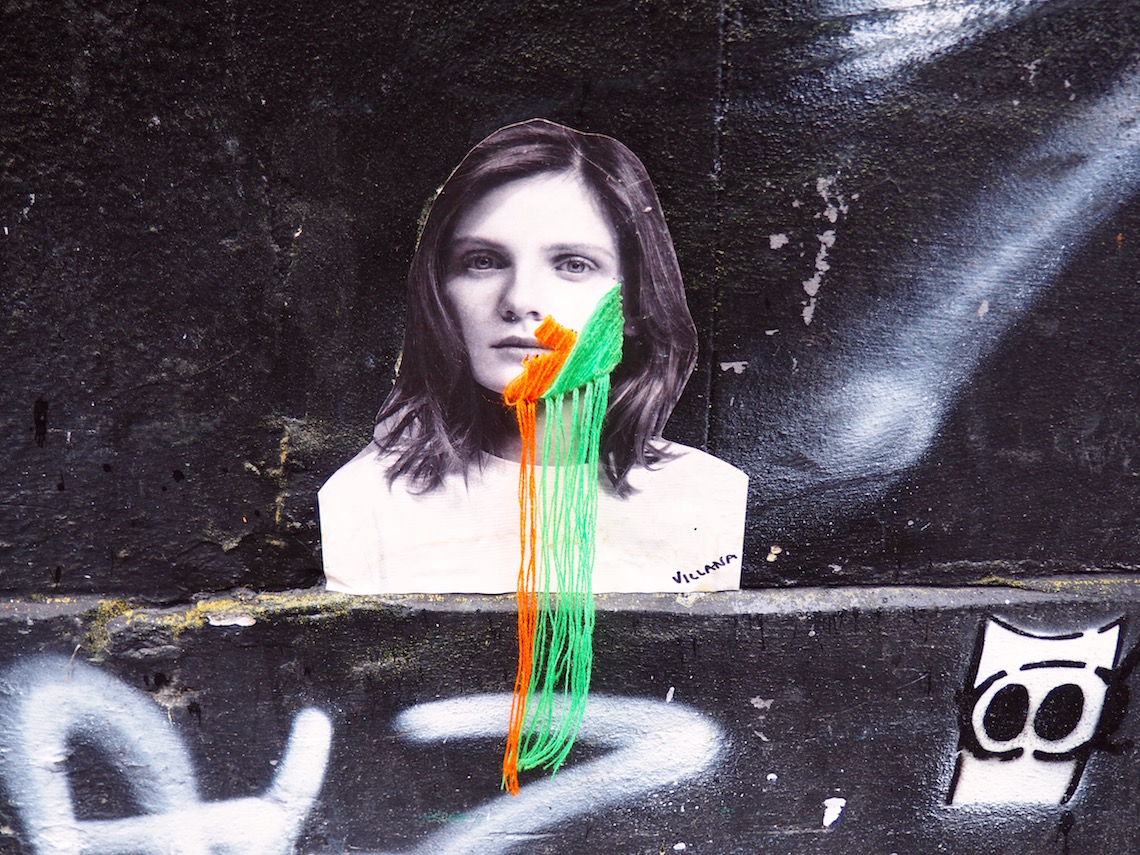 Another of my favourite pieces was an X-Ray hand painting by Shok-1. This is a beautiful painting with a light touch and ethereal feeling.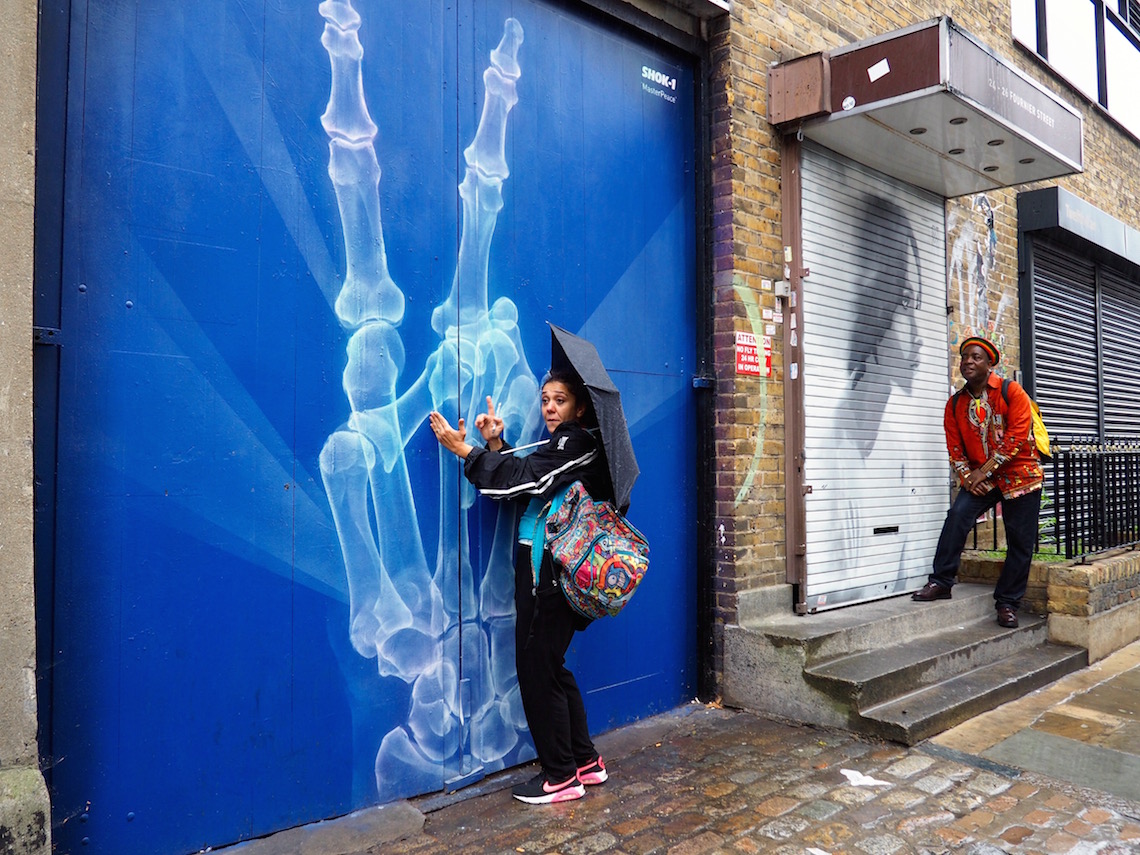 This spectacular bird on Hanbury Street has been created by ROA from Belgium. Esther explained he is one of the world's most acclaimed street artists. I find it amazing the lengths these artists will go to in order to display their work. It turns out ROA has also worked with U2.
On a more colourful note, we saw some examples of letterform art by former graffiti writer Ben Eine. His notoriety has grown since David Cameron purchased a piece of his art to give to President Obama as a gift. Esther revealed it's the only piece of art by a living artist to be hanging in the White House.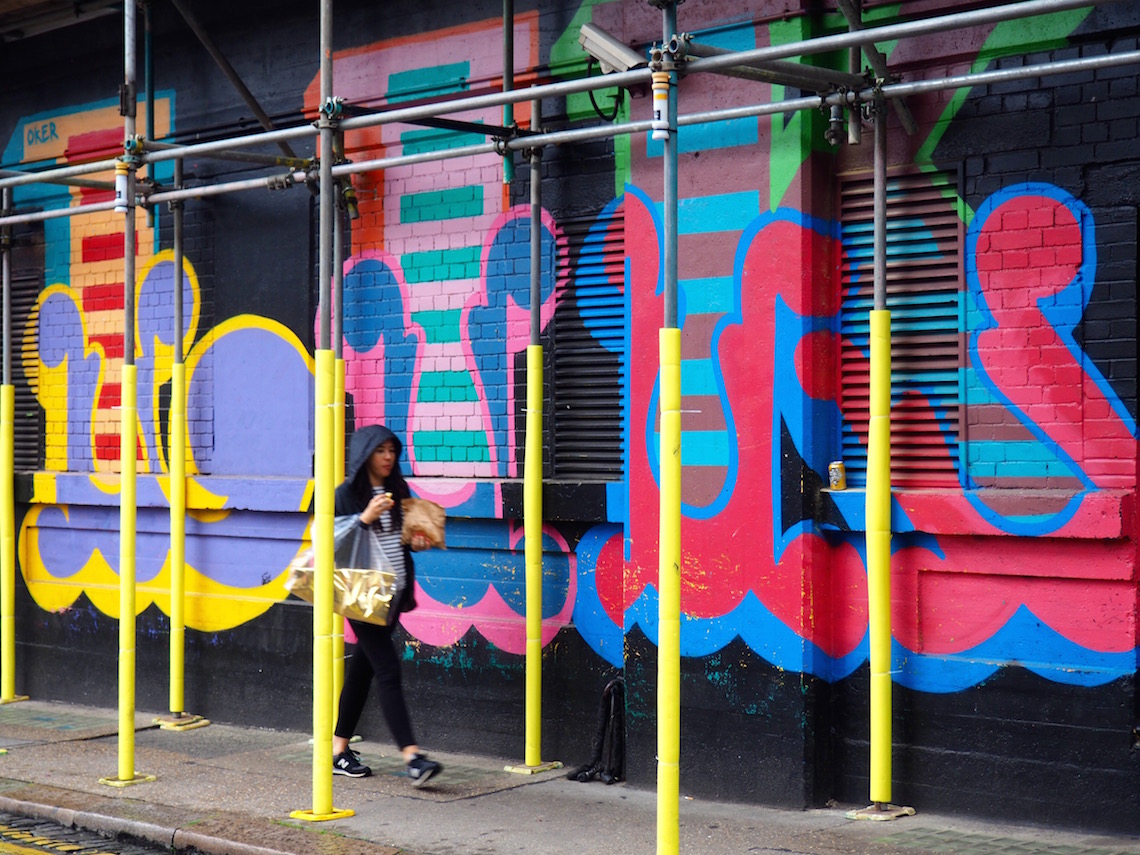 Who says street art can't combine with today's technology? This piece of art by INSA is termed as gif-iti. Download a special app, and the work comes to life and starts to spin.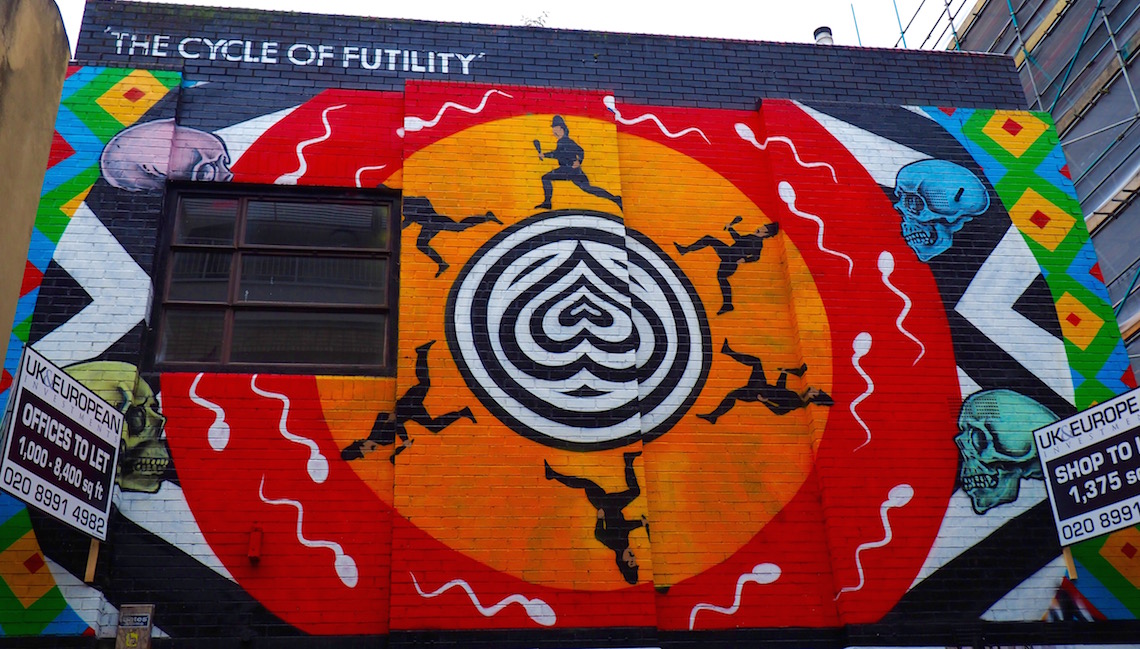 As we neared the end of the tour, I spotted this work by Bambi. Its 'don't shoot' message is pretty disturbing and cleverly modelled on a football theme.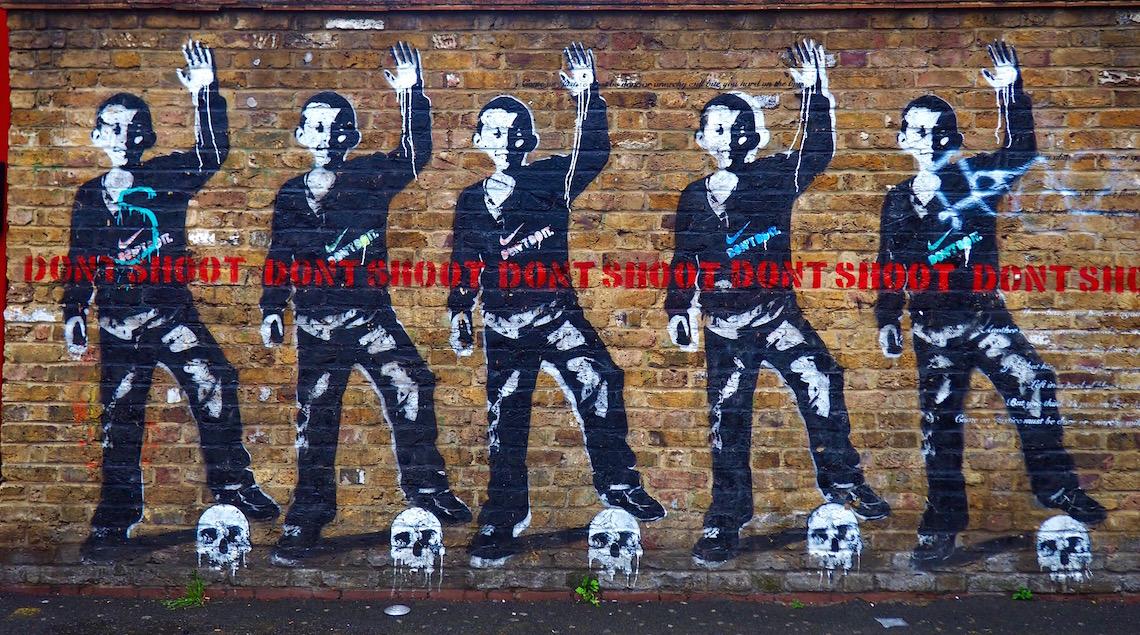 Then our final surprise. We turned into the courtyard of a pub, which, apart from the grey London rain, looked like it should have been in the Caribbean. Here on the wall, under perspex, was a Banksy.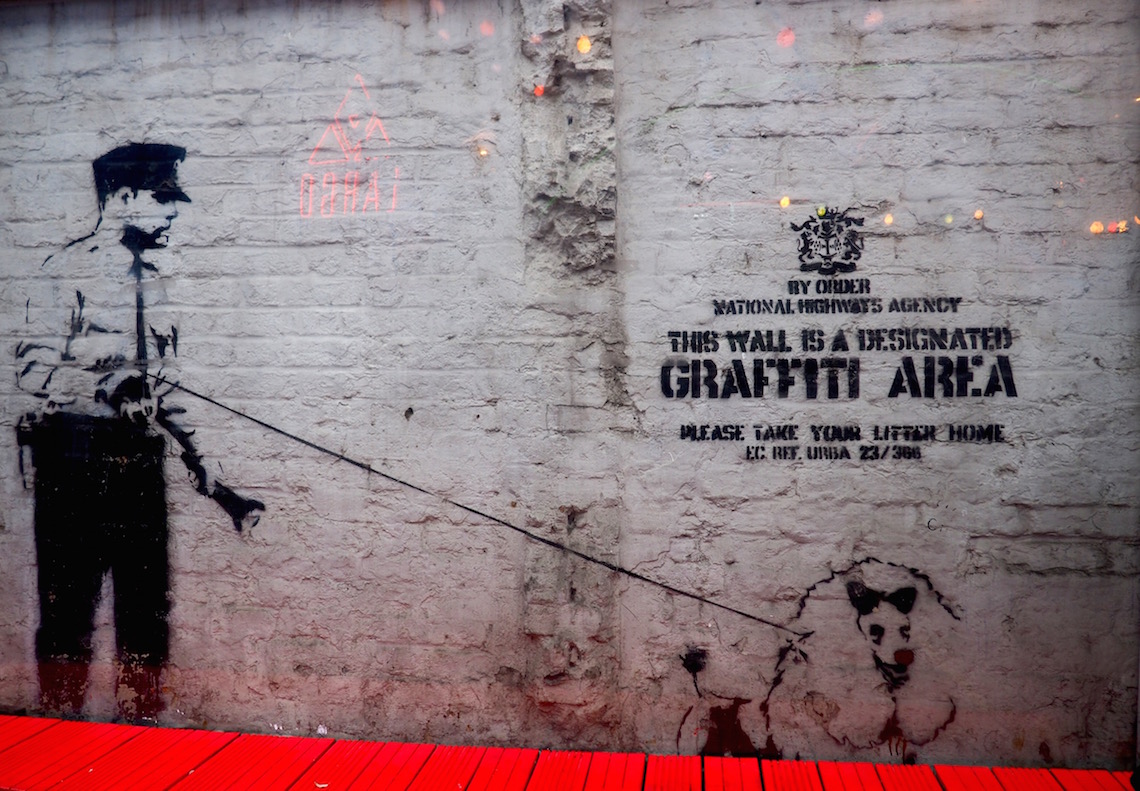 For me, this was a fitting end to our street art tour. I have become even more intrigued by Banksy's work, since he put up a piece in my hometown attacking surveillance culture.
Although I already had an interest in street art, I didn't realise quite how intriguing this counter-culture is. In this clandestine world, the boundaries are blurred between legal and illegal. Canvases are ready made and waiting to be brought to life on the street.
We saw far more on the Shoreditch Street Art Tour than I have mentioned above, but I don't want to give away all their secret finds. I would highly recommend this three to four hour walking tour to discover more of this hidden art.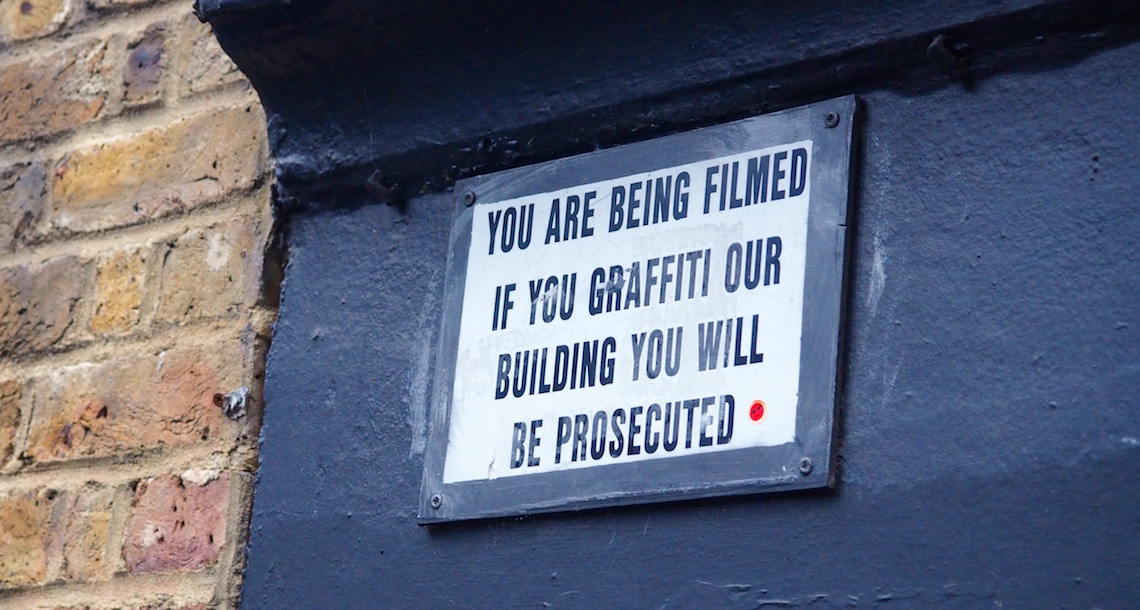 Have you seen any street art that's really caught your eye recently? I'd love to hear about it.