I hadn't been to Prithvi, on Cheltenham's Bath Road, since it first opened. Quite probably because I'm a spontaneous sort of diner, and you have to book a table here weeks in advance, due to its immense popularity. This restaurant doesn't purport to be your usual style of curry house, but offers Indian fine dining.
About Prithvi – Indian fine dining
Being a keen observer of Trip Advisor rankings, I'm aware that Prithvi has long graced the number 1 spot in Cheltenham. While it's only recently slipped to third, that's still pretty incredible considering the wealth of dining options in the town. The Telegraph hails it one of the top curry restaurants in Britain and it is listed in the Michelin guide.
Prithvi's other, lesser known, claim to fame is that it was once the home of Brian Jones, founding member of The Rolling Stones. Mentioned on a discreet little plaque outside.
The restaurant's ethos is to take Indian food to a new level. Menus are inspired by the seasons; appropriate considering Prithvi means 'Mother Earth.'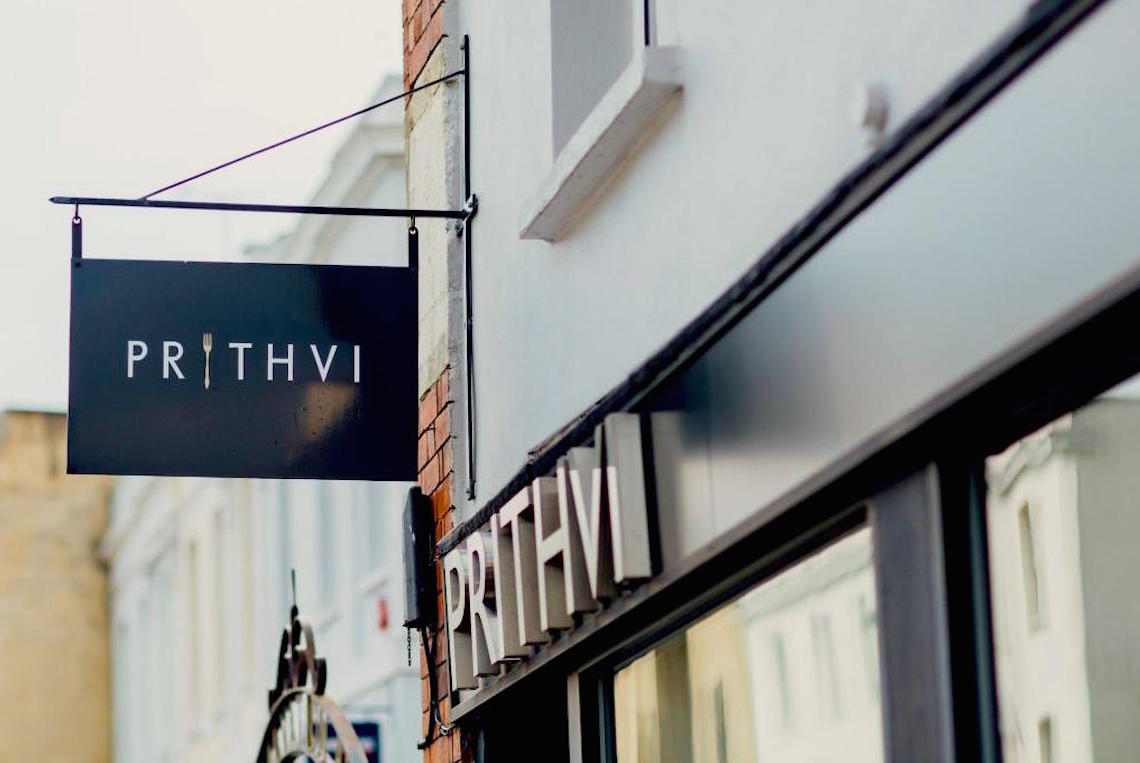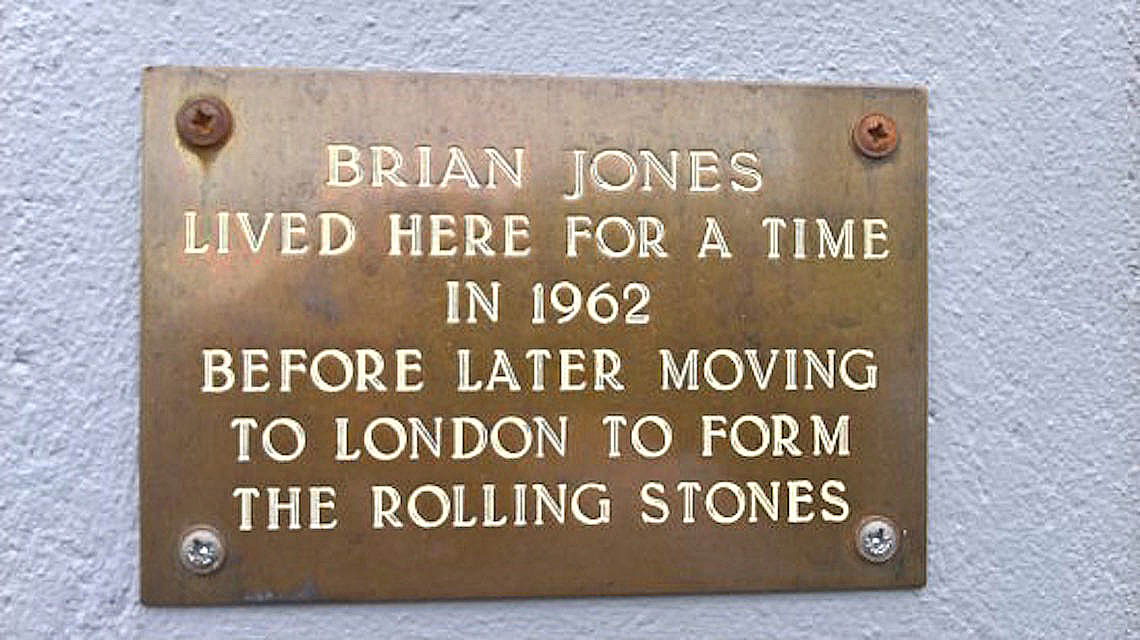 Arriving at Prithvi
All in all, I had high expectations of our Indian fine dining experience and was delighted to be invited along to a VIP lunch for a taste of Prithvi's new autumn menu. We were greeted and seated by our host Jay. I had invited Mr Skylark as my plus one and we sat with the lovely Sarah and Adam from Lewis Loves.
The restaurant is quite cosy in size and has a black and white minimalist feel. Paintings on the wall feature the regency buildings of Cheltenham.
I started with a glass of sparkling water, and we requested still water for the table. I only mention this because, throughout the meal, the waitress kept returning to top up both my water glasses, carefully discerning each time, which was which. Testament to the high level of service we received during lunch.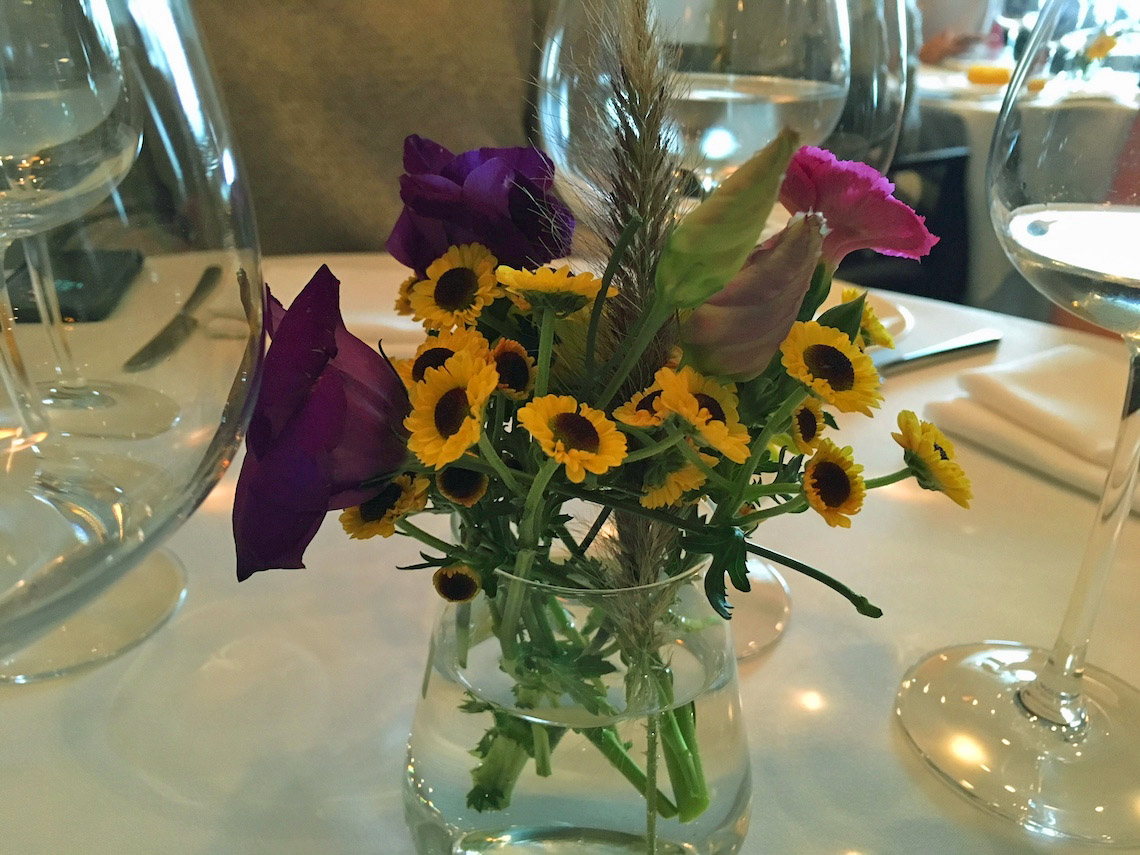 The food – Indian fine dining
Feeling peckish, I was delighted when an amuse bouche arrived: a rice cracker topped with crispy kale, mango and cinnamon. It was light and dainty. Then an unexpected second amuse bouche: a pani puri. This tasty morsel (a traditional Indian street food snack) of crispy pastry was filled with chickpea and tomato. The waiter poured tamarind jus into the hollow, adding a touch of theatre, ready for us to polish off in one bite.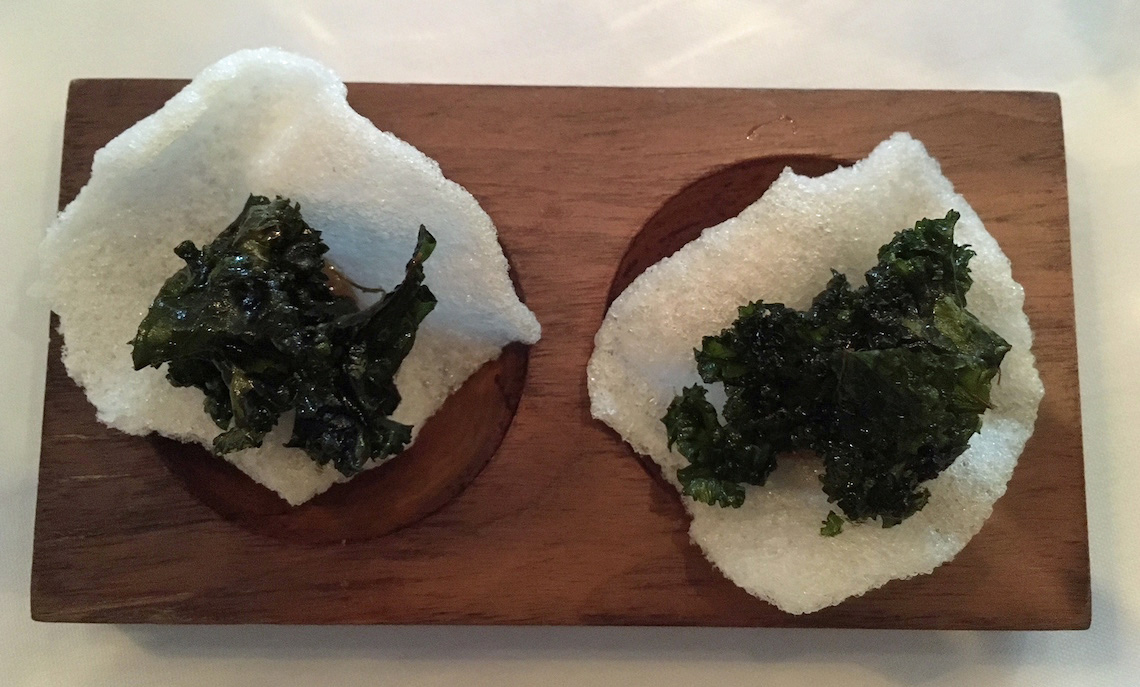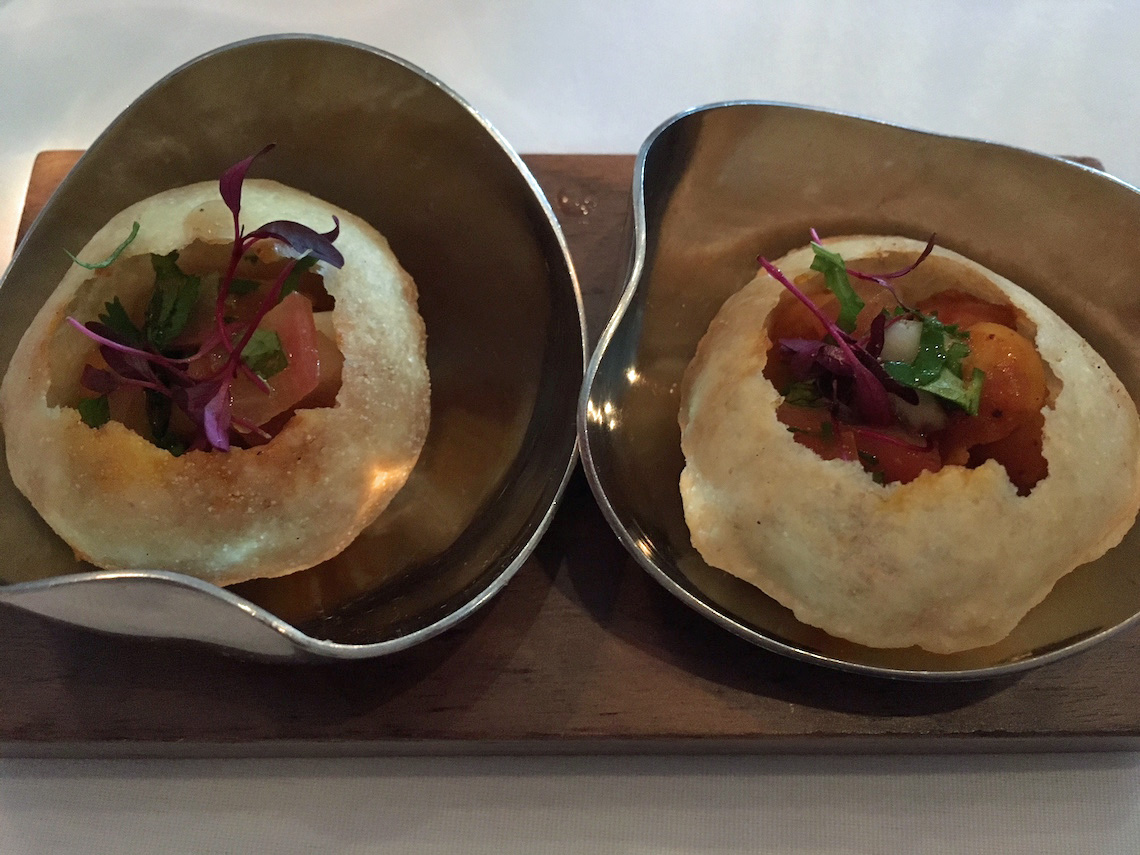 Our first of four courses looked as pretty as a picture. The tandoor-baked salmon was delightfully spiced with warm curry flavours, without being hot on the palate. It was served with slivers of beetroot, refreshing pickled cucumber and an elegant swoosh of mango chutney. Neither Mr Skylark, nor Sarah, are seafood lovers so the chef kindly obliged by switching their starters to textures of beetroot and goats cheese.
A glass of 2015 Alsace Gewurztraminer complemented the spiced salmon with notes of honey and lychee. This is not a wine I'd normally choose, but it suited the dish perfectly.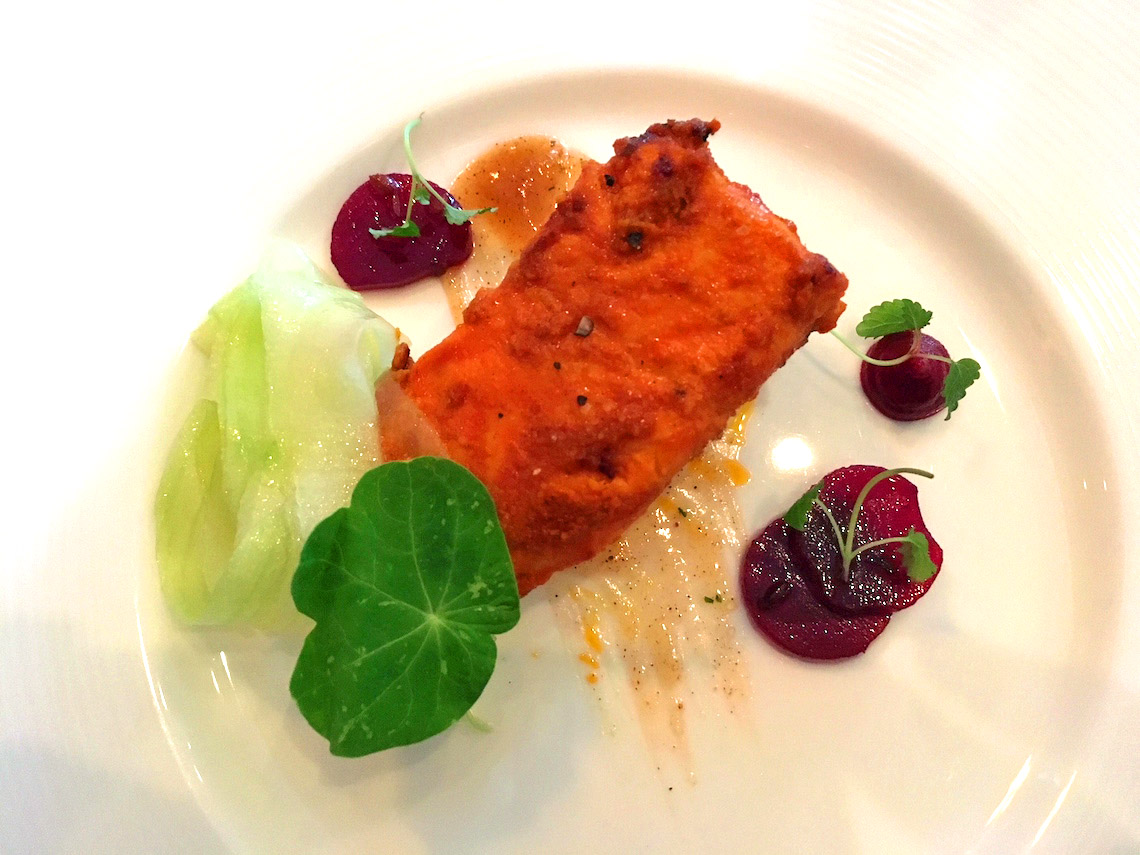 The second course of Welsh lamb was soft and pink. It came with couscous and a delicious honey mustard sauce, something you wouldn't usually find on an Indian restaurant menu.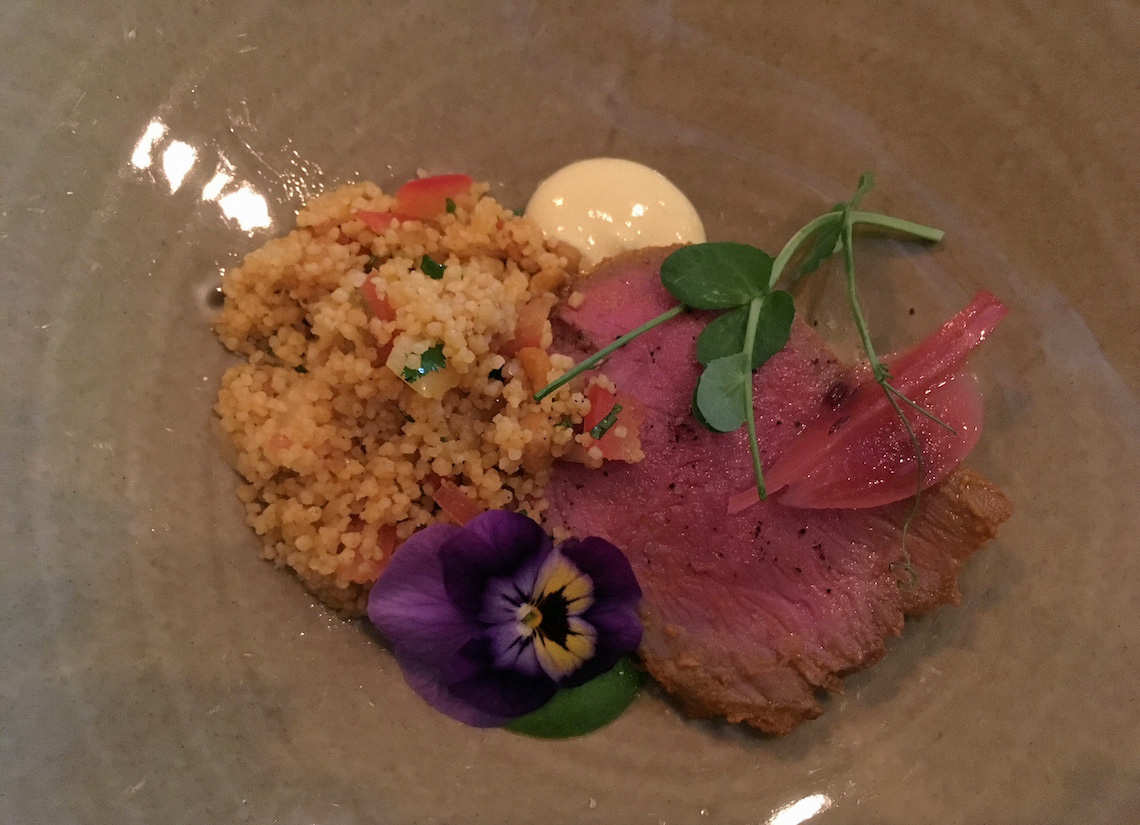 The seasonality really kicked in on our final savoury course. Rare slices of venison came with small chunks of roasted butternut squash and dainty micro herbs. The jug of ginger and cinnamon reduction, on the side, had a beautiful aromatic flavour.
One of the highlights for our table was the truffle naan, which accompanied the venison. It was fluffy, buttery and gorgeously truffley. I'm really not sure how any other naan is ever going to live up to this one. In fact, from now on, please can all naan bread have truffle in it?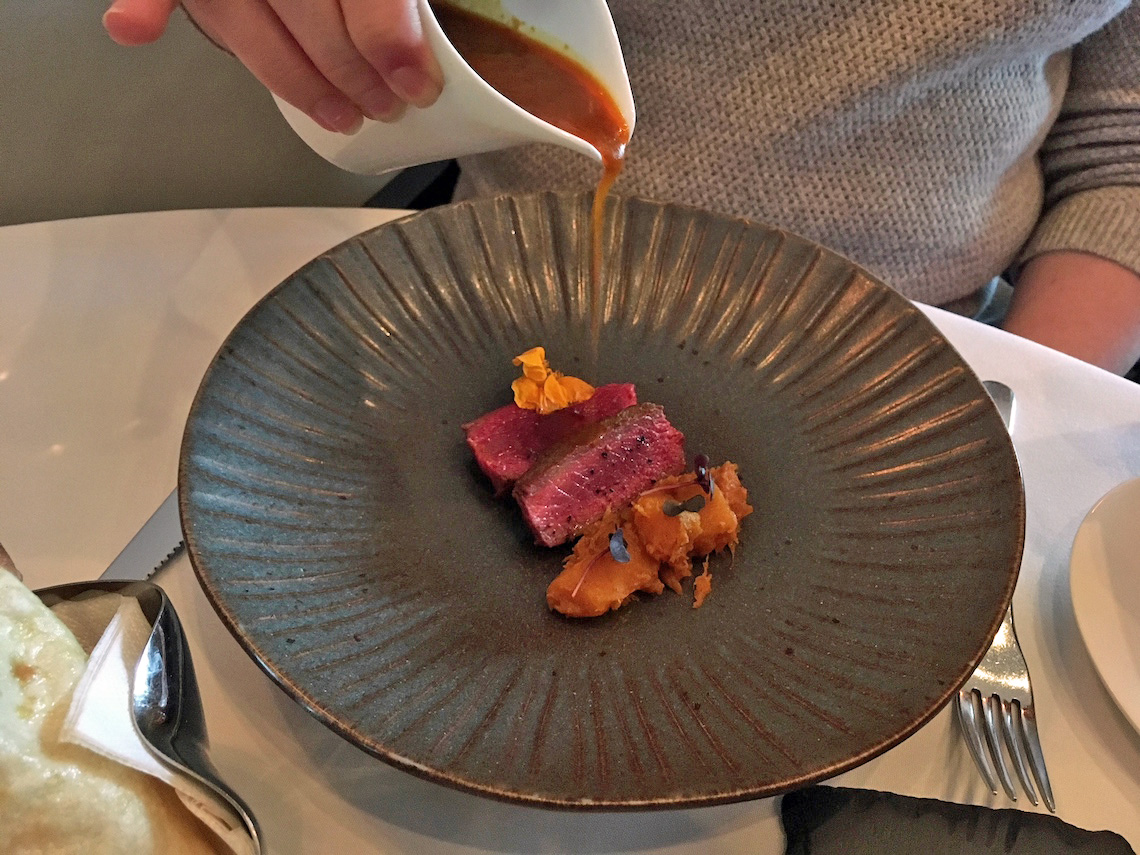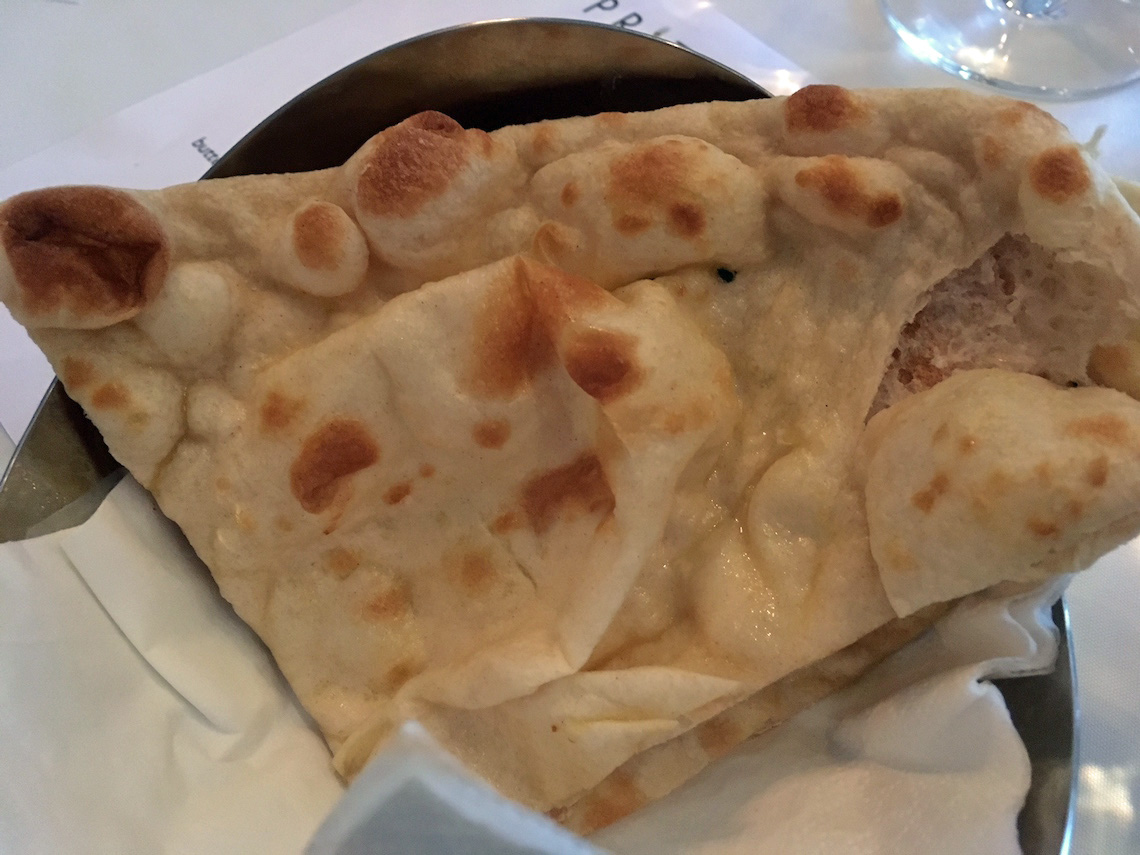 To finish, we enjoyed a tropical concoction of passion fruit cream, mango gel, coriander and honey crumble, topped with strawberry chocolate shards. It was delightfully light and looked beautiful on the plate, although I wasn't overly enamoured with the strawberry shards.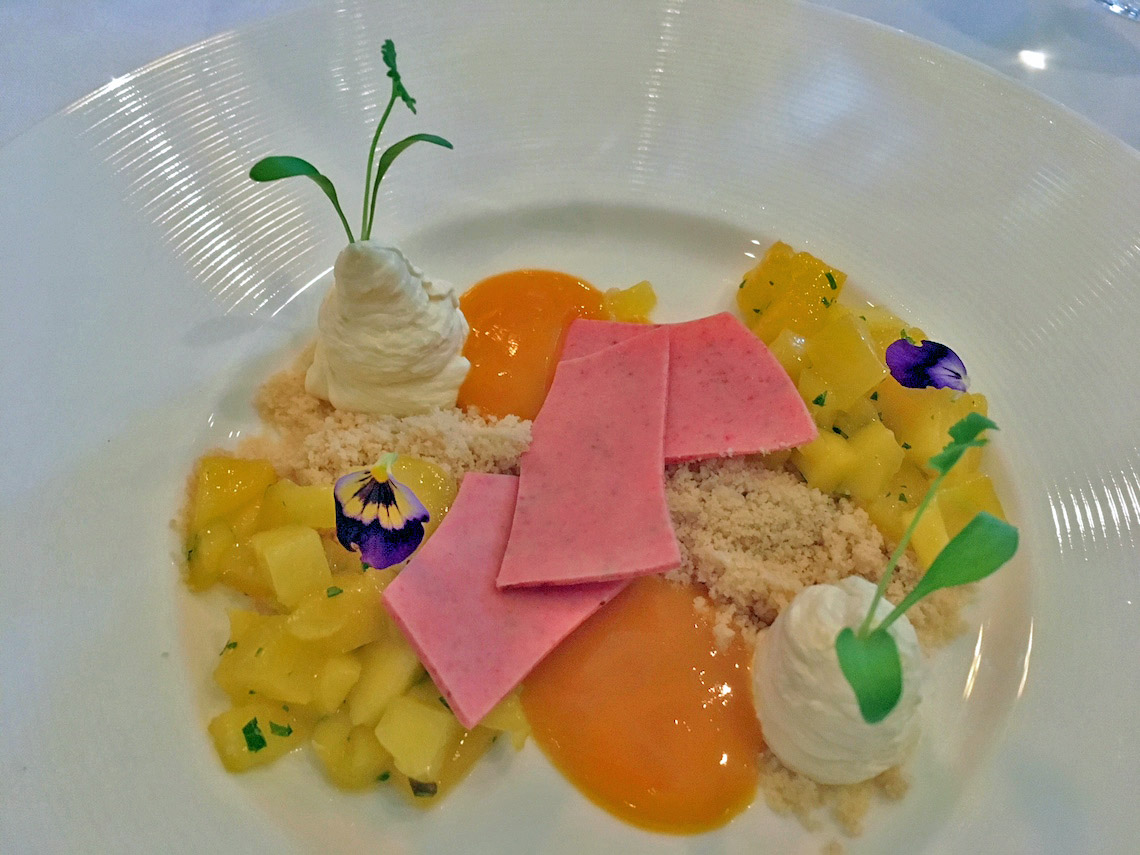 Skylark's Verdict
Whilst the portions were on the small side (which is totally fine by me, but Mr Skylark might have preferred a bit more), they were beautifully flavoured and presented with care. Instead of leaving the restaurant feeling uncomfortably full, I left feeling satisfied and comfortable with a smile on my face – I'd found a new favourite place to eat in town.
This isn't your average curry house. It is Indian fine dining at its best, the service is top notch and I can see why it is so popular. I'll definitely need to put a note in my diary to book in advance, and not leave it so long to return next time.
Prithvi opens for a la carte Indian fine dining from Tuesday to Saturday and lunch on Saturdays and Thursdays. A 5-course tasting menu costs around £53 per person.
Thank you to Prithvi for kindly hosting us. As always, all views and opinions are my own.
Have you tried Indian fine dining? I'd love to hear your recommendations in the comments below.