In need of a little luxury (from my point of view) before we embarked on our adventure to hike over 40 miles of the South West Coast Path, Mr Skylark and I checked in for one night at Trevose Harbour House in St Ives, Cornwall.
I'd found Trevose Harbour House in St Ives by googling boutique hotels, and boutique it certainly turned out to be.
About Trevose Harbour House Guest House
We discovered Trevose Harbour House has been a true labour of love for owners Angela and Oliver Noverraz. Having studied hotel management in Switzerland, and worked in the travel industry, they decided to take the plunge and open their own place.
They found a rundown B&B in St Ives and spent over a year gutting and refurbishing it to a very high standard. Trevose Harbour House is spread over four storeys and fronts onto The Warren. This pretty, pedestrianized street is lined by cottages and runs down to the harbour.
The Room
I was wowed the minute I walked through the door of Room 4: Harbour View Petite Superior. It has a fresh feel to it, painted white with accents of sea-blue from the cushions, curtains and mosaic wall prints. The blue and white reminded of the Greek Islands.
It is this minimalist look that perfectly complements the best bit of all – the view from the window. We looked over the roof of a pretty fisherman's cottage towards the harbour and out to sea. It's certainly true that St Ives is bathed in a special light, which has long drawn artists to its midst.
When I could tear myself away from the view, I had a proper look around. Thoughtful touches included a glass bottle of filtered water; home-made biscuits; hot water bottles (with hand-made covers to match the décor); a pin cushion sewing kit and…wait for it…the best hotel kettle I've ever seen – masquerading as a teapot with vintage blue floral design.
The Hypnos Euro king size bed was big and comfy, along with Egyptian cotton bed linen. What a treat to wake up in the morning, open the curtains and lie back in bed gazing out at that view.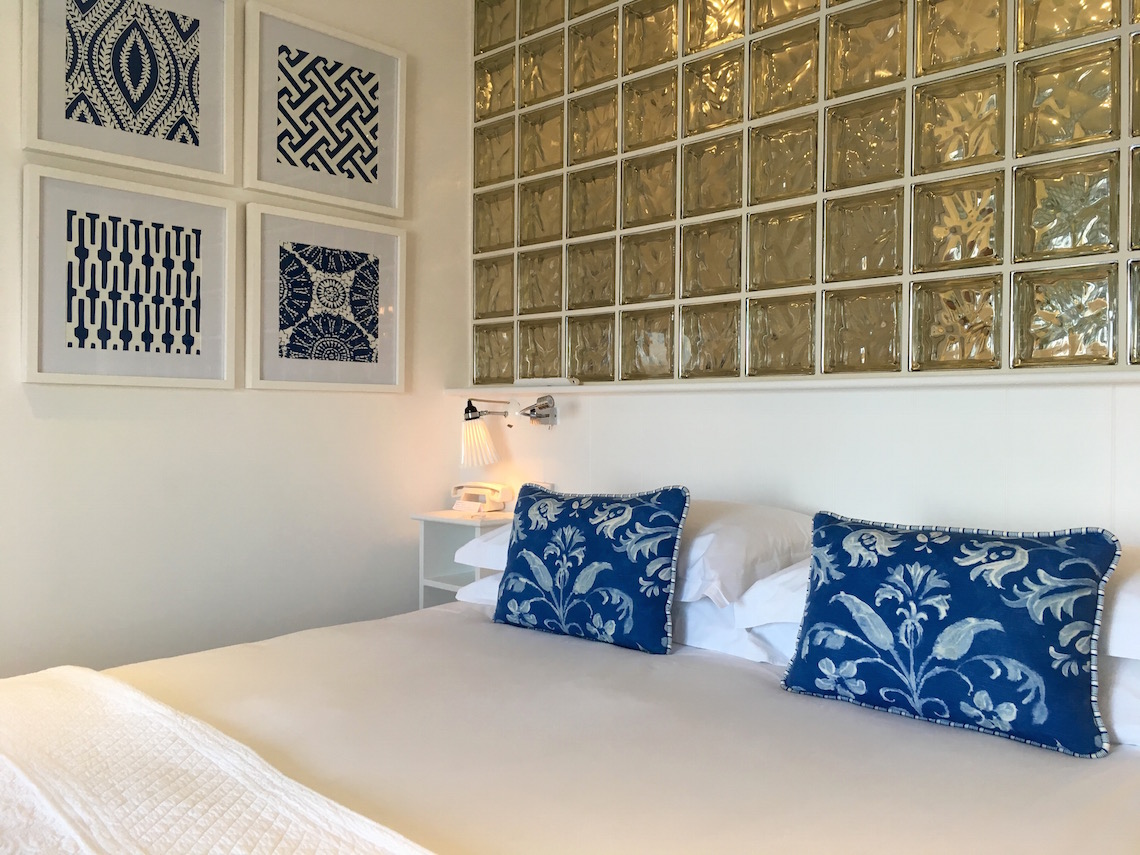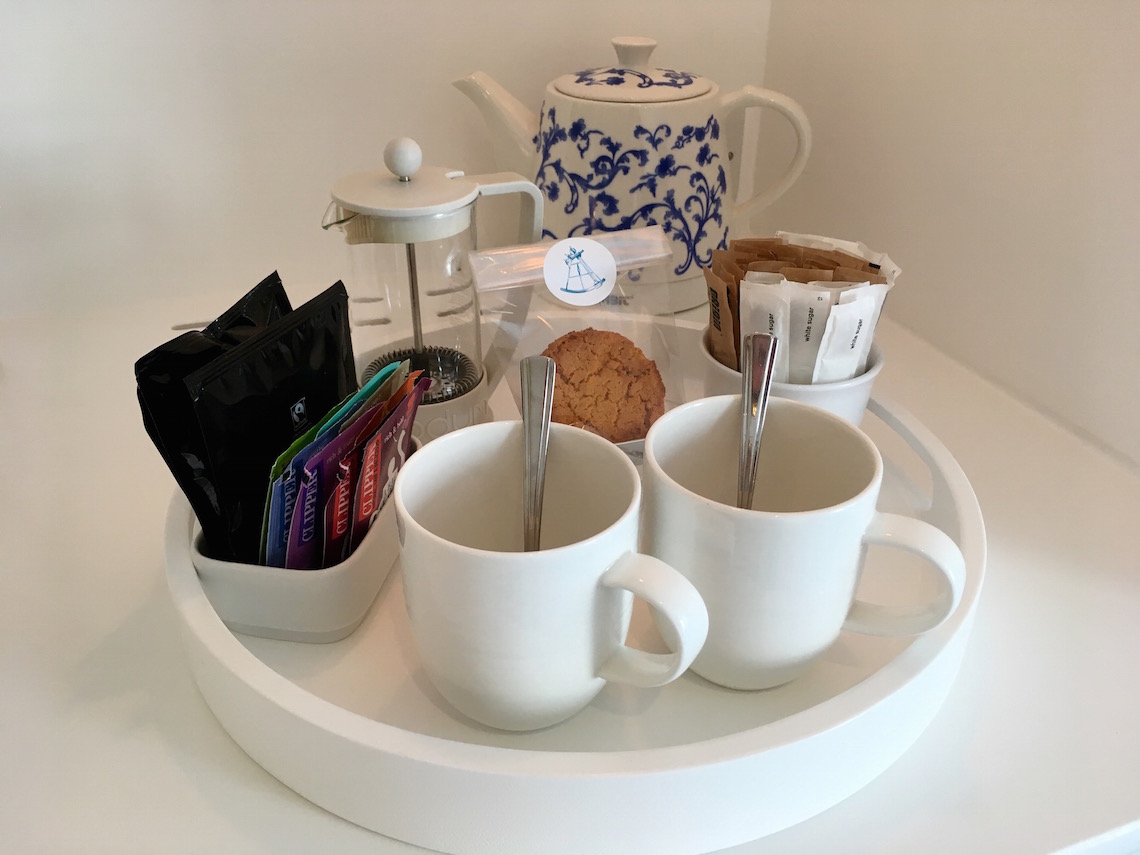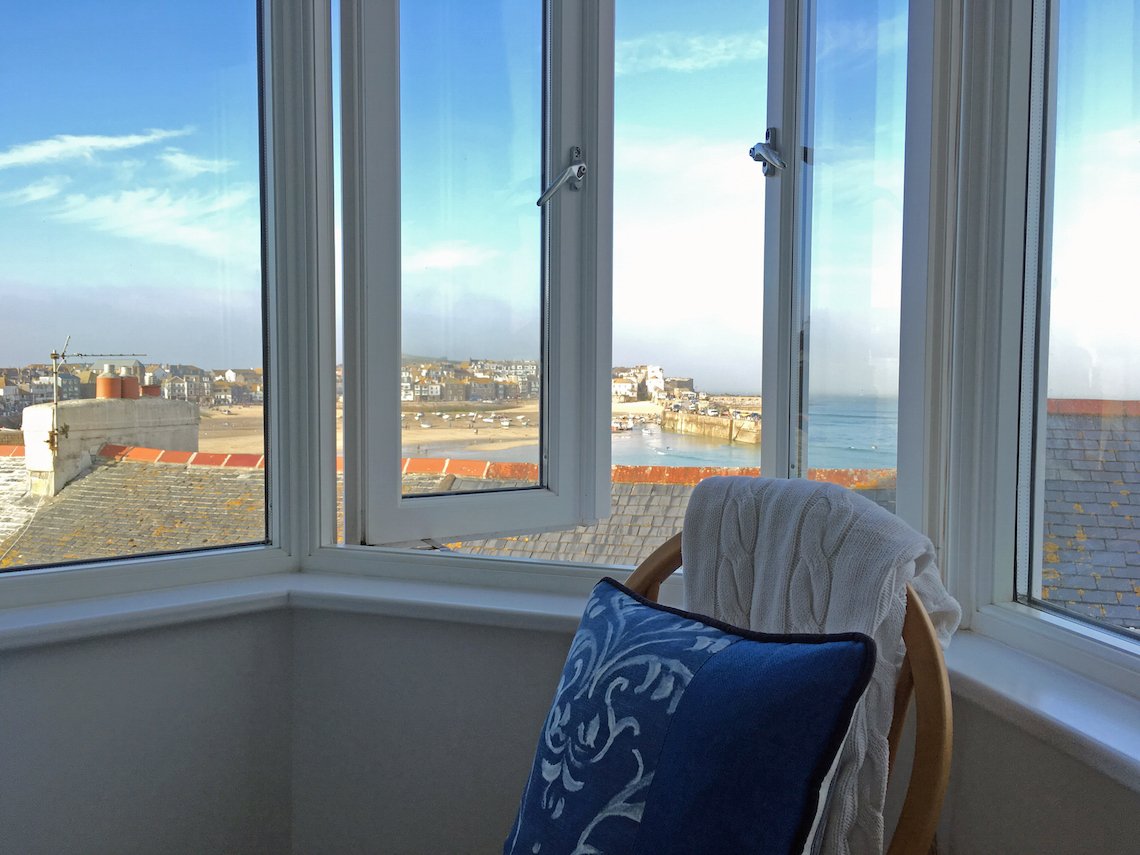 The Bathroom
The bathroom is divided from the bedroom by a glass-tiled wall. Don't get up too close to it, unless you want to see your roommate on the other side! However, I did notice, if you put your eye up to a tile whilst in the shower, you get a (slightly distorted) harbour view.
The white bathroom has a lovely walk-in shower and square sink set into a retro wooden cabinet. For added luxury, the organic amenities are from Neal's Yard.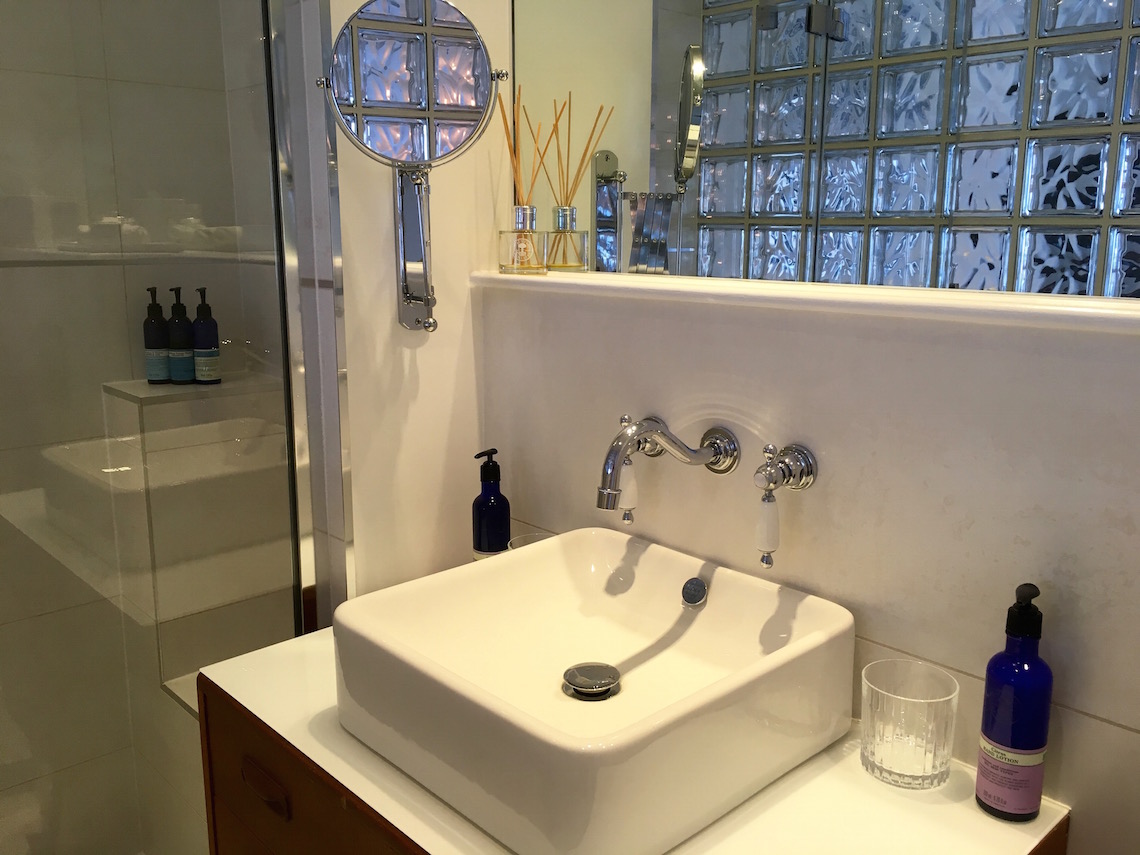 The Snug
On ground floor level, the cosy snug is decorated in sea blue with retro wooden furniture. Angela certainly has an eye for interiors. The fireplace and selection of books makes for a lovely place to sit and read. In the evening, there's a small (but perfectly formed) honesty bar if you fancy a nightcap. On warmer days, the front door leads out to a small terrace with tables and chairs overlooking The Warren.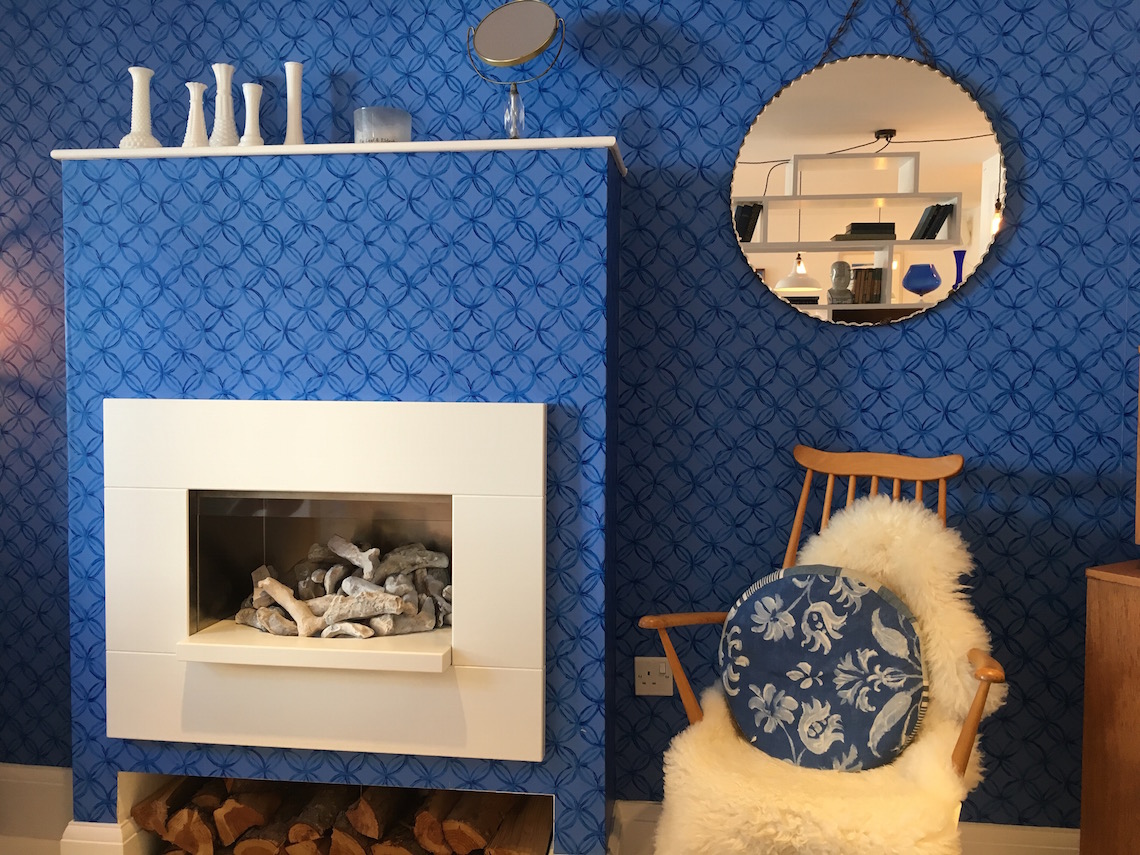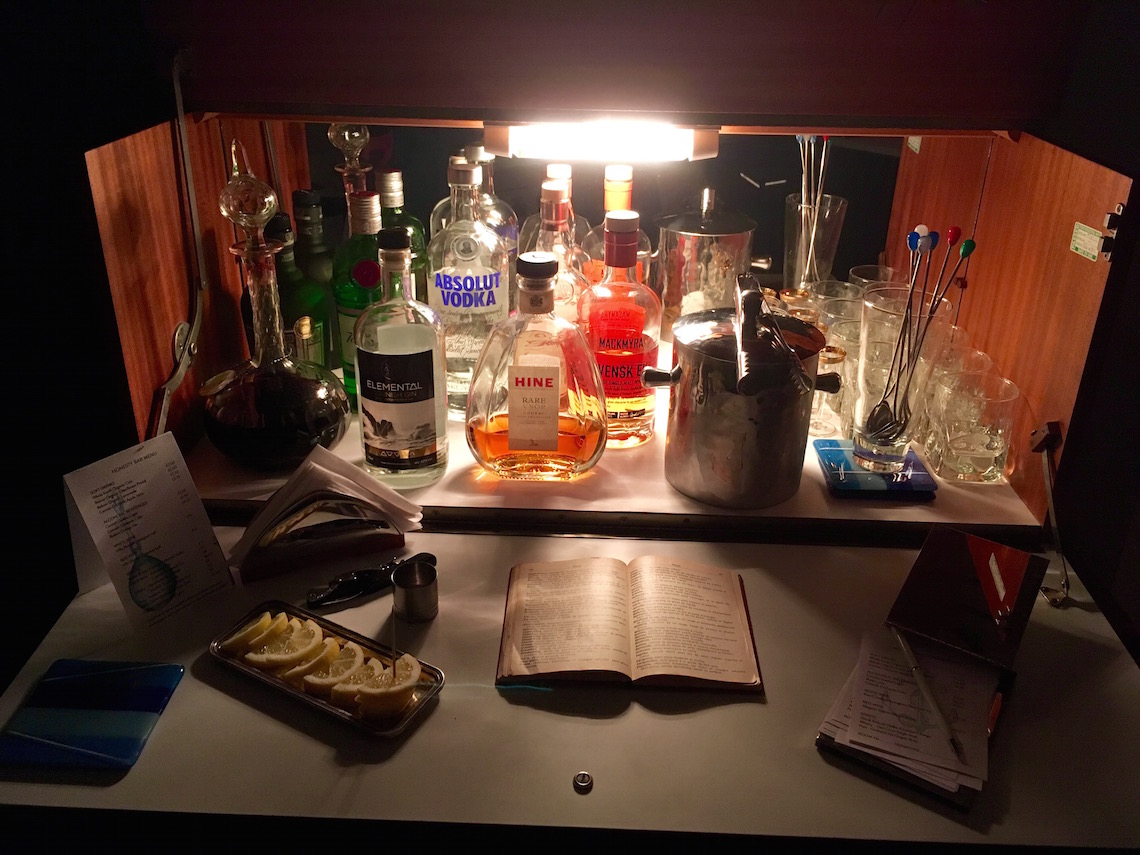 The Breakfast
We arrived to find a lovely spread of fresh fruit, homemade granola (I've now got the recipe), yoghurts, pastries and a fine selection of jams and local honeys. On top of this, we could also choose from an extensive breakfast menu. I liked the ethos behind the food selection. Where possible, ingredients are organic and sourced locally.
Whilst waiting for our hot breakfast, Olivier delivered us each a glass of peach and raspberry smoothie – another lovely touch. We both plumped for a full English: dry cure bacon, a large, meaty sausage, eggs, vine tomatoes, mushrooms, baked beans and a potato rosti (presumably linked to Olivier's Swiss heritage). It was a delicious start to the day.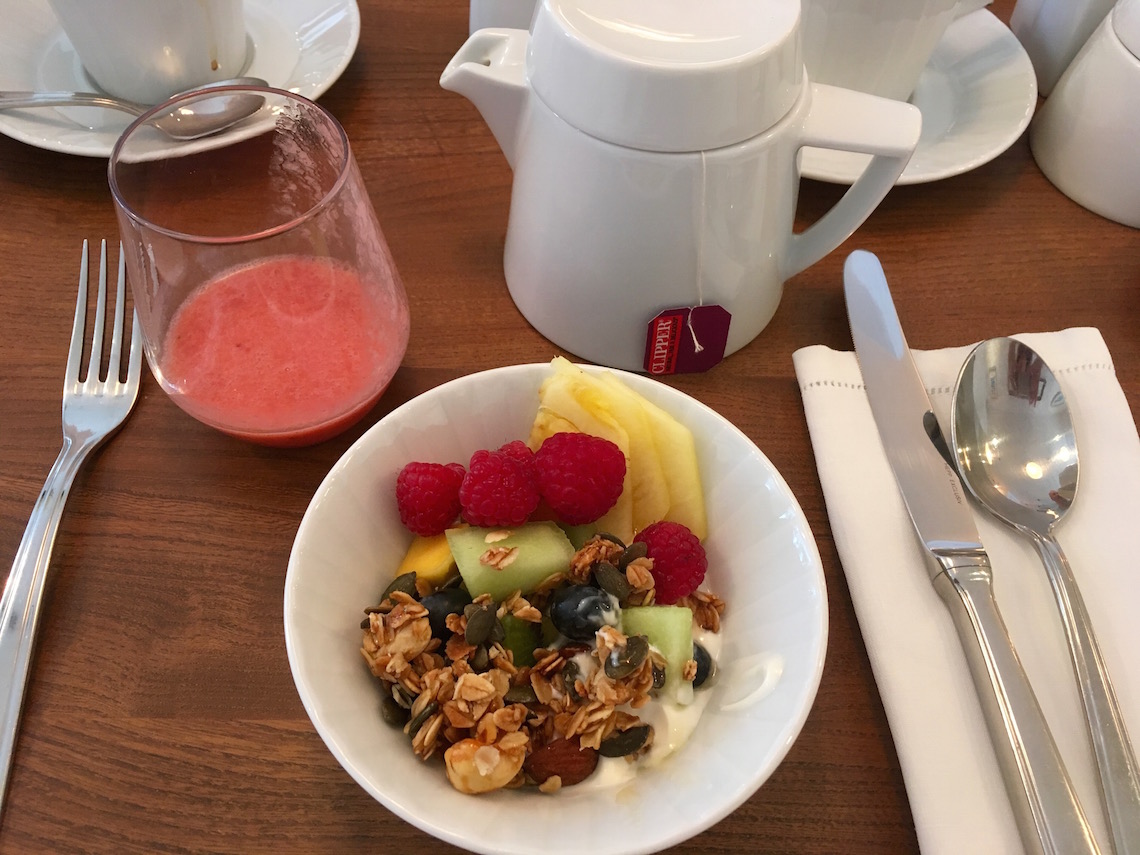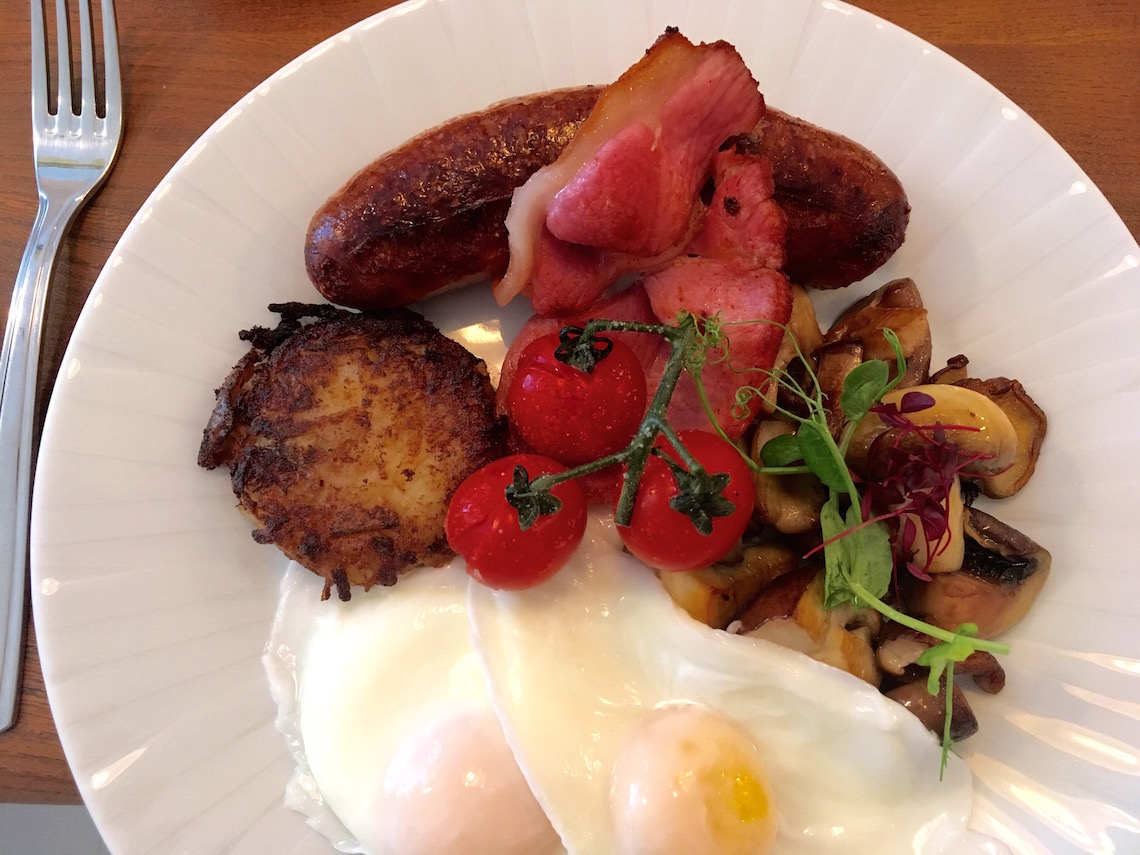 Parking at Trevose Harbour House
Trevose doesn't have onsite parking. Instead, there are a few pre-booked spaces in the nearby station car park. They are allocated on a first come first serve basis at a cost of £7.50 per 24 hours. If you miss the boat, like us, you have to take your chance and find your own space. The owners have access to a parking app, so they can pay for your space online and add it to the bill. This worked well for us, particularly as we got a small discount for leaving the car for a whole week (whilst embarking on our coast path walk).
Where to Eat in St Ives
With your booking confirmation from Trevose Harbour House, you'll receive some restaurant recommendations and Angela is happy to make reservations.
We ate at Blas Burgerworks, just a few doors along the road from Trevose Harbour House. It has a laidback vibe and diners eat around large communal tables. Their strapline is, "Burgers for people that give a damn!" and, indeed, provenance is key. The beef is locally farmed and the chicken free range (extra brownie points from me). They also have a great selection of vegetarian and vegan burgers. We both opted for the Truffle Burger, which came stacked high with Cornish Blue cheese, wilted spinach, a field mushroom and truffle aioli. Accompanied by hand-cut chips, it really was a tasty and filling dinner.
We also visited The Sloop Inn (dating back to 1312) for a generous ploughman's and a pint of Doom Bar; St Ives Bakery for a decent Cornish pasty and Roly's Fudge – yum, yum, yum!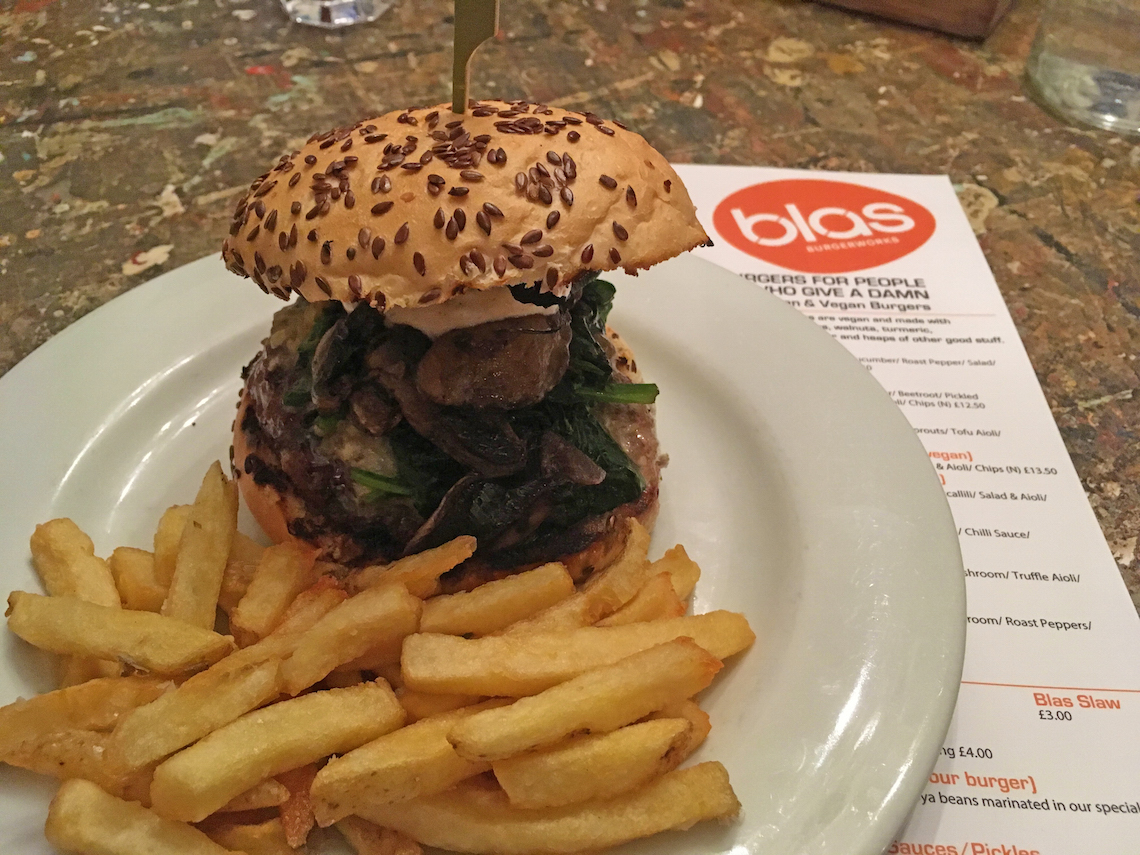 Things to Do in St Ives
It's best to visit St Ives out of the main summer season if possible. It is easy to see why this is such a popular place, but it can get incredibly crowded.
Porthminster Gallery
Just along the road from Trevose Harbour House in St Ives. Porthminster Gallery is the largest, private art gallery in the town. It's a lovely, light gallery with a rotating selection of art works including paintings and sculptures.
The Barbara Hepworth Museum and Sculpture Garden
Visit the home of this renowned sculptor. The Barbara Hepworth Museum is a lovely place to visit and wander around the garden. I particularly loved peeking into the artist's studio.
Tate, St Ives
The Tate reopens 14th October 2017 after an extensive period of closure for rebuilding and refurbishment. It will include a dedicated gallery to showcase the modern art of St Ives, exploring its relationship with the wider world.
St Ives Lifeboat Station
The lifeboat crews have been saving lives in St Ives since 1839. If the lifeboat station is open, you can walk around the outside of their all-weather lifeboat and read some of the inspirational stories of bravery around the walls.
The South West Coast Path
St Ives is located on the South West Coast Path national trail. For a day walk, you can walk to the tiny village of Zennor and get a bus back. It's quite strenuous in places, but absolutely beautiful.
Look out for my blog of our 5-day hike along the South West Coast Path – coming soon!
Rooms at Trevose Harbour House in St Ives start from £160 per room per night including breakfast.
Have you stayed in St Ives? If you have any recommendations, please drop a comment below. I'd love to hear them.
Pin for later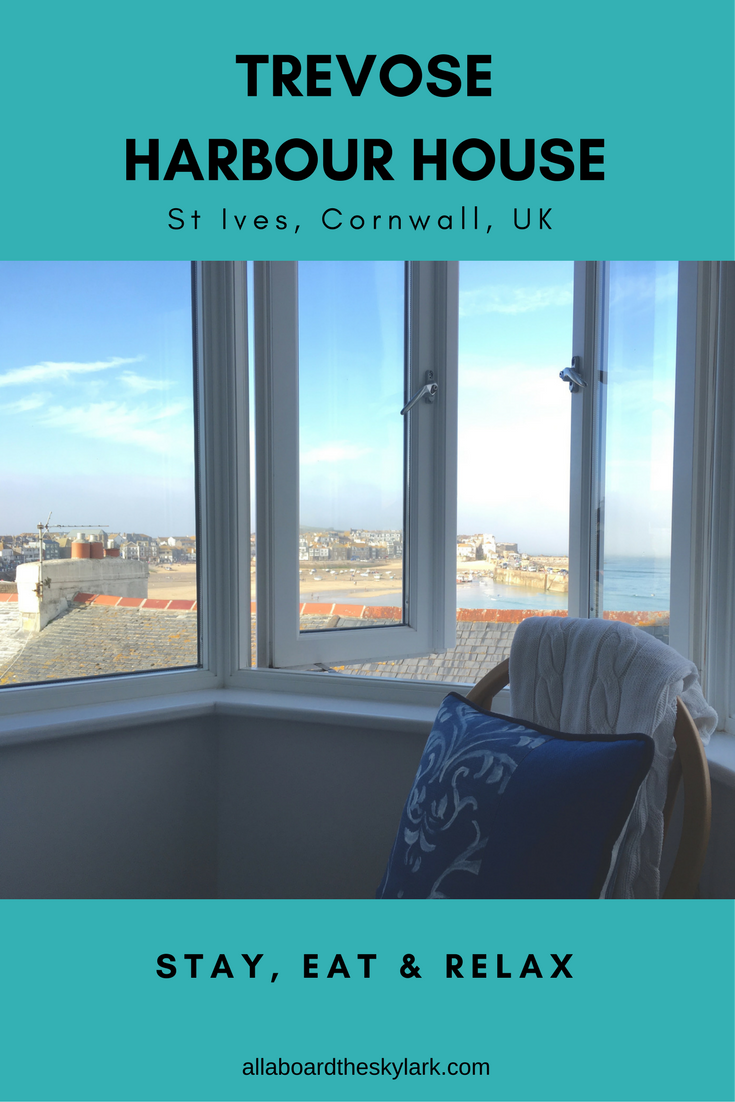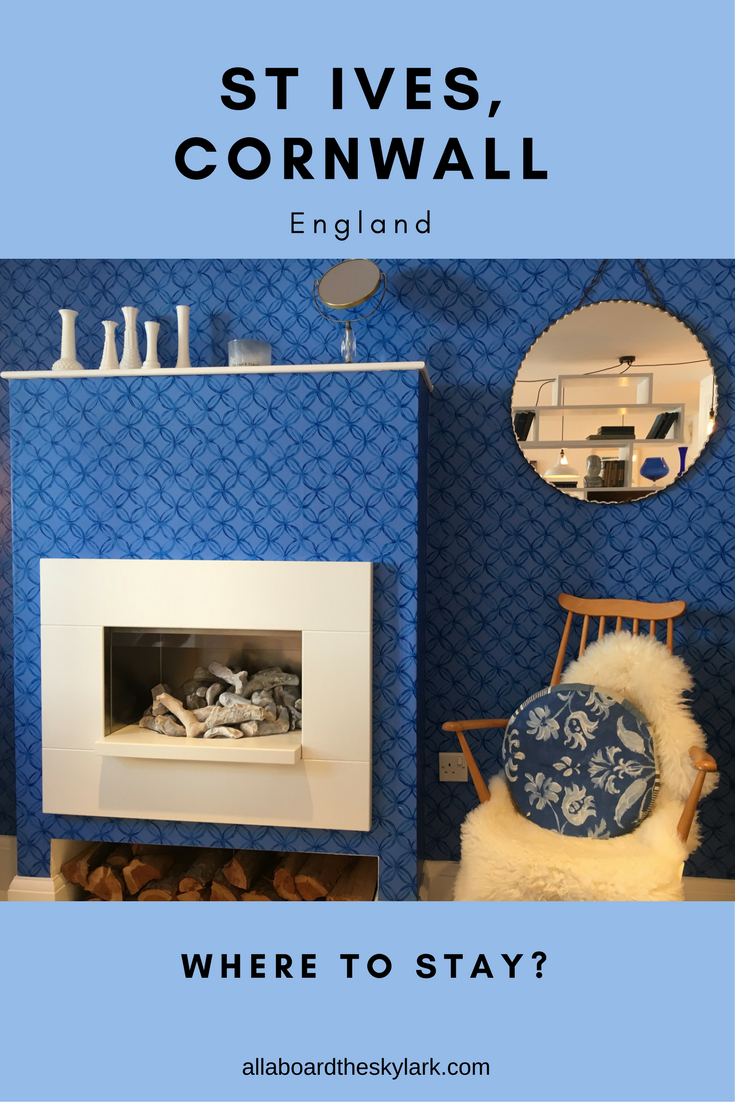 SaveSave
SaveSave
SaveSave
SaveSave
SaveSave
SaveSave
SaveSave