Beautiful Moorish palaces, magical hammams and plenty to explore against a stunning mountain backdrop: Discover how to make the most of a weekend in Granada.
Why take a weekend in Granada?
Sitting against the beautiful backdrop of the Sierra Nevada mountains and home to one of Spain's most exquisite landmarks (the Alhambra palace and gardens), Granada has plenty to pique the interest of any traveller.
But there is more to this diverse city than just the Alhambra. It has a number of distinctive quarters to explore. These include the old Moorish quarter, known as the Albaicin, and the gypsy quarter of Sacromonte.
The city is fairly easy to explore on foot on a weekend in Granada. While the Moorish influences provide the most famous landmarks to visit, there are also legacies of Christian rule and an array of shops (if you fancy a bit of retail therapy).
Native of Granada, the poet and playwright, Federico Garcia Lorca, wrote: "The hours are longer and sweeter here than in any other Spanish town."
Where else could you ski the snow capped peaks of the Sierra Nevada in the morning, and take a dip in the Mediterranean Sea in the afternoon?
Did you know?
Granada means pomegranate in Spanish. This fruit is the symbol of the city.
There are three UNESCO World Heritage Sites: The Alhambra, Generalife and Albaicin
The Albaicin features as a Turkish port in Indiana Jones and the Last Crusade
It is one of the few cities in Spain where a drink traditionally still comes with free tapas
The Paseo de los Tristes is translated as 'the road of the grieving', a name given to roads leading to cemeteries in Spain
The River Darro flowed through the city during Moorish times, but is mostly now hidden underground
Top 7 things to do on a weekend in Granada
1) Explore the Alhambra palace and gardens
The Alhambra takes its name from its former Arabic incarnation Al Qal'a al-Hamra, meaning 'red fort'. Over the last seven centuries it has been expanded, destroyed (in places) and rebuilt.
I was astonished to discover the Alhambra was almost blown up by Napoleon's army in the 19th century. But thanks to one soldier who stayed behind and removed the fuses, it lived to tell the tale. It is also thanks to the author, Washington Irving, who moved into the empty palace to write his novel, Tales of the Alhambra, that the Spanish made funds available for its restoration.
We started our visit of the Alhambra palace complex with a visit to Generalife, meaning 'garden of the architect'. This summer palace of the Nasrid rulers offers a tantalising taste of things to come in the Alahambra itself, with its intricate Moorish designed architecture. The beautiful courtyard garden was bursting with flowers and gently trickling fountains.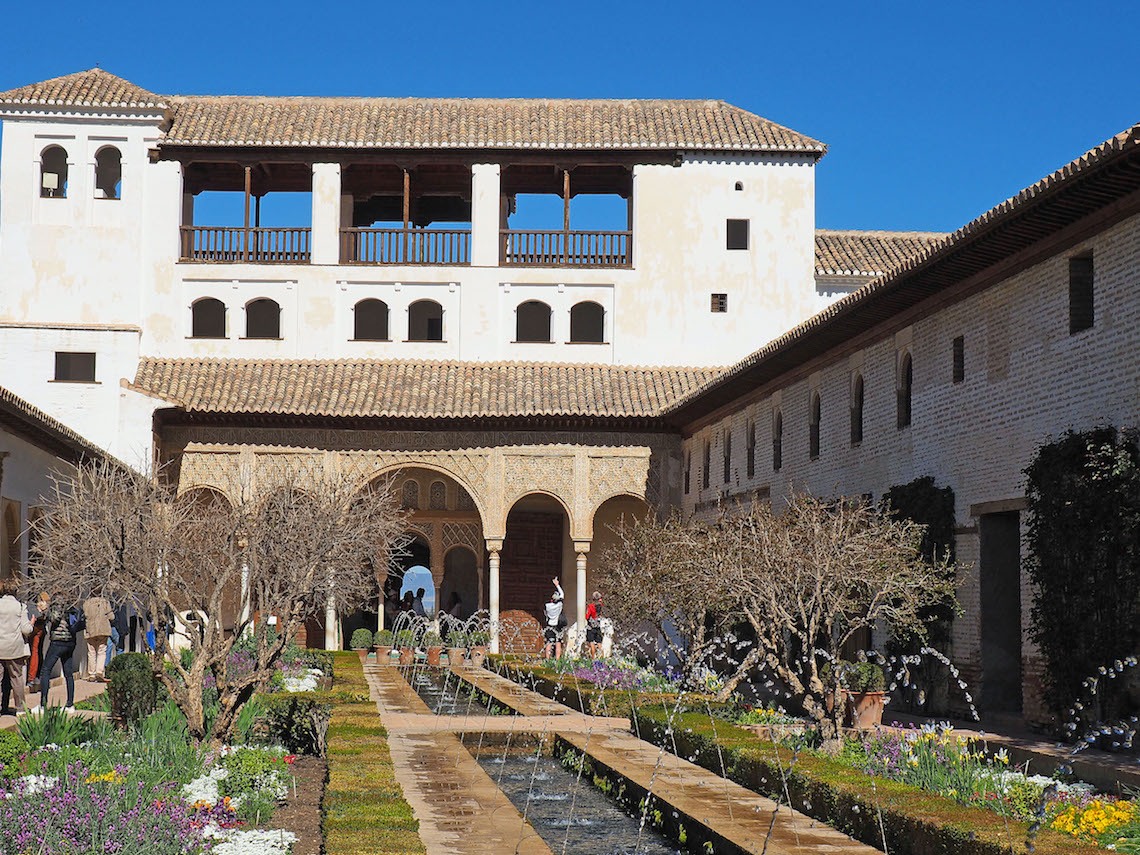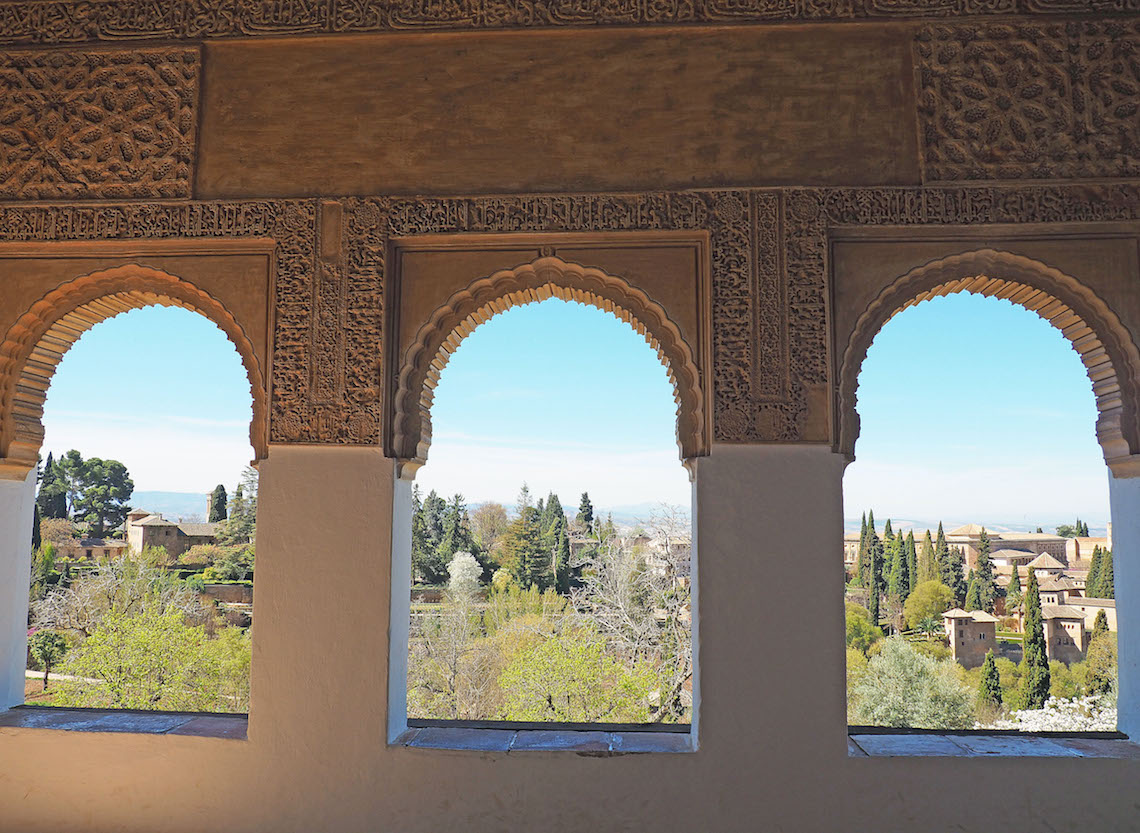 We took a taxi up to the Alhambra, but walked down after our visit. It is a lovely tree-lined walk downhill back into the Plaza Nueva.
There is so much to see in the Alhambra, I could write loads about it. This is one of the most magical places I have visited. My advice is to wander through it and take in as much as you can. Here are a few of my highlights below.
Skylark suggests: Pre-book tickets for the Alhambra in advance so you do not miss out. You can book a morning or afternoon slot, but once you enter you can stay as long as you like. However, note that you also get only a 30-minute entry slot into the Palacios Nazaries.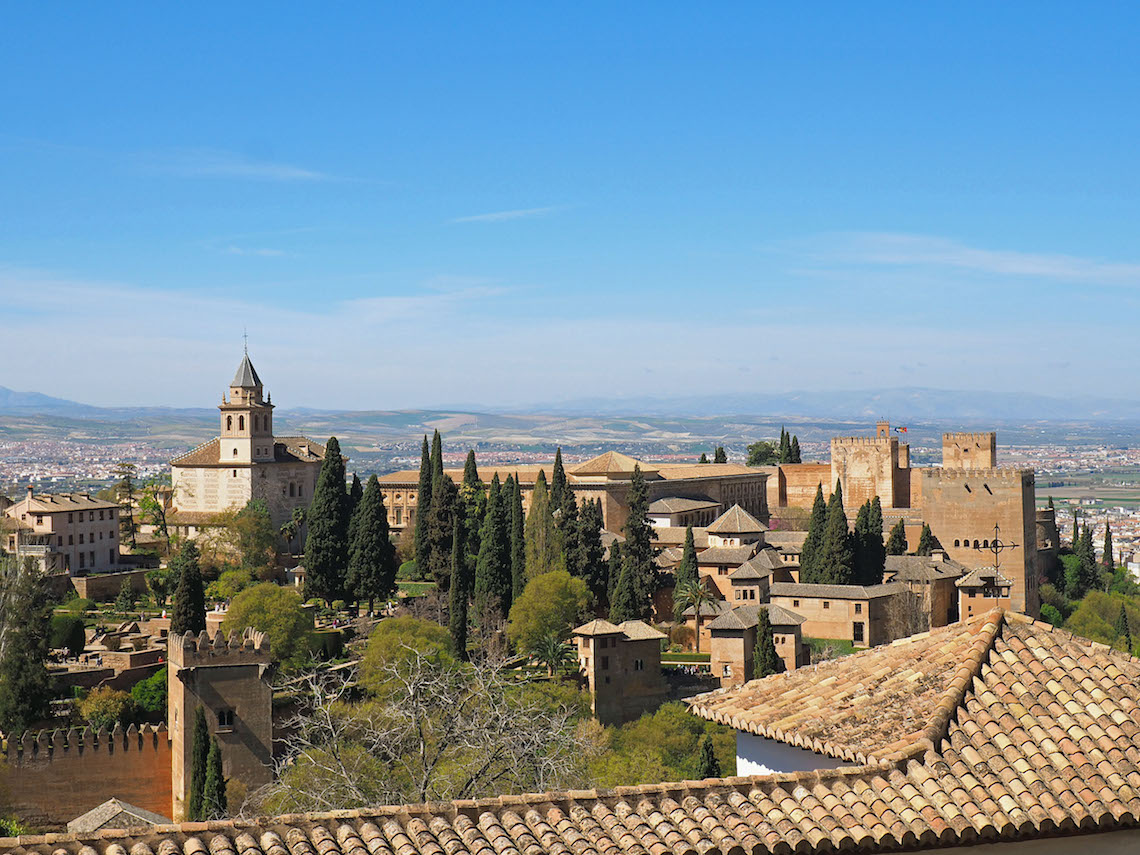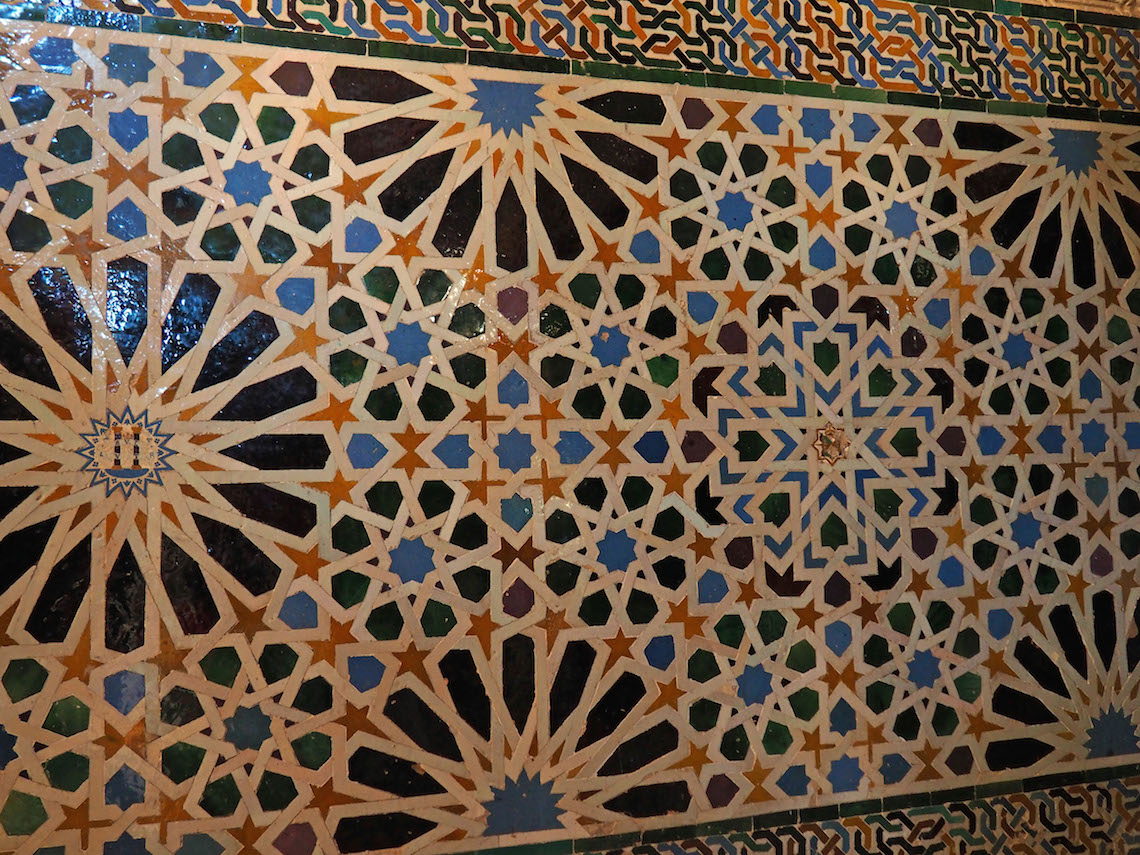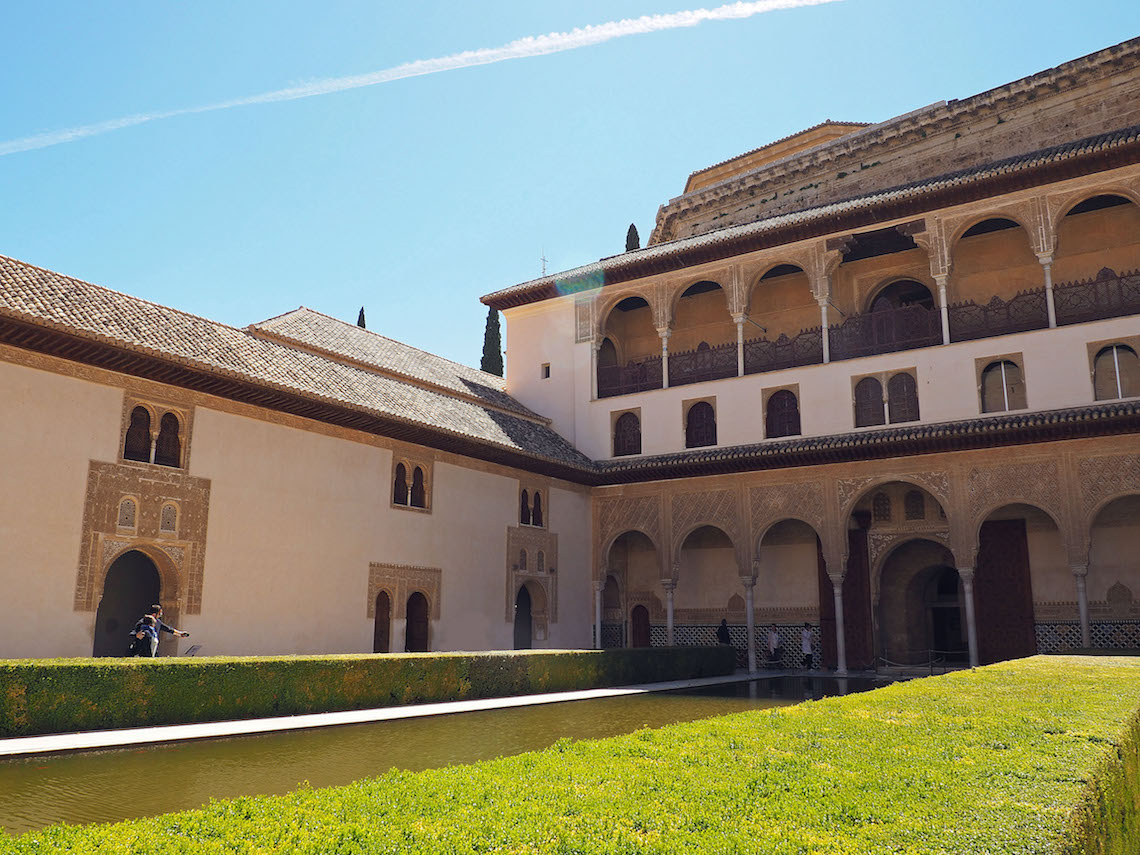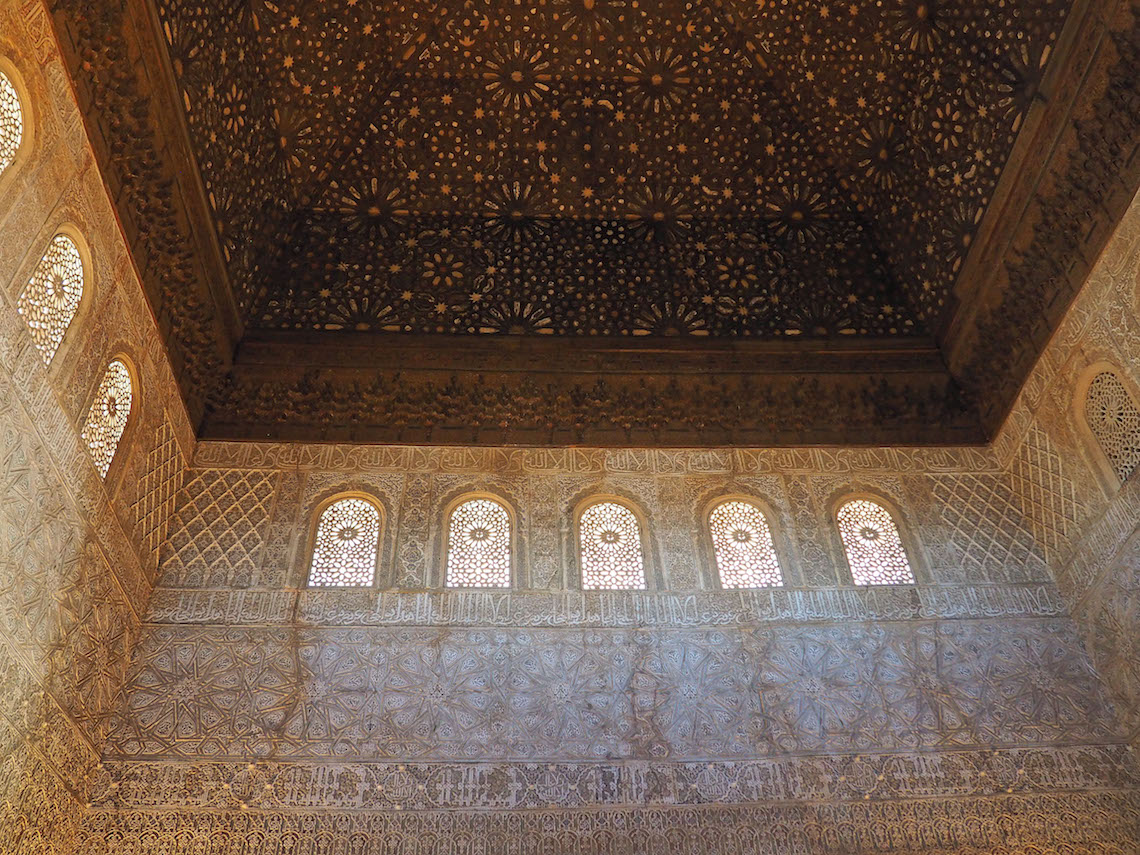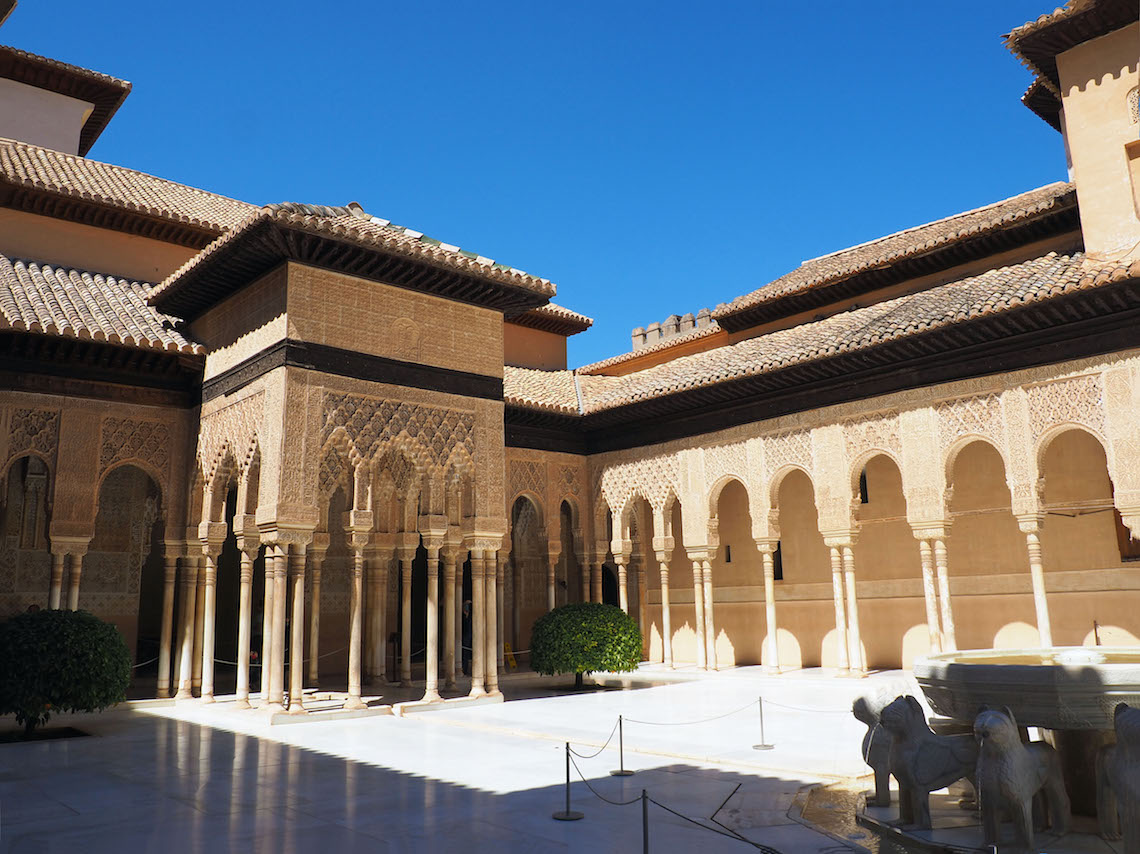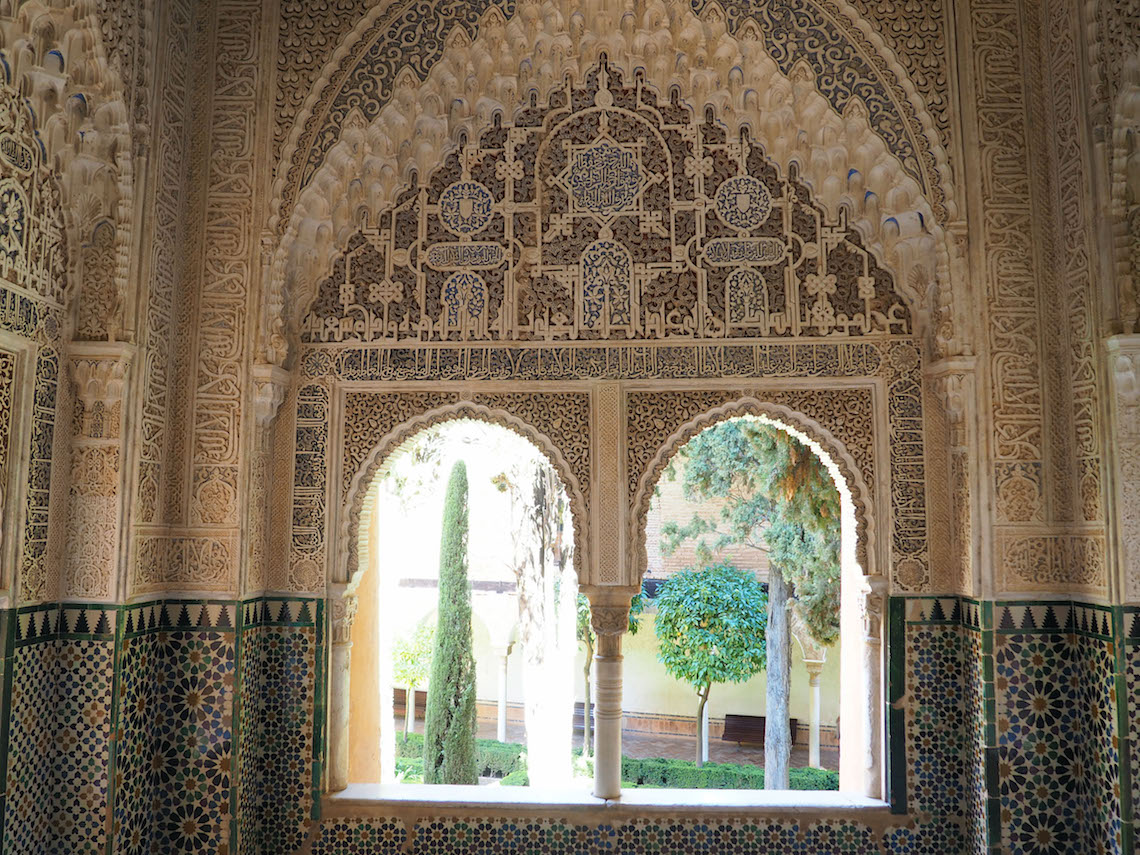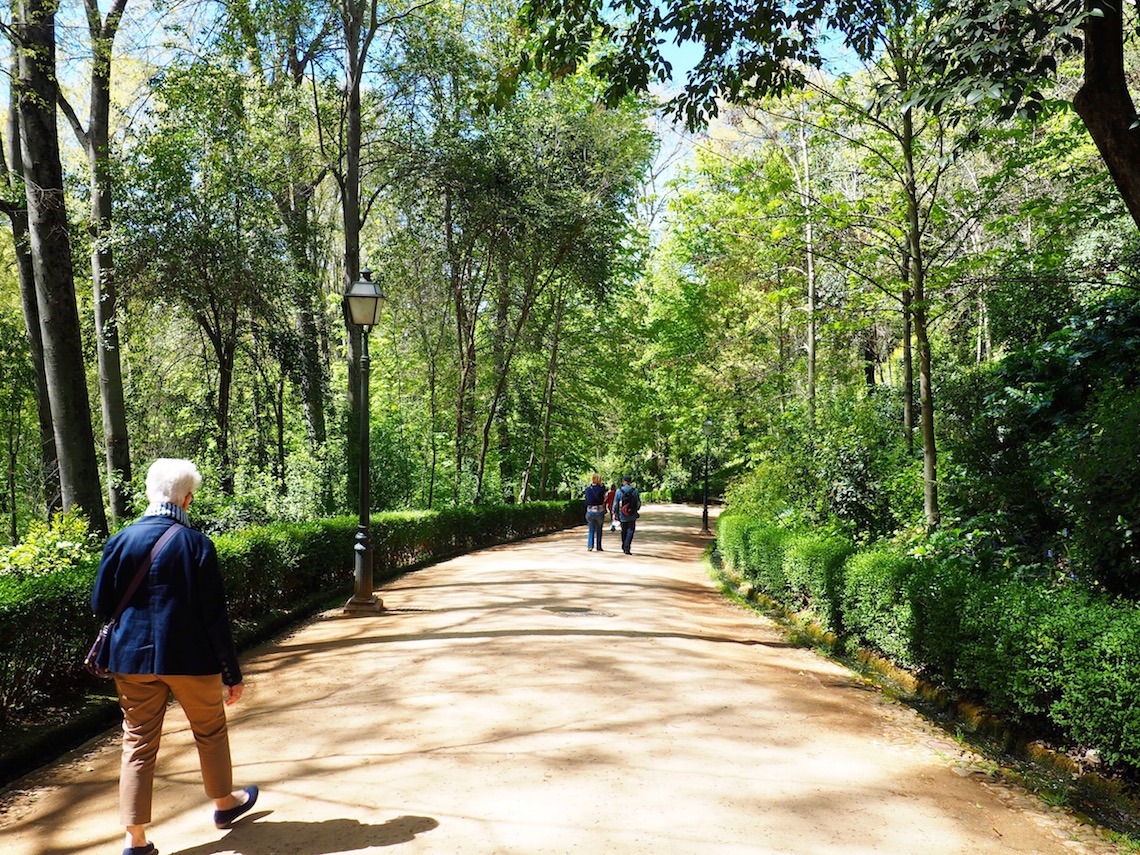 2) Meander along the Carrera del Darro
From the grand square of Plaza Nueva, follow the road past the 16th century church of Santa Ana, whose bell tower was converted from a minaret.
You will first spot the River Darro at the point where it disappears underneath the city. The road alongside this narrow river is the Carrera del Darro. Small shops, teahouses, restaurants and bars line the river, making it a lovely spot to wander.
There are a number of places you can visit along this road. Banuelo Arabes is a restored Moorish public bath; the convent of Santa Catalina de Zafra is a 16th century Mudejar palace, where the nuns sell homemade almond cakes; the archeology museum is housed in a Renaissance era mansion.
Further along, the narrow roadway opens onto Paseo de los Tristes. Not only will you find a choice of restaurants with tables and chairs set out on the promenade, but you will also enjoy fantastic views up to the Alhambra. Discover more about this in the Places to Eat section below.
Skylark suggests: Take a peek up a few of the streets off the Carrera del Darro, to glimpse some lovely examples of restored Moorish residences in the Albaicin quarter.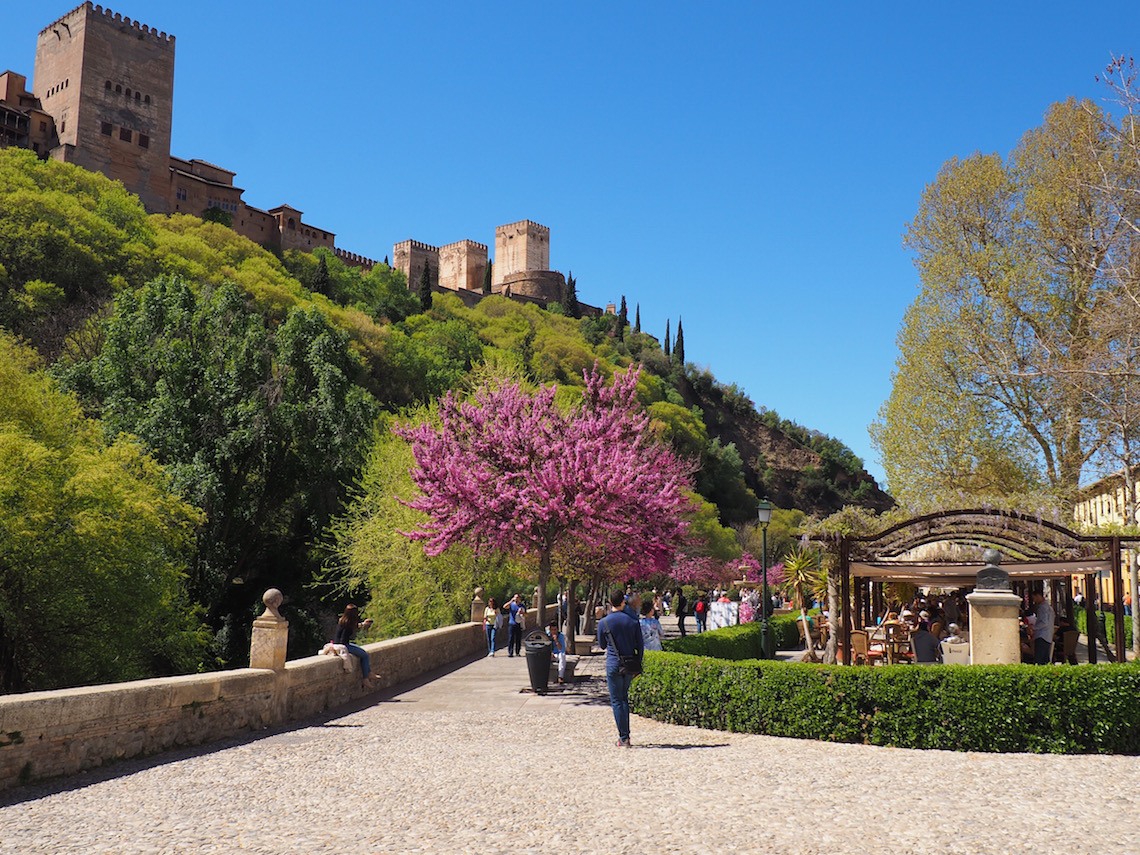 3) Take a traditional bath
If you do one thing on your weekend in Granada, apart from visiting the Alhambra (obviously), book yourself in for a hammam. This was one of the highlights of my weekend in Granada.
Just across a little footbridge from the Carrera del Darro and round the corner into a narrow street, you'll find the Hammam al Andalus. But you would never believe what lies behind the inconspicuous looking entrance.
I don't want to give too much away to spoil the surprise, but you'll find a mix of pools of varying temperatures, decorated with colourful Moorish tiles. The pools are lit only by candlelight and star shaped holes in the ceiling letting through narrow shafts of sunlight. Here is your chance to lie back and imagine what it would have been like to bathe in Moorish times.
The hammam is a well-oiled machine and you will be told how it works and where to go. This removes any worry and only adds to the tranquility and magic of the atmosphere of the pools.
Skylark suggests: There are time slots to ensure the hammam doesn't get crowded. Book ahead to avoid disappointment. If you fancy a treat, book yourself a back massage. I did this and it was lovely to have my aches soothed away after relaxing in the warm waters.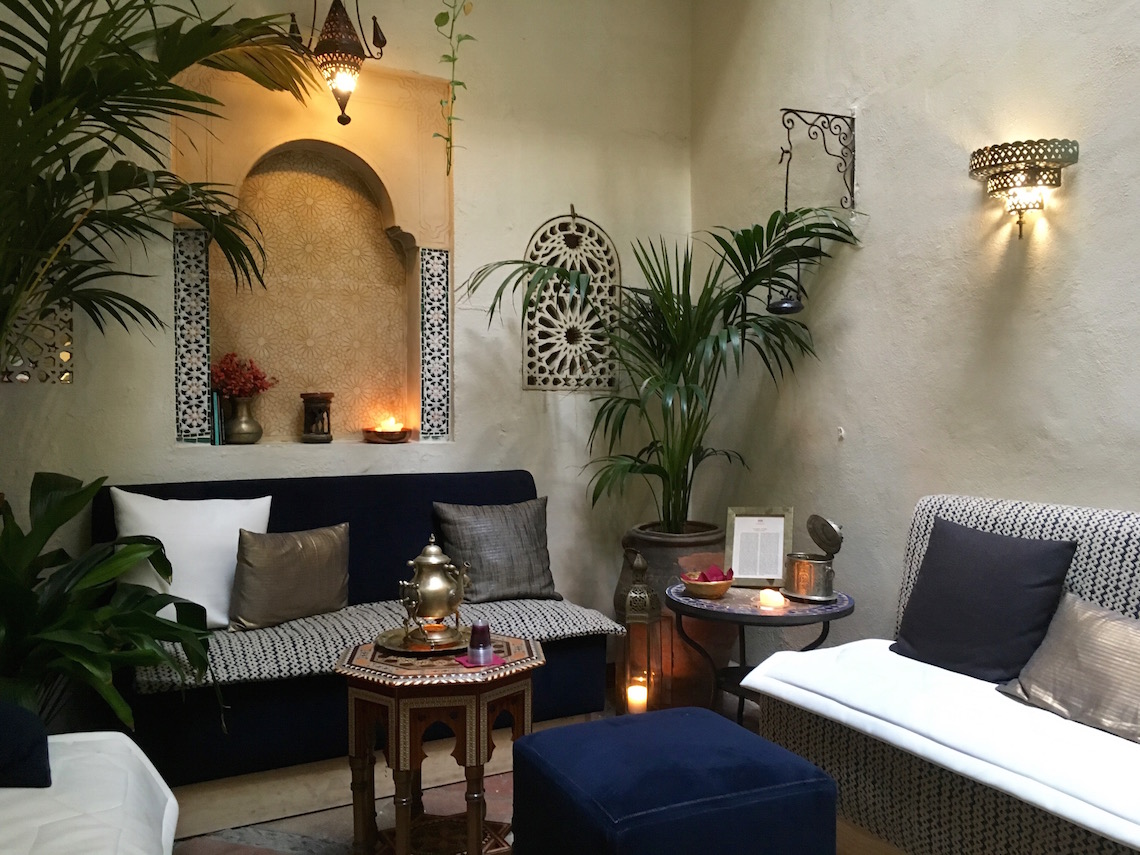 4) Wander the streets of the Albaicin
Higgledy piggledy streets of Moorish houses, dating back to Medieval times, make up the Albaicin – a UNESCO World Heritage Site. This atmospheric, Moorish quarter of the city winds its way uphill from the Rio Darro river.
Follow your nose along the Carrera del Darro and up the main street on the left – Cuesta del Chapiz – to get up to the top of the Albaicin. This is a steep climb, but the views from the top are well worth the effort. A right turn along Camino de Sacromonte will take you into the gypsy quarter.
On our weekend visit to Granada, sadly we didn't have time to explore Sacromonte. It sounds a colourful place to visit, but perhaps somewhere to keep your wits about you, especially after dark.
I loved walking around the winding streets of the Albaicin. The traditional houses feature iron grilles and pots and pots of flowers. There are some lovely squares, such as Plaza Larga, where you can stop for a drink and watch the world wander by.
Skylark suggests: If your feet are too tired to climb up the hill to the top of the Albaicin, look out for the little green hop-on-hop-off minibuses that depart from Plaza Nueva. Or take a taxi to the top and wind your way down on foot.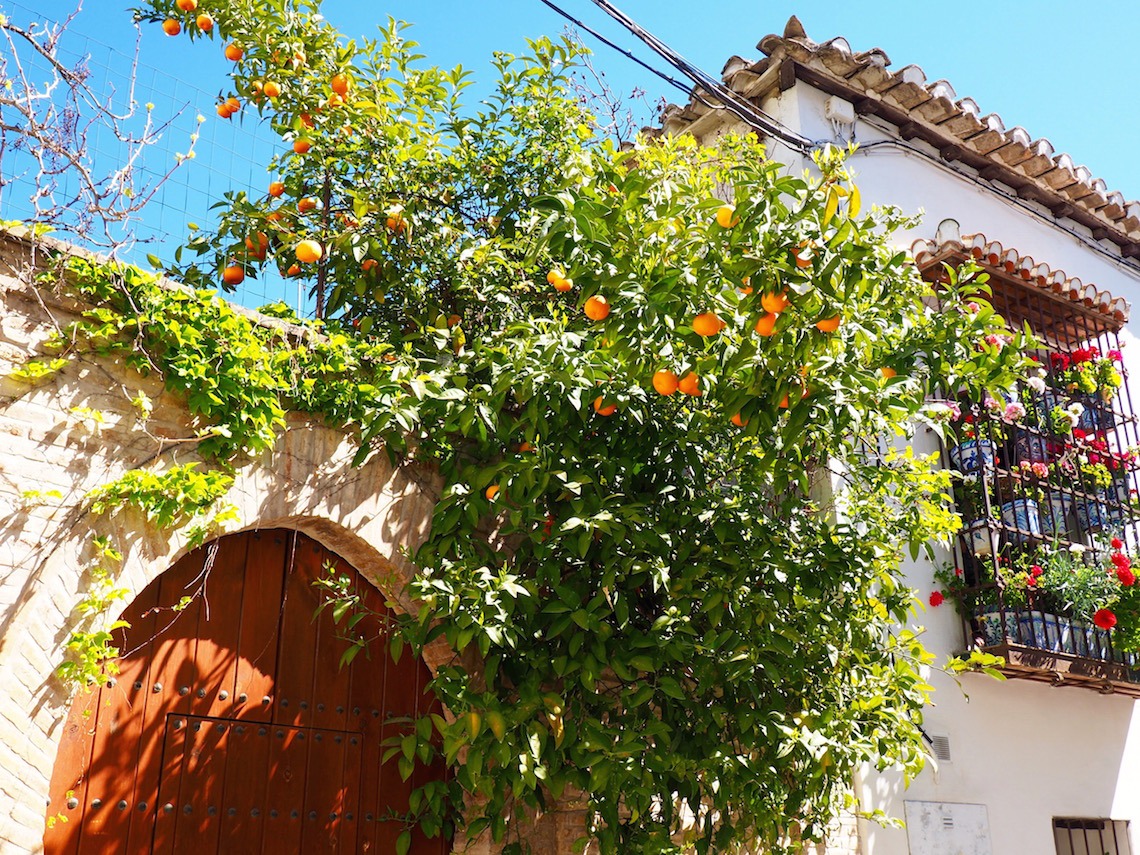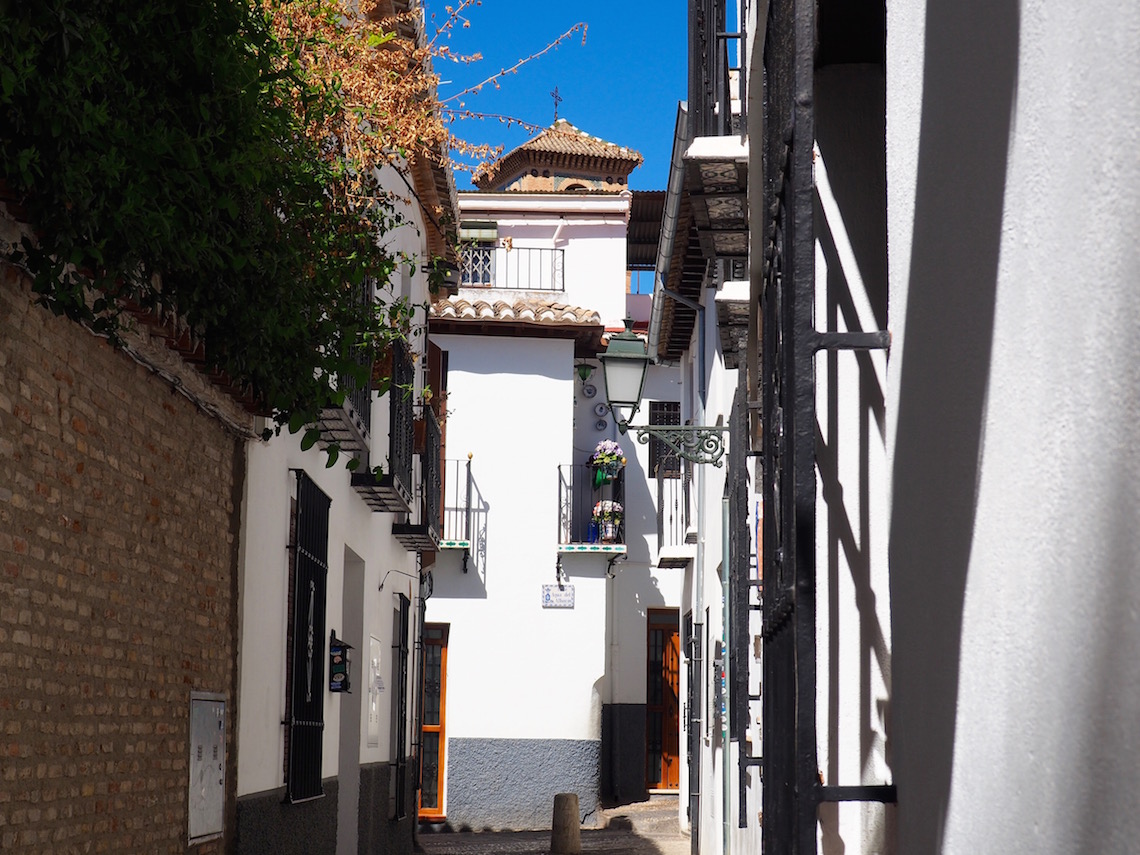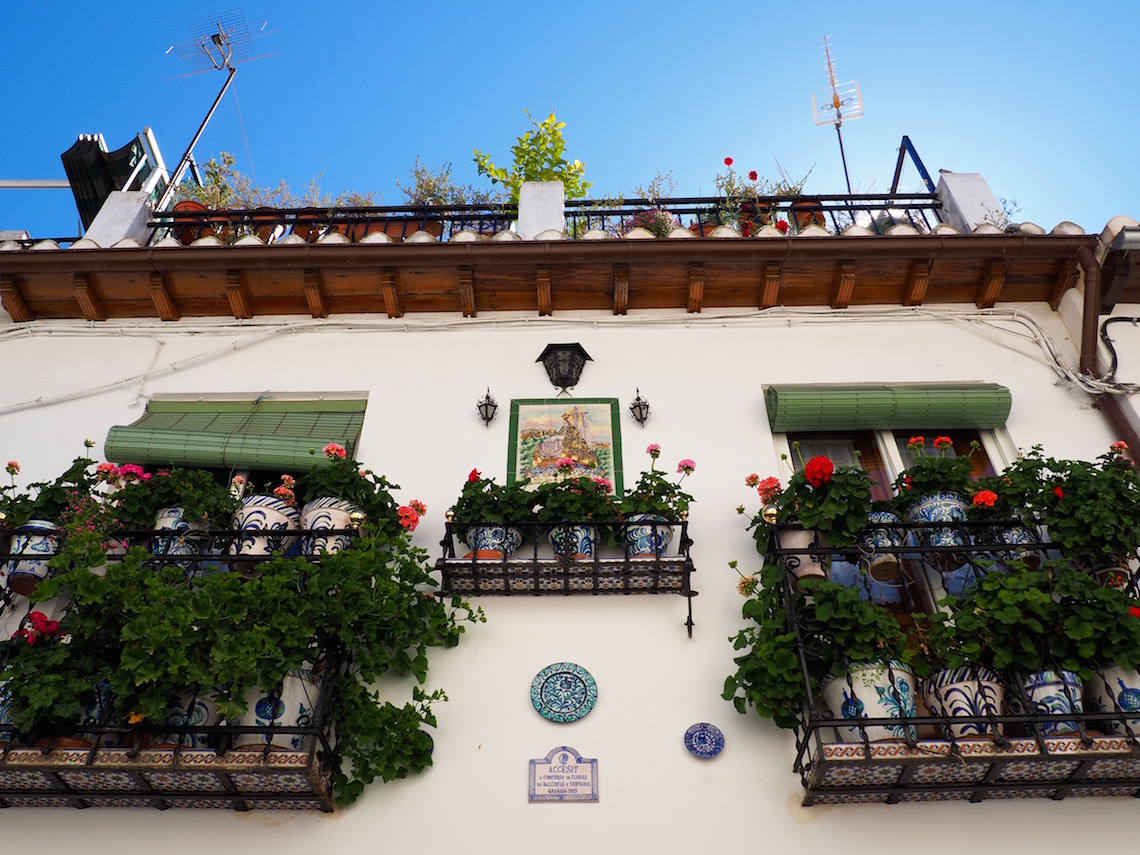 5) Take in a breathtaking view of the Alhambra
Another highlight of my weekend in Granada, and what makes it well worth the climb to the top of the Albaicin, is the Mirador San Nicolas.
This understandably busy viewpoint has the most breathtaking view of the Alhambra, sitting against the backdrop of the Sierra Nevada mountains (snowcapped during winter and spring). I could have sat there for hours drinking in this view.
Skylark suggests: For an alternative, more peaceful, view, seek out the garden of the Mezquita Mayor de Granada, just off the Plaza San Nicolas. This small mosque has a delightfully tranquil garden from which to breathe in the spectacular vista of the Alhambra.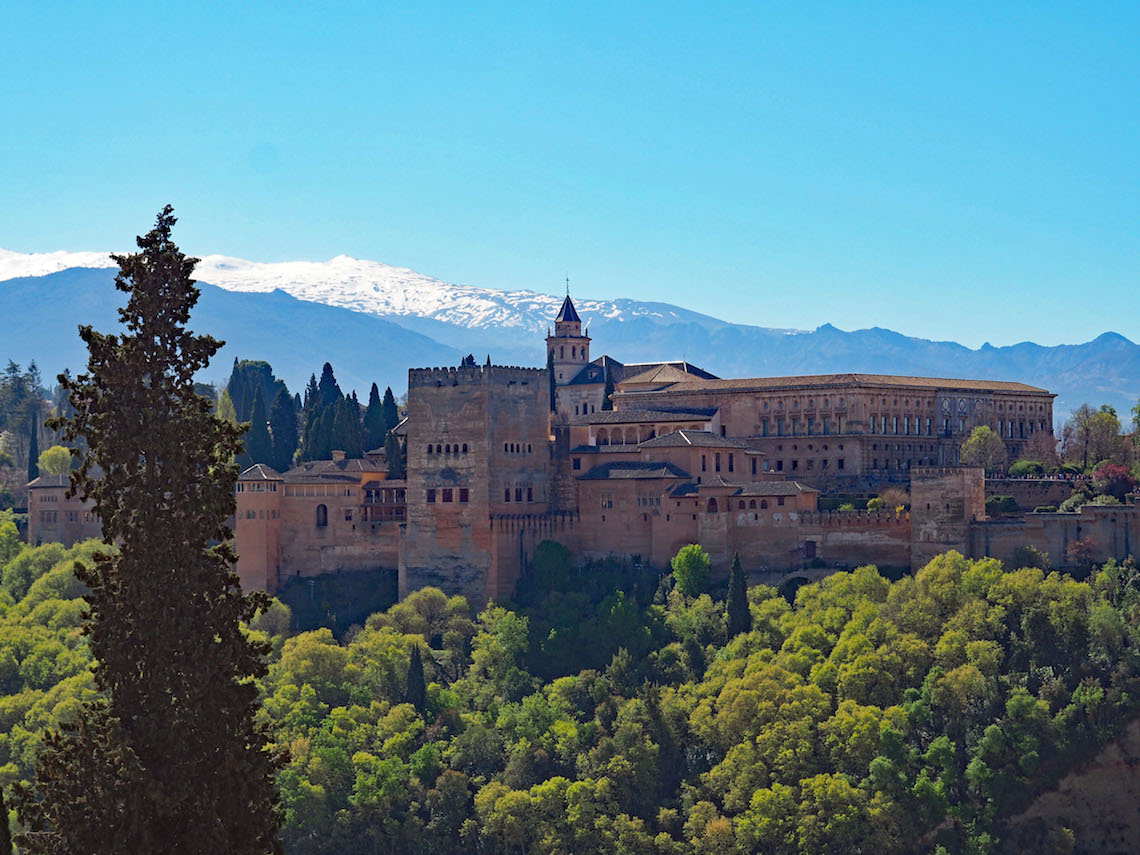 6)  Visit the Capilla Real and Cathedral
While I have waxed lyrical about the Moorish side of Granada, I haven't really mentioned its Christian heritage. The Capilla Real is the most impressive Christian building in Granada and is worth a visit.
The royal chapel was commissioned by Isabel and Ferdinand to be their final resting place. Although similar to the story of Columbus' tomb in Seville Cathedral, the tombs here may, or may not, still contain the remains of the monarchs.
After the chapel was finished, work began on building the adjoining cathedral, which took 200 years to complete. It has ornate ceilings, soaring columns and some important paintings.
Skylark suggests: Look out for the Alcaiceria near the Cathedral. It's reminiscent of a small souk with small, individual shops.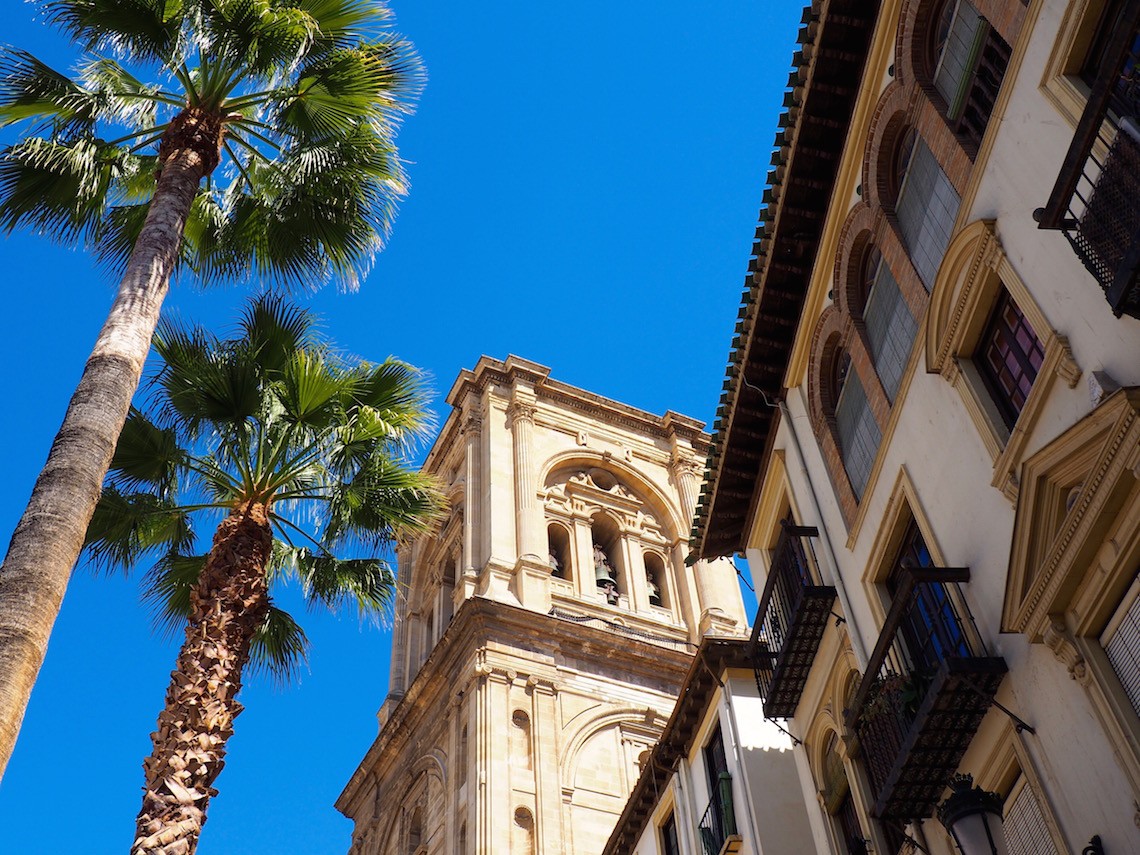 7) Enjoy Flamenco
Don't miss a taste of this most traditional of Spanish dances during your weekend in Granada. I love watching the passion of the dancers as they get caught up in the music. This historic art form is interwoven with the cultural fabric of the city, particularly in the Sacromonte area.
There are many different venues to watch flamenco, some reputedly better than others. At Jardines de Zoraya, you'll see a fiery, foot-stamping performance, sometimes from big names of the Flamenco world. There is a pretty garden and you can choose whether you want to eat there as well.
Skylark suggests: Pre-book a flamenco show to avoid disappointment. Get there early to find a seat close to the stage to capture the real magic of the performance. Go one step further and book a lesson. I would have loved to do this if I'd had more time.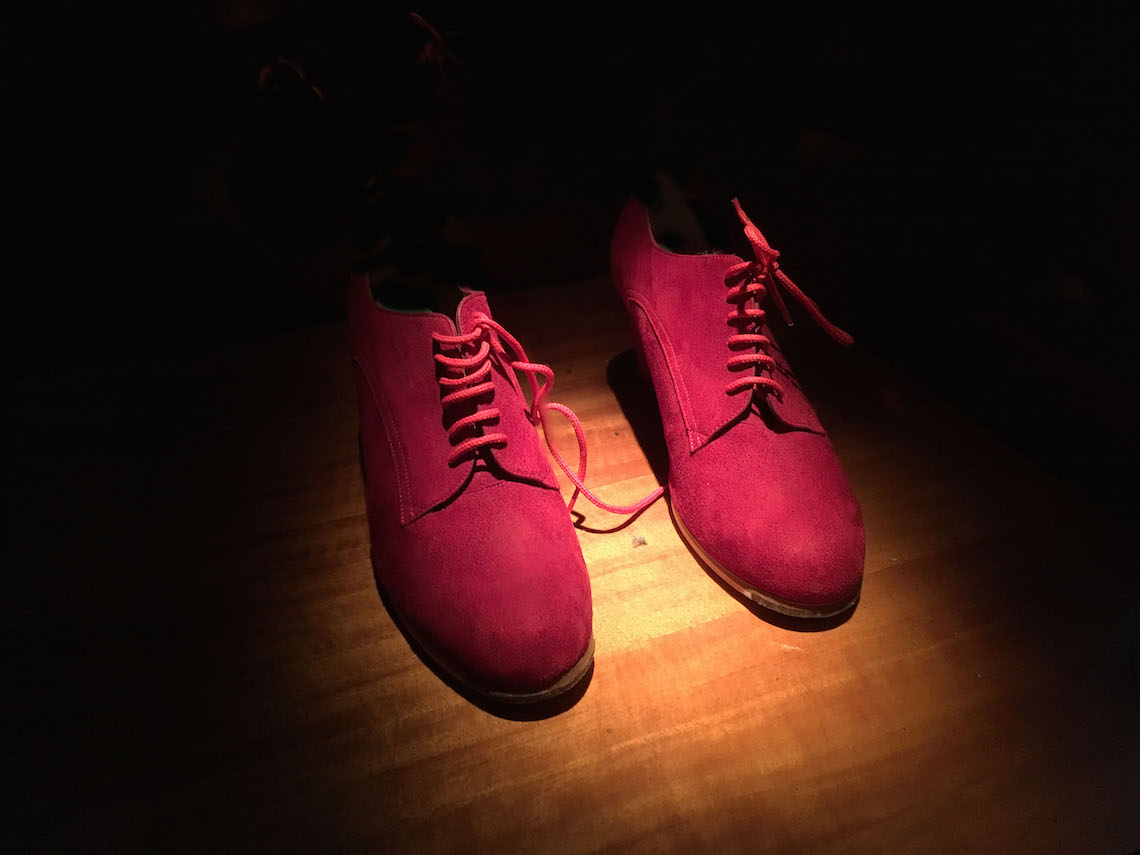 Places to eat on a weekend in Granada
 Granada is one of the few cities in Spain that still offers a free serving of tapas with a drink. You could end up with anything, but it's a good opportunity to try something different. Drinks (or at least the sangria and red wine that I enjoyed sampling) are cheaper than in the UK.
Calle Navas is a lively place to visit for dinner. This little, narrow, pedestrianised street is lined with tapas bars and restaurants. Take your pick. While it is full of tourists, some of the bars seem to be full of locals too, which is always a good sign.
There's a good atmosphere in Calle Navas and tables and chairs are lined up along the edge of the street. We sat outside and people-watched at La Chicota. After our free tapas with a glass of sangria, we shared a tapas selection including calamari, croquetas, salmorejo (chilled tomato soup) and potato tortilla. We finished our feast with a tasty seafood paella.
For more of a dinner, rather than tapas, we went to Puerta del Carmen on Plaza del Carmen. This restaurant has a lovely, traditional feel to it and loads of choice of wine. It seemed to be popular with locals. While it was really busy, the waiters were friendly and efficient. My Iberico pork dish was delicious.
Along the bustling riverside Carrera del Darro, there are plenty of bars and cafes to choose from. We had a tasty tapas lunch at Bar La Fontana. Further along, in Paseo de los Tristes, the road opens out onto an esplanade with pavement cafes. This is the place to sit for beautiful views up to the Alhambra Palace. We had a lovely lunch, under a canopy of wisteria, at Café-Bar Puerta de los Tristes.
To enjoy Granada's tradition of teahouses, we found a lovely courtyard café at Patio de los Perfumes, on Carrera del Darro. This sits behind a shop selling beautifully scented perfume products in a 17th century Renaissance house. There's also a perfume museum to have a look around. This is a perfect spot for light afternoon refreshment.
Skylark suggests: Locals eat later in Granada than they do in the UK. Don't head out for dinner until around 8pm, if you want to find any atmosphere. Although, you may find Calle Navas is already busy by then.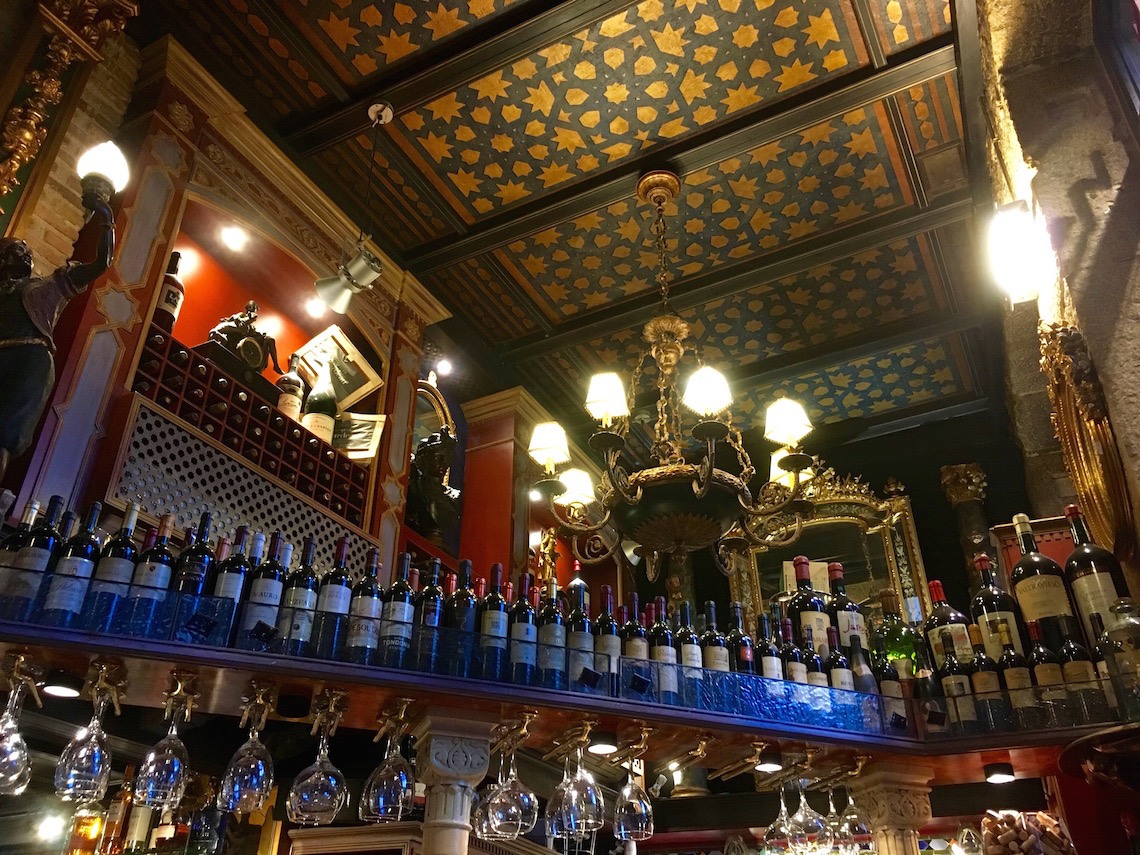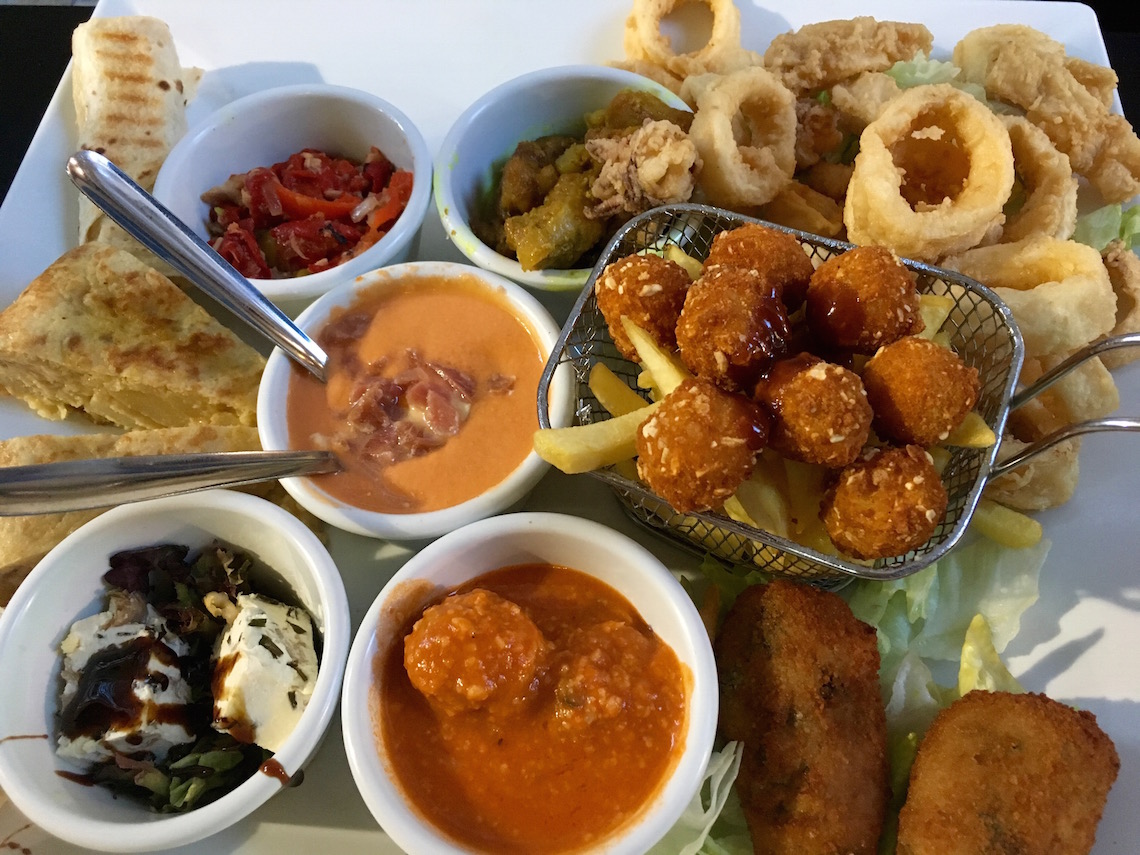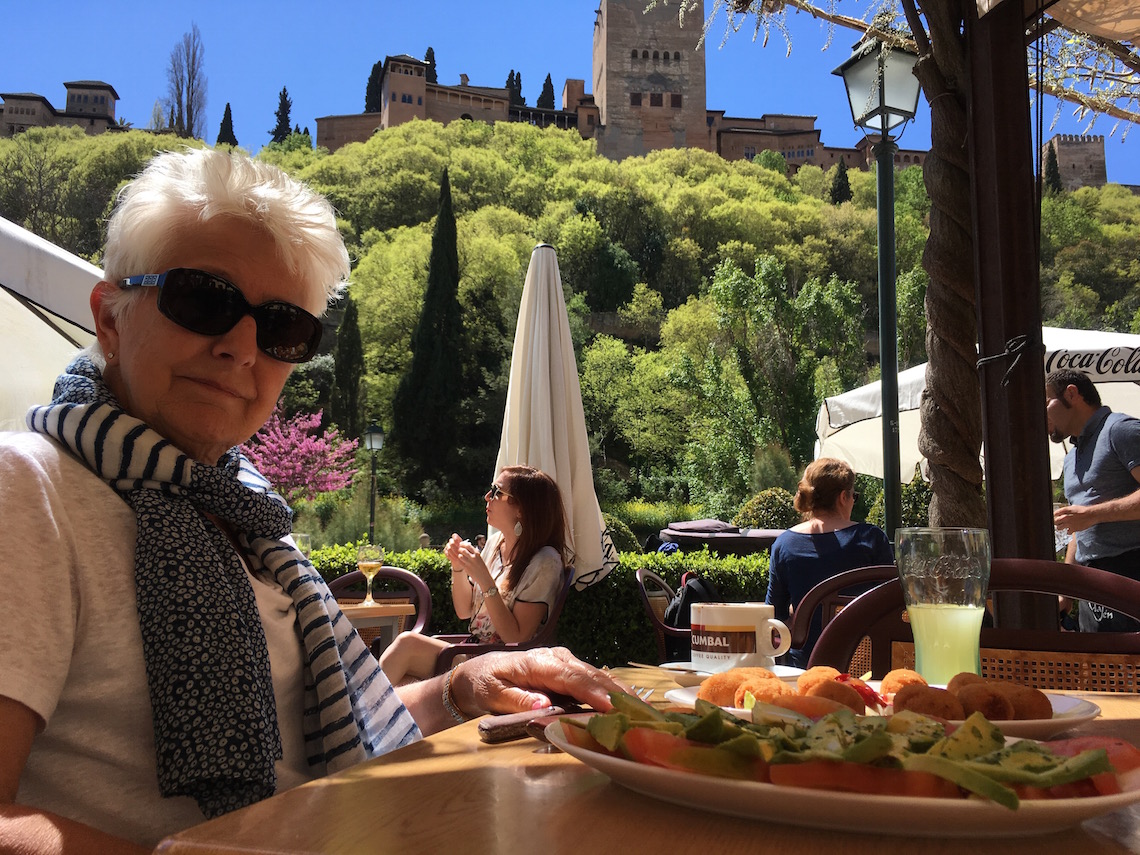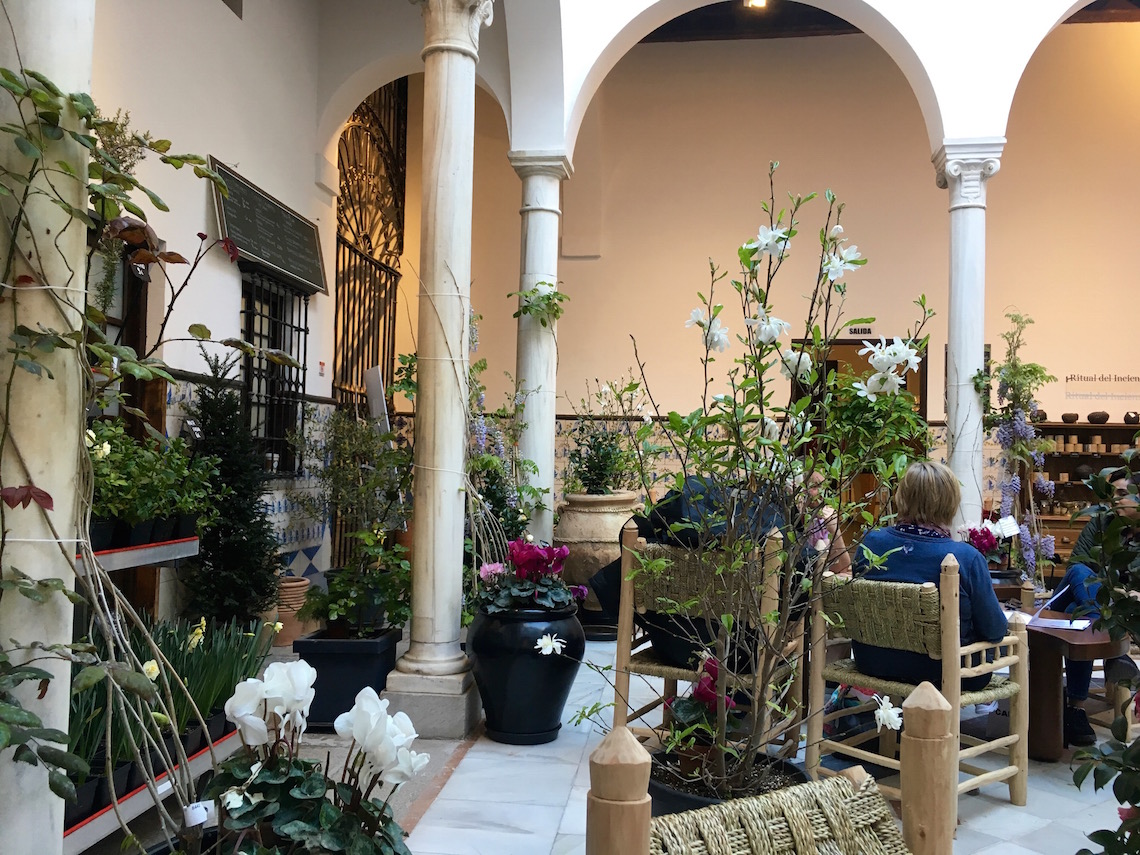 Where to stay for a weekend in Granada
I stayed at Palacio de los Patos. This is a five star Hospes hotel in a beautifully restored 19th century palace. It was a surprise at first to see it surrounded by modern apartment buildings. While this hotel is quite a walk from the Albaicin and the Alhambra, it is well placed for shopping and only a 10-minute walk from the cathedral and the bars and restaurants of Calle Navas.
In contrast to the outside of the palace and the traditional lobby, the bedrooms are decorated in a minimalist style, which make use of the traditional features. There is a lovely, large, outdoor patio area with a bar for relaxing with a drink. There is also a great choice on offer for breakfast – buffet with a la carte extras. The Bodyna Spa provides treatments, a Turkish bath, sauna and small thermal pool.
I really enjoyed staying in this hotel, mainly because of the ambience. The staff were really warm and friendly and couldn't have been more helpful. If the distance is too far to walk, they can easily order you a taxi.
The next time I go to Granada, I may consider staying in the Albaicin area. However, I would be torn as the Palacio de los Patos is so beautiful and welcoming.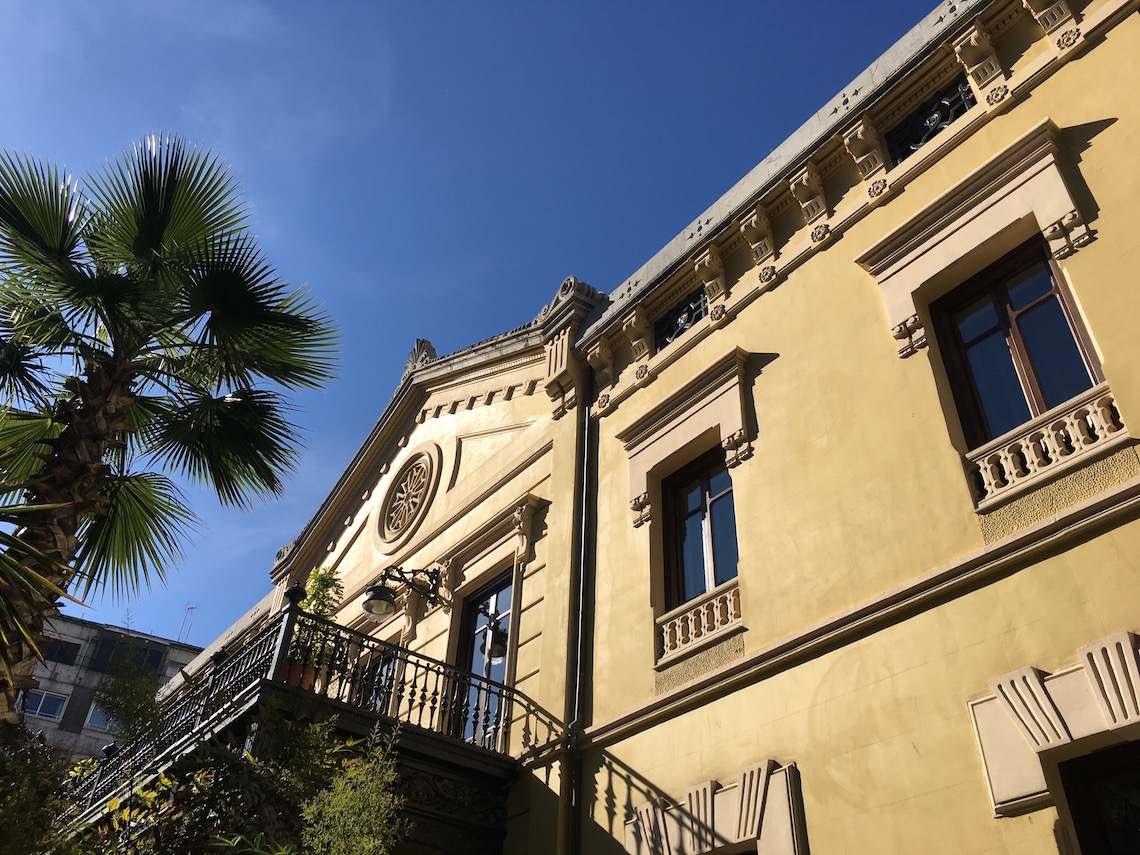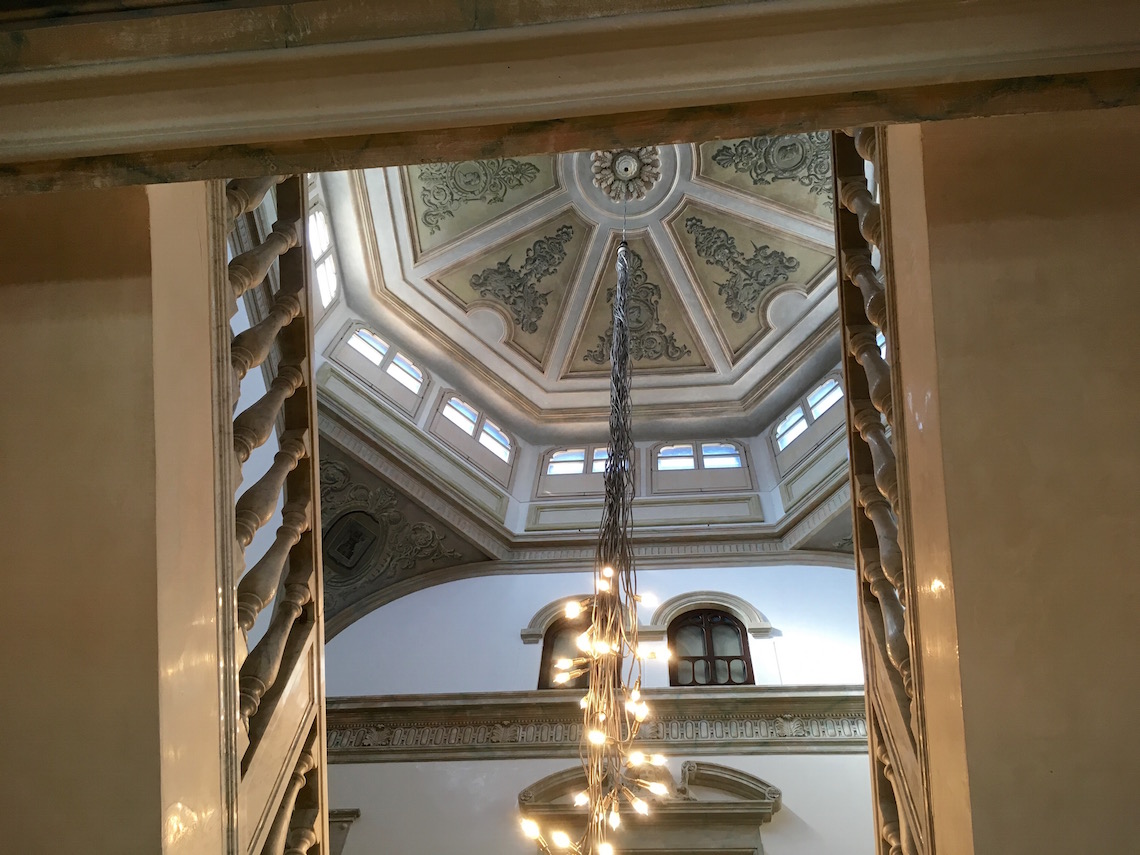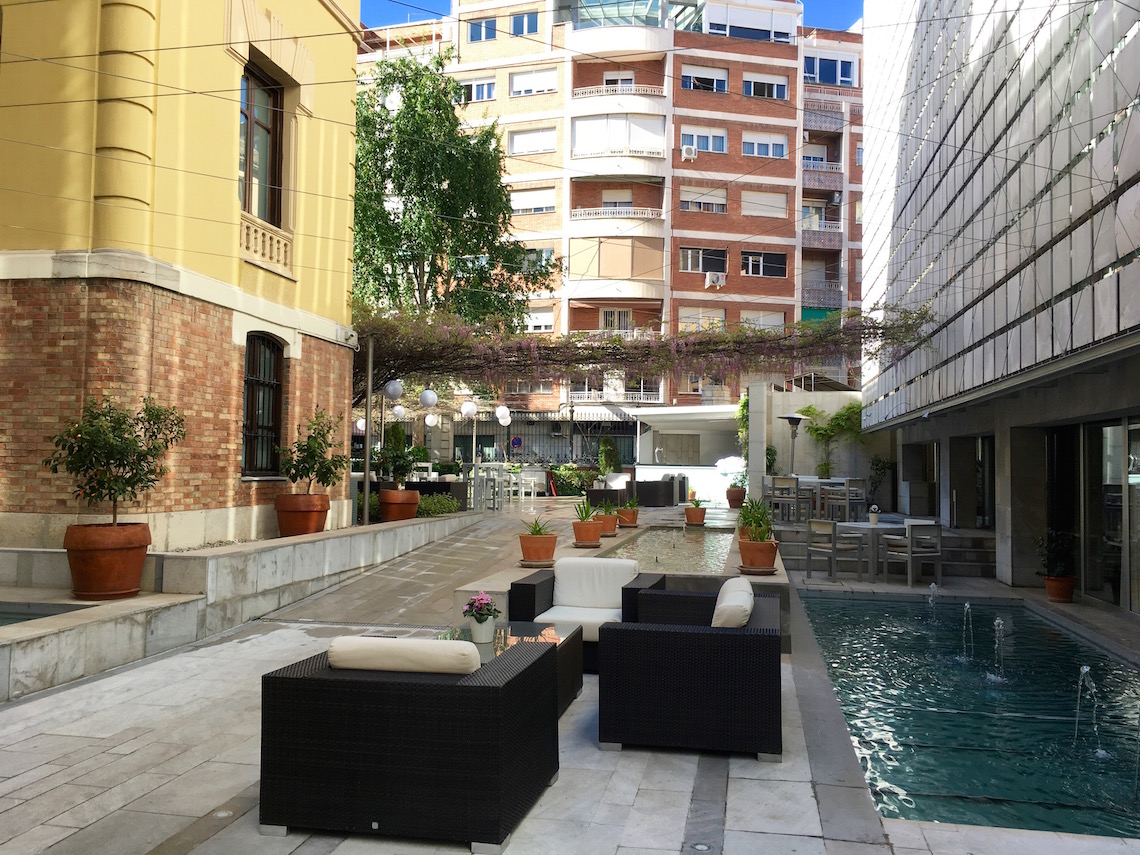 Know before you go
British Airways fly three times per week from London City to Granada
EasyJet fly twice per week from Gatwick or Manchester to Granada
Alternatively you can book a flight to Malaga and travel by bus to Granada (approx. 1.5 to 2 hours travel time).
If you'd like to book a combined trip with Cordoba and Seville, Inn Travel offer a great tour by train: The Splendours of Al Andalus
On arrival in Granada, a taxi to the city centre costs around 30 Euros. The bus costs around 3 Euros per person.
I visited in spring. Cool in the mornings, but warm in the afternoons. The trees are out in blossom and there are lots of flowers everywhere. The Sierra Nevada are topped with snow, providing a stunning backdrop.
Semana Santa (holy week) takes place in March or April, depending on the timing of Easter. Elaborate processions make their way through the city streets.
The International Festival of Music and Dance takes place at the end of June/beginning of July. Dance groups, orchestras and flamenco artistes perform in the Alhambra and Generalife.
Pin for later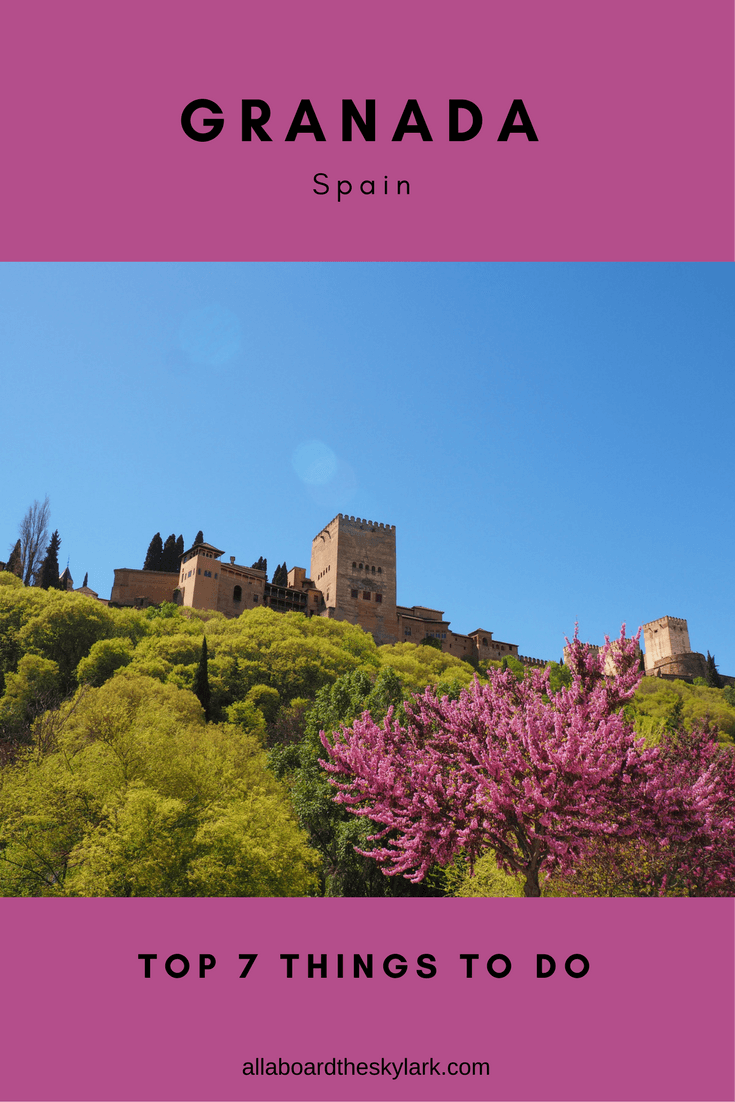 I'd love to go back for another weekend in Granada and explore further. Do you have any suggestions of places to go that I haven't mentioned here? I'd really like to hear about them.