When I heard this year's National Tea Day was being launched in London, I was curious to find out more. Sampling different teas in the glorious surroundings of Kensington Roof Gardens? Yes please! That sounds just my cup of tea.
National Tea Day takes place annually in the UK on 21st April and is an opportunity for the nation to celebrate its favourite pastime.
While other drinks have come and gone, tea has remained a constant in my life. It has seen me through stresses and strains, sorrow and celebration. But over the years, my tastes have changed. What started out as a sweet, milky cuppa, has morphed into a preference for a lighter Darjeeling – no milk, no sugar.
During my travels, I have been drawn to the emerald green tea estates of India, Mauritius and Sri Lanka, to observe the process from leaf to cup. Now here was my chance to raise a cup and celebrate one of the nation's favourite brews on National Tea Day.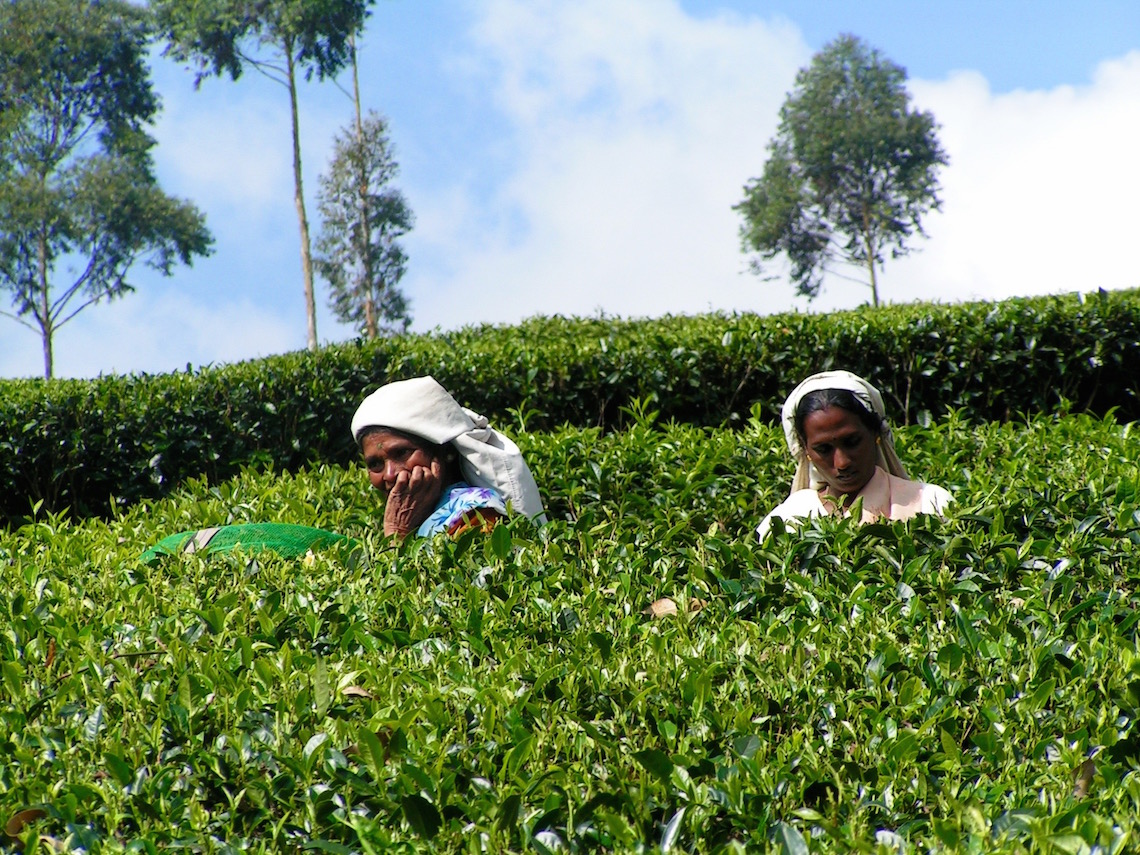 I invited one of my favourite afternoon tea companions to come with me to Kensington Roof Gardens: My Mum. And what's the first thing she said when I met her at High Street Kensington tube station? "I need a coffee."
Heading out of the lift, on the 6th floor of a non-descript office building, then through a tunnel, we emerged into daylight and a sense of déjà vu. We found ourselves in the Roof Gardens' Spanish Garden, inspired by the Alhambra in Granada, where Mum and I had been only a couple of weeks previously.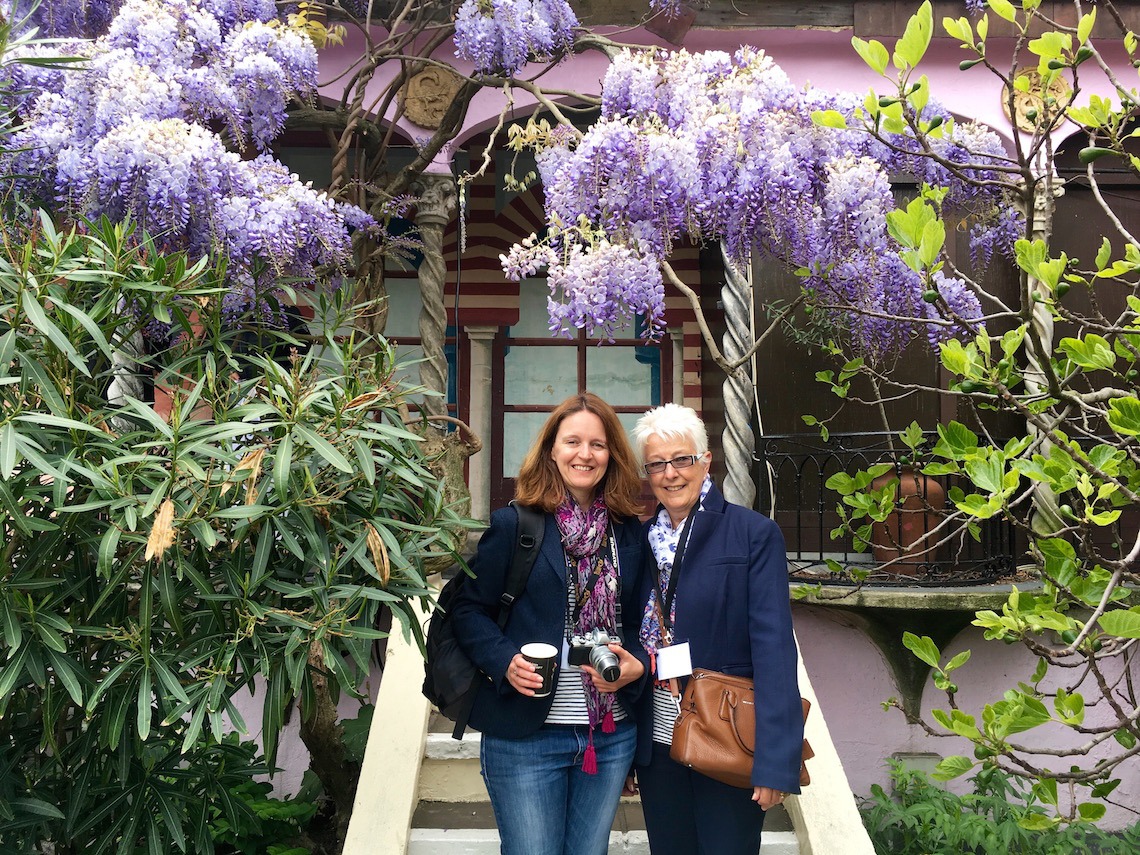 The friendly people at Clipper Tea were the first to greet us and offer a well-needed cuppa to celebrate National Tea Day. They asked me what type of tea I like and I explained I prefer a lighter tea, without milk. They made us a cup of their organic, everyday tea.
Clipper is based in Dorset. It became the first Fairtrade tea company in the UK and put the first green tea into UK supermarkets. Ever innovative, the staff at Clipper told us they are working on plans to open a visitor centre, to share their story with the public.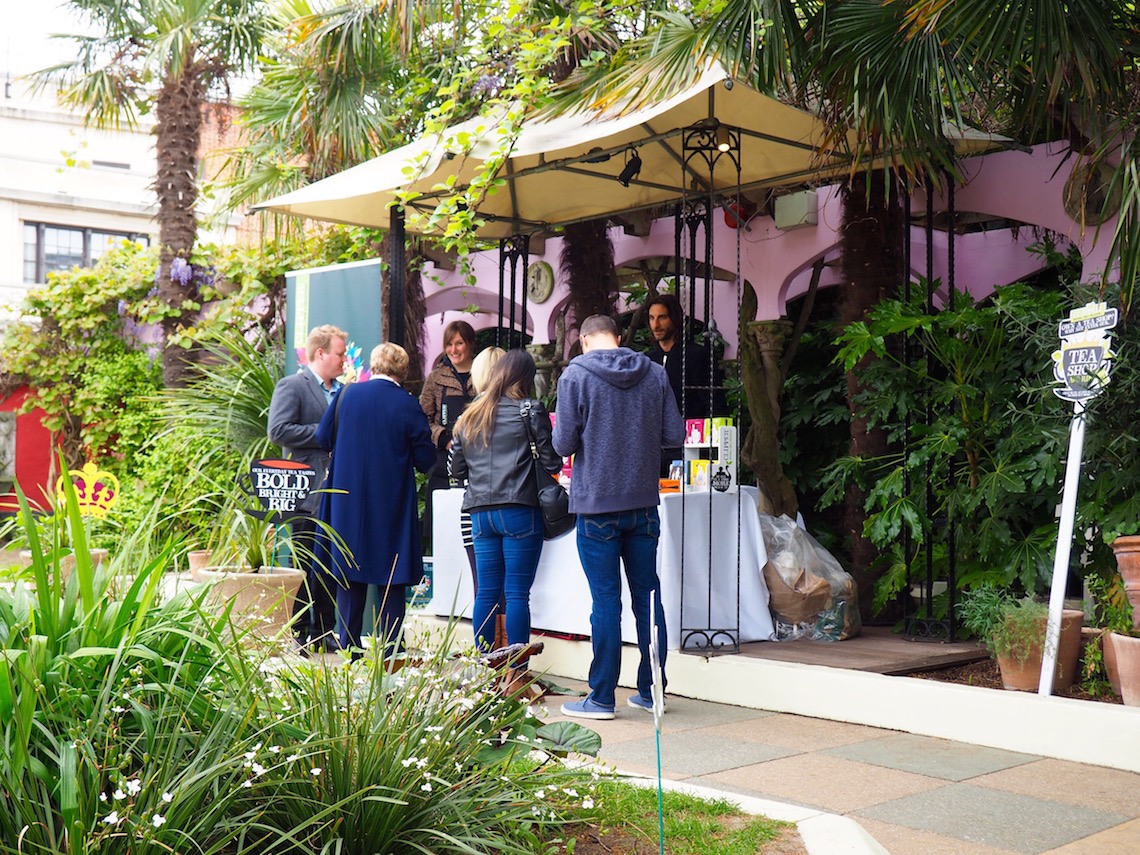 Kensington Roof Gardens opened in 1938. The public could visit for a shilling a time, raising thousands of pounds for charity. Now Sir Richard Branson owns the 1.5 acres garden. It's free to visit, but it's worth checking in advance to make sure there are no private functions.
We took a seat, to take in the surroundings of the Spanish Garden, sip our organic tea and learn about the history of this marvellous brew. With its palm trees and fragrant cascades of wisteria, it's hard to believe you're in the middle of London, with the traffic-filled streets below.
The layout of the Spanish Garden is from the original plan in 1938. While some of the planting looks distinctly Mediterranean, there are some English plants too, to withstand British winters.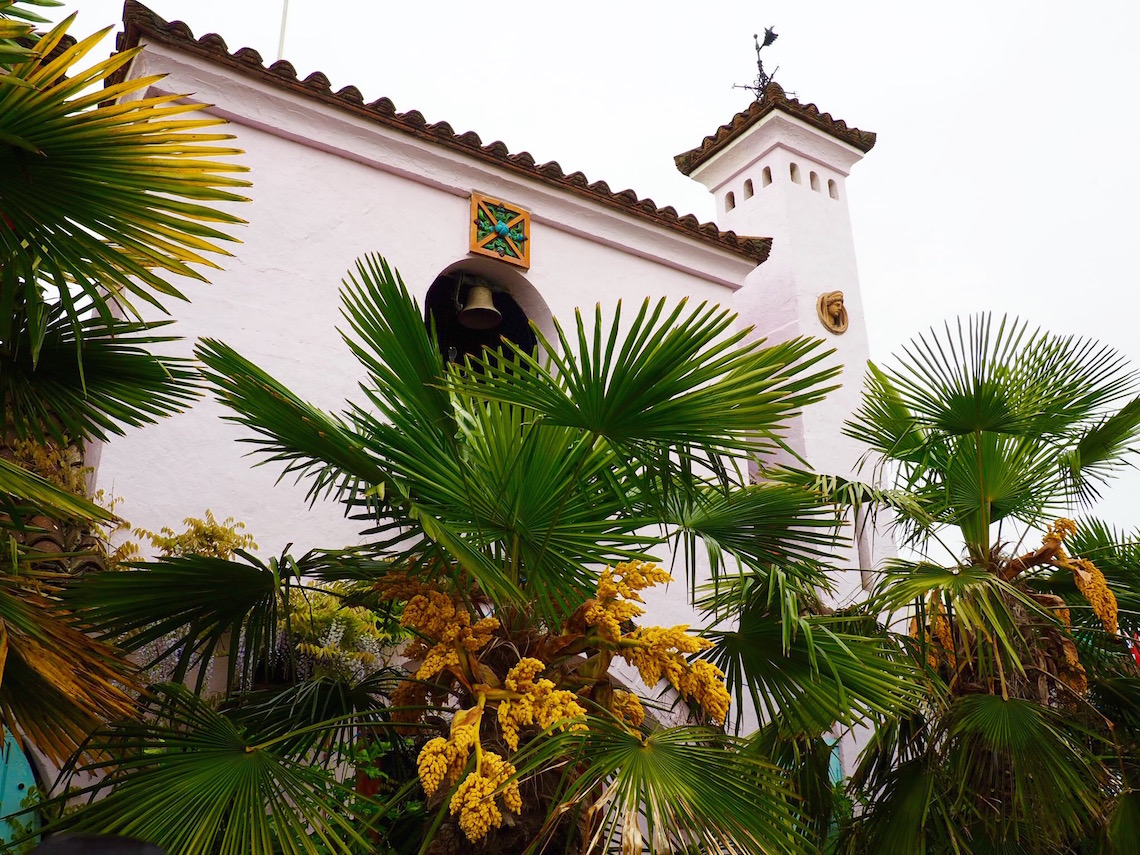 Our next stop was the Health 'n Tea Zone. Yogi Teas offered us a cup of chai. I had mine black, while Mum had hers the traditional Indian way – sweet and milky (this one with almond milk). It was lovely and warming with traditional Ayurvedic spices of cinnamon, ginger, cardamom, cloves and black pepper. It would make a great winter warmer substitute for ordinary tea.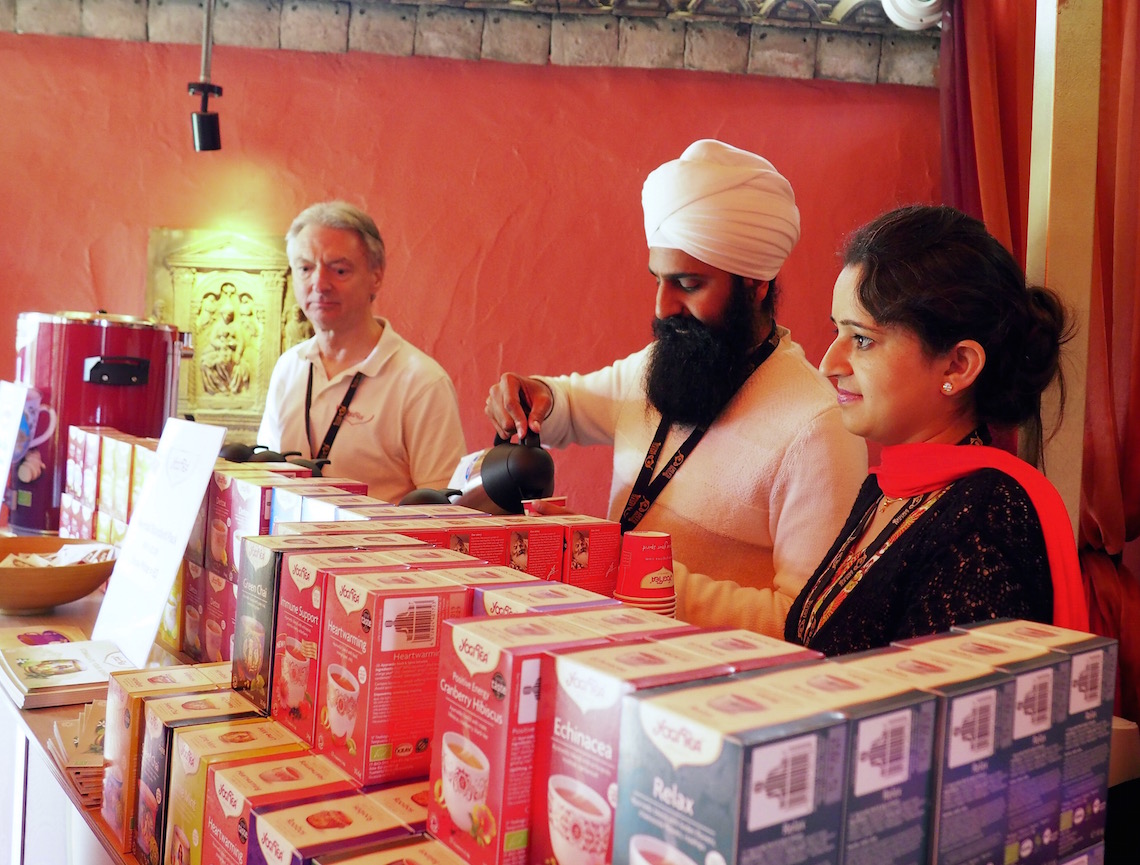 We had a chat with Caley's Apothecary. We were interested in their Time For Sleep blend – lemon verbena, lime flower, passionflower, skullcap and valerian. Apparently this works so well, they didn't offer us any to try or we'd end up too sleepy to enjoy the rest of our day.
Heading through the Tudor Walkway, we bumped into Queen Victoria, here to celebrate National Tea Day. She looked appropriately stern (and decidedly unamused), but she let me take her photo anyway. She was with her friend, The Duchess of Bedford, the founder and creator of that British tradition: afternoon tea.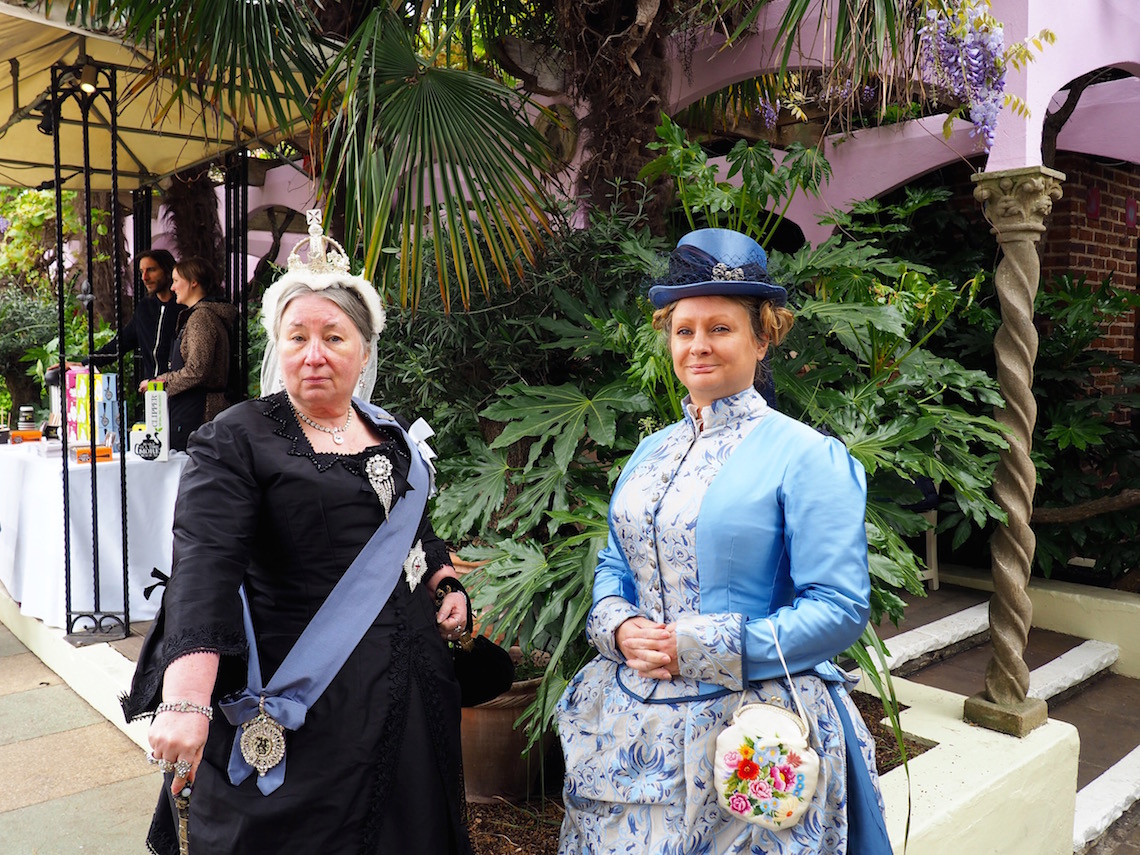 The Tudor Garden is made up of three courtyards divided by brick walls and arches. We found Clearspring here – the organic food company, specializing in Japanese products. I have tried green tea a couple of times in Japan, but I'm sorry to say I'm not really a fan of the thick, green, traditional Japanese tea.
We were fascinated to watch the Clearspring lady demonstrate the traditional method of grinding green tea leaves to make a fine powder. This is matcha, the most prized of Japanese teas. Instead of bottling out of trying any green tea altogether, I tried a cold blend of matcha and apple juice, which actually tasted quite nice. But I was more taken with Clearspring's sesame crackers and tamari almonds.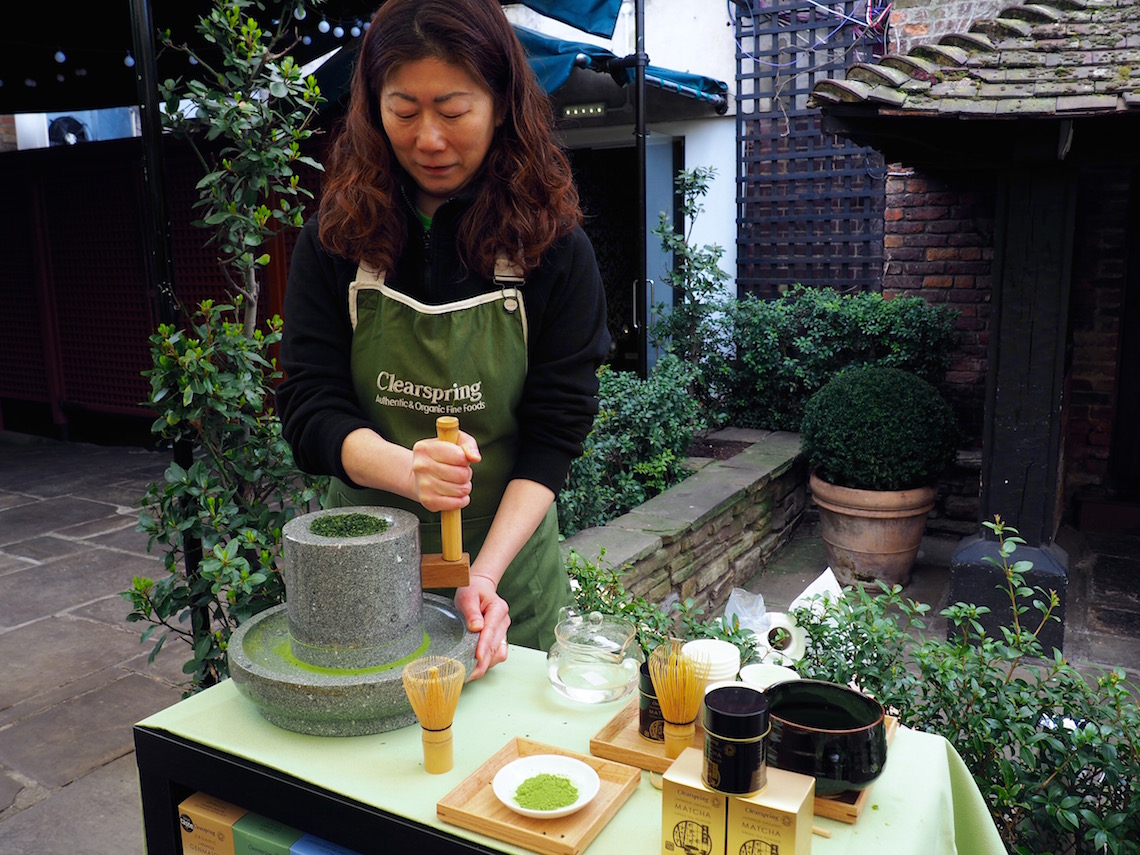 More my cup of tea (excuse the pun), was a cocktail masterclass taking place in the Tudor Garden. But this wasn't any old cocktail class; it incorporated tea infusions in honour of National Tea Day. We watched the mixologist create a couple of concoctions. My favourite was the 'Victoria's Cocktailed Cake'.
This cocktail tasted like all the best bits of afternoon tea in a glass. It had a flavour of Victoria sponge and lemon curd. It was made with an infusion of Amber Rose Tea Company's 'Catherine' tea, gin, lemon curd and sugar syrup.
This particular loose-leaf Oolong tea is named after Catherine of Braganza, a former Queen of England. She was credited with bringing the custom of drinking tea to the British Court from Portugal. We obviously have much to thank her for, including being the inspiration of this blend with notes of cocoa, raspberry and caramel. It was my favourite tea discovery of the day.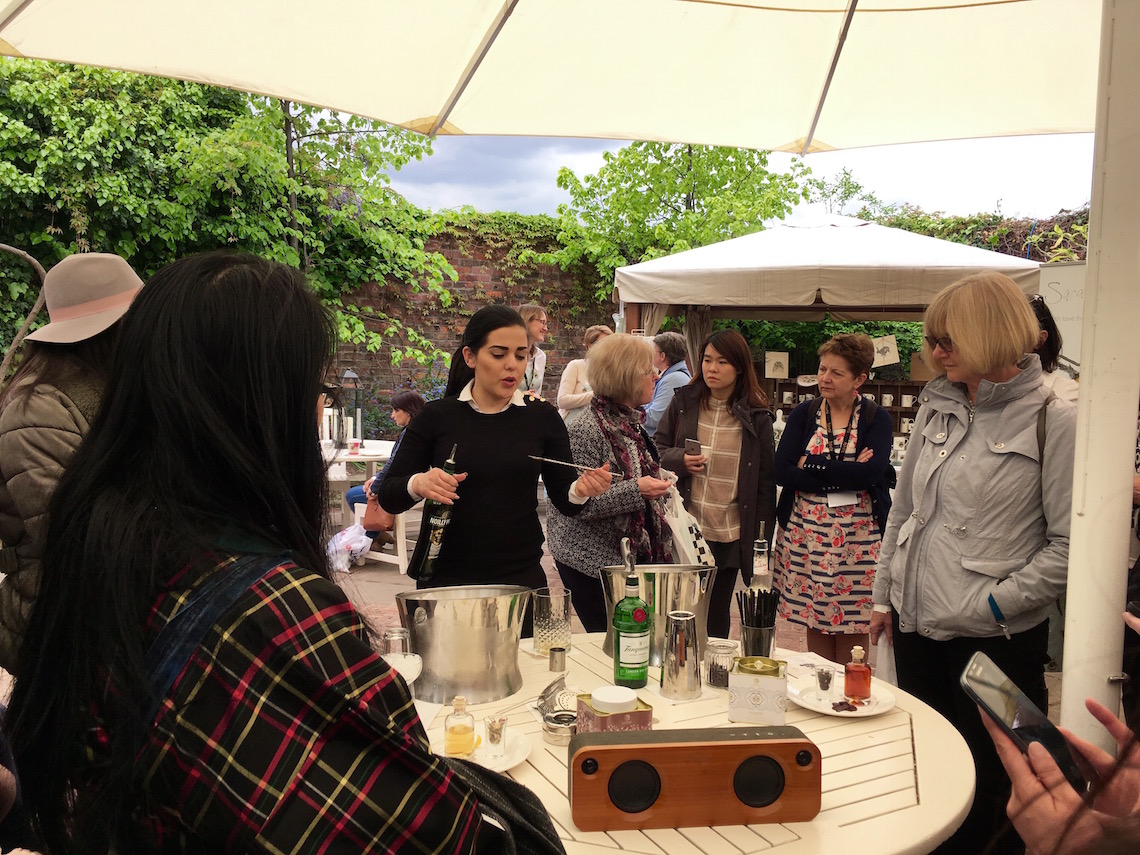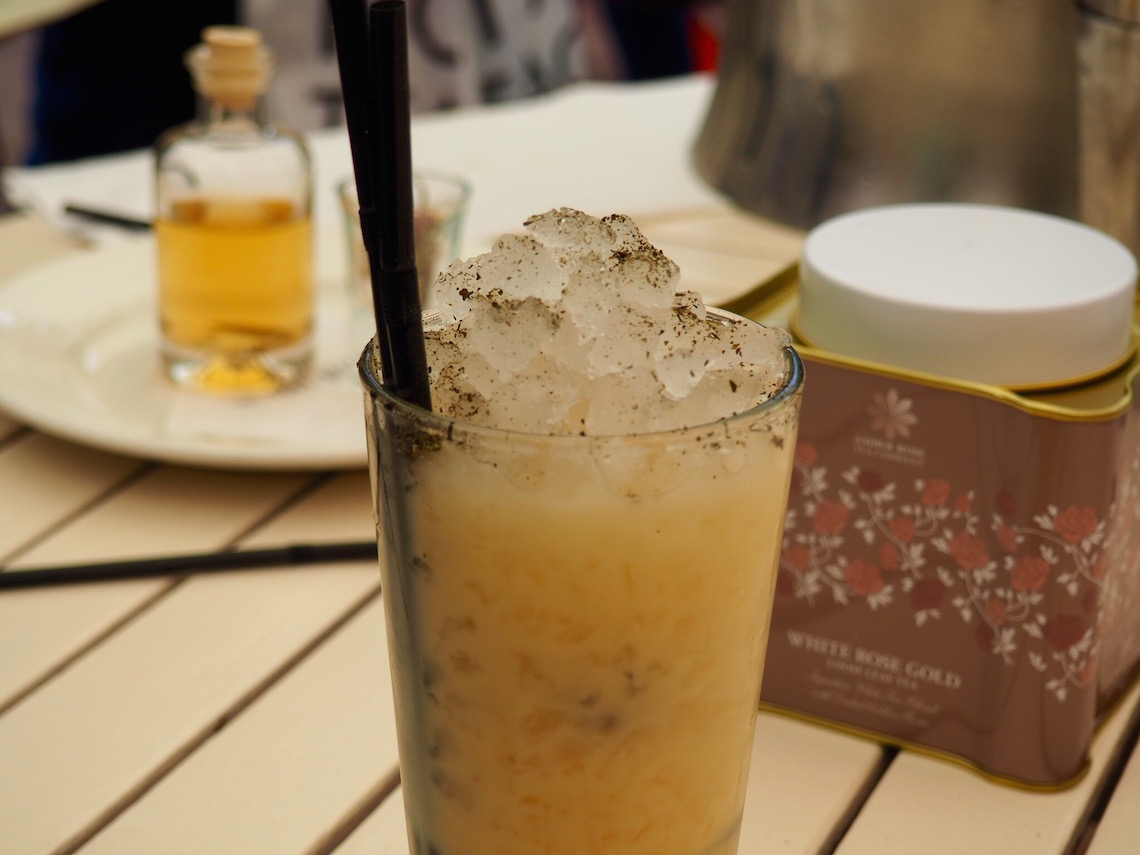 We also discovered Aunt Martha in the Tudor Garden. Aunt Martha's Tea Room is not a million miles from me, in the Forest of Dean. It sounds like a step back in time to 1897, where a selection of 22 different teas are on offer, as well as a choice of different afternoon teas and Victorian costumed waiting staff. Something I definitely need to investigate further.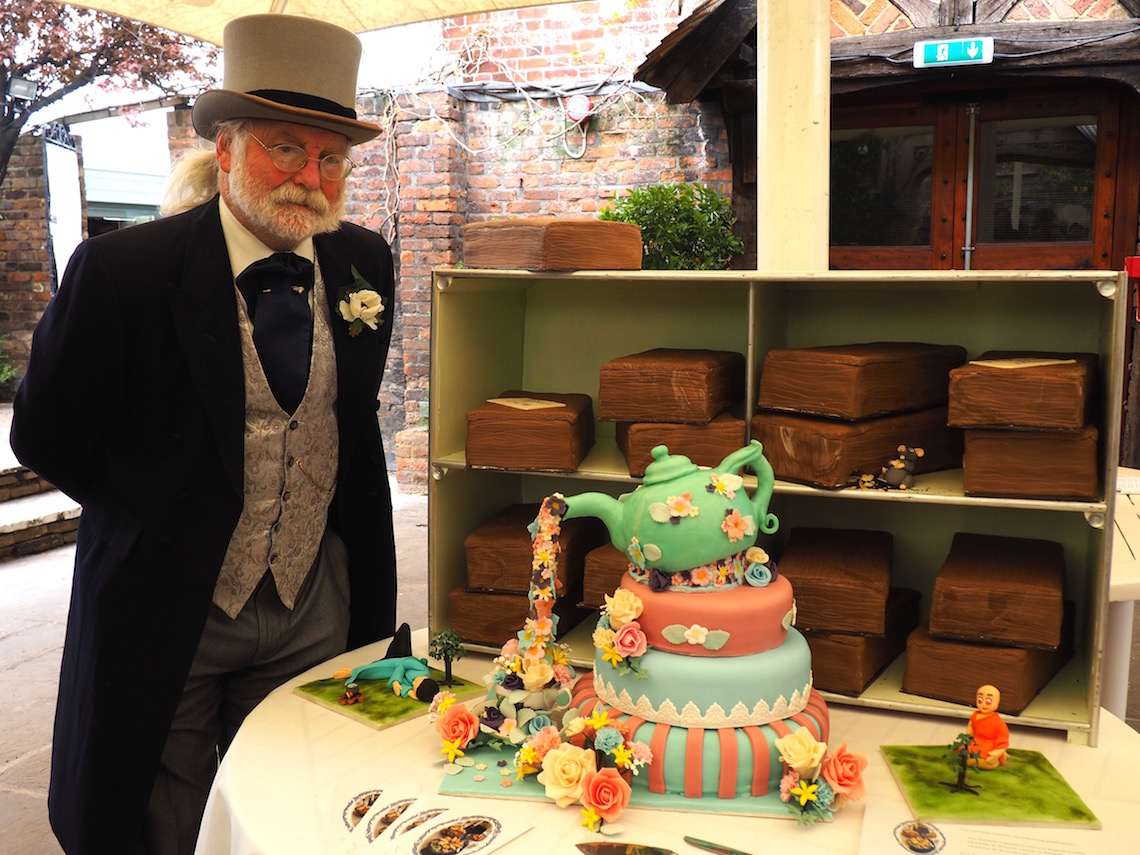 On the other side of the roof, we found the English Woodland Garden. Some of the trees here are apparently 75 years old, including mulberry and Japanese maple. It's home to Mandarin and Carolina wood ducks and the cutest little fluffy ducklings. We also encountered pink flamingos – a nice surprise on a rooftop in the middle of London!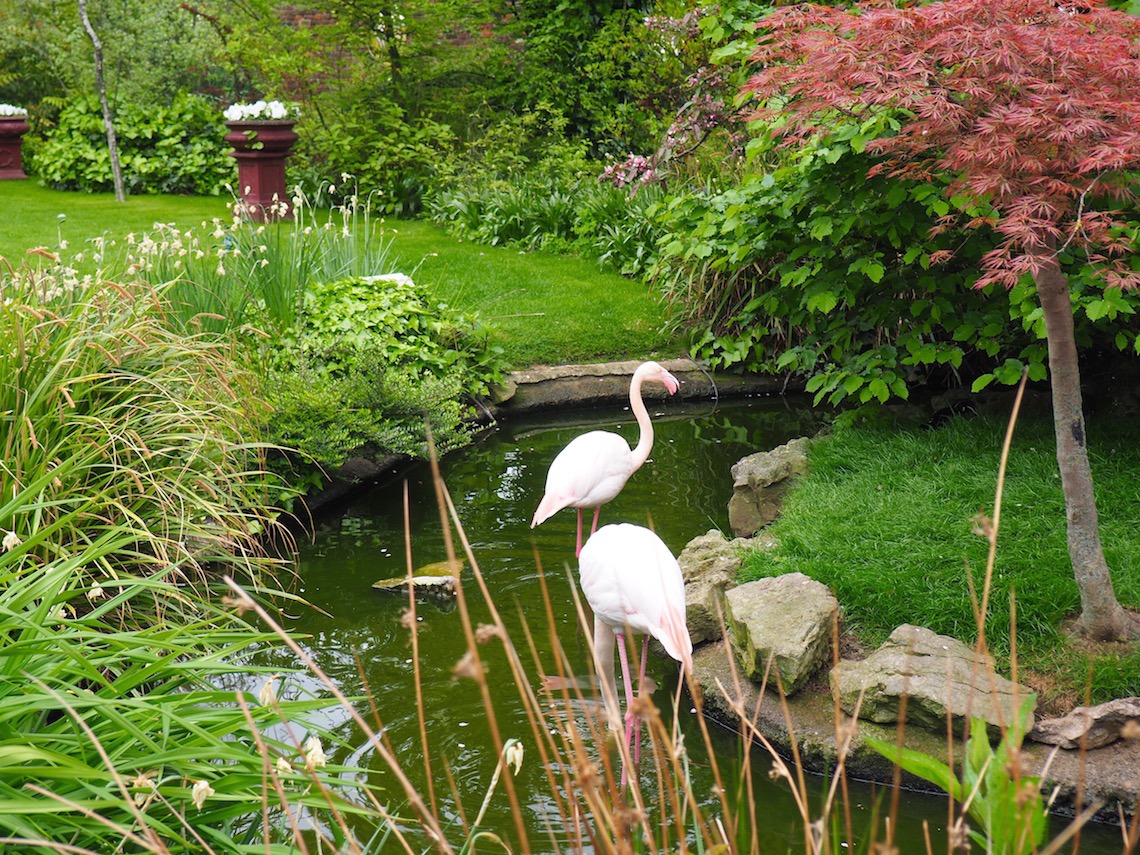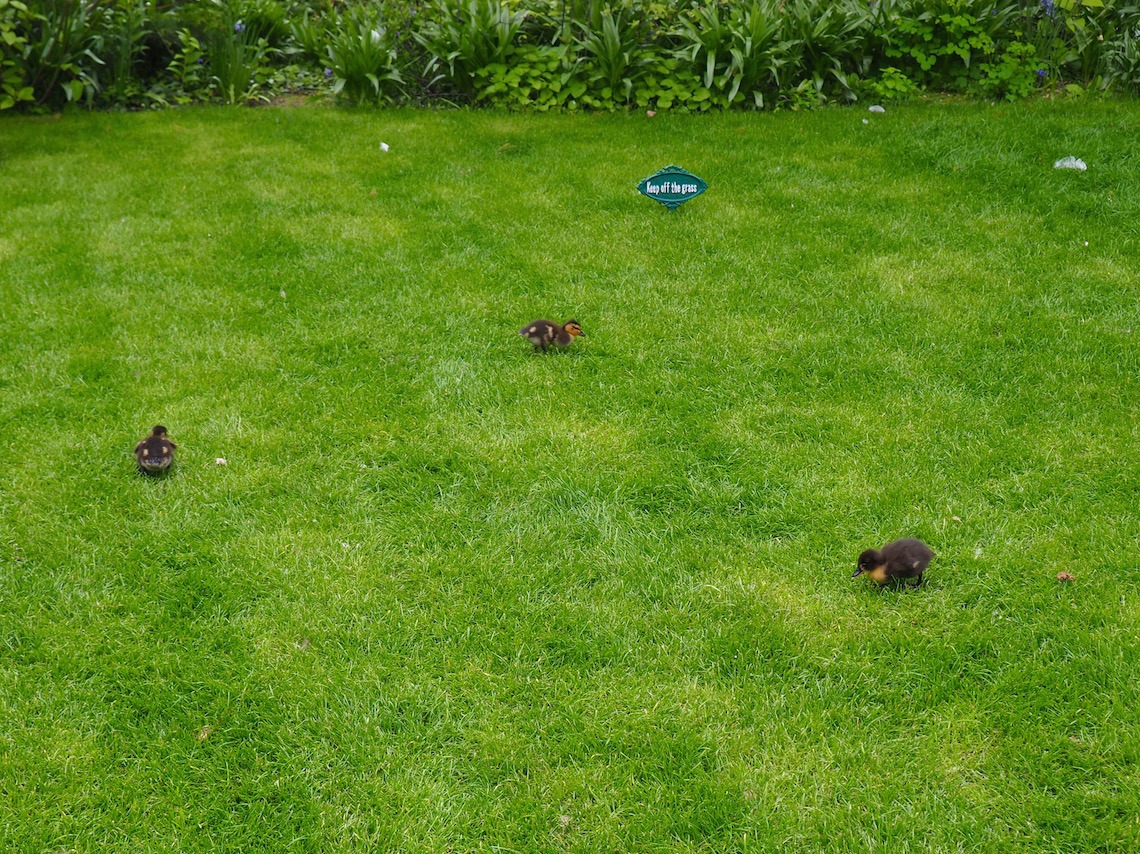 Inside the main tea hall, we managed to find a cucumber sandwich to keep us going. Whilst there were lots of tea companies here with their wares, my favourite find was Green Lady.
The man from Green Lady told us this is the first-ever sparkling tea in the UK. It's made from Darjeeling, often described as the champagne of teas. I found it had a light, refreshing flavour and tasted like a 'grown up' soft drink. I find, so often, soft drinks are overly sweet and overly fizzy. This one is sweetened with carob, instead of sugar, and delicately flavoured with nutmeg and rose oil. Quite a revelation!
Green Lady is available via Ocado, but I'd love to see it in local supermarkets. It would be a great alternative if you're looking for something non-alcoholic, and, as an extra bonus, it sounds pretty healthy too.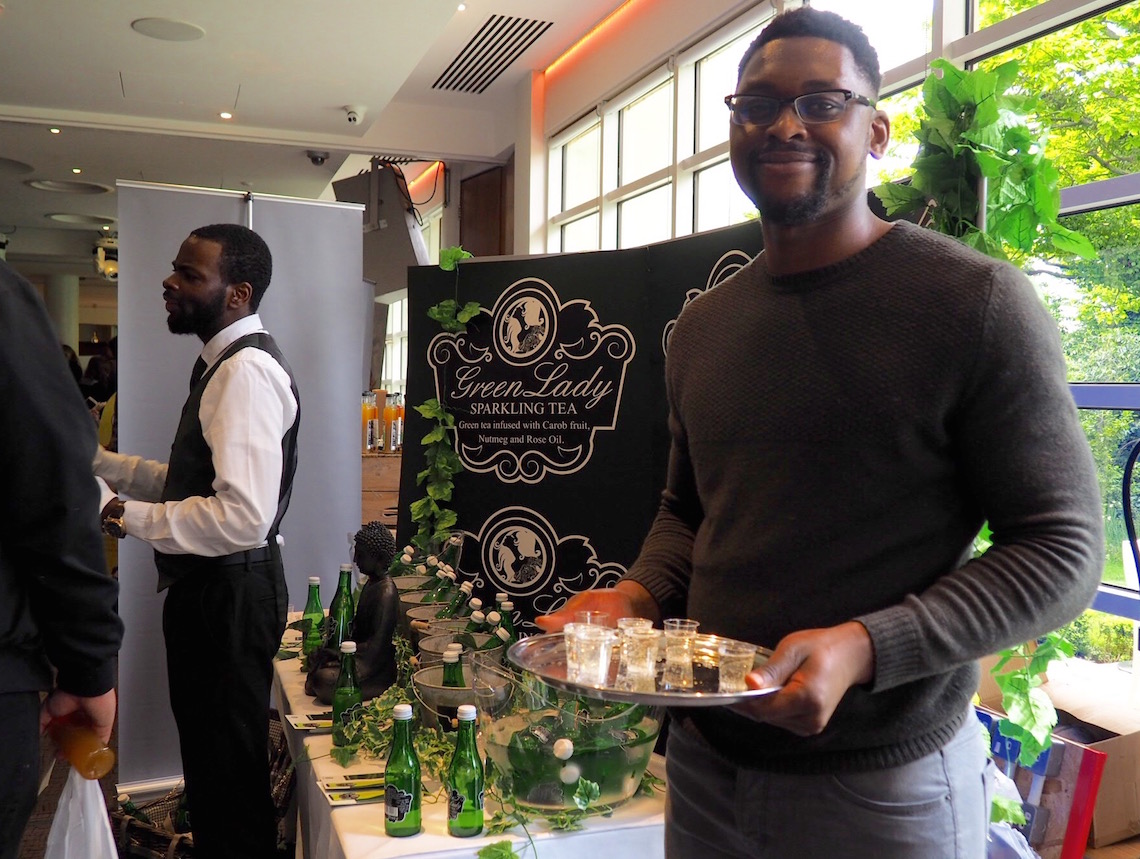 After a couple of hours' tea tasting, it was time to go in search of something a bit more substantial than a cucumber sandwich. And Mum needed a coffee! We both agreed we should be a bit more adventurous with our tea choices in future. There are so many different tea companies and different varieties out there, there's sure to be something to suit all tastes at whatever time of day you fancy a cuppa.
What's your favourite type of tea? I'd love to hear your recommendations.