Going out for breakfast on race day has become a tradition. It's something I look forward to every year. While I like to think of myself as being spontaneous, I actually like to do my research. Using my local knowledge, I've put together my Top 7 list of where to eat breakfast Cheltenham Race Week, for all tastes and budgets.
My Cheltenham races breakfast is not only about setting myself up with a full stomach before I head up to the racecourse, but it's about walking into a café with a copy of the Racing Post tucked under my arm, ready to browse as I wait for my bacon and eggs. While I don't want to break the bank (especially before I lose all my pennies on the horses), it's not just about price for me; I try and seek out local and ethically sourced produce.
A Cheltenham race week breakfast is a social affair. You'll find yourself surrounded by a sea of tweed. Keep your eyes and ears finely tuned, as you never know who'll be sitting on the next table and what tips you may pick up!
Where to find the best breakfast Cheltenham Race Week
Curious Café, Bath Road
I would say this really is an institution for a cooked breakfast Cheltenham Race Week. The Curious Cafe isn't in the centre of town, but if you're staying on the south side of Cheltenham, this is one of the best places for a hearty feed. Find yourself a table in the quirky café, or, if it's warm enough, you could sit out in the garden.
This is more your down-to-earth, pot of tea type of breakfast, rather than with Guinness or fizz. Breakfasts start from £6. My favourite is the Apprentice – bacon, egg, sausage, beans, mushrooms and tomato with toast (plus an additional hashbrown). Or you could go the whole hog and opt for the Blacksmiths, including black pudding and hash browns. Eggs are free range and the sausages come from Burley Farm, just a couple of miles down the road.
Cosy Club, The Brewery
Cheltenham's newest bar, the Cosy Club, opened just last month in the up and coming Brewery development. I love its eclectic 1930s décor, university honours boards, chandeliers and mix of sofas and chairs. Floor to ceiling windows, decorated with the golden outlines of horses and jockeys (to get you in the mood for the races), look over the High Street.
The Cosy Club's breakfast menu includes a traditional English – with an extra brownie point for incorporating a locally grown Gloucester Old Spot sausage, or swap that out for falafel for the vegetarian equivalent. For something a bit different, try ham hock hash with diced potatoes, fried egg and breakfast gravy. Glam it up with lobster tail and scrambled eggs and wash it down with a Bloody Mary or glass of fizz. Breakfasts start from around £6.95.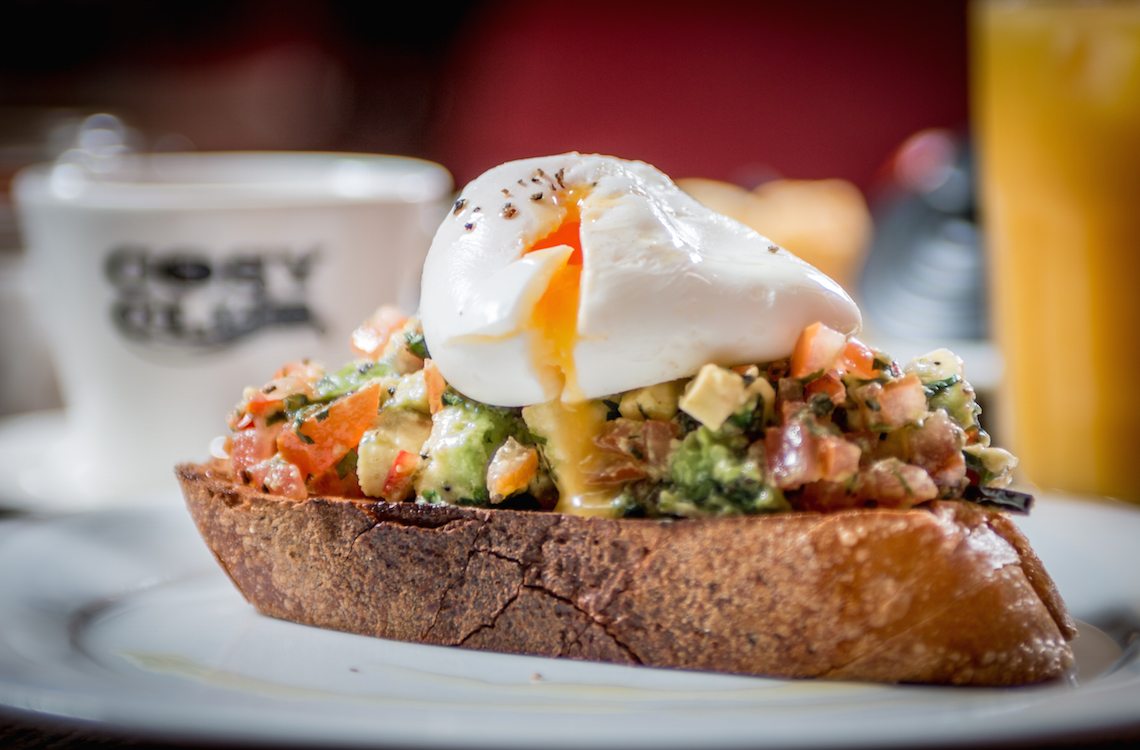 The Fire Station, St James' Square
A short walk from the High Street, The Fire Station restaurant and bar is located (you've guessed it) in a former fire station. To keep with the theme, many of the dishes are cooked over an open flame. For breakfast Cheltenham race week, I'm torn where I'd choose to sit. Keep an eye on the booze in the spectacular bar area, or head up the spiral stairs for a burst of daylight under the glass roof.
The Fire Station is offering their usual Saturday breakfast menu every day of the Cheltenham Festival from 9am (around £6.50 to £10.50). In addition to a full English (which gets a thumbs up in my book for including hash browns), other breakfast delights include buttermilk pancakes with mixed berries, honey and Greek yoghurt. Or for a Middle Eastern twist, try the Shakshuka baked eggs with spiced tomatoes and peppers, labneh and sourdough. Why not wash it down with a Bloody Mary or Pink Fizz 'wake me up cocktail?'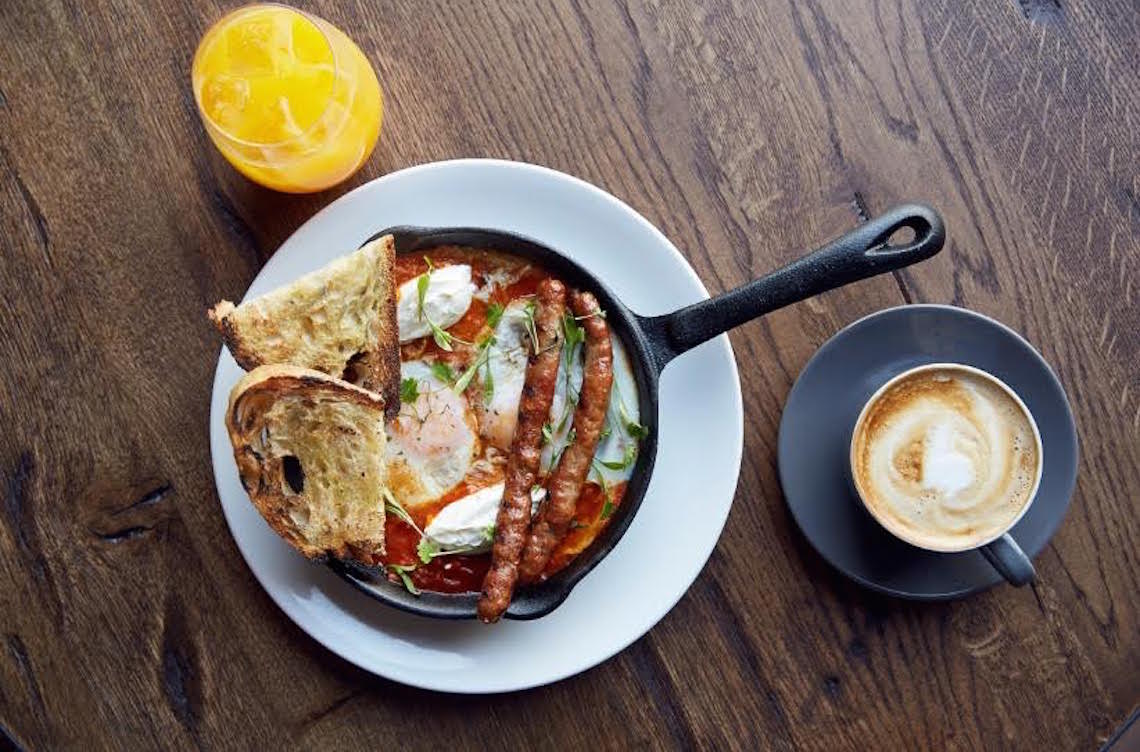 The Bottle of Sauce, Ambrose Street
With this pub taking its name from the cockney rhyming slang 'Bottle of Sauce' meaning 'horse', it would be rude not to give this place a nod on the way to the races. This neighbourhood bar, just off the lower High Street, has a cool, rustic feel. More excitingly it also has a games room. Table tennis anyone?
Usually only available at the weekend, The Bottle of Sauce is offering its hearty breakfasts to set race goers up for a long day of racing. The breakfasts (served until 11am every morning during race week) vary from croissants and pastries, all the way up to a big 'Boss Man' fry up (£10). Not only does the Boss Man include hash browns (plural), but the sausages and dry cured bacon are locally sourced from Kelmscott in Gloucestershire.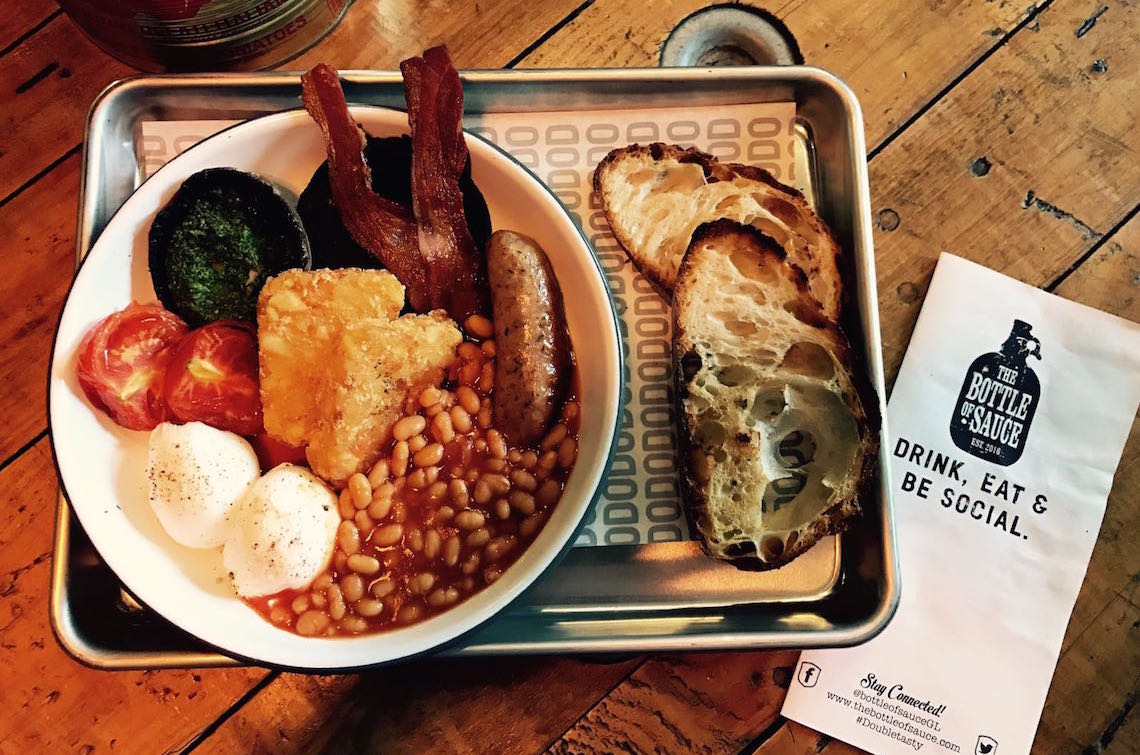 The Tavern, Royal Well Place
Part of the Lucky Onion group, The Tavern is the holder of a Michelin Bib Gourmand. More importantly, it's my favourite place to get a burger in Cheltenham. It has a cosy, but cool vibe. I've not eaten breakfast here (yet!) but if the burgers are anything to go by, it should be pretty darn good. Sit downstairs near the bar, or head upstairs where you'll find an open kitchen.
Whether you fancy a full English or something lighter, like avocado on toast or local smoked salmon, each breakfast item comes with CackleBean eggs – poached, fried or scrambled. These special eggs are produced at Cackleberry Farm near Stow-on-the-Wold and feature on top chefs' menus from the Cotswolds to London. Breakfasts cost from £6 to £12. Quench your thirst with a boozy milkshake, cocktail or Guinness on draught.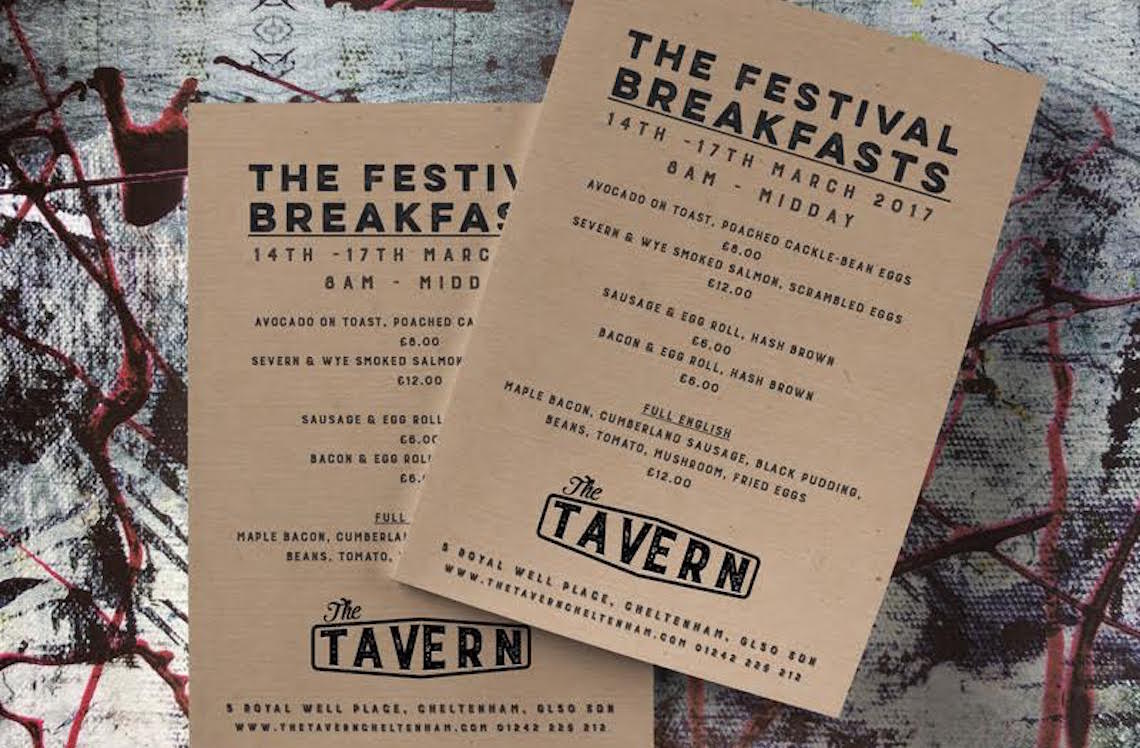 Sup & Chow, Bath Road
If you're up the Leckhampton end of Cheltenham, you can stop for breakfast or a drink here on your way into town. This friendly, local pub is one of the newest additions to Bath Road, transformed from the former Brown Jug. There are plenty of cash points on Bath Road and places to buy your racing newspaper.
Sup & Chow's Festival Champagne Breakfast is served from 8.30am until 12 noon. Load yourself up with a full English (eggs, sausages and bacon from a local farm) and a glass of fizz or Guinness for £11, or lighter, healthier choices are also available.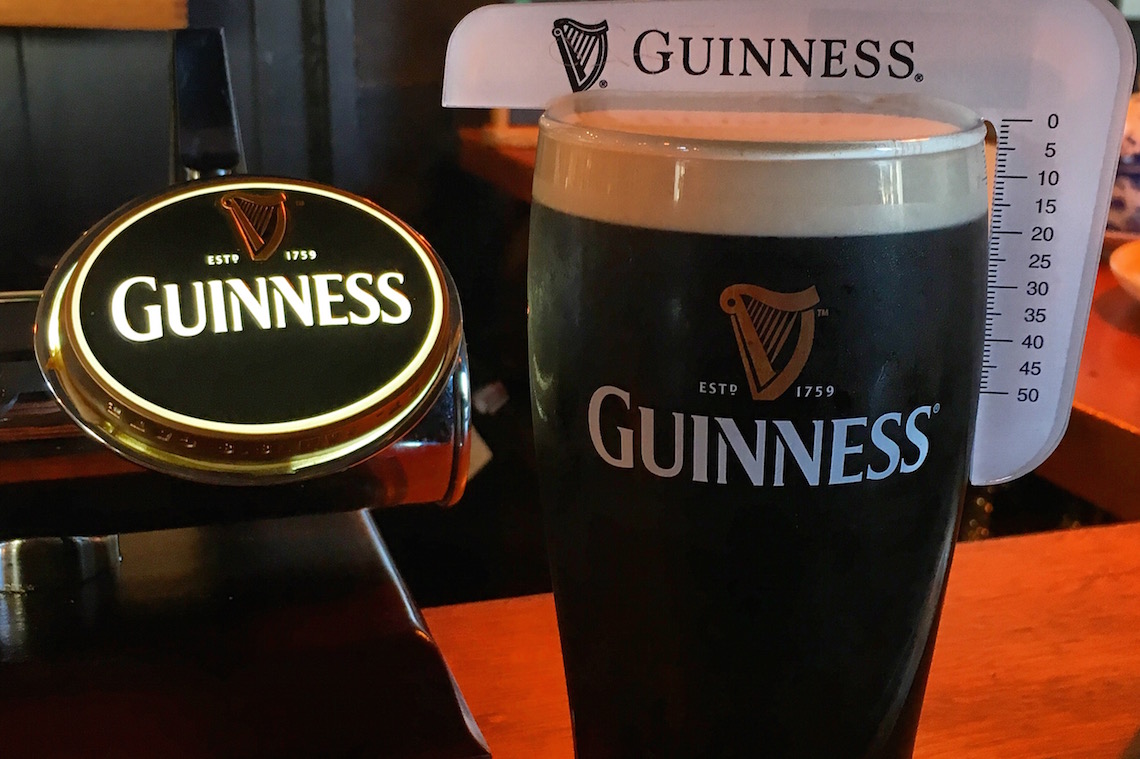 No.38 The Park, Evesham Road
This must surely be the closest place to get breakfast to Cheltenham Racecourse. While you'll find the road outside full of race traffic, step inside this elegant Georgian townhouse hotel into an oasis of calm. But be warned, you'll likely find yourself mingling with the most expensively dressed racegoers.
It's definitely advisable to pre-book your table at No.38 The Park for breakfast Cheltenham Race Week. Kick start your day with popping corks or a Bloody Mary, before polishing off a locally-sourced full English. Walk off your breakfast (in only 5 minutes) on the way to the races.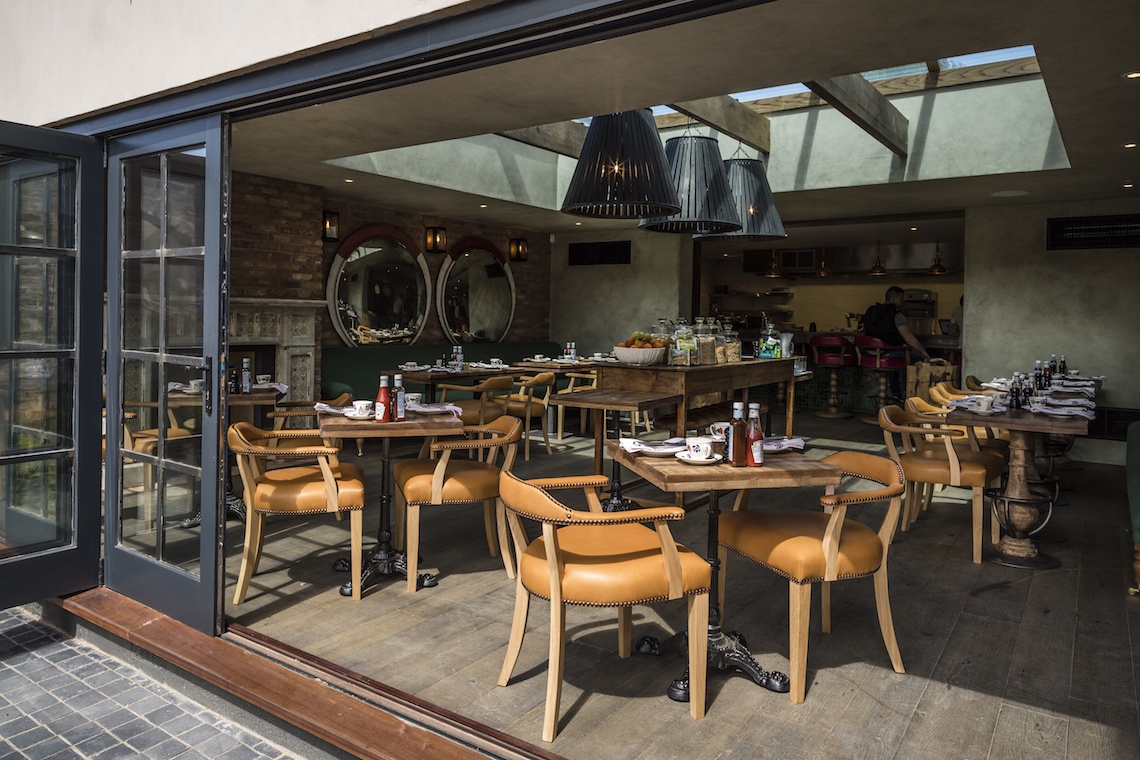 Pin it for later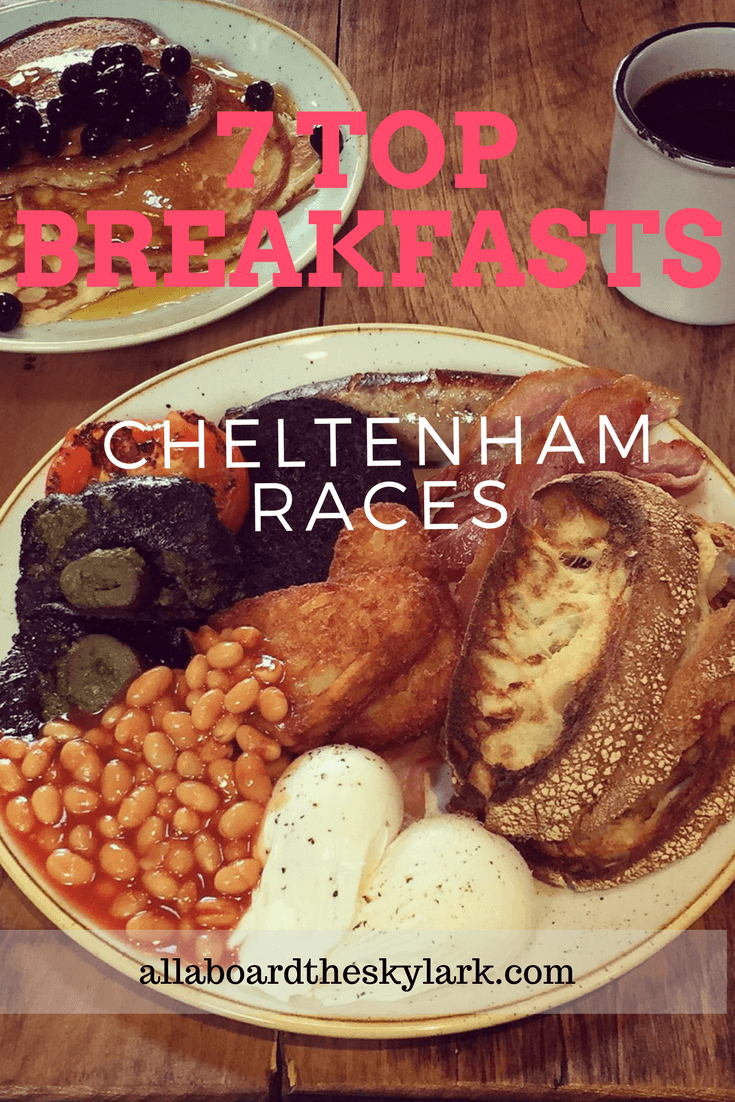 Have you treated yourself to breakfast Cheltenham Race Week? I'd love to hear your tips.