Rescued by two local families, who took the decision to give a fading pub a new lease of life, The Howard Arms in Ilmington has only recently reopened after an extensive refurbishment. I was lucky to be given the opportunity for a Saturday-night stay.
Dating back to the 16th century, this pub with rooms overlooks the village green in the peaceful south Warwickshire village of Ilmington. I'd never heard of this village before, but quickly discovered it's a great location for exploring the north Cotswolds. The quintessentially beautiful villages of Broadway and Chipping Campden, and historic Stratford-upon-Avon, are all within 10 miles.
Our stay at the Howard Arms in Ilmington
We arrived at The Howard Arms on a wintery afternoon. Inside the flagstone-floored bar, the fire was lit and a family was enjoying a late lunch. We received a warm welcome and were shown upstairs to our room.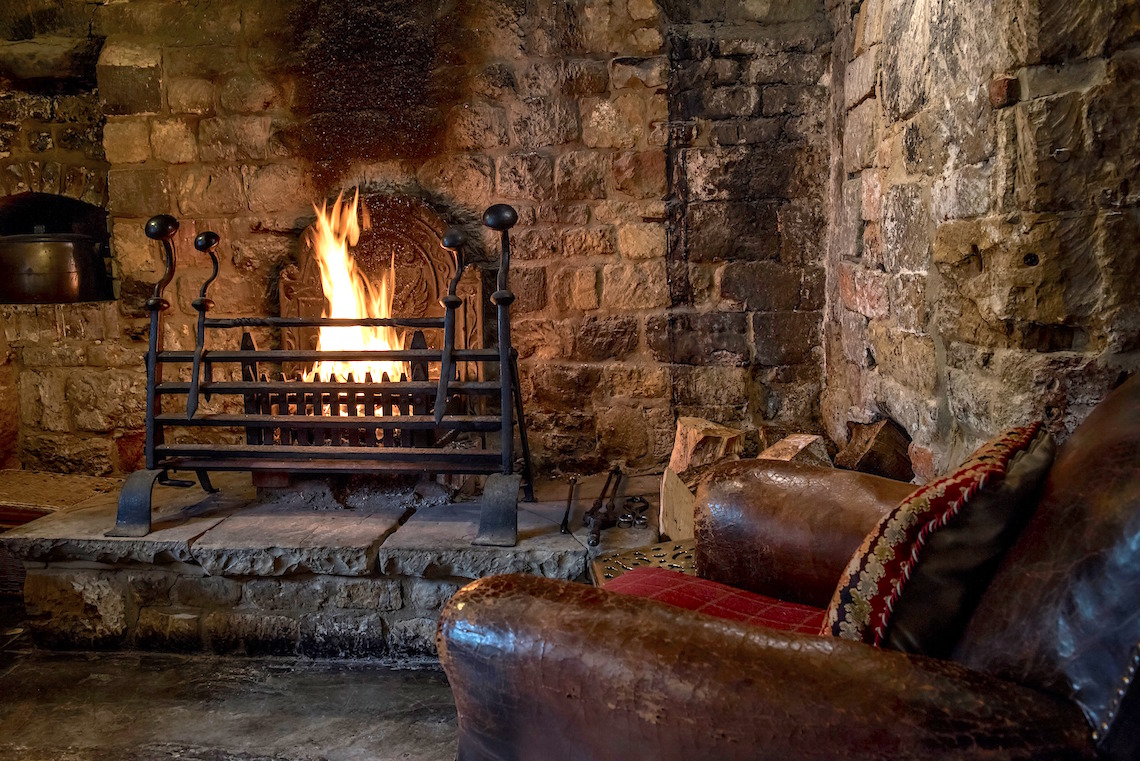 The Country Room, room 2, is in the old part of the pub, above the main bar. It looks over the green and the Cotswold-stone village. The room felt cosy, yet spacious and was decorated in a contemporary, country style. Home comforts included free Wi-Fi, Temple Spa toiletries, a smart TV and comfy sofa. We immediately spotted the homemade biscuits and polished these off with a cup of tea.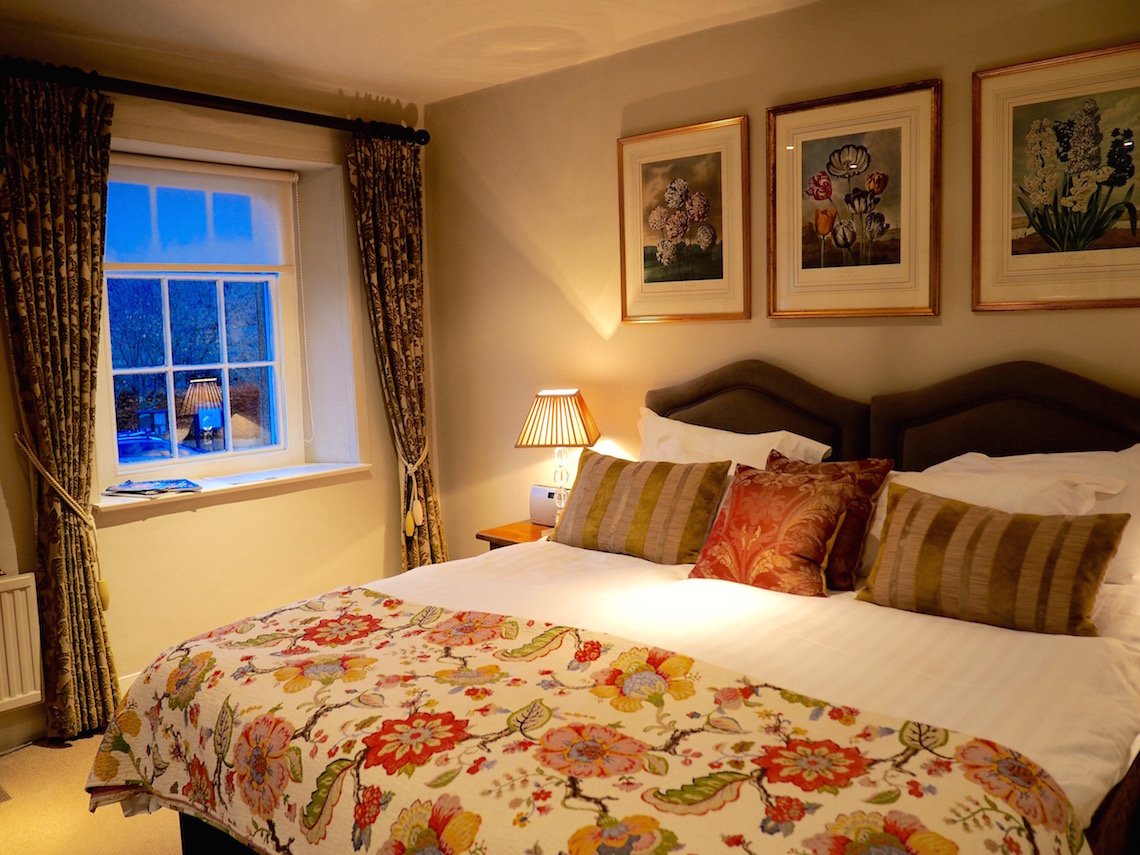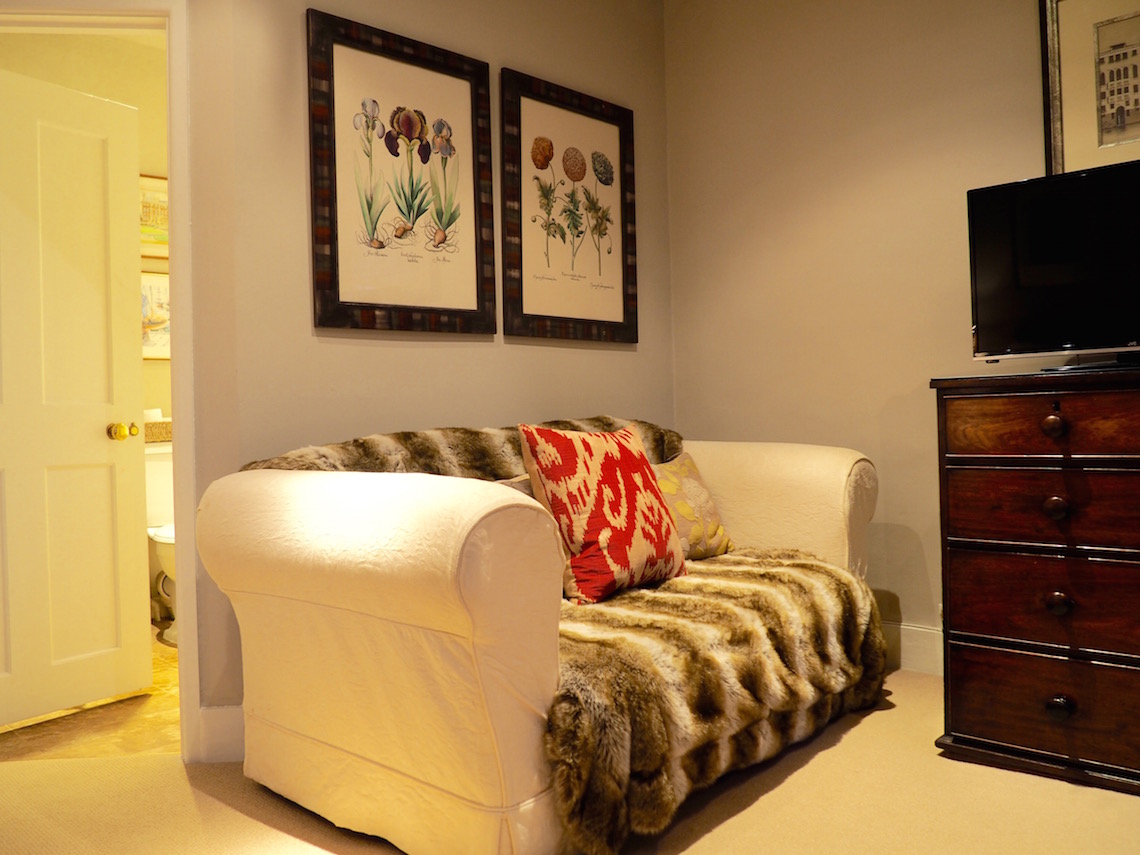 We took a wander around the village before it got dark, unearthing another pub – The Red Lion – and an impressive village store. The Ilmington Community Store is located in a former Catholic church, on the amusingly named Grump Street. The store is more like a farm shop, than a typical corner shop. It had a great selection of vegetables, groceries and lovely-looking homemade cakes. It also has a little café on the side (check in advance for opening hours).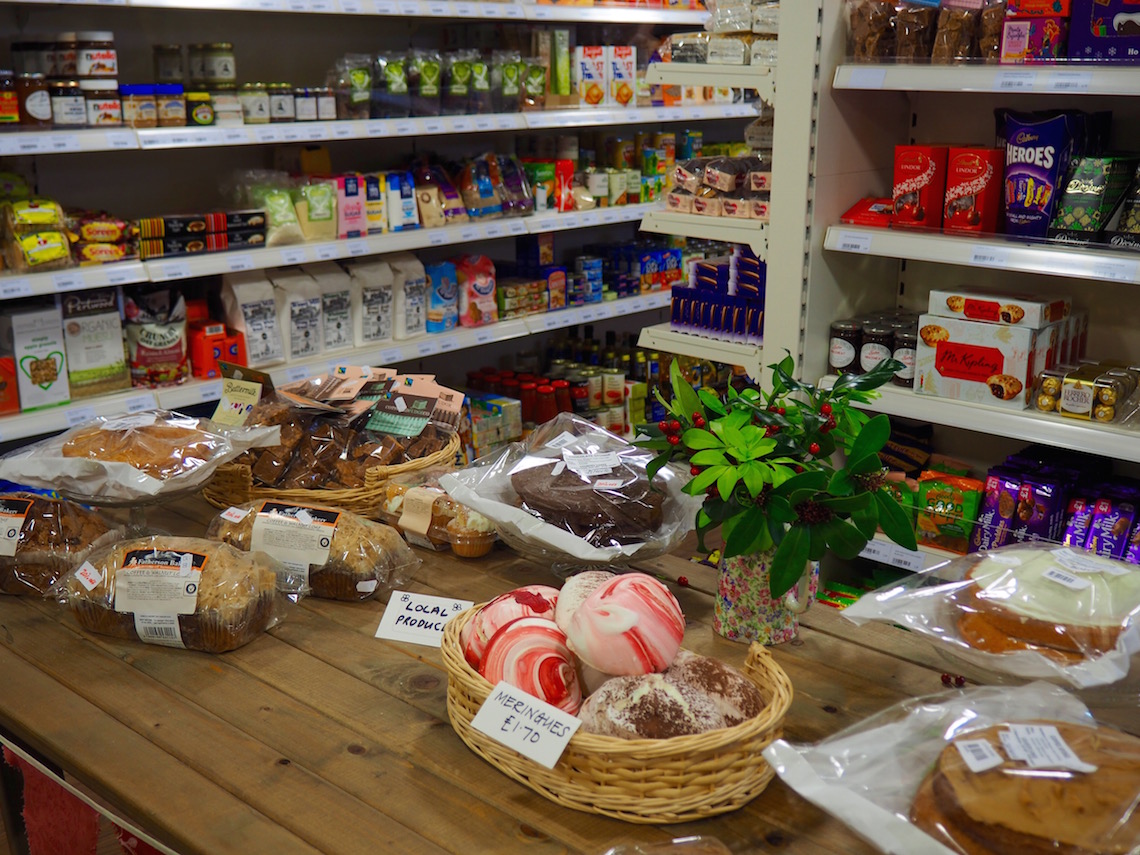 Having returned to our room, for Mr Skylark to check on the rugby score, we realised the remote control wasn't working properly. We mentioned this to Jane at the bar, so she set about trying to find some new batteries. Struggling to find any, she came and offered us a change of room. Although the faulty remote control really wasn't a big deal, it gave me an excuse to go and have a peek at their one remaining room.
Four of the eight rooms at The Howard Arms are located in the original pub, the others are in the new extension. Jane showed me the Summer Room, in the new part, up in the eaves. This was decorated in a more contemporary style, with a walk-in bathroom.
We were very happy to stay in our original room, although Jane mentioned the rooms in the new extension are quieter, as they are away from the main bar. However, as it turns out, we didn't have any noise issues in our room. We could only hear a gentle murmuring of voices beneath us, and that was only until about 11pm.
Dining at The Howard Arms in Ilmington
We were shown to our table for dinner in the dining room, up a few steps from the bar. It was softly lit and the décor gave me the impression I was sitting in a rather lovely country-house dining room.
The chef, Gavin Rufus, gained 2 AA rosettes at The King's Hotel in Chipping Campden, and he's already won a rosette here. I was saving myself for one of the delicious-sounding puddings, so decided to skip the starter.
Mr Skylark chose the ham hock terrine to start, which went down a treat. Not able to resist a forkful, I found the meaty terrine gently flavoured with herbs. It was served with a warm scotch quail's egg, braised young leeks and homemade piccalilli. The accompanying toasted, seeded bread could have done with some butter, but this was quickly remedied by our waitress.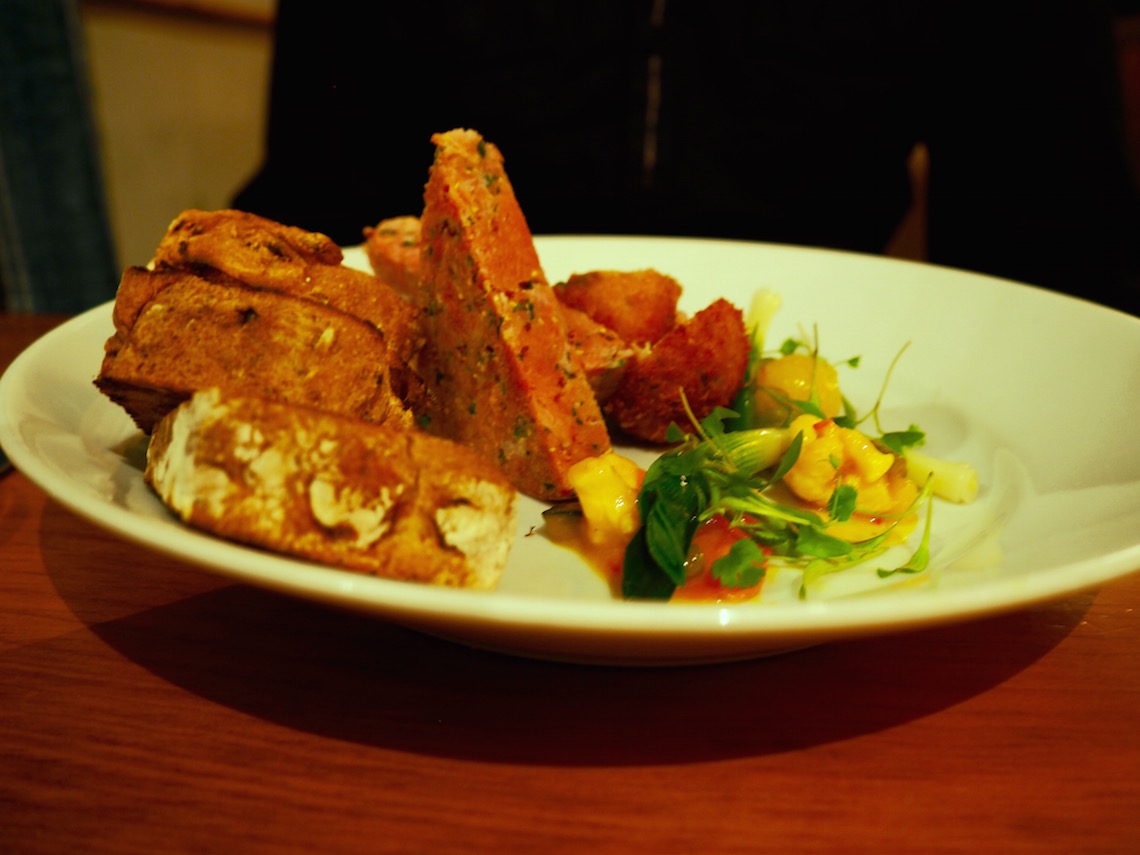 The highlight of my whole stay at The Howard Arms in Ilmington was my main course. Yes, really! This is one of the best restaurant dishes I've had in a long time. The Barbary duck breast arrived soft and pink, sitting on a sage and onion potato cake, which was soft in the middle, crispy on the edges.
The duck was accompanied by sweet morsels of golden beetroot, baby roast parsnips, parsnip puree and a gorgeous helping of bacony cabbage. The whole thing was rounded off with a rich, meaty jus. It elicited some genuine oohs and aahs from me, something normally reserved only for the tastiest of puddings.
Mr Skylark's homemade burger had that tasty, chargrilled flavour, and was topped with melted cheddar, smoked bacon and tomato relish. He enjoyed tucking into this and the accompanying bucket of skinny chips.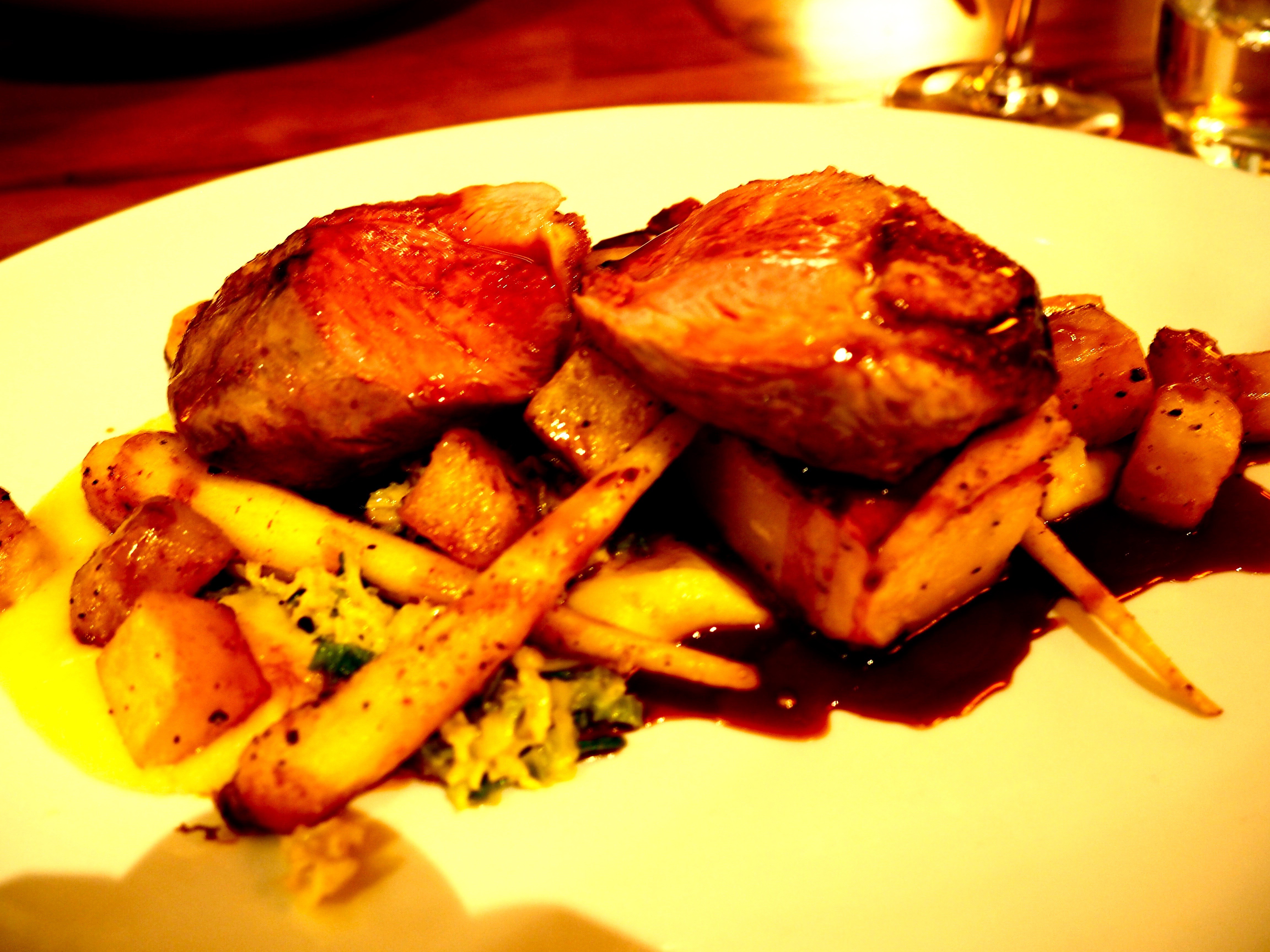 I chose Bakewell tart with homemade cherry ice cream for dessert. The tart was served warm with a soft frangipane centre and whole morello cherries soaked in amaretto. It was delicious, if rather sweet. Mr Skylark's white and dark chocolate cheesecake was pleasingly chocolatey, surrounded by a pool of strawberry compote.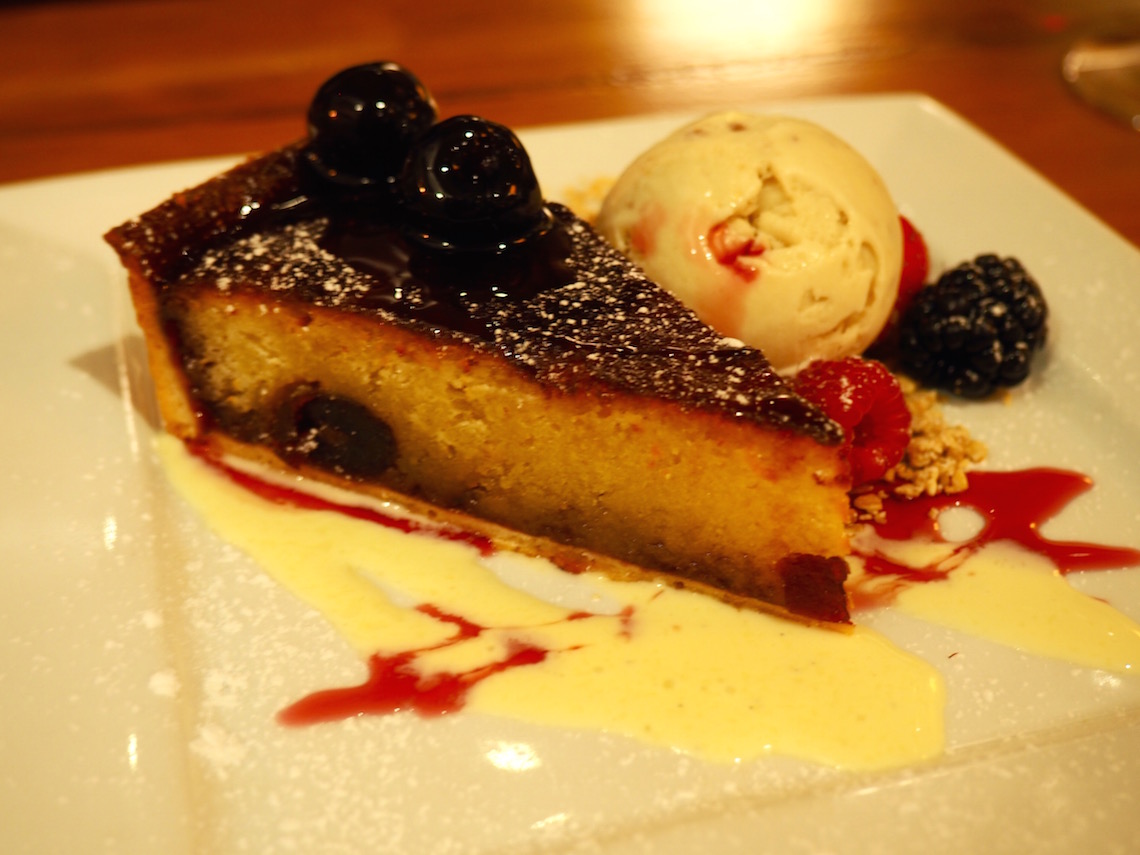 We found the waiting staff helpful and friendly. The recommended Jarrah Wood Australian Shiraz was a great choice to wash down all that food. We had aimed to share a cheese board and some port, but were just too full to manage anything else. Instead we retreated to the busy bar.
After a restful night's sleep, in the very comfy bed, it was time for more food. We both enjoyed a tasty full English of local bacon and sausage, with all the trimmings including fried bread and confit tomatoes. But no black pudding for me! This set us up nicely for the journey home, with a stop in Broadway en route.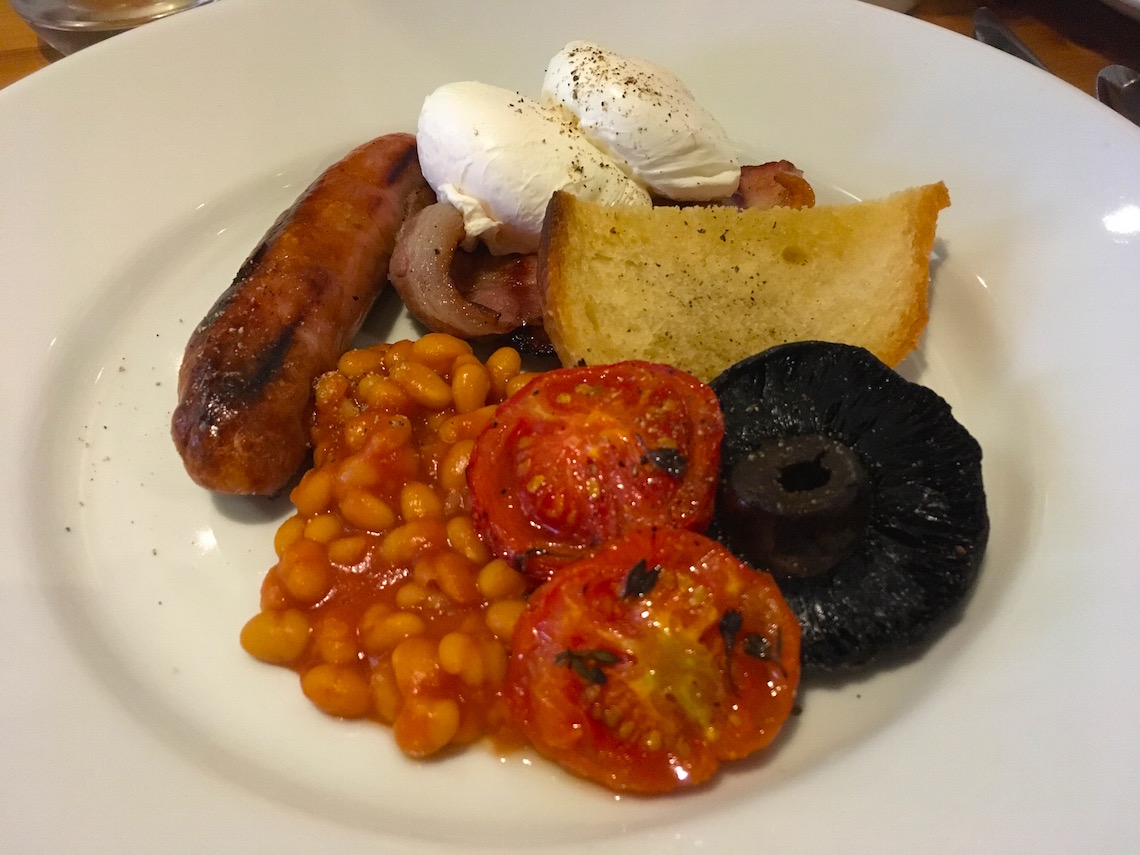 Thank you to The Howard Arms in Ilmington for kindly hosting my visit. All views and opinions are my own.
A shorter version of this article was featured in Cotswold Style magazine (January 2017).
Do you have any lovely Cotswold pub suggestions? I'd love to hear about them.