As a first time visitor, searching for the best things to do in the city of sin, it was a foodie tour of Las Vegas that jumped out and tickled my taste buds. Exploring a destination by its food offerings is often the best way to get to know a place.
Known as a gambling mecca the world over, it's a little known secret that Vegas is fast becoming a foodie destination. While the who's who of celebrity chefs are queuing up to open restaurants in Sin City, I discovered Lip Smacking Foodie Tours offers the inside track on the best places to dine.
I had an evening to spare, while Mr Skylark would be running the Las Vegas marathon. The three-hour 'Savors of the Strip' small-group walking tour suited me perfectly. At the designated meeting point, the company's owner, Donald, promised a VIP experience with no queues. While I was thrilled to learn we would visit five different restaurants, I was slightly worried I'd fit in all the food.
First stop on our foodie tour of Las Vegas was Yusho Grill and Noodle House. This restaurant, in the Monte Carlo hotel, specialises in Japanese street food. We were greeted at the door and seated by the grill to watch the action. The barman poured draught cocktails straight from the tap, including boozy cola and a zingy grapefruit and tequila combo.
Chicago chef Matthias Merges developed Yusho as a result of his travels through Asia. Having saved up my appetite, I dived into the pillow-soft ricotta and toasted garlic dumplings, followed by melt-in-the-mouth, boneless, stuffed chicken wings.
The signature Logan Poser Ramen was a highlight for me, garnished with crispy pork belly and runny-yoked egg. Donald explained it had been cooked for 60 minutes at 62 degrees C. "I recommend you don't fill up on noodles this early on," he wisely advised.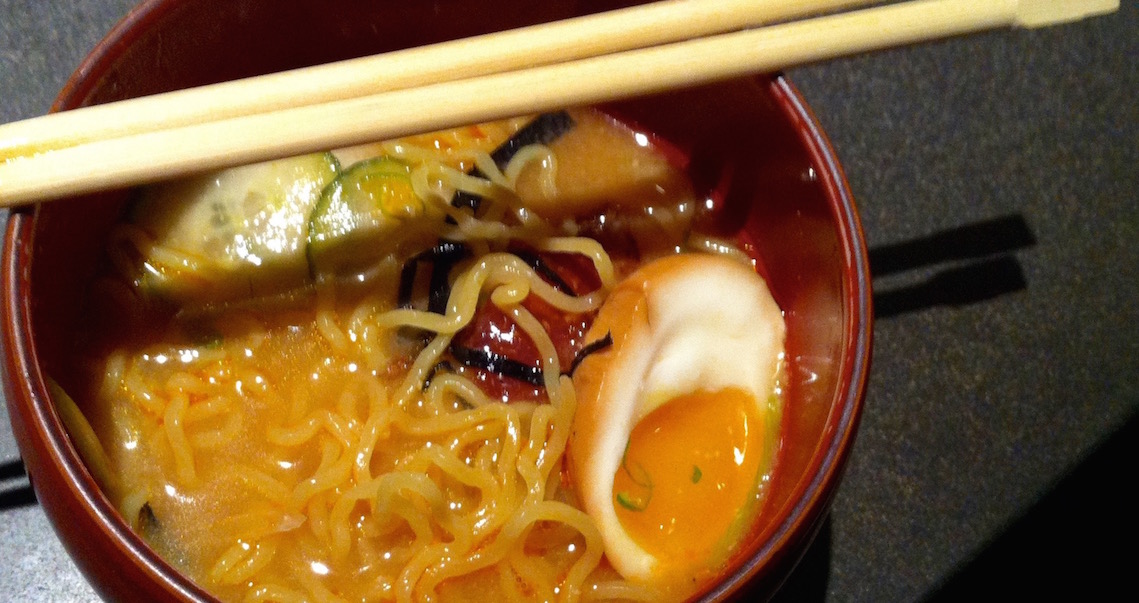 Next stop on our foodie tour of Las Vegas was romantic Bardot Brasserie in the luxurious Aria hotel. This one owned by Michelin-starred Michael Mina. At our table, Donald explained that Mina's concept was to create a casual French restaurant with a bustling atmosphere, not stuffy or hushed.
Here, our group shared delicate escargots in Chartreuse butter. Followed by succulent duck wings á l'orange and savoury pain perdu filled with chicken ragout, all washed down with prosecco. As we left, Donald pointed out the aged Chartreuse liqueur collection. French monks developed Chartreuse, using a secret recipe in the early 17th century.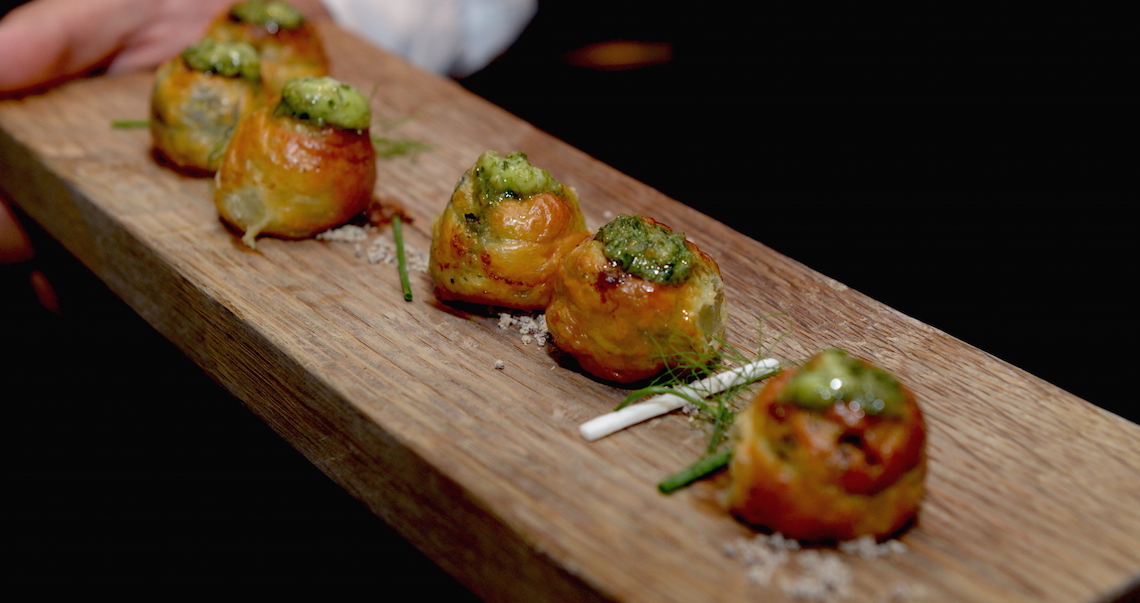 Estiatorio Milos in the Cosmopolitan hotel was buzzing and customers filled the tightly packed tables. The Cosmopolitan is a relatively new-comer on The Strip. It felt a privilege to be seated straightaway in the finest Greek restaurant in the city, where Mediterranean-caught fish is flown-in daily. Our waiter brought us a stack of mouthwateringly light, crispy zucchini and eggplant layered with tzatziki and kefalograviera cheese.
According to Donald, one of the world's most famous DJs, Tiesto, claims the tomatoes at Milos are the best in the world. Being a tomato-lover myself, I had to agree, using the rustic sourdough to mop up the juice from the most sensational tomato salad I've ever eaten.
Tucking into a plate of charcoal grilled octopus, the chef appeared with a bottle of ouzo. He suggested, "Take a bite of octopus and a sip of ouzo and see what happens." We found the aniseed of the ouzo complemented the octopus and made the morsels even more tender to eat.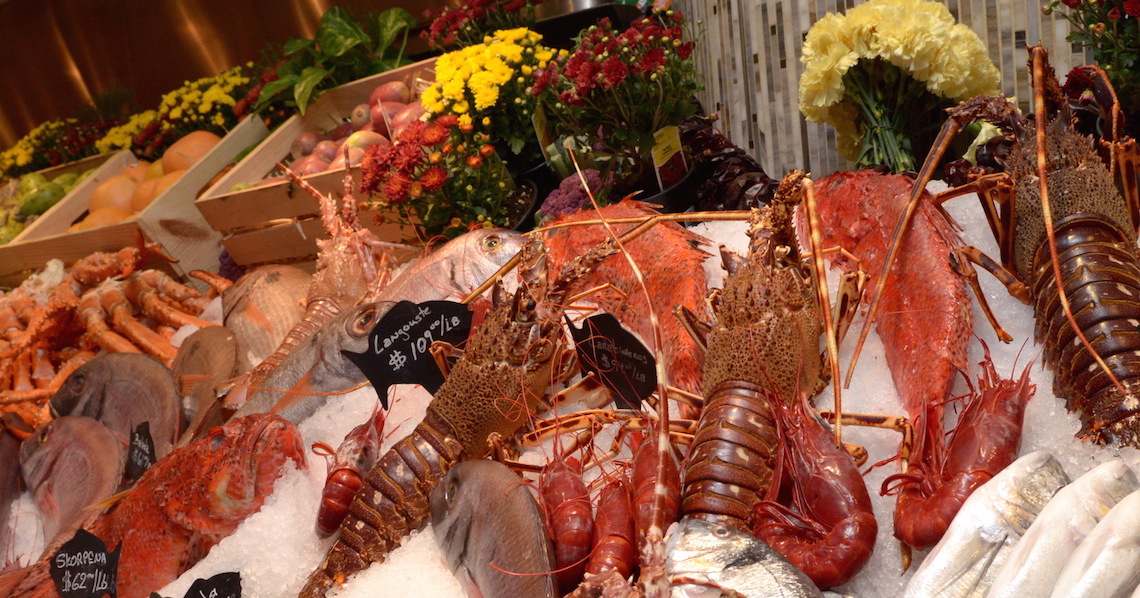 Just across from Milos, Jaleo is celebrity chef José Andrés' interpretation of Spanish tapas. This place has a drama about it with its red and black décor and central wood-burning fire used to cook authentic Valencian-style paella. Biting into a liquid olive, it burst in my mouth flooding it with intense flavour. Donald explained Chef Andrés had been taught to make these by his mentor Ferran Adrià at the famed El Bulli.
After enjoying goats cheese-stuffed endives and chicken croquettes served in a Camper shoe, the waiter brought over a strange-looking liquid-filled vessel. Donald tipped back his head and demonstrated how to drink from the 'poron'. It's often used in vineyards to share a communal drink. This one was filled with fragrant rosemary lemonade. Trying not to laugh, I took my turn at pouring the drink from the spout while trying to avoid drenching myself.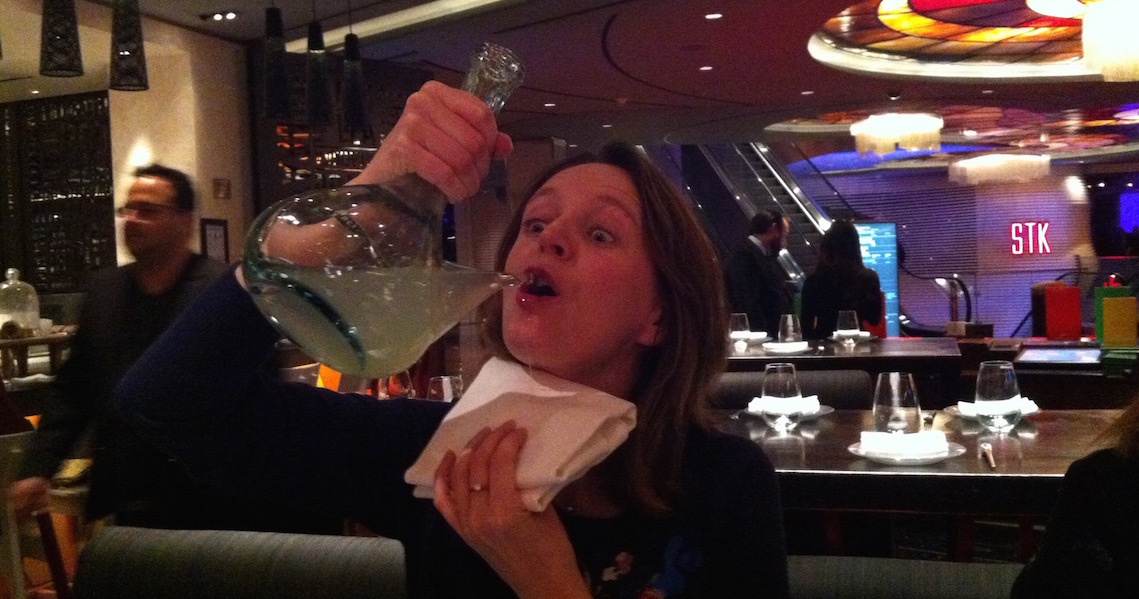 We were woken from our reverie when the chef rang a cowbell and yelled 'paella' indicating it was ready. The chefs had been trained by Rafael Vidal, who, like the generations before him, had been cooking paella for Spanish royalty. I loved this delicious dish and, had I not been so full, I would have demolished a whole plateful.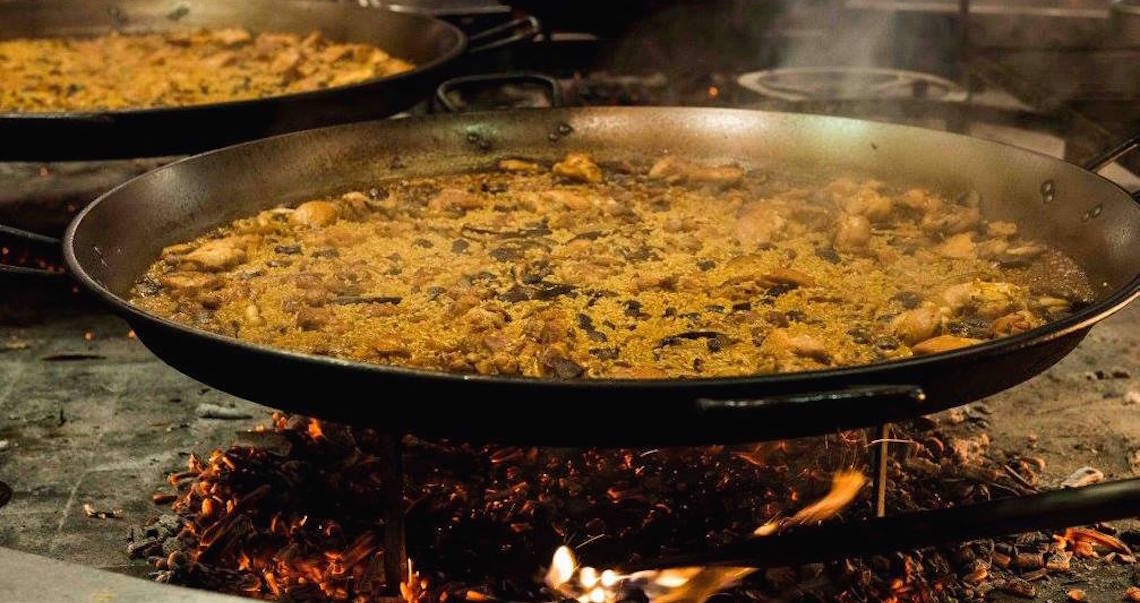 To round off our foodie tour of Las Vegas, Donald took us to Hexx at the Paris. After working our way though a tasting of single-origin chocolate in their exhibition kitchen, we were led to our table in the restaurant. The waitress delivered an array of sumptuous chocolate desserts, including sticky Aztec cake, silky mousse and cacao nib pannacotta.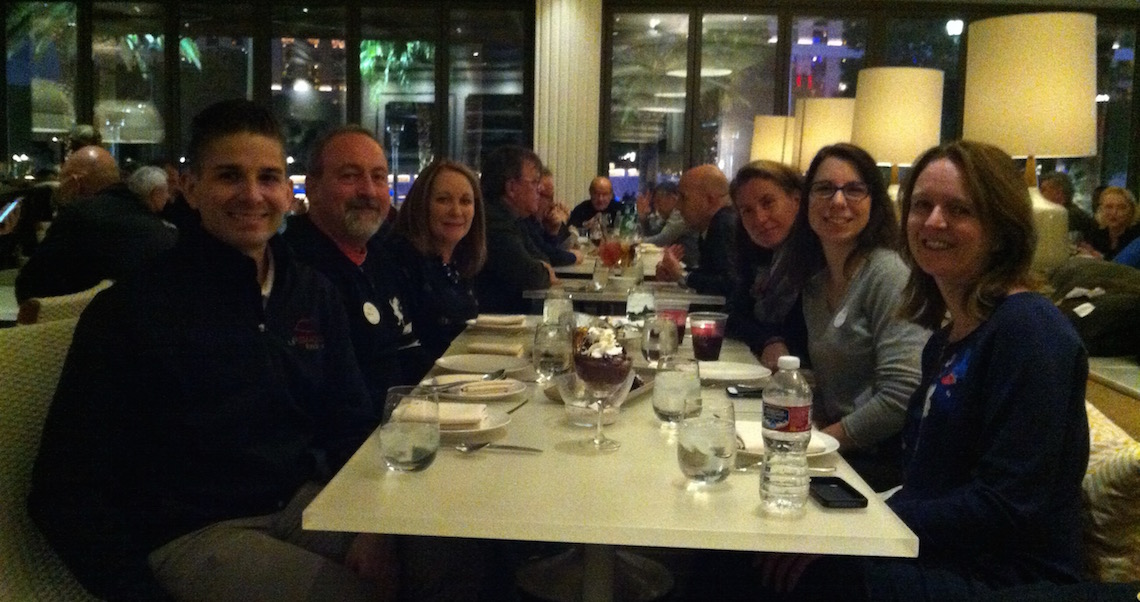 Fit to burst, I said goodbye to my new foodie friends. Heading out into the bright lights of The Strip, I noticed runners were appearing, like the walking-wounded, after their marathon journey. Unlike me, Mr Skylark hadn't eaten for several hours. Now where would I take him for a celebration?
Thank you to Lip Smacking Foodie Tours for kindly hosting my visit. All views and opinions are my own.