Here's how I took the plunge, laid ghosts to rest and put old fears behind me, by learning to sail in Cornwall.
When Mr Skylark suggested we use our next holiday to learn to sail, I surprised myself by saying yes straightaway. Why the surprise? Because the last time I set foot on a sailing dinghy, I was a fairly reluctant sailor, in my early teens. Back then, I'm ashamed to admit, I'd desperately pray for light winds ahead of a Sunday afternoon trip on the river with my Dad and my friend Sarah.
While most kids would have loved the chance to learn to sail, I think my reluctance came from being afraid of falling in. This was all tied in with my lifelong fear of putting my head under water, which I've only recently overcome as a result of learning to swim properly.
By rights, I should have been the third generation sailor in our family. My Dad and Grandpa both raced dinghies and yachts. In fact, they had such a passion for it, they started up their own boatbuilding company – Hunter Boats.
As a result, I took for granted that my childhood was spent in and out of boats. Sailing lingo is in my blood, and I love nothing more than being by the water, but for some reason, I didn't seem to inherit their passion for battling the waves.
Three decades later and I find myself enrolled on an RYA (levels 1 and 2) intensive learn to sail course. I'd suggested first of all, we could learn to sail in Greece. But we decided to stay closer to home and chose learning to sail in Cornwall.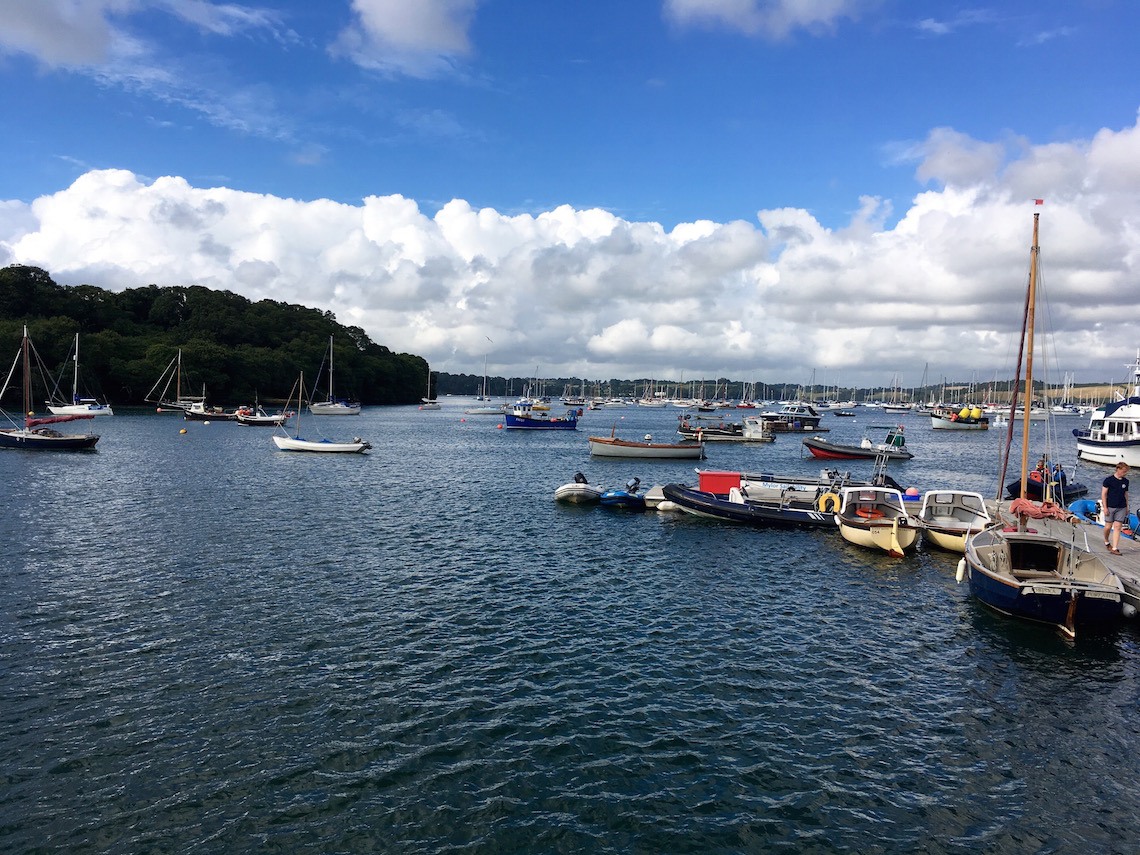 Where to learn to sail in Cornwall
We discovered Mylor Sailing School online. It had great reviews, looked a lovely location and is, most importantly, an RYA Recognised Training Centre.
Mylor Sailing School is based at Mylor Yacht Harbour on the Fal River in Cornwall. It's just upriver from Falmouth and across the water from the beautiful Roseland Peninsula.
During our time learning to sail in Cornwall, I spotted egrets, heron, a diving gannet, a bobbing seal and quite a few different models of my Dad's Hunter Boats. We were also lucky to watch the World Mirror Dinghy Championships taking place just across the water.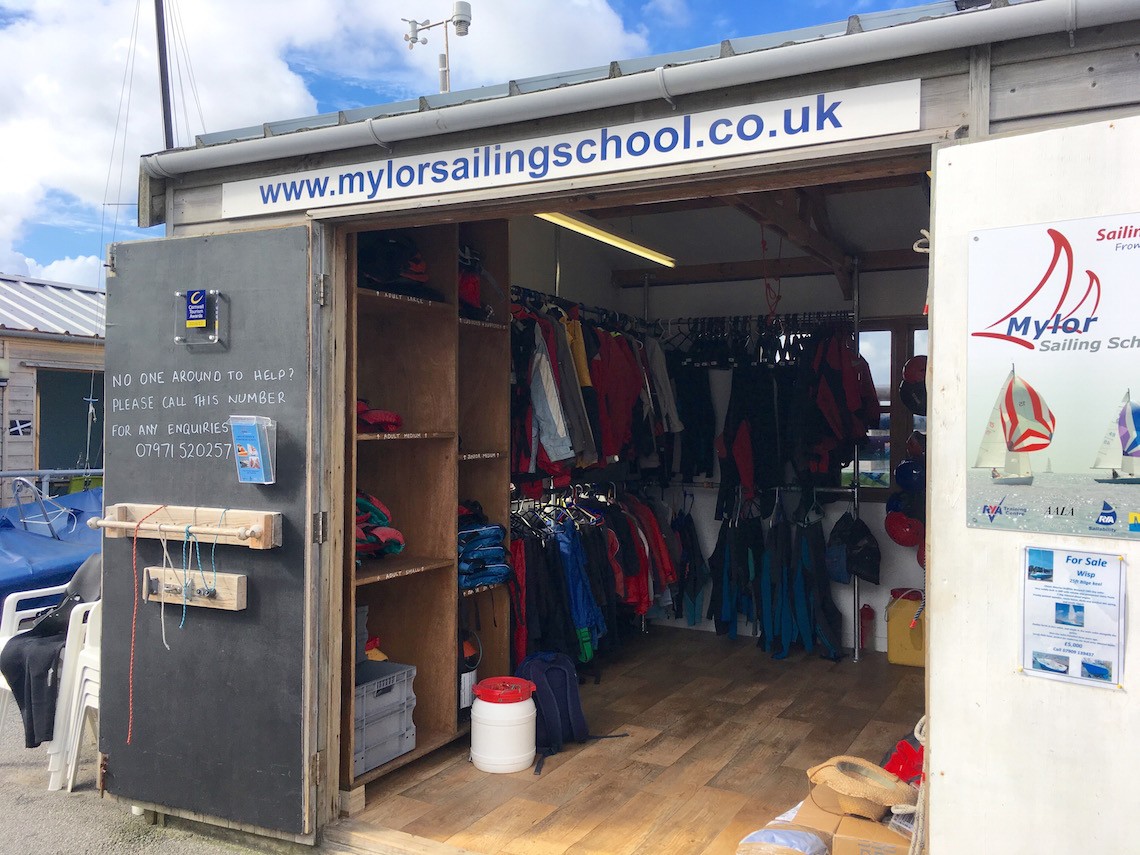 What do you need to learn to sail?
The only thing we had been told to bring with us was swimwear and wetsuit boots or old trainers. We weren't able to bring mobile phones or cameras, hence unfortunately my lack of sailing photographs.
Tracey Boyne, owner of Mylor Sailing School, met us as the door of the school hut. She put together our kit to change into. Having checked if I feel the cold, Tracey found me a thick sailing jacket to go over a full-length wetsuit. My outfit was completed with a buoyancy aid and helmet.
All ready for our first day of learning to sail in Cornwall, we were introduced to our instructor Charlie. Charlie, whilst only in his early twenties, is an experienced sailor, as well as an engineering student. He has a huge breadth of knowledge, enjoyed a chat and a laugh, but didn't take any nonsense from us. His goal was to make us as competent as possible by the end of the week.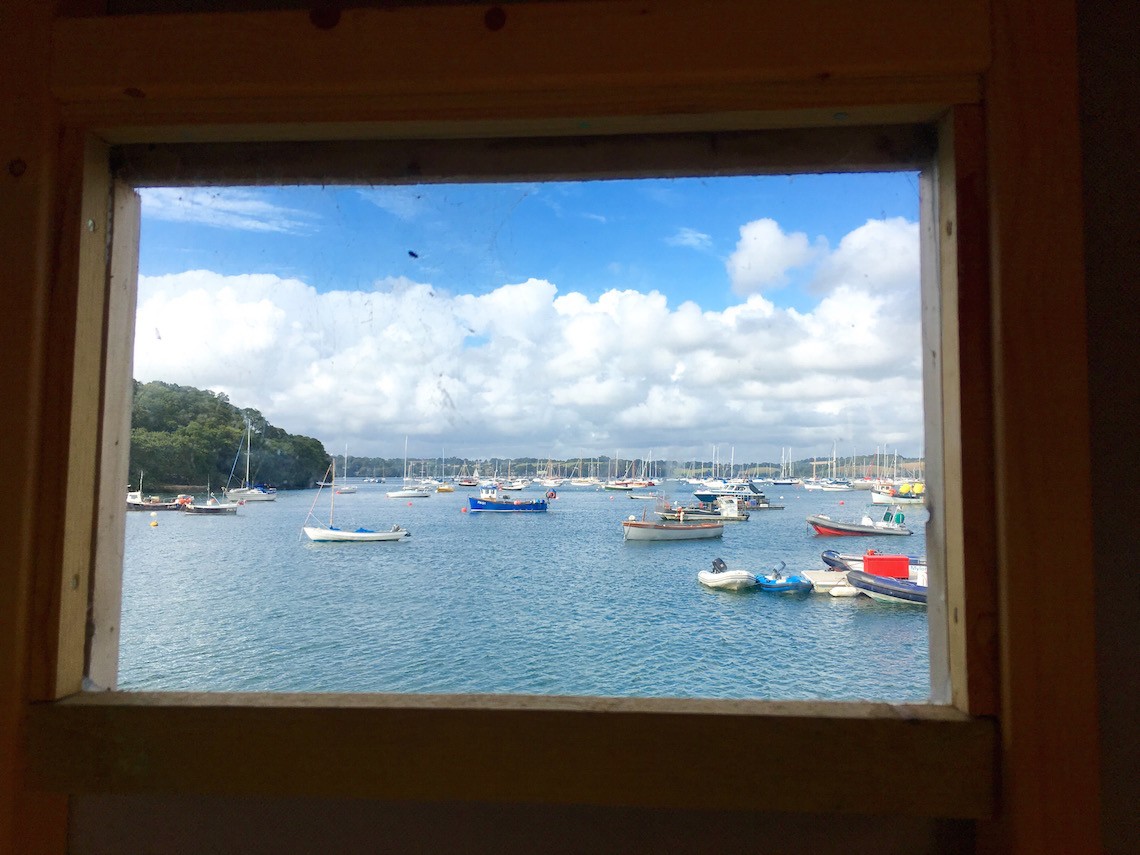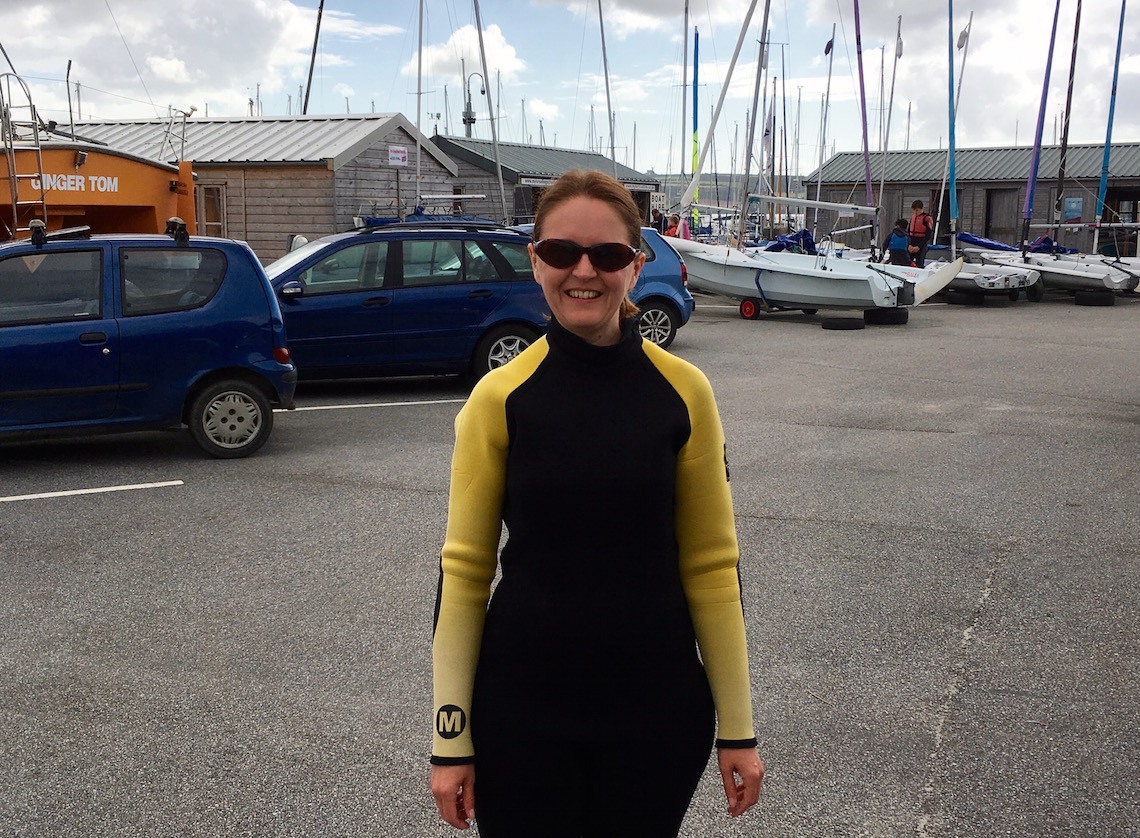 Learning to sail in Cornwall
Day 1
Just one other classmate, a friendly chap about the same age as us, called Hugh, joined Mr Skylark and me. We began with learning to tack on land in a little Laser Pico. I was surprised how low the boom was in this tiny boat. The aim is to crouch down low, duck under the boom (whilst facing forward) as the sail swings across, to cross to the opposite side of the boat.
We were all astonished to discover we were going be sailing our own dinghies single-handedly from the start. Mr Skylark and Hugh were each given a new boat – a Fusion – due to being tall. It has a bit more room inside and the boom was slightly higher. The downside (for a novice) is that it's nippier than a Pico.
We were towed out through the marina in our line of little boats. As we made our way through the moorings, I spotted one of my Dad's boats – a Hunter Europa. I figured this must be a good omen.
Charlie suggested a young guy, called James (who was there to help out over the summer), came in my boat with me. Meanwhile, poor Hugh and Mr Skylark were let loose on their own. With James there as a comfort blanket, I took the helm for the first time in decades. He let me control the boat, but chipped in with advice as needed. We had a great time sailing around, while guiltily spotting Mr Skylark and Hugh capsizing their Fusions.
Charlie took us all out together in the afternoon, on a Laser 16. On this larger, more stable dinghy, he was able to talk us through our tacking manoeuvres.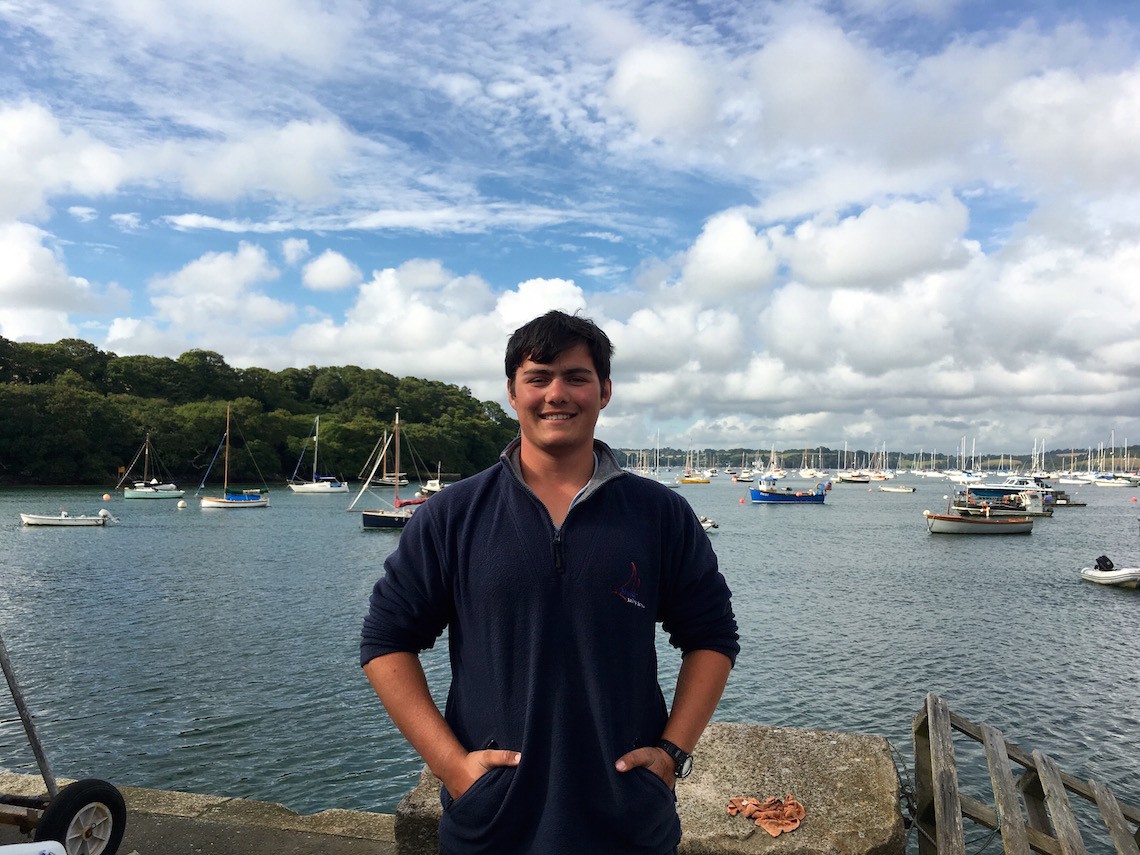 Day 2
Due to our training on the Laser 16, we felt a bit more confident as Day 2 began. This time, we'd all be sailing in the Picos. As it was a little choppy, and we had to rig our own boats, I had some help from a guy called Oscar to get me set up. As Oscar started to rig, we were caught by a gust and he fell overboard! I was really quite pleased he'd been there to help.
Oscar stayed onboard with me for a short time. But it was now or never for me to go solo. No sooner had he left me to my own devices, I had my first ever capsize! Charlie was in the safety boat and zoomed across to rescue me. I was a bit taken aback by the cold water, but he called out instructions for me to make my way to his rib, so he could hoik me out of the water.
Whilst I had been very nervous of capsizing, it was a relief to get one under my belt. This was the thing I had always feared and it was nowhere near as bad as I'd imagined. My second capsize happened a short while later. I decided then, enough was enough. I needed to control my main sheet better to stop tipping over.
Back out on the water after lunch, I was figuring out how to control the boat better. We were tacking around a course of three buoys. I discovered I had to constantly pull my mainsheet in and out to adjust to the fluctuating wind. Meanwhile, Mr Skylark, who's a thrillseeker at heart, had a few more dunks in the drink. He was trying to heel the boat as much as possible, so he could go faster and overtake me.
We were all shattered by the end of the day and our muscles were aching, particularly the front of my thighs. I hadn't realised what a great workout this was going to be.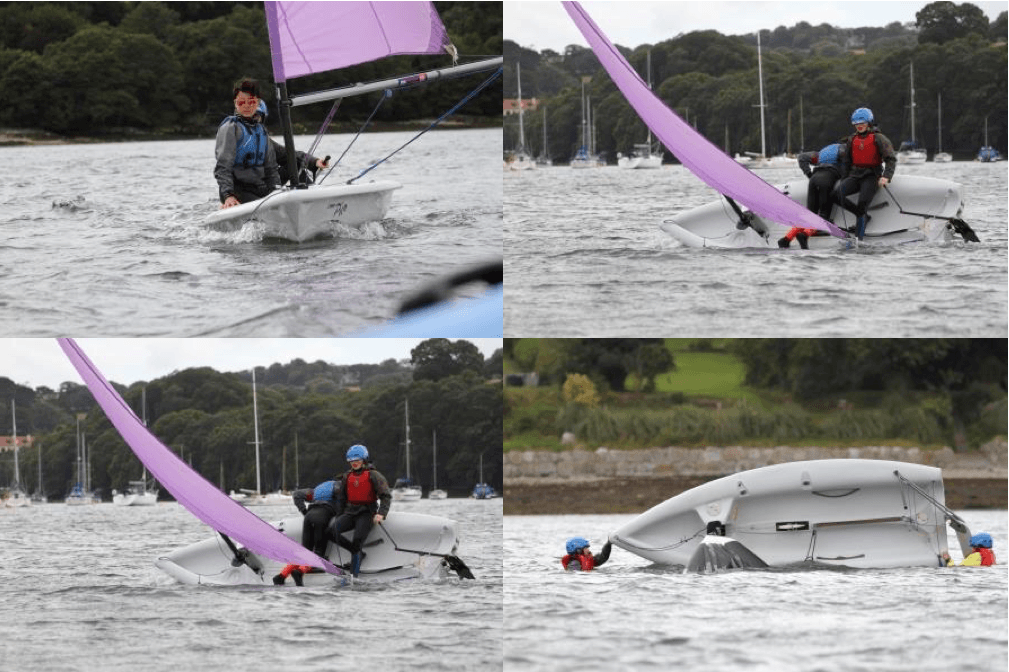 Day 3
The third day was a complete washout with regards to sailing. 40mph winds and non-stop rain meant we weren't allowed out onto the water. It did, however, give us an opportunity to get the theory part of the course under our belts.
We learned the rules of the road, meteorology, tides and 'the five essentials'. We practiced how to tie bowline, figure of eight and sheet bend knots – an essential part of sailing.
Day 4
The rain stopped and we were back on the water again. We were now learning to gybe as well as tack. I remembered from childhood that gybeing is a more aggressive manoevure, and you really have to watch your head with that boom. Thank goodness we had helmets on, as we got clattered a fair few times.
Individually, we all had to master bringing our boats to a standstill alongside the safety boat. Not as easy as it sounds, but I finally got the hang of it by the third attempt. The winds were really squally and unpredictable, which made it more of a challenge.
At the end of the fourth day, Charlie informed us we'd all gained our RYA level 1 certification. Achieving level 2 would be, by no means, a given. We still had a lot of work to do. We were so pleased we went to The Pandora Inn (see below) with Hugh to celebrate, and practice our knot tying ahead of our final day.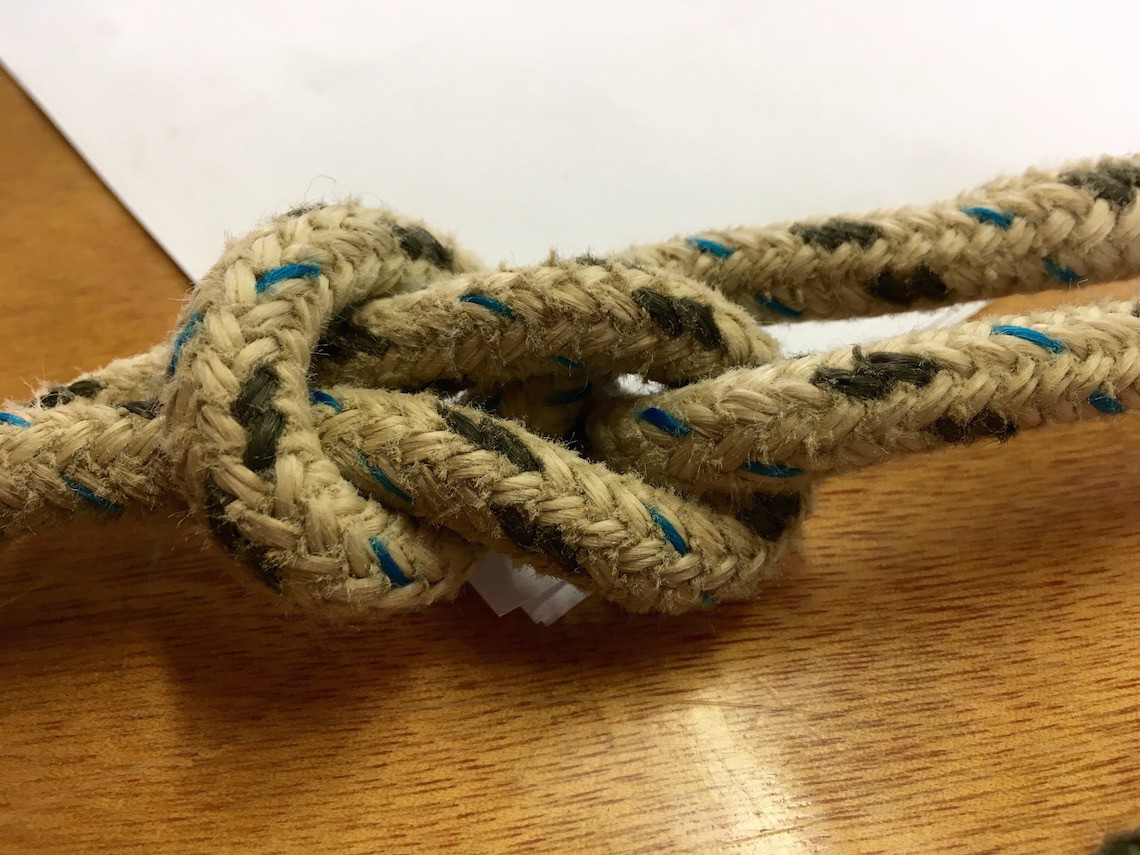 Day 5
Our final day loomed fair with blue skies and lighter winds. I realised, for the first time, I was actually looking forward to getting out on the water. I was still talking aloud to my little Pico, but instead of using more colourful language (like earlier in the week), I was much more relaxed.
My final challenge of the week was to rescue a man overboard (actually a buoy). This involved bringing the boat to a calm halt, right beside the buoy, which had to be on the same side of the boat I was sitting on.
The first time, I completely missed him. The second time, I hit him. The third, I came to a stop on the wrong side. The fourth, I hit him again. I called out to Charlie, 'he's probably dead by now anyway.' But Charlie shouted back, 'Again!' The fifth time, I was delighted to finally master it and rescue my man overboard. It felt like such an achievement.
Once back on dry land, Charlie informed us we'd passed our level 2. We were aching and exhausted, but very proud of ourselves. My pride was tinged with a little sadness. I so wish my Dad was still around to have seen me achieve it.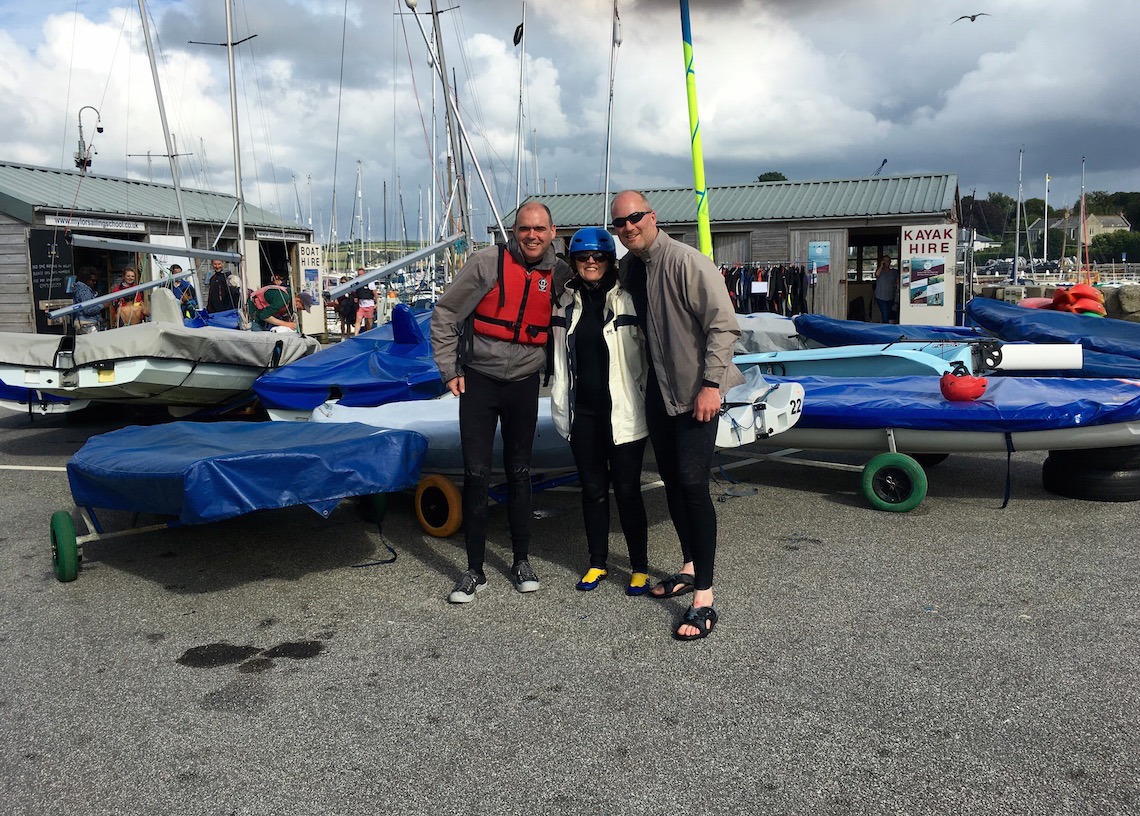 Where to stay while learning to sail in Cornwall
To add to our outdoor adventure, we decided to camp. We found a peaceful campsite at Tregunwith Farm, about 10 minutes drive from Mylor Sailing School. The nearest shop was the well-stocked village store, a few minutes down the road in Mylor Bridge. Supermarkets are further afield in Penryn and Falmouth. The Pandora Inn and Lemon Arms are within walking distance.
We met other sailors staying at the campsite, including some South Africans competing in the world Mirror Dinghy championships. As we left the campsite on the last morning, I spotted a new arrival. A boat on a trailer. On closer inspection, I realised it was another of my Dad's boats – a Hunter Formula One. It felt an appropriate ending to our week.
If you prefer a few more home comforts, you could choose to stay at Mylor Yacht Harbour or in the bigger towns of Penryn and Falmouth. On the last night of our course, we'd booked into The Lerryn Hotel in Falmouth for a treat at the end of our hard work. The most important things after a long, hard week were a comfy bed and hot shower. It ticked those boxes and also had lovely maritime touches in the room decor. I loved the views of Pendennis Castle and looking out to sea. We very much enjoyed tucking into our Cornish cooked breakfast in the morning.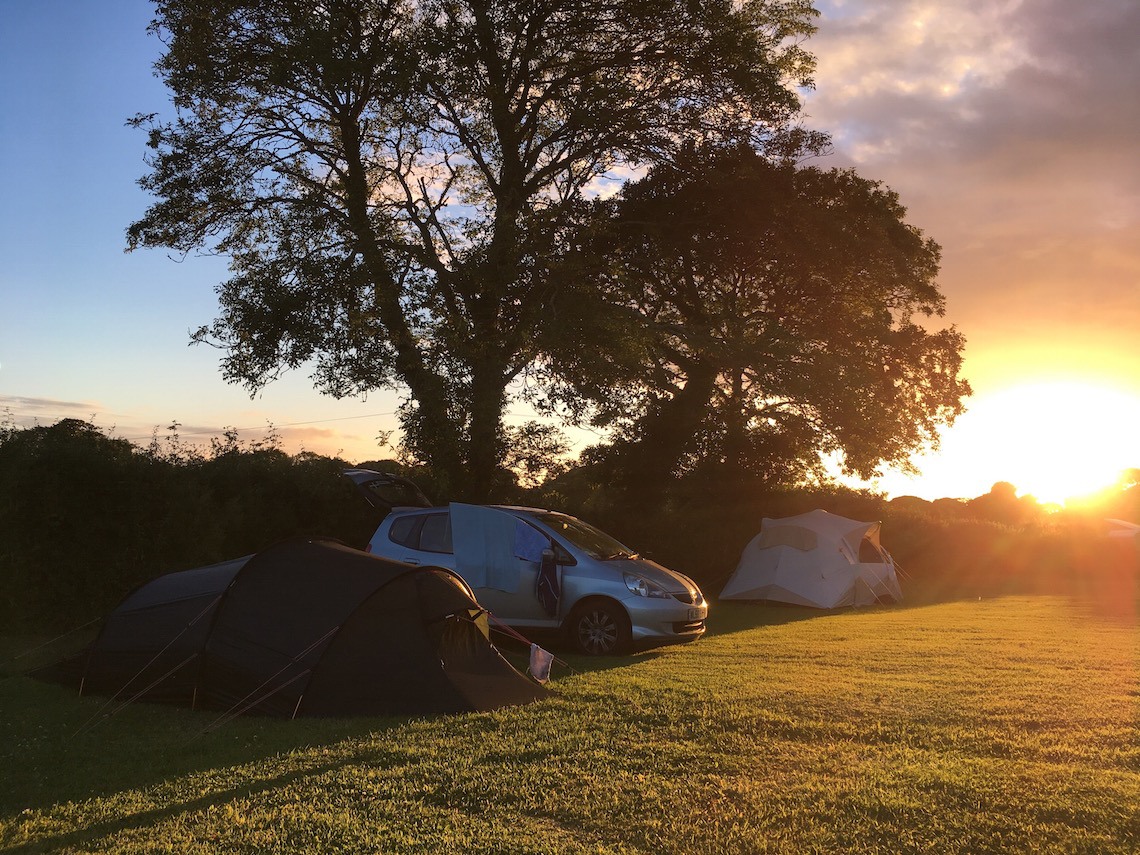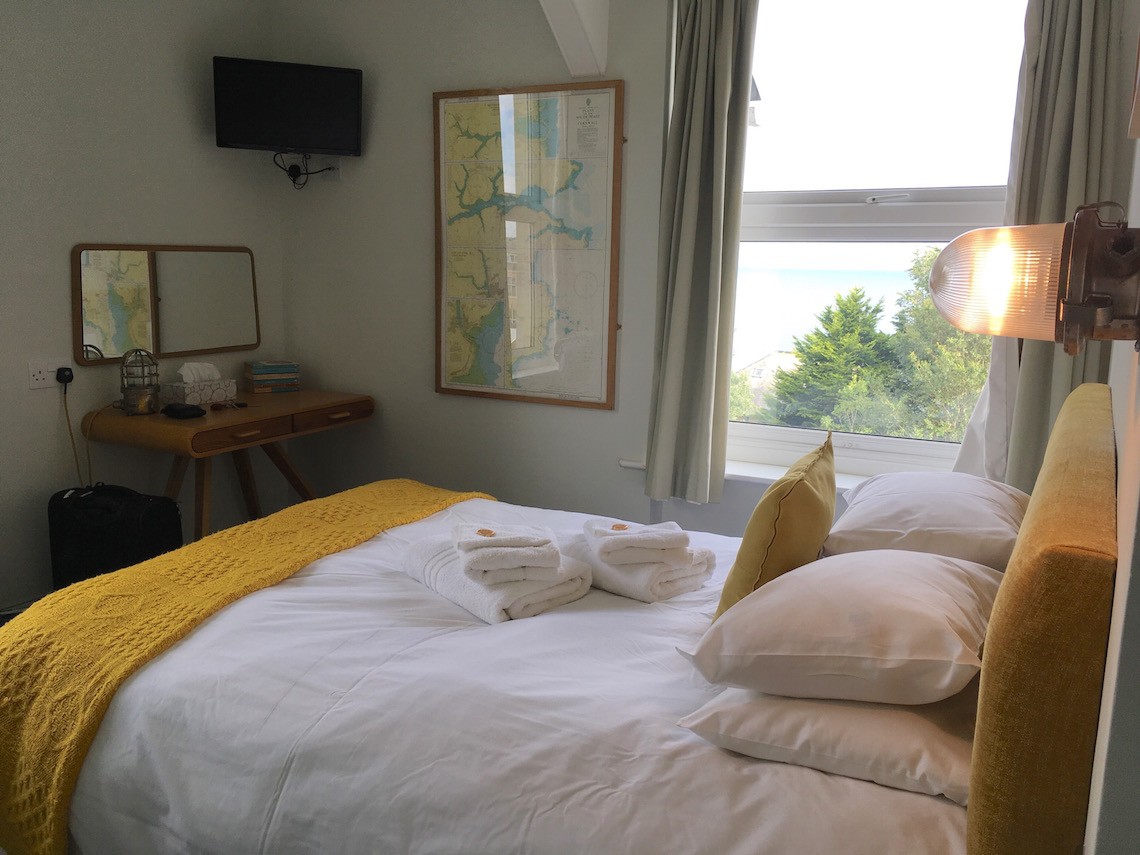 Where to eat and drink while learning to sail in Cornwall
During our lunch breaks, we went to Café Mylor. It was always busy with people sitting overlooking the marina. They had a great menu with lots of choice, including different salads as well as the usual café type fare. It would have been quite expensive to eat there every day, so we also visited the village shop in Mylor Bridge (a short drive away).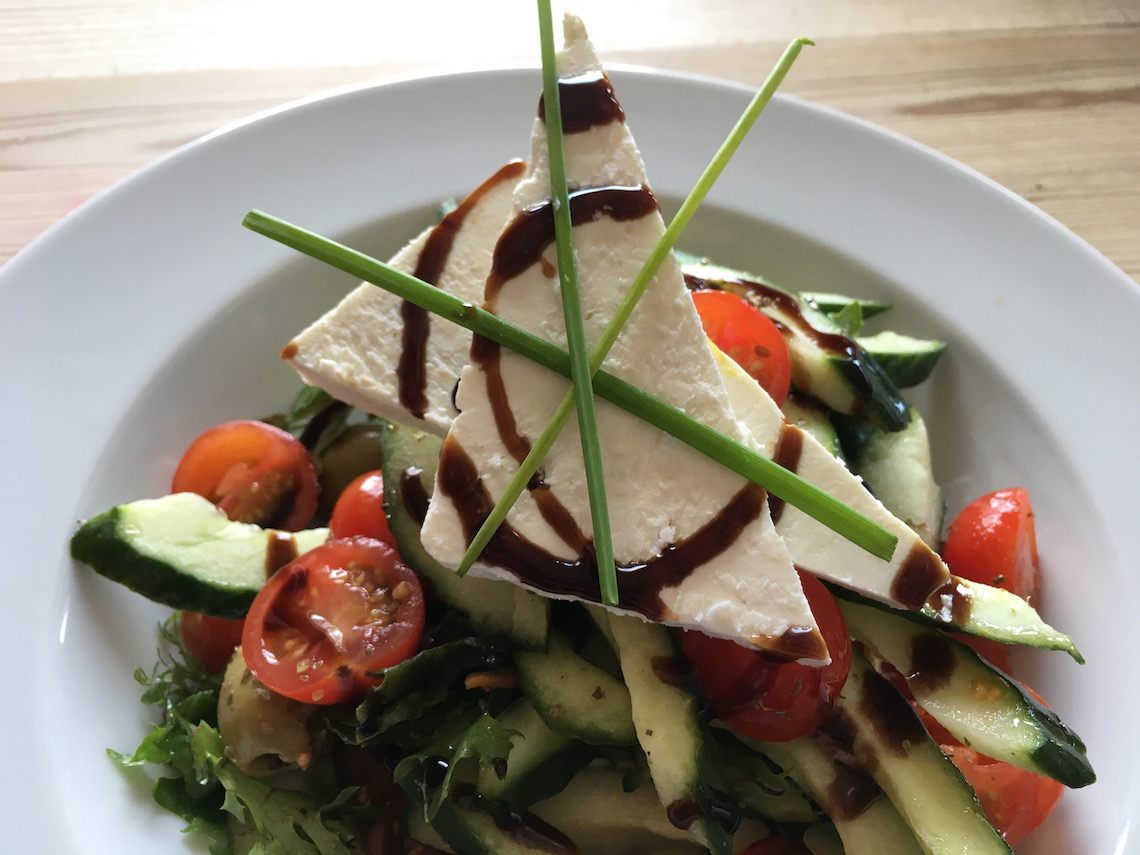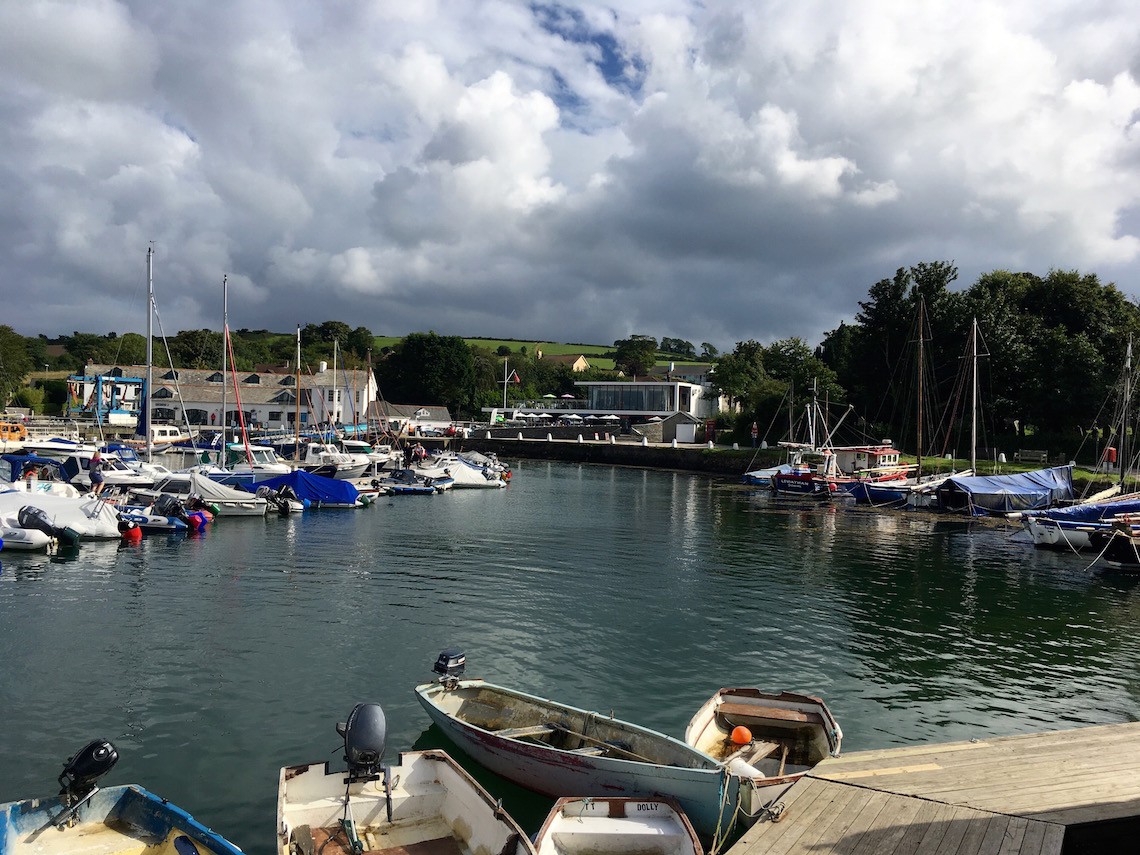 We ate a couple of times in the evening at the 13th century Pandora Inn on Restronguet Creek. The pub is named after the ship, The Pandora, sent to rescue those cast adrift from The Bounty. It was approximately 30 minutes walk along farm tracks from our campsite. We discovered this was Ben Ainslie's local and this area was where he learned to sail. His golden Olympic postbox is sunk into the wall of The Pandora, giving us inspiration to continue learning to sail in Cornwall.
Not only is The Pandora, a beautiful, thatched, oldy worldy pub, it also serves great food. My comforting fish pie went down an absolute treat. Mr Skylark (a trifle connoisseur) was so bowled over by his sherry trifle, he had it again the next time. We were really impressed by the number of English wines on their menu, to accompany the refreshing local ales.The dim lighting and cosy rooms inside added to the ambience and I could imagine smugglers coming in with their latest haul (think Poldark). Outside, you can sit on the pontoon floating on the creek.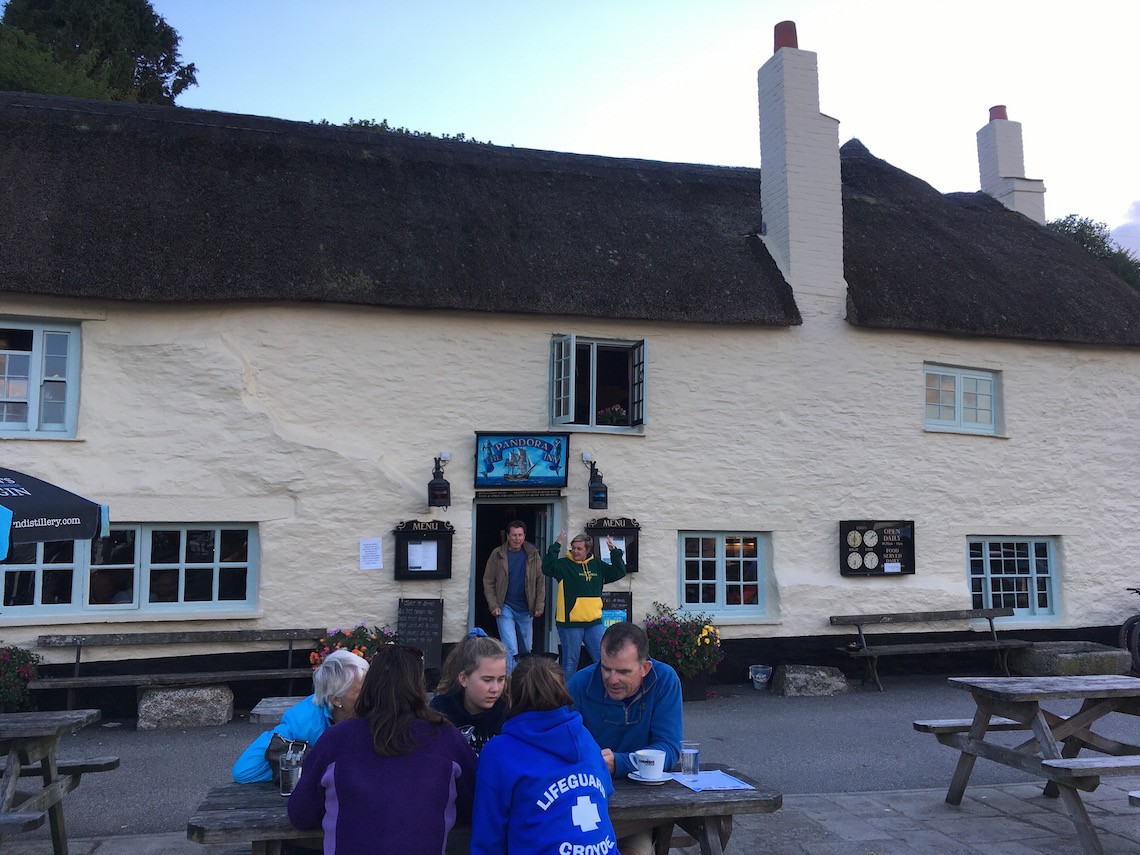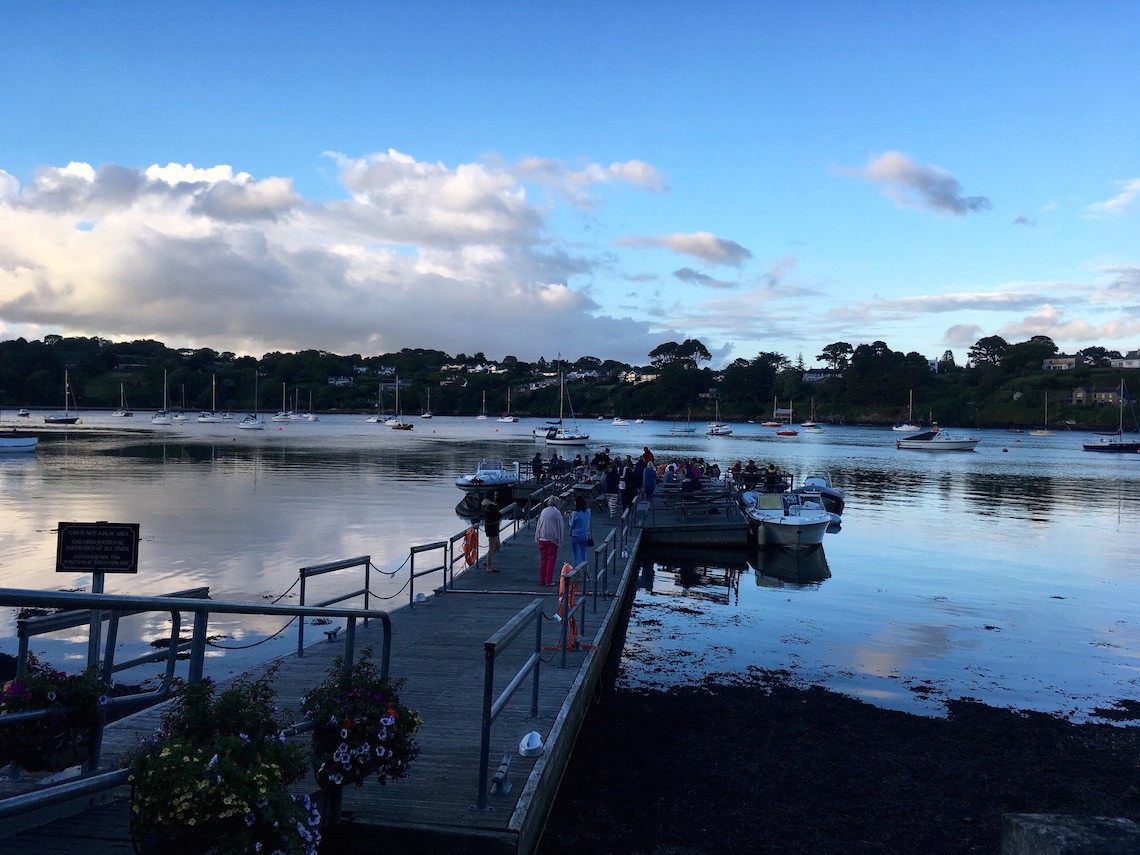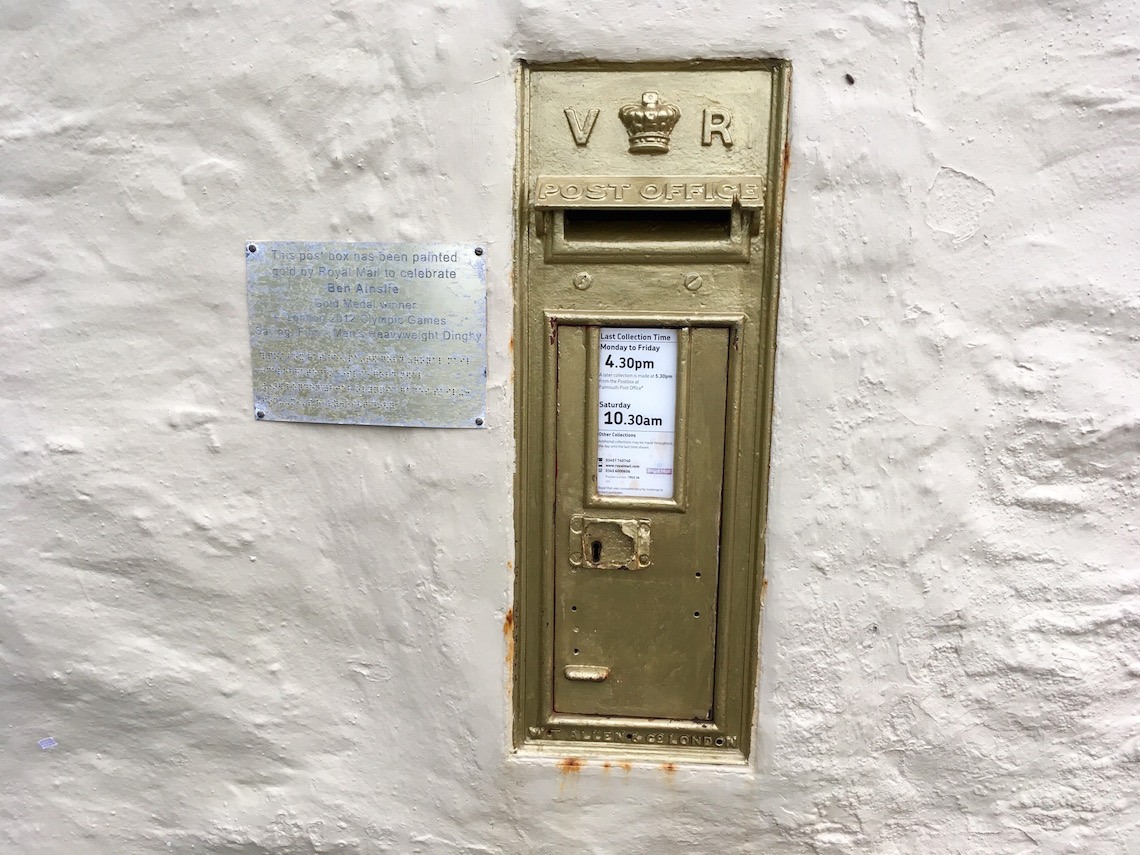 We also tried out The Lemon Arms in Mylor Bridge. This was another welcoming, traditional old pub with great food. This time, I chose Homity Pie – made with cheese and potatoes in wholemeal pastry. Not the healthiest choice, but really delicious.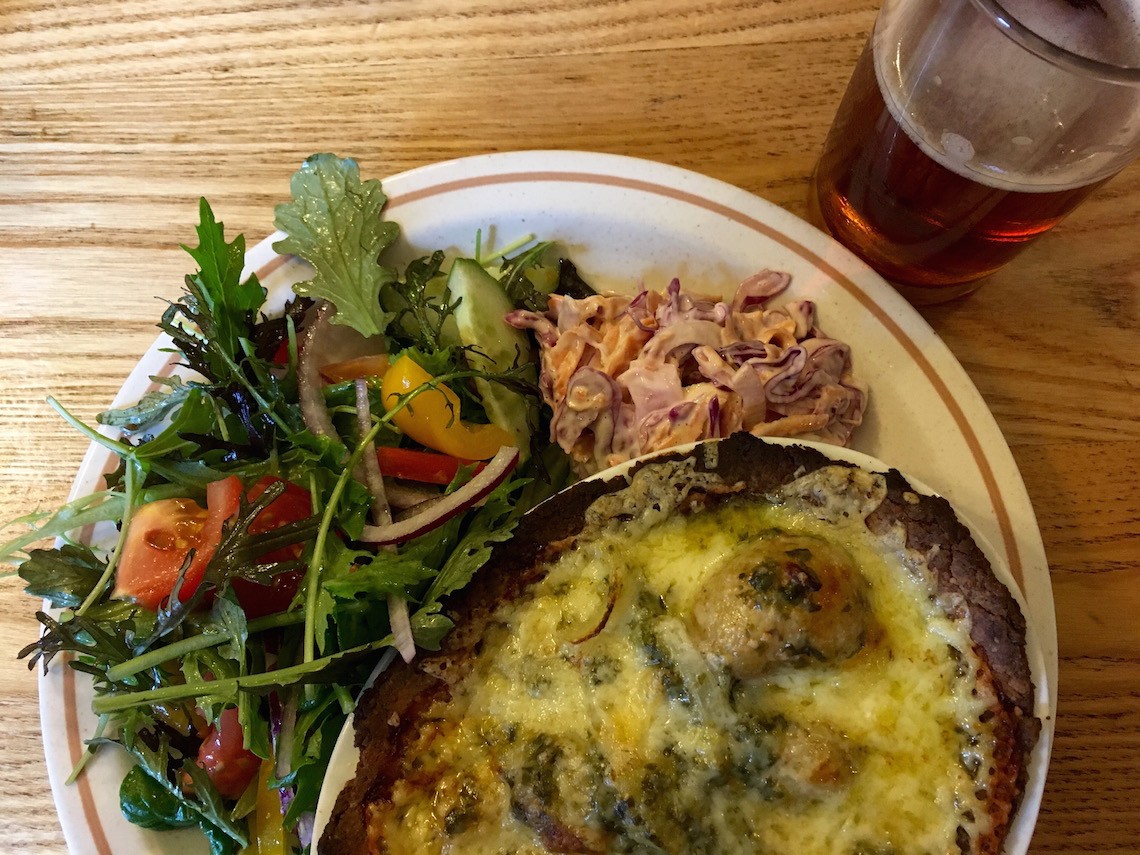 Have you learned to sail or done something that pushed you out of your comfort zone? I'd love to hear about it so I can share your ideas with our community, just drop in a comment below.