Do you like the idea of eating less meat in your diet? Whilst I am not a vegetarian, I have definitely been cutting down on my meat intake over the last few months, so I was keen to learn some new recipes. Read on to find out about the Vegetarian Cookery Course offered by The Foodworks Cookery School, near Cheltenham.
Foodworks Cookery School is located in a converted barn, on the edge of the Colesbourne Park Estate in the Cotswolds, between  Cheltenham and Cirencester. Our vegetarian cookery course took place on a Saturday from 10am to 3.30pm.
The Foodworks Vegetarian Cookery Course
I took my friend Jackie with me. Jackie is a long-standing vegetarian, but fancied getting some new recipe ideas. There were eight of us in our group and we got the chance to chat over tea, coffee and homemade biscuits before we were set to work. Not everyone was vegetarian, but we all wanted to take away some new inspiration to revitalize our cooking.
Our chef for this vegetarian cookery course was Erin Baker. She is American born and bred and ran an award-winning vegetarian restaurant in California. I'm not sure why she decided to switch sunny California for not-so-sunny Gloucestershire, but she became Head Chef at Woodruff's Café in Stroud – the first vegetarian café in the country. Erin now runs her own business – the Natural Cookery School.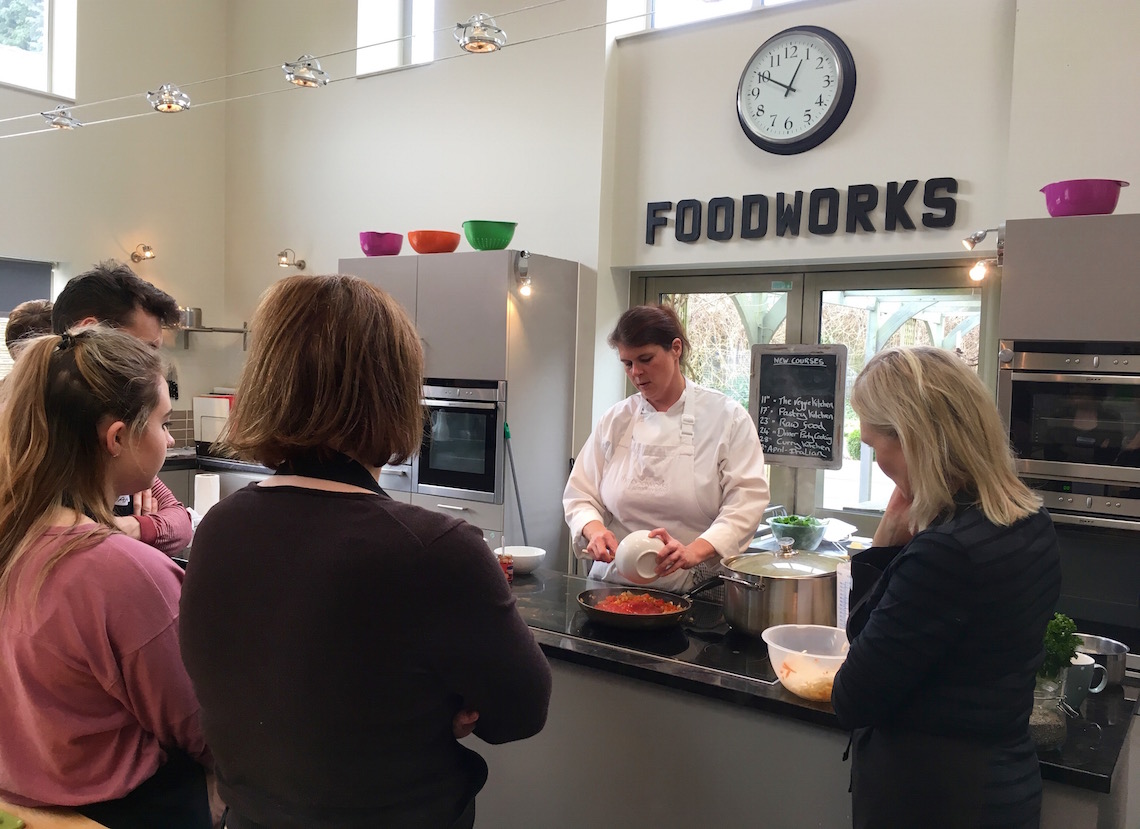 Erin explained to us, "I'm going to show you dishes that are veg-centric. Where the vegetable is the star of the show." I loved the fact that she'd stopped en route to our class and foraged some early wild garlic, as well as primrose flowers, to add to the array of shop-bought goods we'd be cooking with.
It sounded like we had a lot to get through, but I was thrilled to discover we'd be eating not just one, but two lunches. Erin set about her first job of making a vegetable stock. Now, I'd never thought about making my own. I've always reached for the Marigold bouillon. But perhaps I'll give this a go myself now. Our chef left her stock to gently bubble for an hour and a half.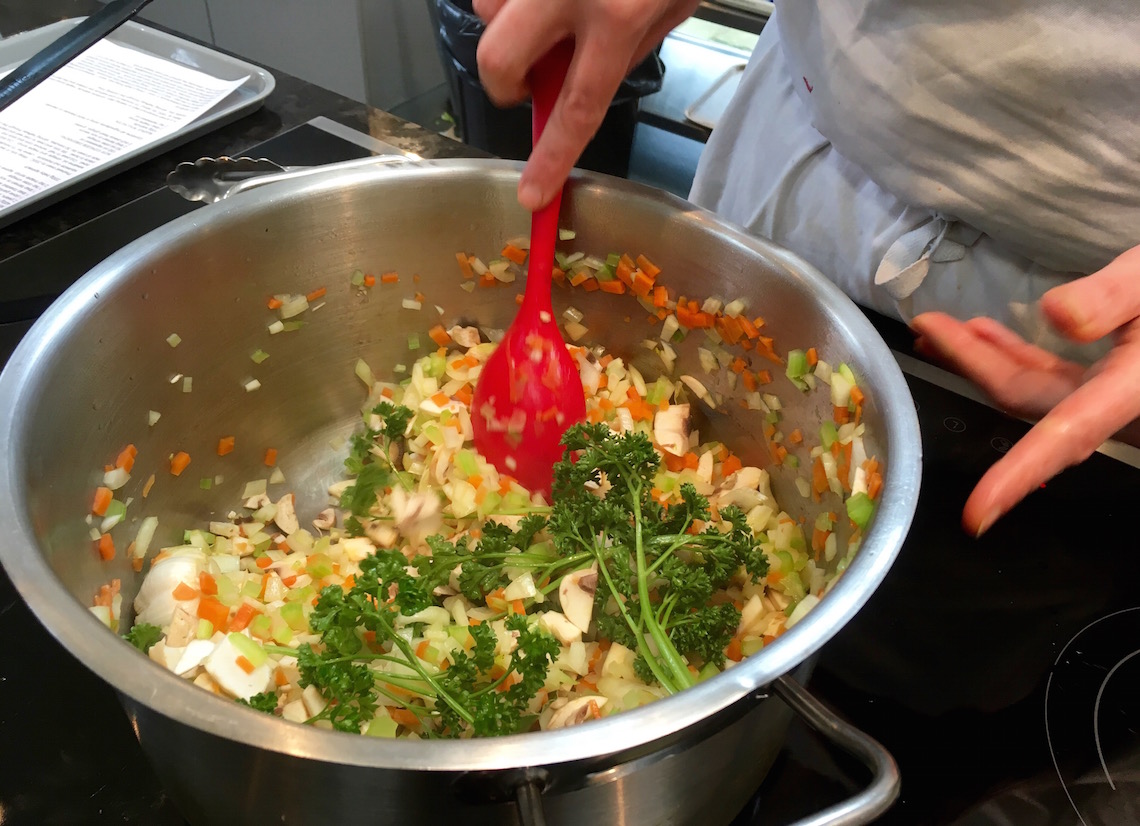 Erin next turned her attention to the prep for a warm pear and spinach salad. She cubed tofu (an ingredient, which I'm afraid I've never been keen on) and added it, along with sliced pear, to a marinade of sesame oil, cider vinegar and maple syrup. While this roasted for 30 minutes in the oven, she whizzed up a soy ginger dressing.
I was excited to hear we'd be making Vietnamese spring rolls. The kind that aren't deep-fried, but have a soft translucent skin revealing the fresh herbs and vegetables within. Erin showed us how to properly cut carrot julienne-style. We soaked our rice paper in water for 30 seconds to soften it, before layering with Thai basil, mint, coriander, lettuce, carrot, avocado, bean sprouts and rice noodles. The trick was to get the rice paper soft enough to roll, but not too soft that it went overly sticky.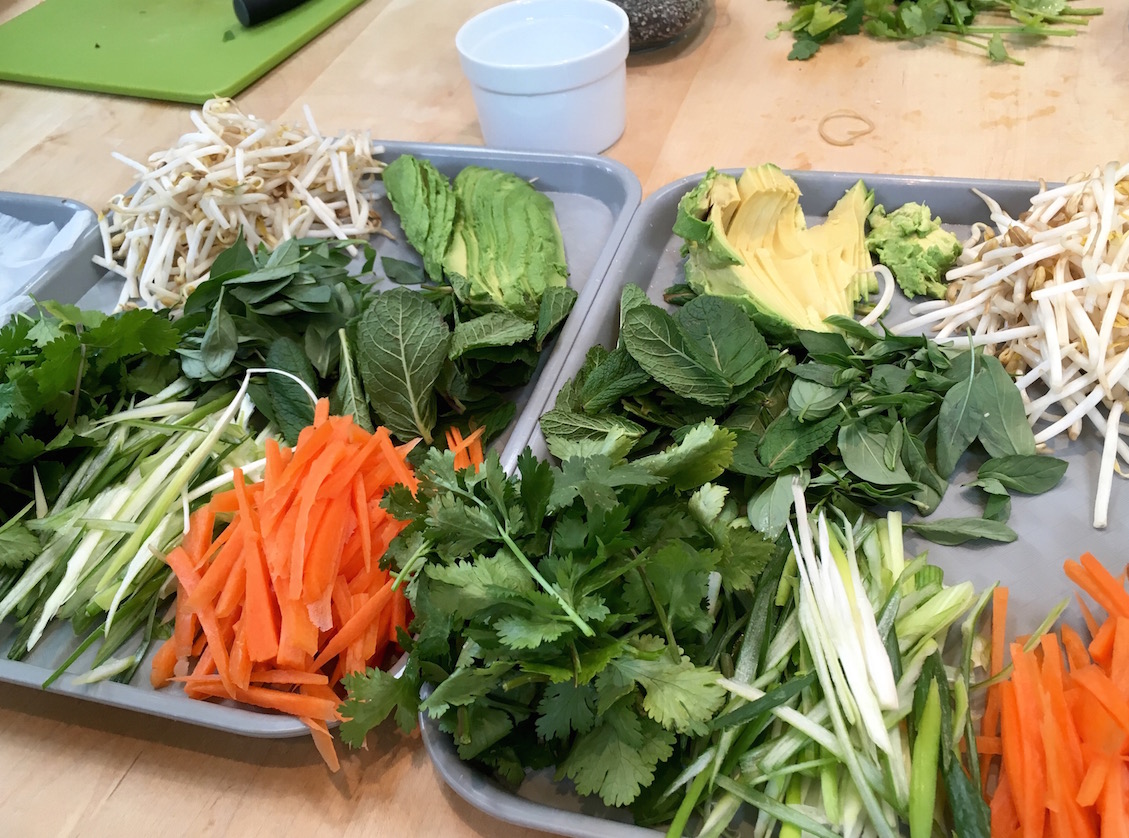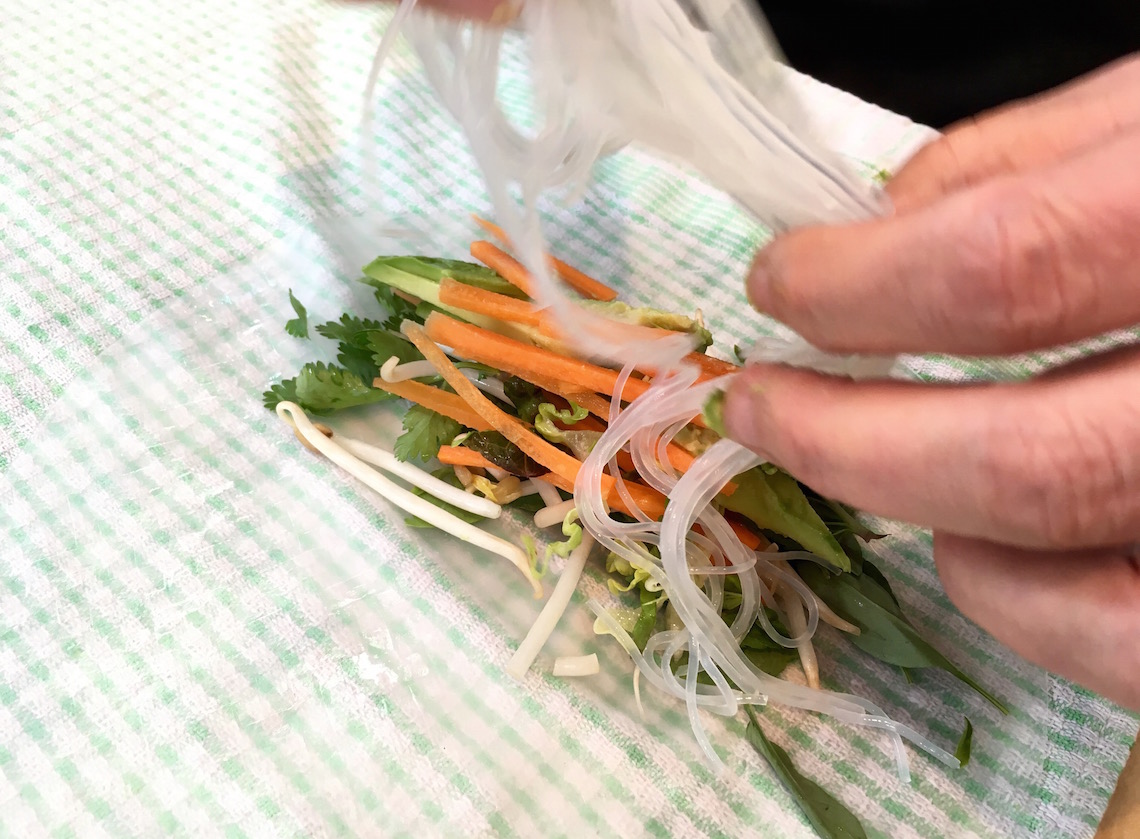 It was now our turn to take over the reigns of the pear and spinach salad. Jackie and I had a hob to ourselves, but each took care of our own dish. We tossed the tofu and pear into the dressing to warm through. Next, adding the spinach, just long enough to wilt. We finished the dish with a sprinkling of maple-toasted walnuts that Erin had made earlier.
Our first lunch on our vegetarian cookery course began with the Vietnamese spring rolls. A neat presentation trick is to slice the spring roll in half on the diagonal. They tasted so fresh and vibrant, accompanied by a lime, chilli and soy dipping sauce. The spinach salad was delicious with the sweet, warm pears, but I'm afraid tofu is still not for me. As those that know me well would appreciate, it's a texture thing!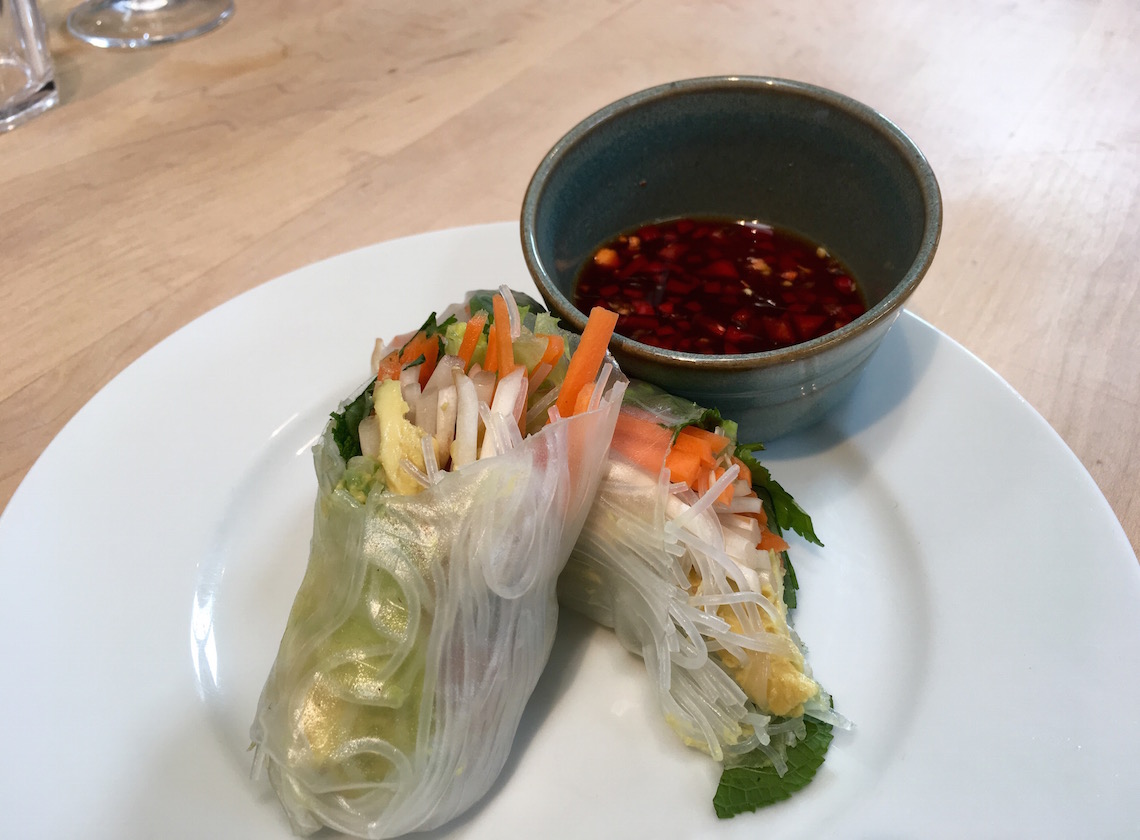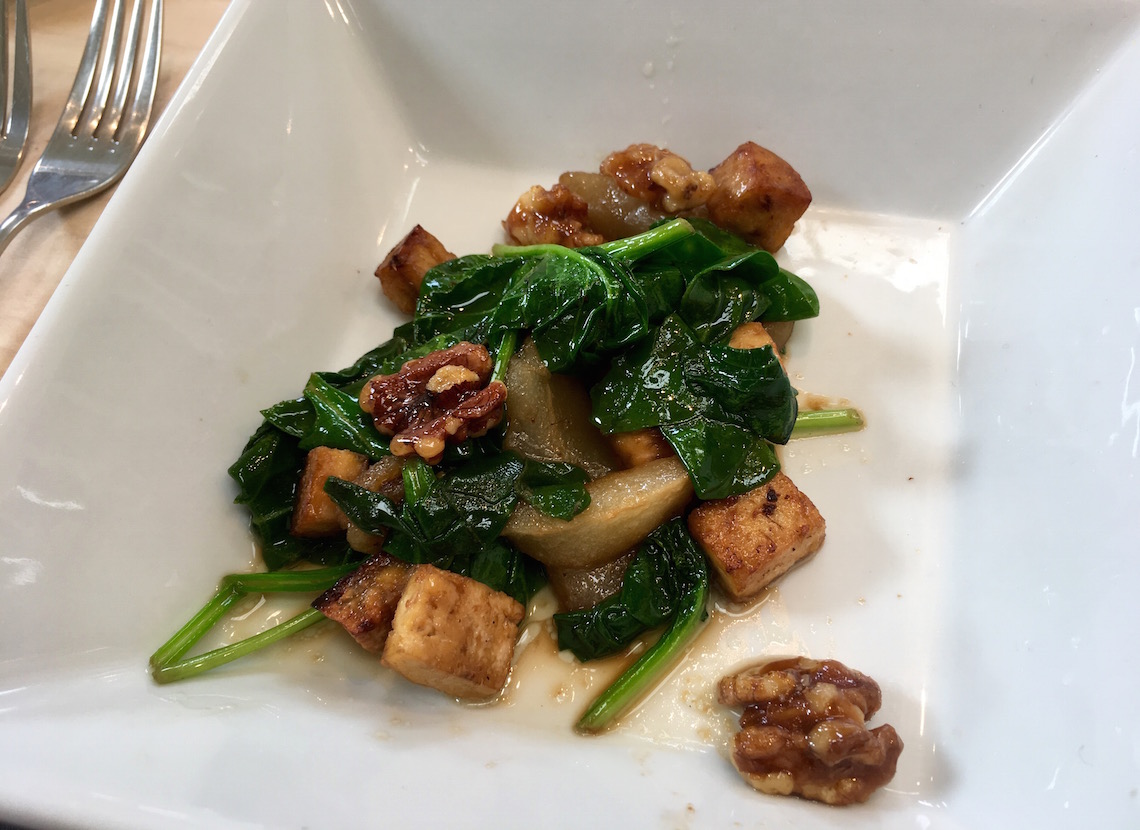 After lunch one, Erin showed us how to make the components of a spinach and tomato polenta stack with herbed ricotta. We each constructed our own stack and topped it with roasted asparagus and radish (who knew you could roast a radish?) in a spring onion vinaigrette. She then divided up her foraged wild garlic and, in pairs, we made a fragrant wild garlic and cashew pesto to go with it.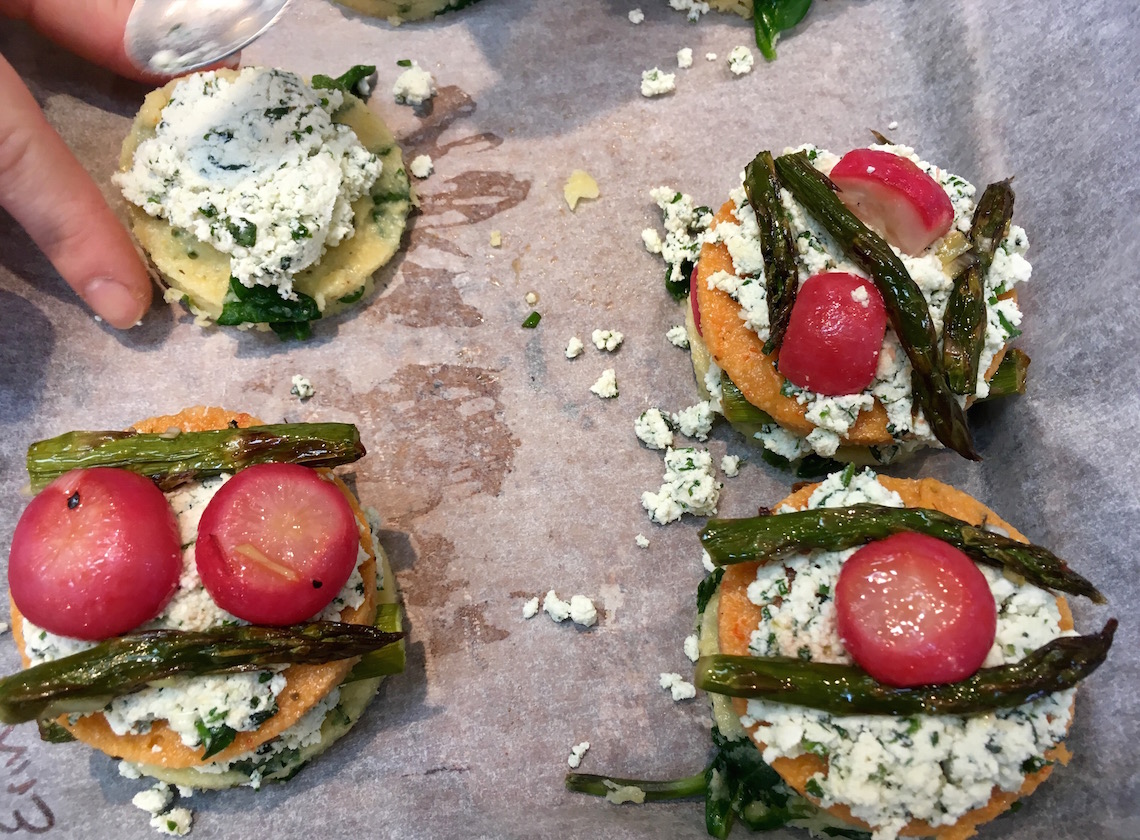 For the next dish, it was time to practice our knife skills. We each picked a different ingredient. Erin demonstrated how to cut an onion properly, as well as how best to prepare garlic, ginger and chilli. I was amazed to learn the trick of peeling ginger with a teaspoon, and to massage a lime to get more juice. Down one end of the table, we carried on chopping. While down the other, they dredged cauliflower florets in flour, egg and desiccated coconut, before oven roasting. Our combined ingredients made a tasty one-pot red lentil dish, topped with the coconut cauliflower.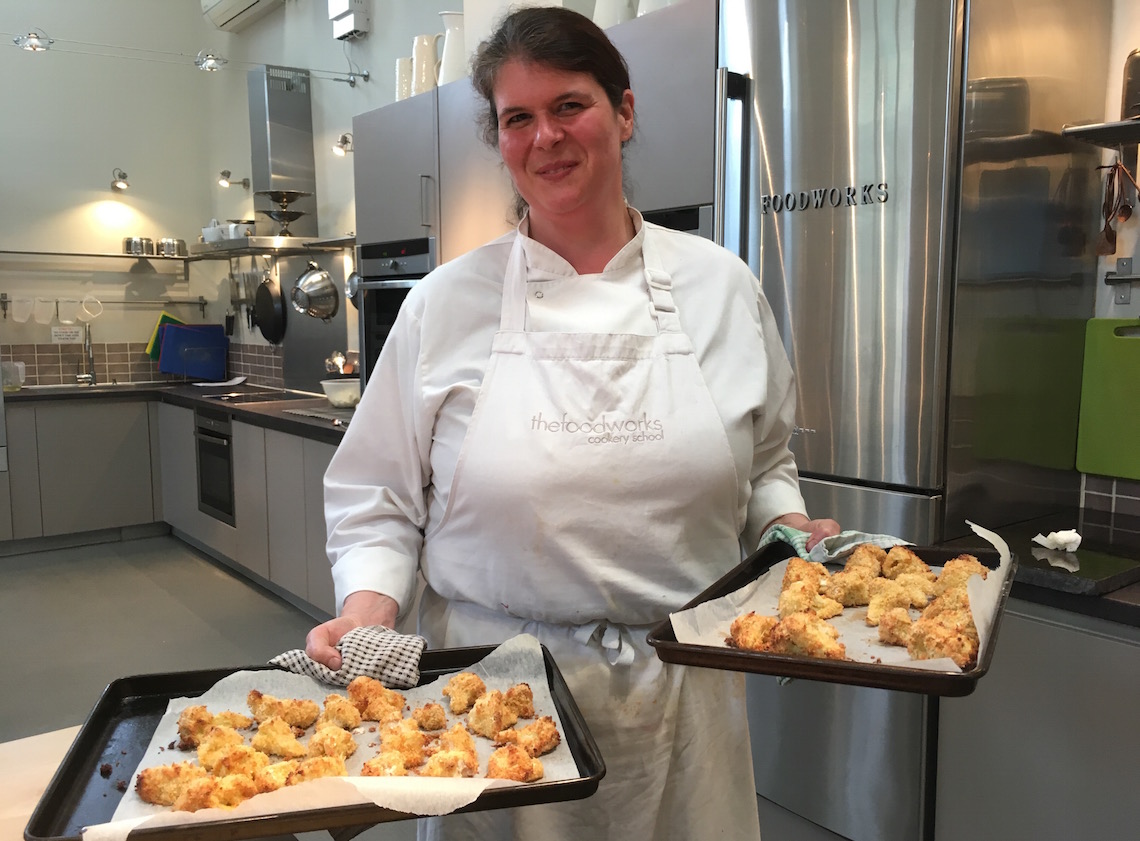 In pairs, we set about making a kale and goats cheese soufflé. I made the white sauce, while Jackie combined the cheese with egg yolks, and whipped up the egg whites. The big question: Would it rise?
Our final task of the vegetarian cookery course was to make a Mexican lasagne. Instead of layering with pasta, this one would be layered with soft tortilla wraps. And instead of making a white sauce, it would just be layered with grated cheese. We began chopping the onion, red pepper and garlic. This was combined with chopped tomatoes, herbs, spices, sweetcorn and black beans. The secret ingredient here was chipotle paste, which I'd never heard of. It gave a smoky, chilli flavour to the dish.
We made a Mexican slaw to accompany the lasagne. Along with the usual suspects, it included Cholula hot sauce, chopped coriander, lime juice and toasted cumin seeds.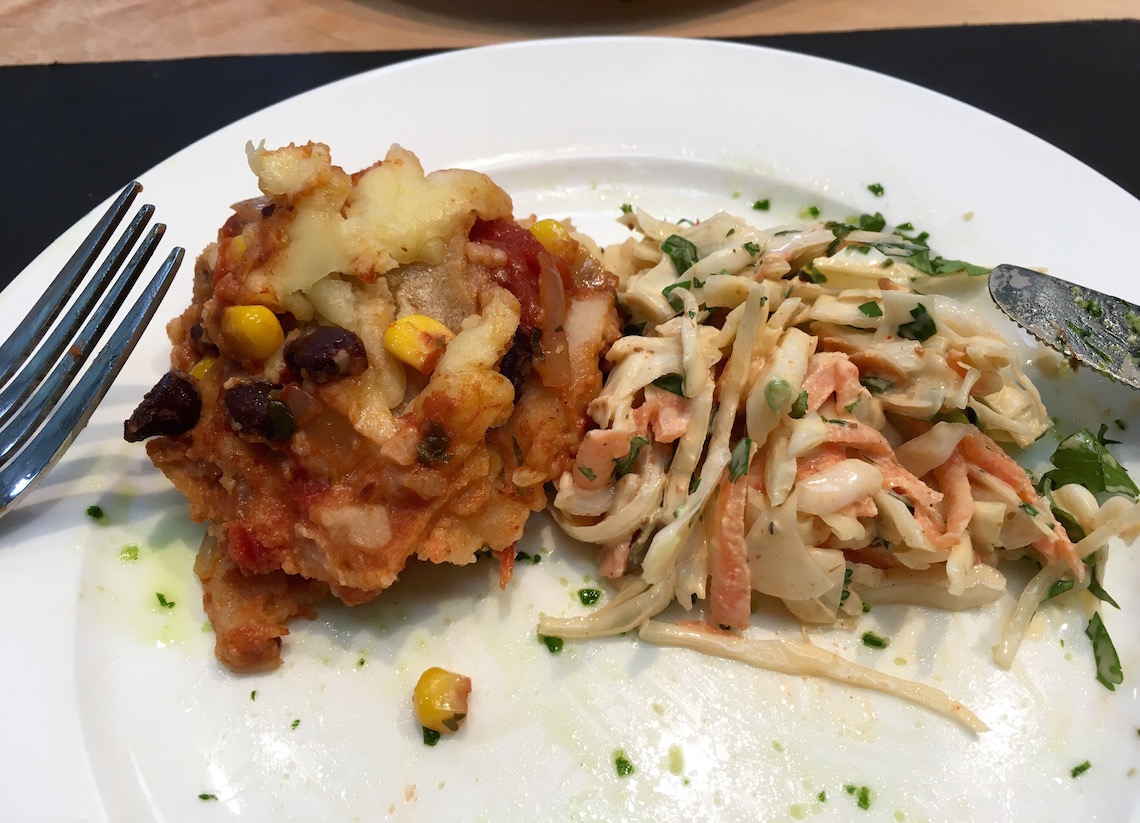 We sat down for our second and final lunch, with a well-earned glass of wine. The warming red lentil dish was unusually served in a teacup and topped with a coconut cauliflower floret. Fragrant with spices, lime and coconut milk, it reminded me of Thailand.
Our polenta stacks had an air of the Mediterranean and came accompanied by the wild garlic pesto. We were amazed to discover our kale and goats cheese soufflés had risen. While I was pleased at our accomplishment, these weren't my favourite, but I'm not a big fan of egg. Finally, we polished off the Mexican lasagne with the tasty slaw.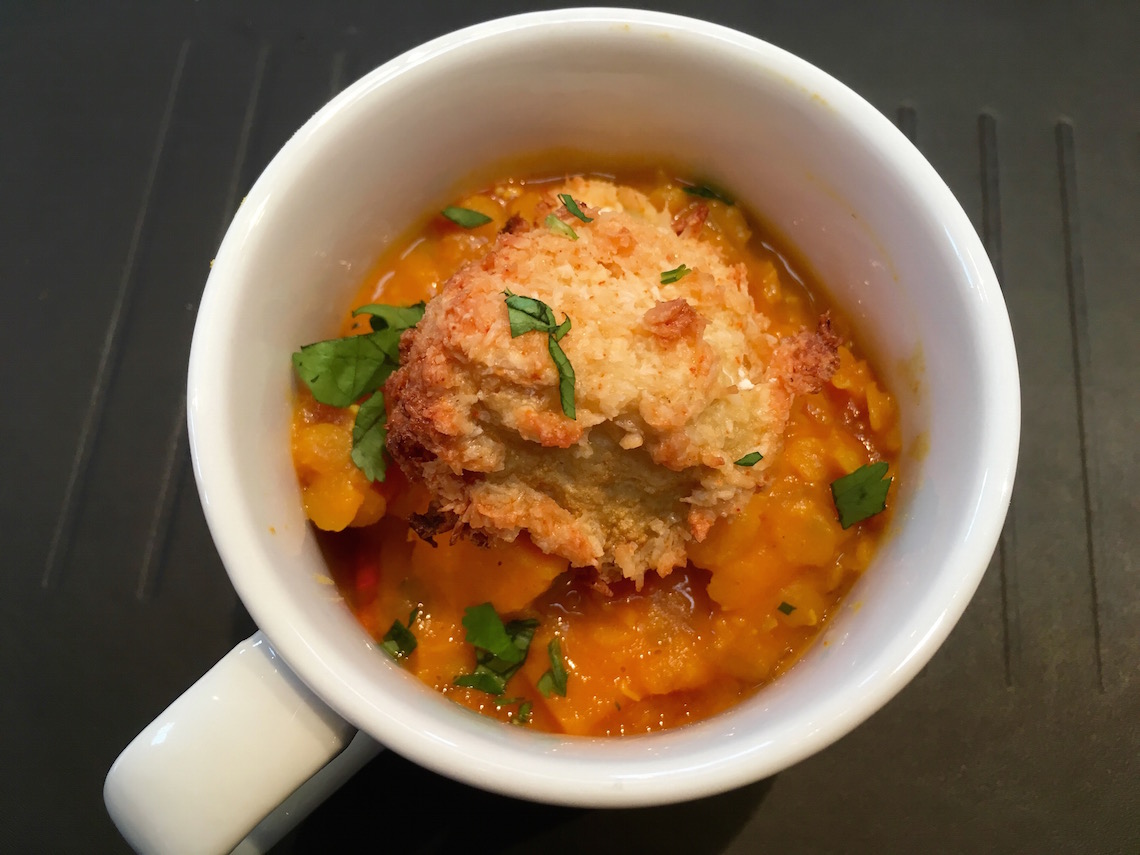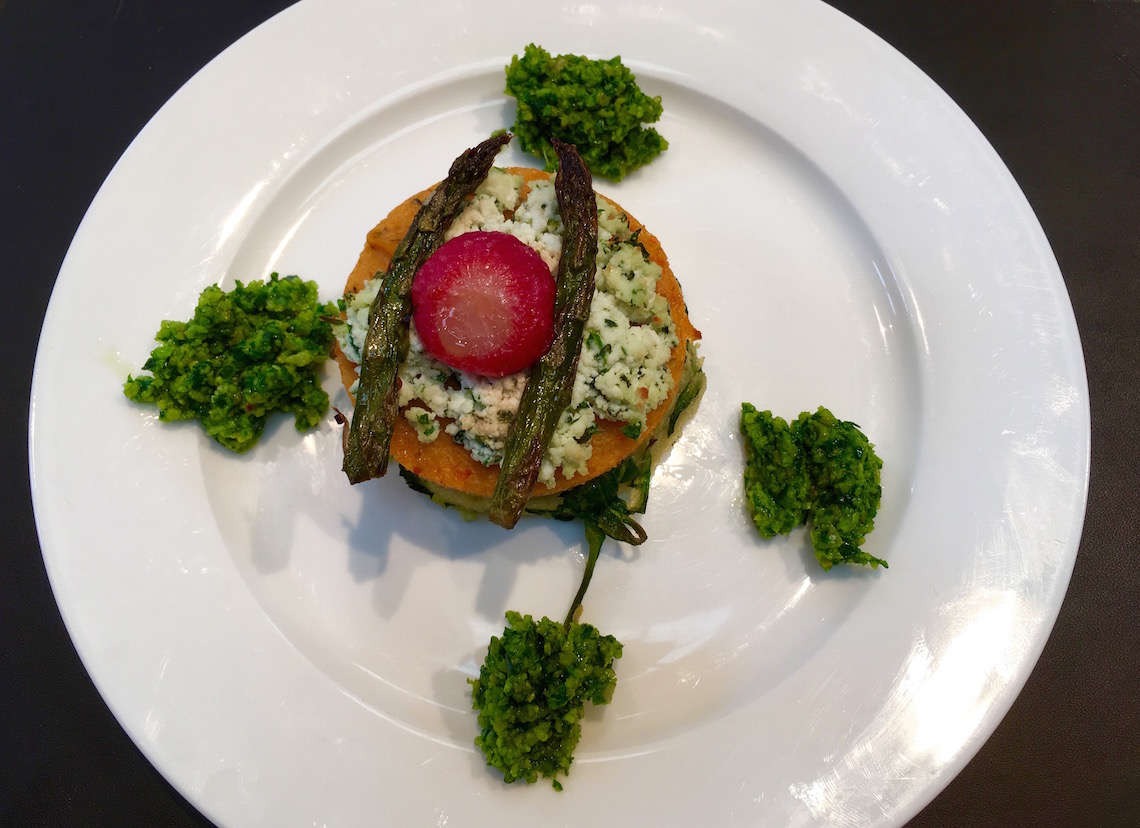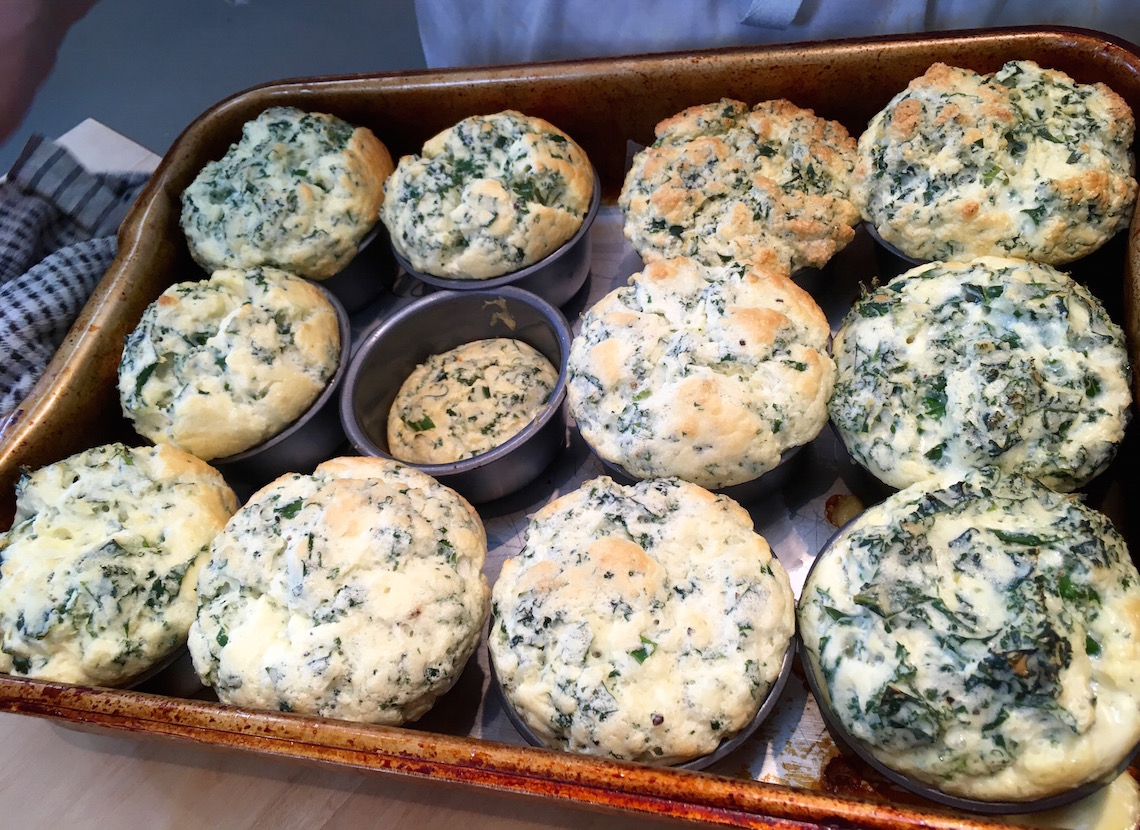 I really enjoyed the Foodworks vegetarian cookery course. We had learned dinner party dishes, along with everyday-style cooking. As well as gaining some new recipe ideas, I learned loads of useful tips from Erin, which I can use at home. My highlights of the day were the wild garlic pesto, the red lentil dish and the Mexican lasagne and slaw – all of which I will definitely be cooking up in my own kitchen! As for Jackie, she hot-footed it straight to the nearest supermarket to buy the ingredients to whip up a pear and spinach salad.
The Foodworks Cookery School kindly offered me the chance to participate in this course at a reduced cost. However all opinions are most definitely my own! They offer a whole range of plant based cookery courses (as well as meat ones) from Asian Streetfood to Cooking for Dinner Parties. There's some lovely accommodation options nearby if you want to make a whole weekend of it and enjoy exploring the Cotswolds.
Have you tried a cookery course? I'd love to hear about it.