I met up with my Mum for a last minute decision to have afternoon tea at The Dorchester in London. It was predicted to be a bitterly cold, grey day, and we both felt in need of a treat, so why not spoil ourselves?
We met at Green Park tube station and decided to walk to The Dorchester, which didn't look too far away. I managed to get us a little lost en route, but it was a lovely walk, passing by the grand buildings of Berkeley Square and through the back streets of Mayfair.
Approaching from the back of the building, we had to skirt round most of it to find the front door. On first glance, Mum didn't think it looked too glamorous from the rear. But she changed her mind when we got round to the front. Our feet were numb with cold, and we walked past some very nice looking cars in the car park before reaching the doorman.
As soon as we set foot inside, we were immediately greeted in the lobby and shown through to 'The Promenade' for our afternoon tea at The Dorchester. We were introduced to a friendly lady who collected our coats and seated us at our table for two.
The Promenade has been described as 'the drawing room of Mayfair' since it first opened its doors in 1931. It's fascinating to imagine who would have met here in days gone by, and what secrets have been discussed over a cup of tea or something stronger.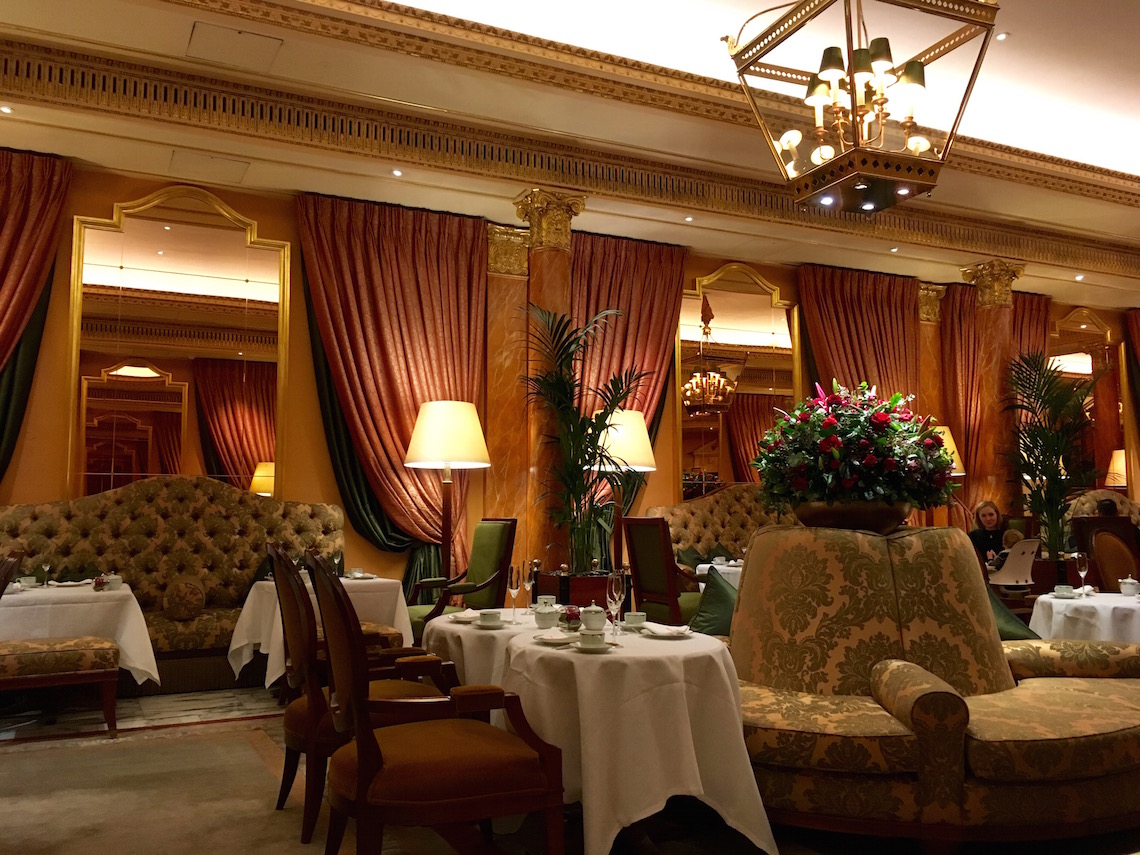 On this occasion, we spied a mix of ladies that lunch, overseas visitors, yummy mummies, couples, a former England rugby star and a table comprising a gentleman in military uniform, accompanied by ladies with fascinators.
The Promenade is a long room that feels quite decadent in its décor. Elegant shades of peach, green and gold are warmly lit and interspersed with potted palms and urns of flowers. Somebody, somewhere, was tinkling the ivories.
The waiter brought us a menu to choose our afternoon tea at The Dorchester. It didn't take much arm-twisting for us to order a glass of Laurent Perrier Champagne to wash down a selection of finger sandwiches, served from a silver platter.
He placed an intriguing looking glass flask of hot liquid with a submerged dried flower on our table. He explained it was rose and peach sencha, to be drunk as a palate cleanser after the sandwiches.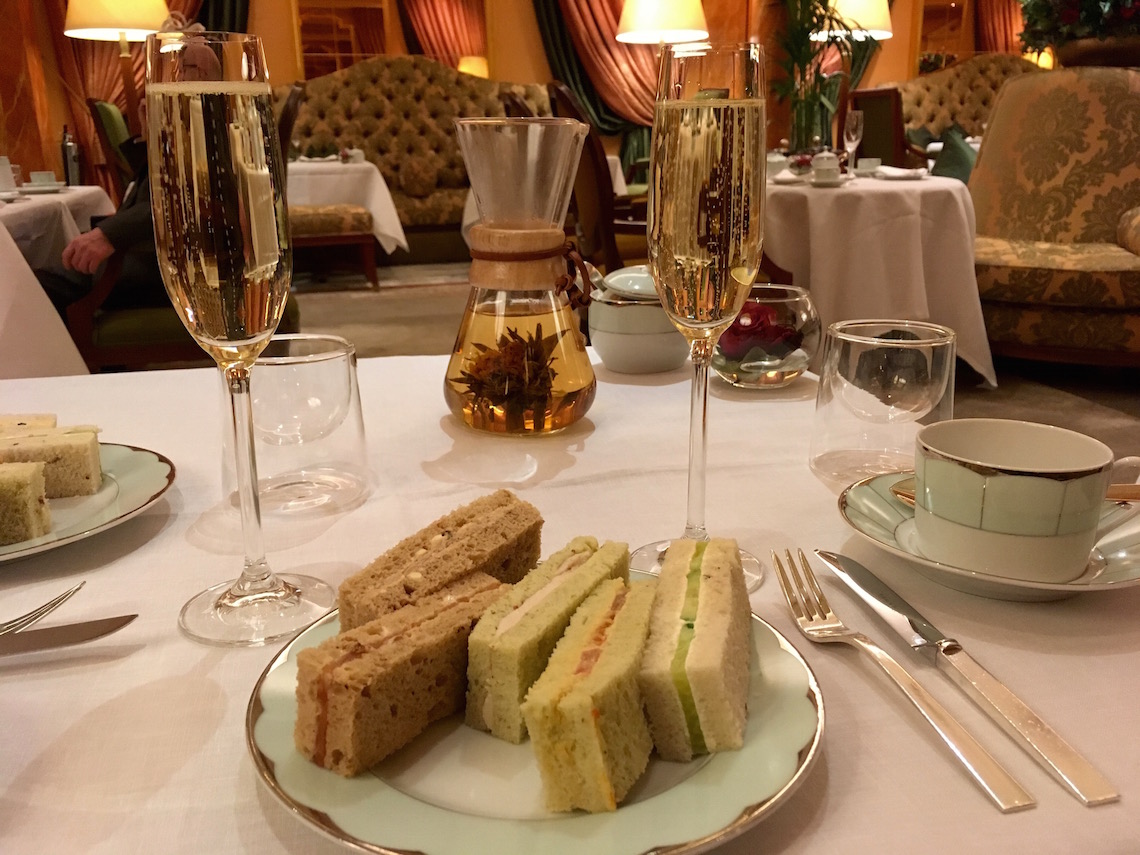 Each sandwich was made of a different bread. There were, of course, no crusts in sight. We chose from a selection of smoked salmon with mustard and dill on granary; roast chicken on basil bread; cucumber with mint cream cheese on caraway seed bread; egg mayo on white and tuna mayo on brown. Not being a fan of egg, at special request I was also offered homemade hummus and tomato.
The sandwiches were so tasty that when the waiter came back with another platter, I made the schoolgirl error of having some more. My older and wiser mother cautioned me against it, but of course I didn't listen. And not listening to her own advice, she followed suit and took some too!
Having polished off seven or eight sandwiches (well they were only small), the waiter returned to pour us a glass of the flowering 'palate cleanser' tea. It was lovely and had a delicate fragrance of peach.
With our palates now fully cleansed, a plate of warm scones arrived, along with silver teapots of our chosen blend. Mum had chosen The Dorchester Blend. This one is apparently perfect at any time of day and blended from Ceylon and golden Assam teas.
I don't drink milk with tea, so the waiter recommended one of the more delicate scented teas. I opted for the Paris black tea blend, flavoured with currants, bergamot and caramel. It was indeed delicate and delicious with notes of vanilla.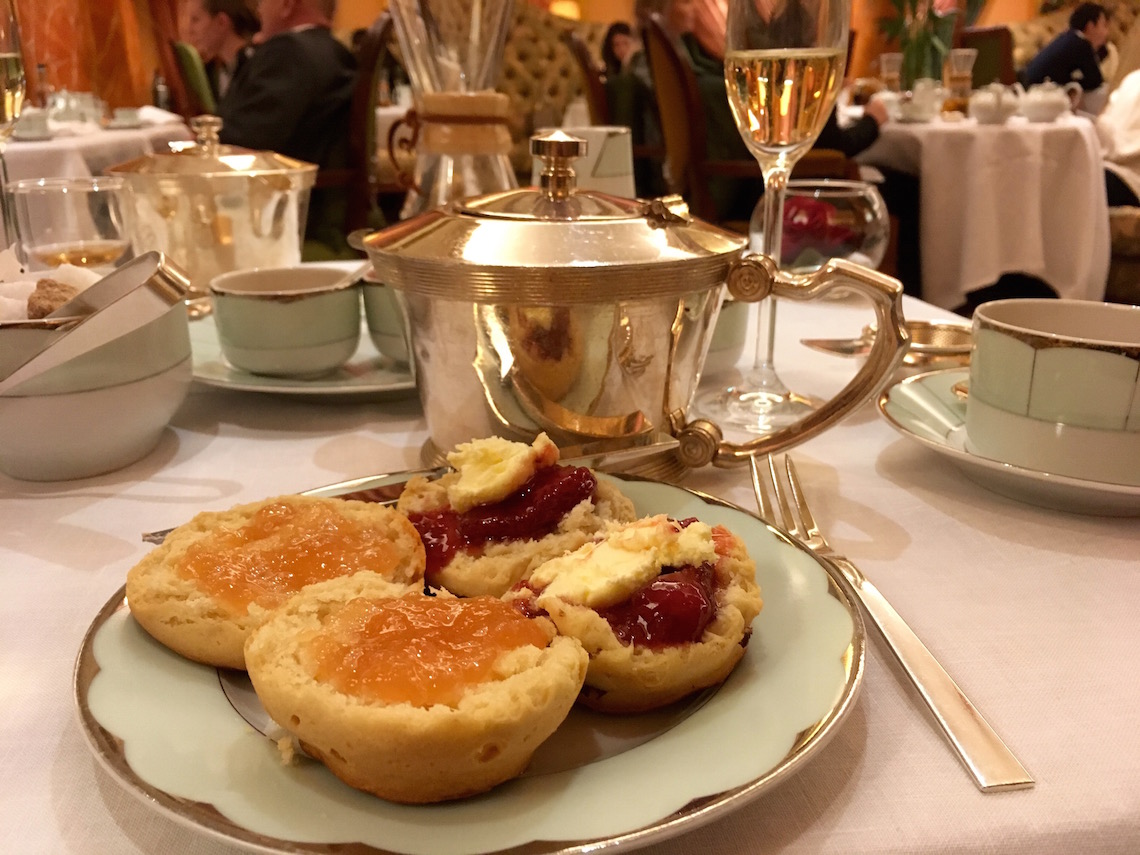 We smothered our scones with jam and Cornish clotted cream. The jams included a traditional strawberry and a more unusual pear and cardamom. I'd already figured, from previous experience that it's the scones that finish me off in an afternoon tea, leaving little room for cakes. But who can resist the allure of clotted cream sitting atop glistening jam on a freshly baked scone?
As we were making our way through the scones, another waiter delivered a two-tiered cake stand of patisserie. In my view, it's the cake part of afternoon tea that should have real wow-factor. And these small, but perfectly formed, little morsels almost looked too pretty to eat.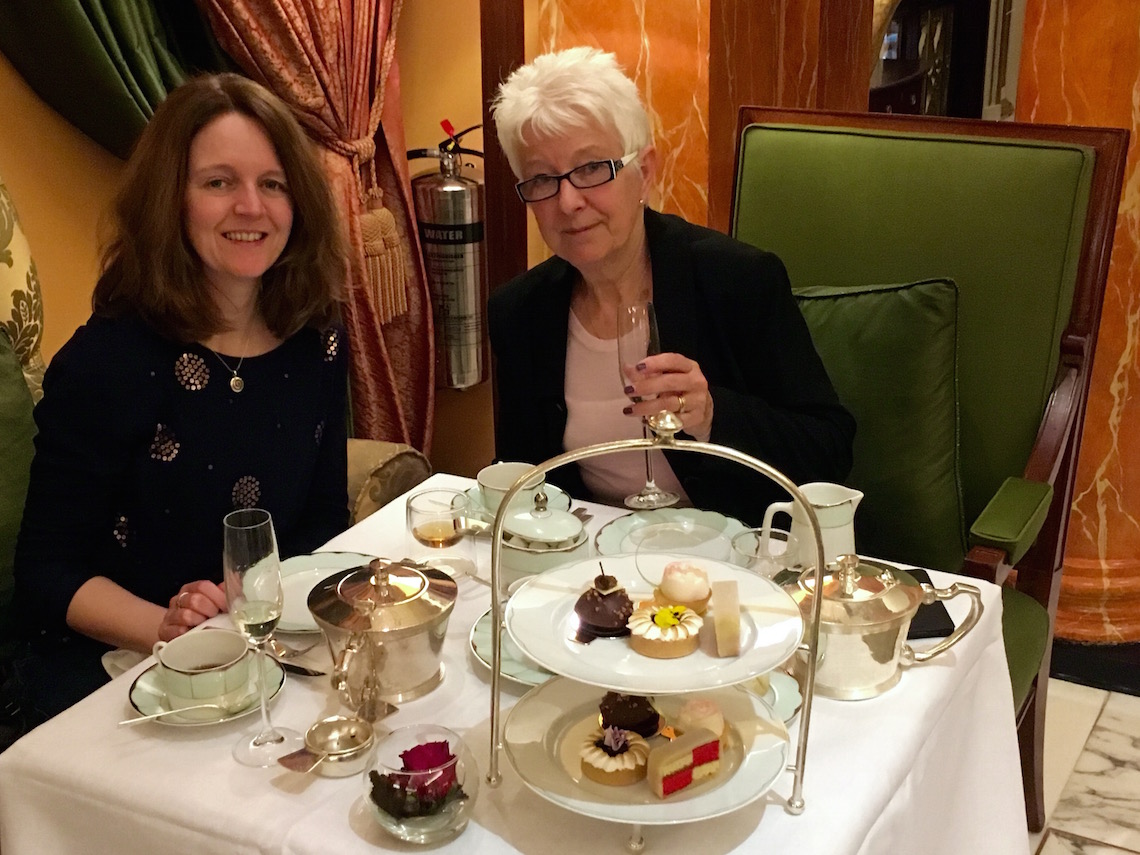 We both plumped for the chocolatey one first. Cutting through the crisp outer chocolate shell, revealed a light mousse of chocolate hazelnut cream, sitting on top of a crunchy praline base. Even better than that, at it's heart was a liquid salted caramel – one of my favourite things in the whole world!
I was now almost at bursting point, and it was all I could do to manage the brightly coloured Battenburg cake, for childhood nostalgia purposes. Then I had really had enough.
I was kicking myself for filling up with sandwiches and scones, but when we told the waiter we were full, he whisked away our cakes and returned with an elegant silver box so we could take them home to enjoy later.
The remaining cakes (which unfortunately were the most delicate to be carried around for the rest of the day) were a berry meringue tart topped with a crystalized pansy flower (grown especially for The Dorchester in Wales) and a Mayfair rose. We later discovered the beautiful rose to be a light lemon basil mousse with a tangy strawberry centre.
After two hours, we were reluctant to leave the luxurious warmth of our afternoon tea at The Dorchester. We really did feel quite at home.
I need to remind myself the next time I have afternoon tea: to not eat too many sandwiches, to just eat one scone and, if there's a possibility I can't eat all the cakes, to eat the most delicate-looking ones first.
Pin it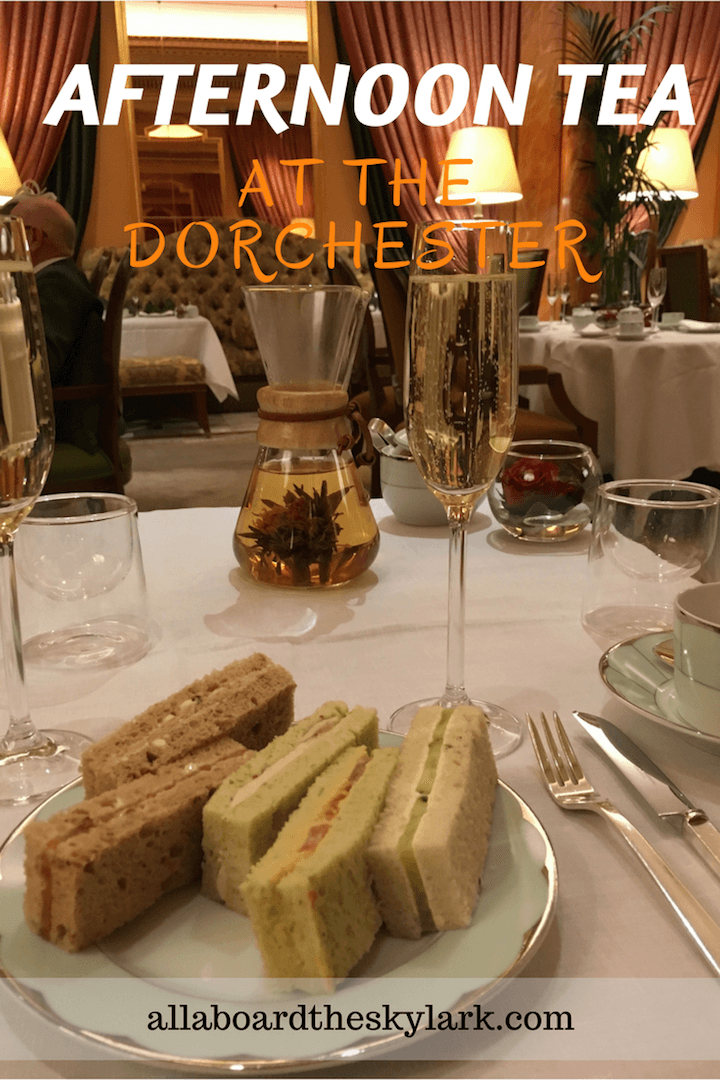 Can you recommend any afternoon tea experiences? I'd love to hear about them.