I don't normally have the chance to stay in hotels or B&Bs in Cornwall, because we're lucky to have a base we can use. But this New Year's Eve, we branched out for a one-night New Year stay in Cornwall. It would also be my first opportunity to try Air B&B.
The reason we did this, I'm not ashamed to say, was alcohol. We'd booked tickets for a night at the Watering Hole pub on Perranporth beach, but lost our designated driver to a bug.
Air B&B
While being a bit sad our friends couldn't join us, I was quite excited to have an excuse to stay somewhere different, and for my first go at Air B&B. We found an en suite room in Perranporth, a 10-minute walk to the beach, which sounded just perfect.
I hadn't realised you have to pitch yourself to the owners before they accept your booking on Air B&B. I was a bit concerned, being last minute on NYE, they might think we'd be drunken partygoers. Luckily for me, Mr Skylark, who already has an unblemished profile on Air B&B, must have sounded acceptable.
Padstow
En route to Perranporth, we stopped in the small town of Padstow. I'm a big fan of Padstow, even though it gets crammed with visitors throughout the holiday season. I thought it would be a little quieter during a New Year stay in Cornwall, but it was still pretty busy. In fact, I'm now wondering, whenever isn't Padstow busy?
This town, on the Camel River, sits around a small harbour, full of fishing boats, and has a charm of its own. While it's a big tourist draw, it is also a working fishing town.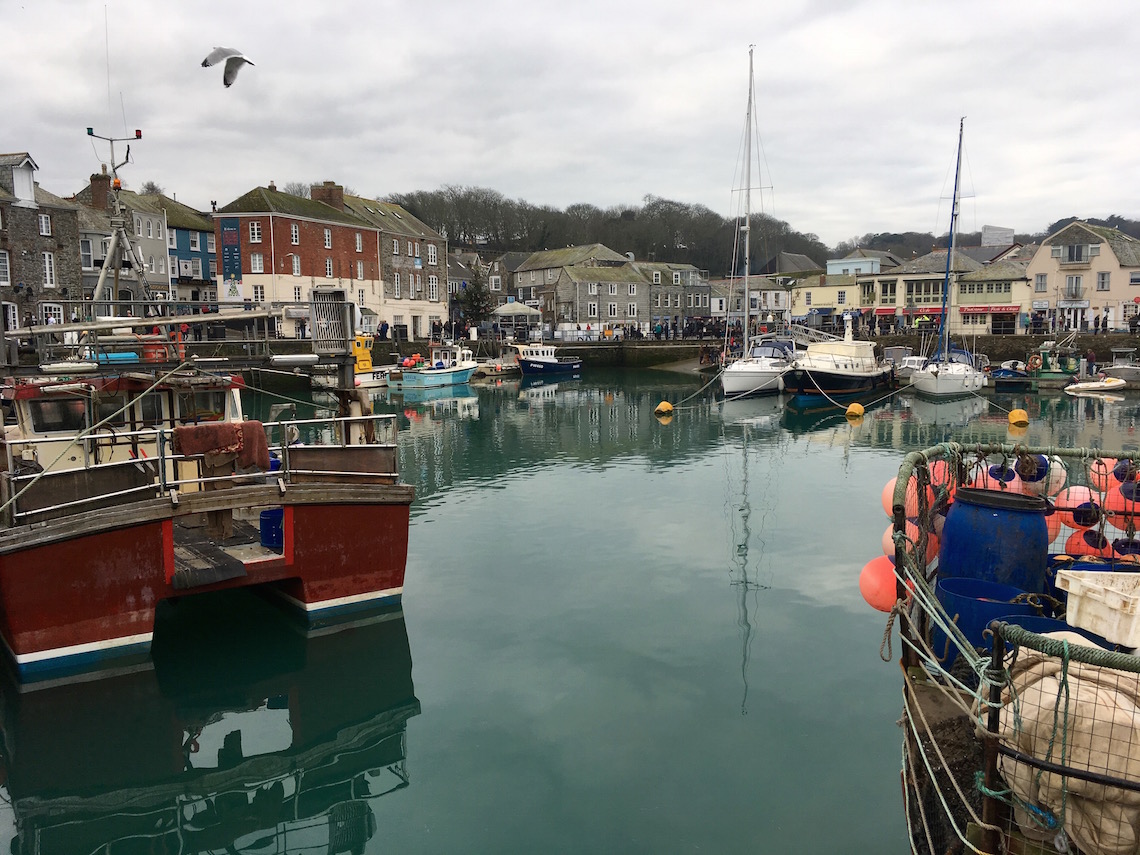 If you stand on the harbour wall, you can see the golden sand banks at low tide, as well as the trendy village of Rock across the water. To the left of Rock, are the beautiful sands of Daymer Bay, as the river makes its way to the Atlantic Ocean.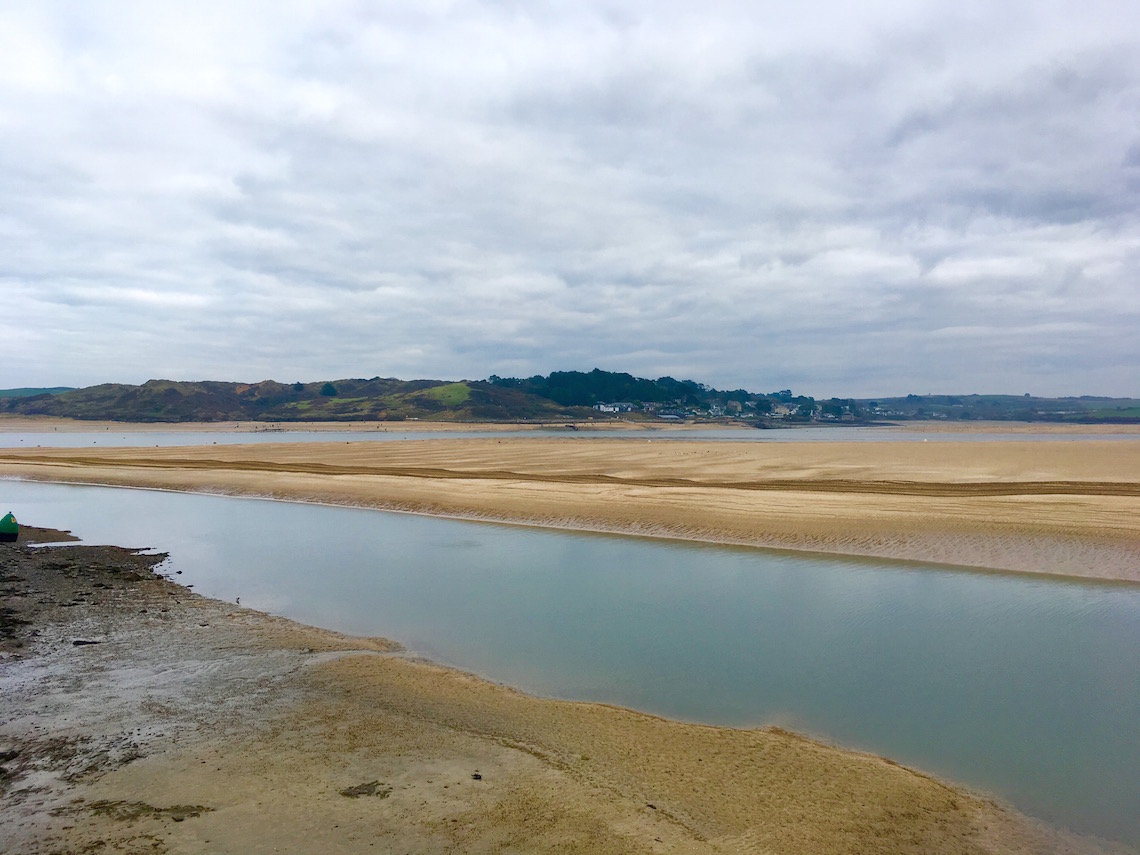 The best fish and chips
It's chef Rick Stein that seems to have really put Padstow on the map. So much so, it's earned itself the nickname 'Padstein'. We have eaten at the newer kid on the block, Paul Ainsworth's No.6, before now, which was fantastic, but not yet at Rick Stein's.
While I'd love to eat at The Seafood Restaurant one day, we were looking for just a casual lunch this time. I was keen to try Rick Stein's Fish & Chips. As it was chilly during our New Year stay in Cornwall, we opted to eat inside the fish and chip restaurant and joined the queue.
This slightly defeated the object, as we queued outside for 30 minutes in the cold. Whereas we could have just spent 5 minutes in the takeaway queue and eaten them in the car. But we Brits love a queue (don't we?) And once you're in one, it's hard to leave it!
Fortunately, my lemon sole and chips were definitely worth the wait. While Rick's fish and chips are admittedly more expensive than your average, the fish itself was beautiful. The three pieces of lemon sole came coated in a light, tasty, crispy batter. Deep-fried in beef dripping. Although the chips compared favourably with those of my local chippy, the fish was definitely a cut above. I'm still dreaming of it now.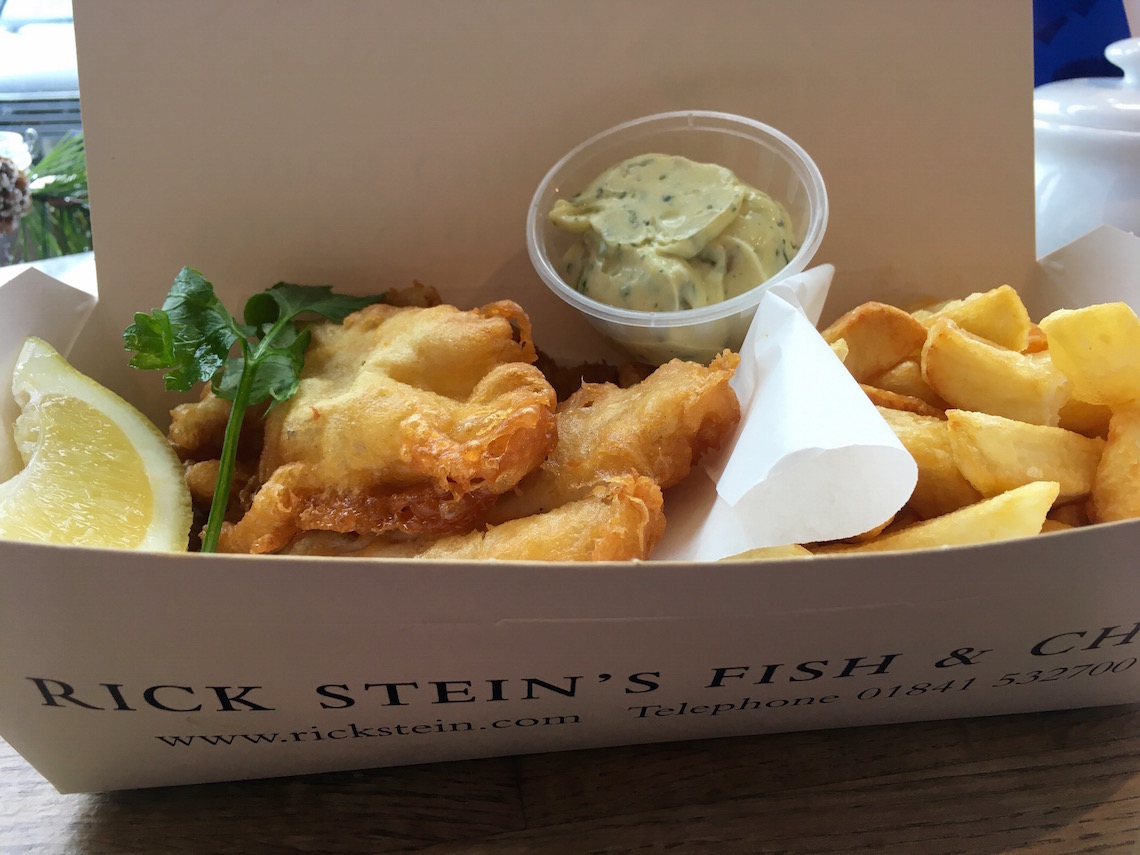 Perranporth
We were full and ready for our trip south to Perranporth. After getting a tiny bit lost, we found our accommodation, for our New Year stay in Cornwall, tucked down a lane at the back of the town. The Cornish long cottage looked like a beautiful house.
Our host, Alan, warmly welcomed us into his home. We thought it best to explain that, in just less than two hours, we would be transforming ourselves into Slash and Madonna for one night only. Alan seemed to take this in his stride and he invited us to join him, and his wife Jo, for tea and biscuits.
While I was really enjoying our chat in their cosy lounge, I was keen to set foot on the beach for the first time in ages. We set off into the dusk and had a beer on the beach at the Watering Hole, not something we would normally do in the middle of winter.
It's a beautiful, long, wide, golden beach at Perranporth. The Watering Hole is a unique spot, being the only UK pub on a beach. I loved sitting in the cool December dusk, listening to the Atlantic waves thundering onto the beach, Cornish ale in hand. We watched some crazy surfers in the half-light.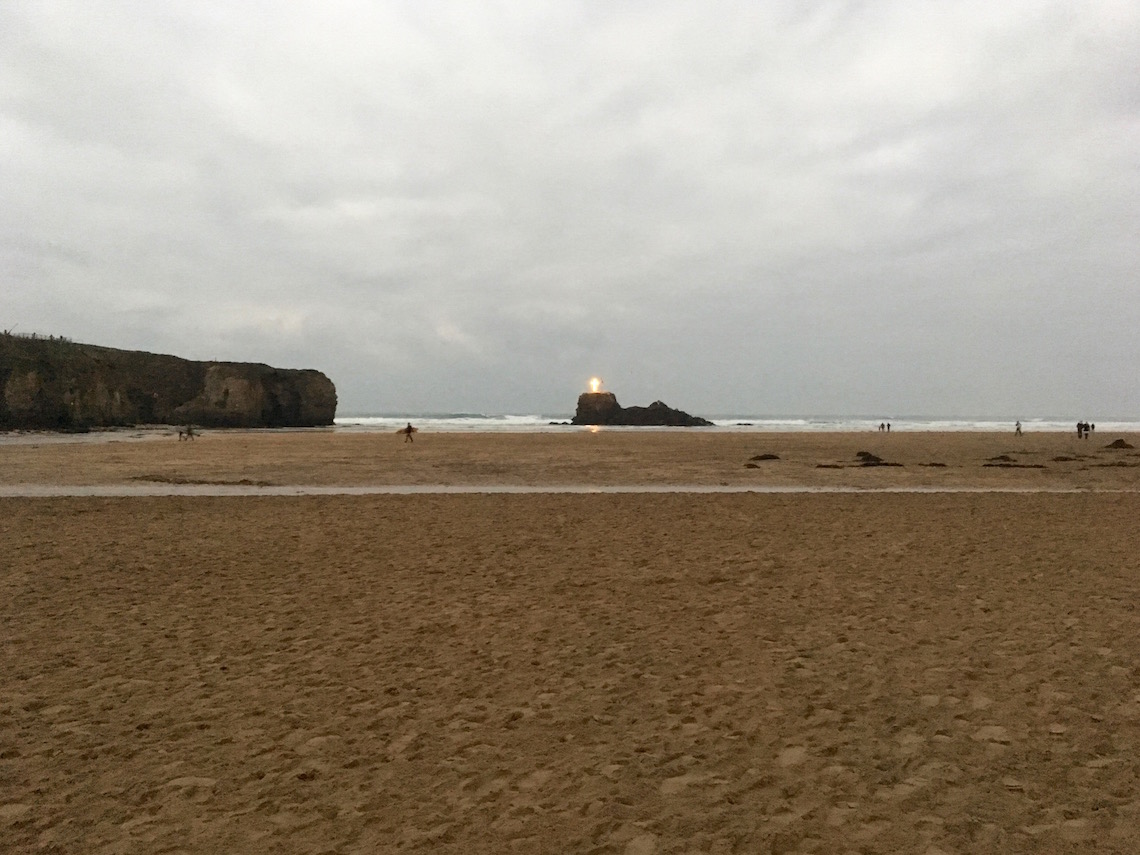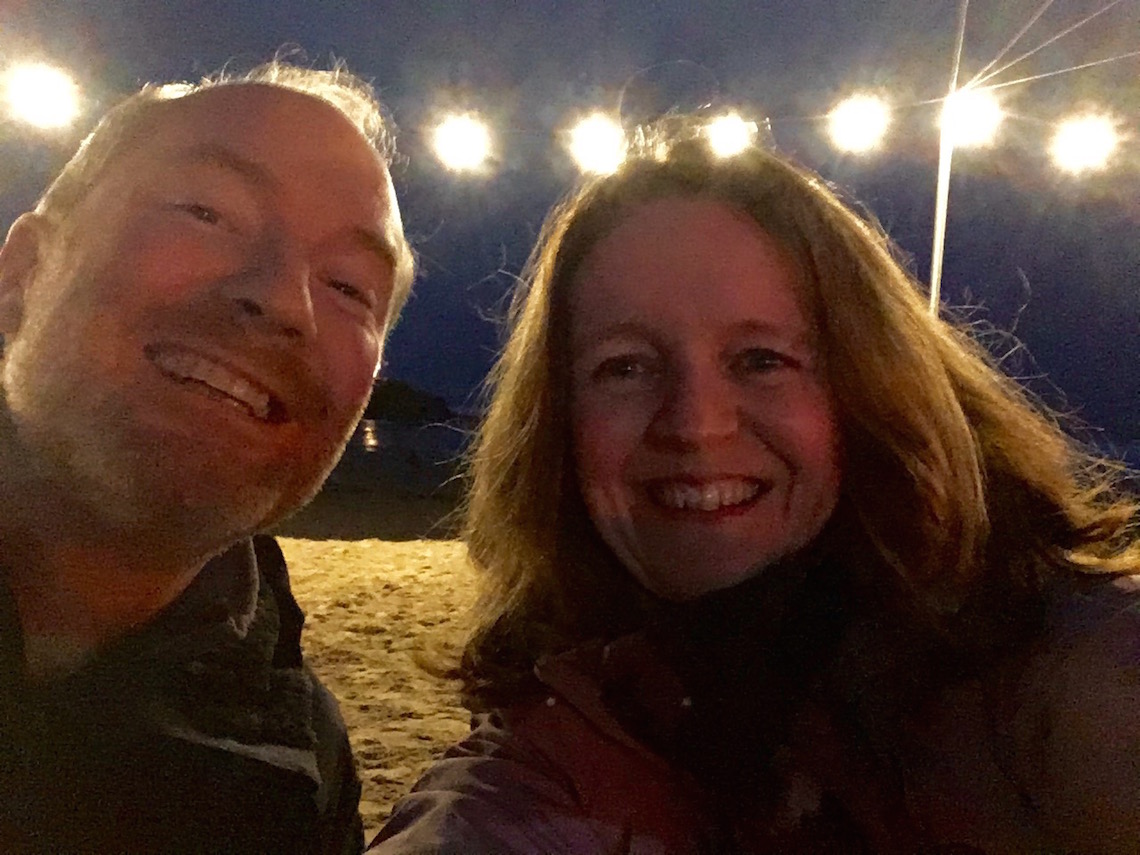 Back at the B&B, we persuaded Alan and Jo to join us for a few drinks later. Amazingly, Jo managed to rustle up a fancy dress outfit in about 20 minutes, while it had taken me several weeks of charity shop hunting to construct mine. We had a fun night with our new Air B&B friends. The Watering Hole is the place to go for a New Year stay in Cornwall. They certainly know how to put on a New Year's Eve party, with great bands and an impressive array of food.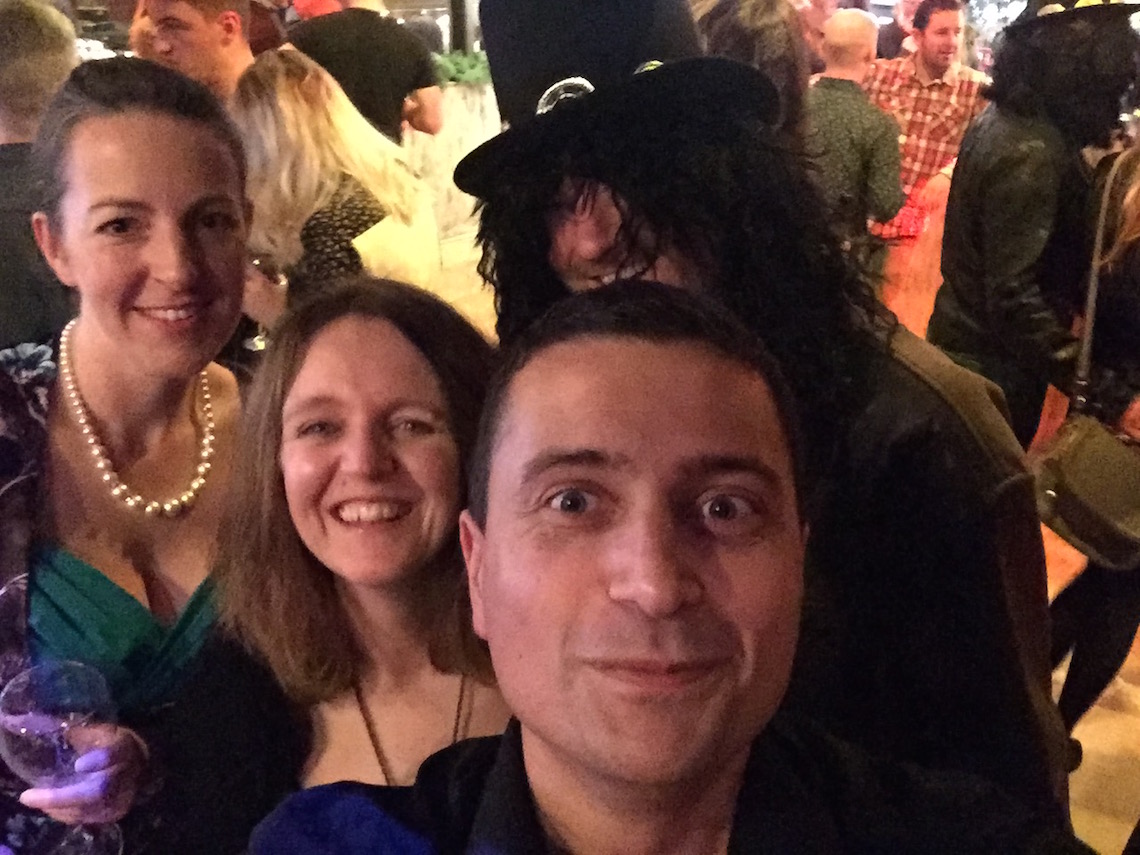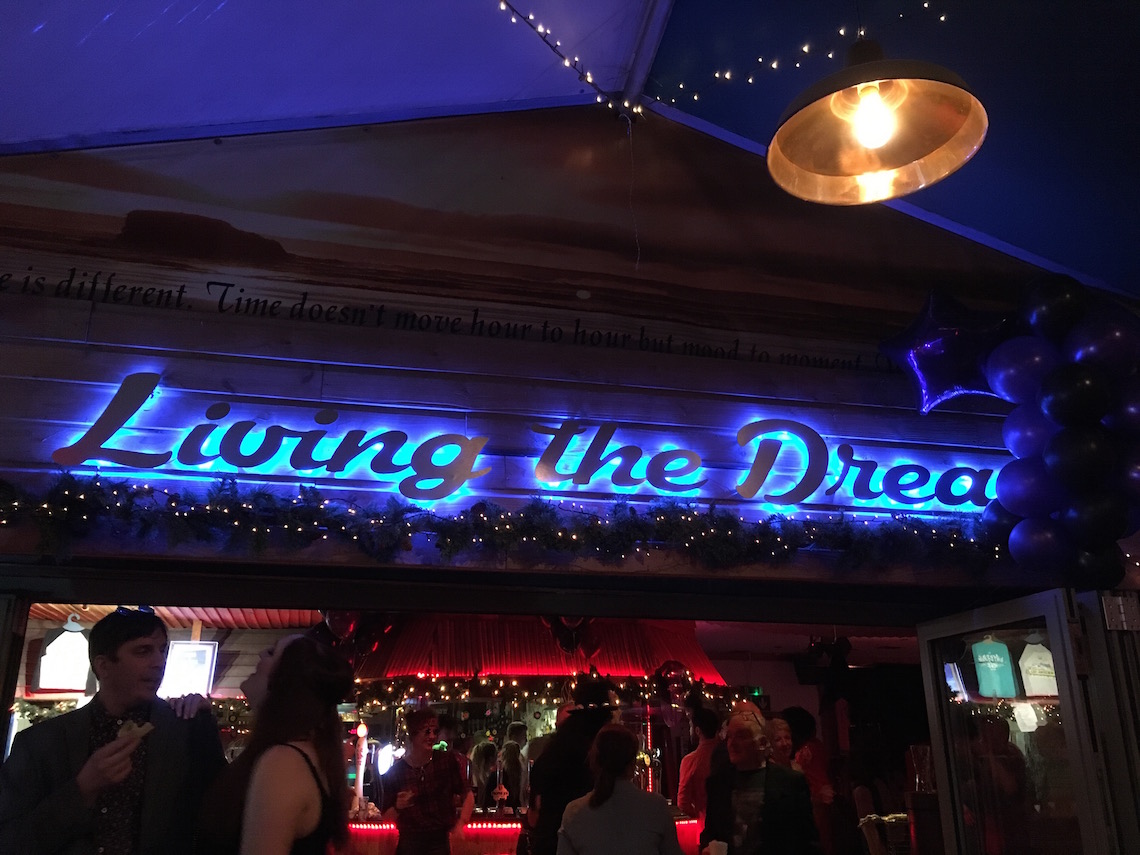 B&B Accommodation
Our Air B&B room in Perranporth was lovely, with views over the garden. We had a really comfy king size bed, Now TV, WiFi and a small en suite bathroom with shower. Alan and Jo thoughtfully provide shampoo, shower gel etc. if you forget to bring your own. There's a cosy lounge with a wood burning stove, while, in summer, I imagine it would be lovely to sit outside on the deck.
Breakfast items, including fresh bread, were laid out for us on the kitchen table in the morning, and we were invited to help ourselves to anything on the top shelf of the fridge. I enjoyed this well-needed, relaxing start to the morning on New Year's Day.
All we had left to do, with regards to Air B&B, was wave good bye to Alan and Jo and their lovely home, review them on the website, and hope to get a favourable one in return.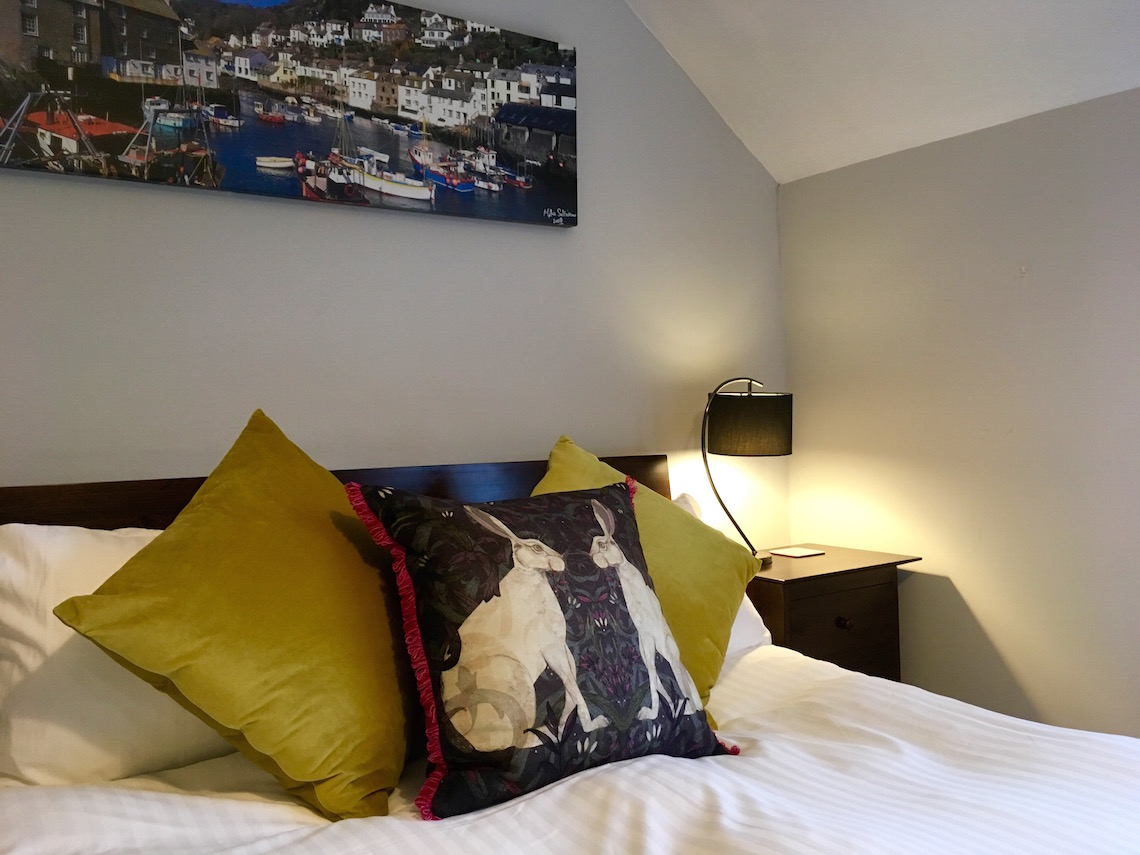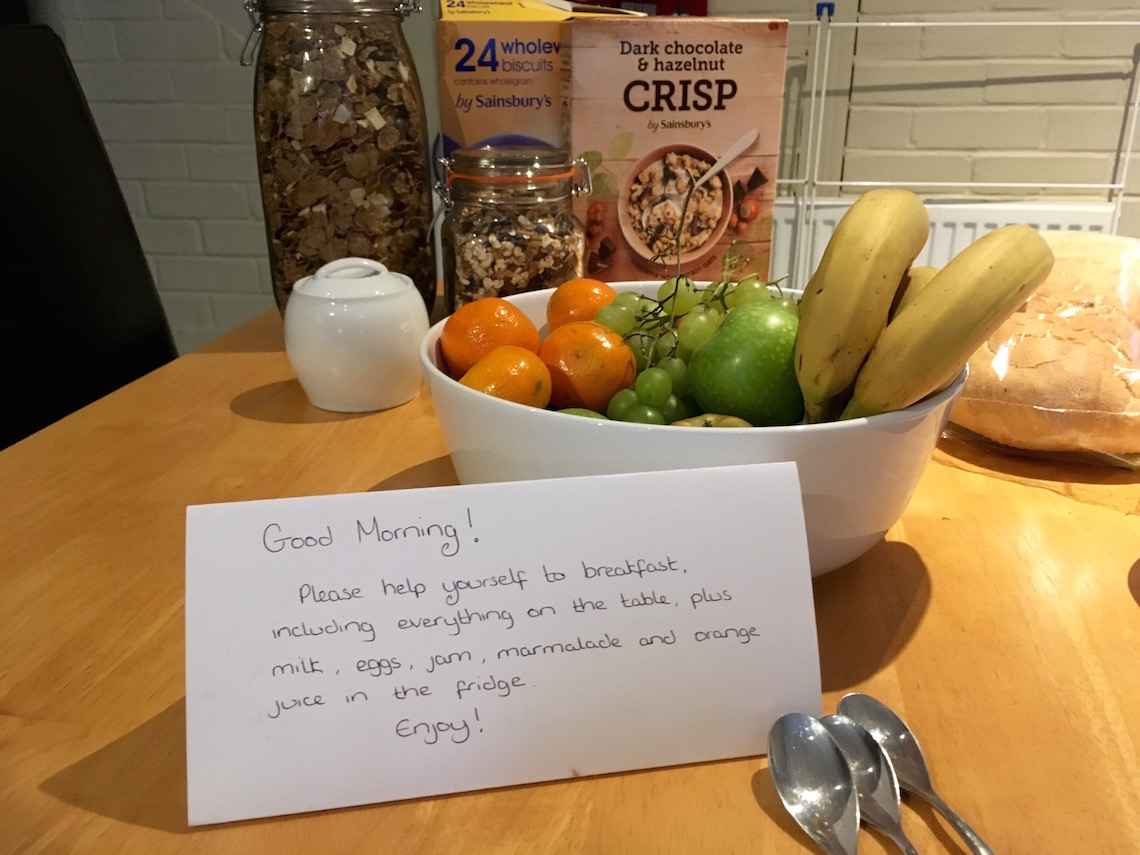 Watergate Bay and Bedruthan Steps
We headed back up the coast and stopped off at Watergate Bay for a walk on the beach. This is another favourite spot of mine. I found breathing the salty air and listening to the waves was a great cure for a fuzzy head. There were a few people walking on the beach, and we watched some kite-surfers playing with the waves.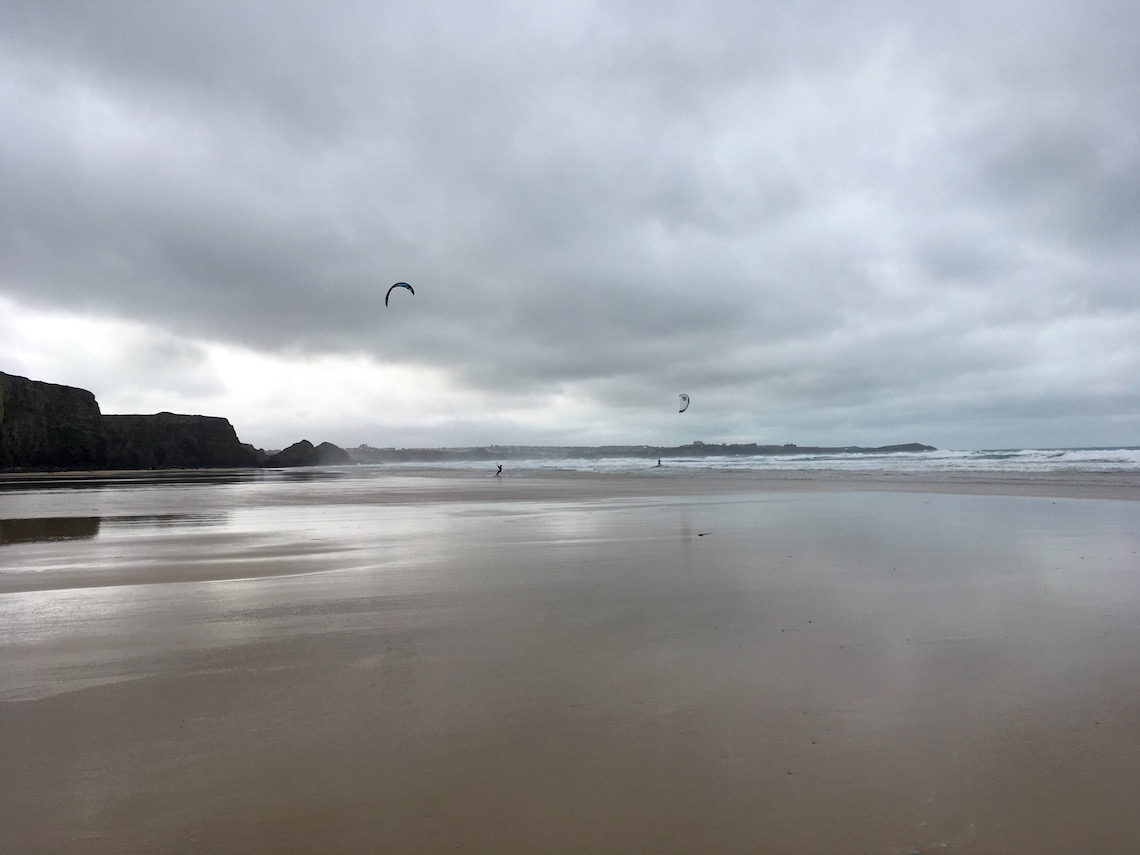 Our final stop along the coast for our New Year stay in Cornwall was Bedruthan Steps. We had lunch in the little Carnewas Tea Rooms. Although we fancied something more savoury this time, they do a great cream tea here.
For a final burst of sea air, we set off along the blustery coast path in our waterproofs. Unexpectedly, we bumped into our Air B&B hosts and shared a bit of the walk with them, before leaving them to go in search of their picnic spot.
The beach steps were closed off for maintenance, which meant the view was even more beautiful with no one on it. This section of the coast is wild and rugged and, in my mind, our equivalent to Australia's Great Ocean Road.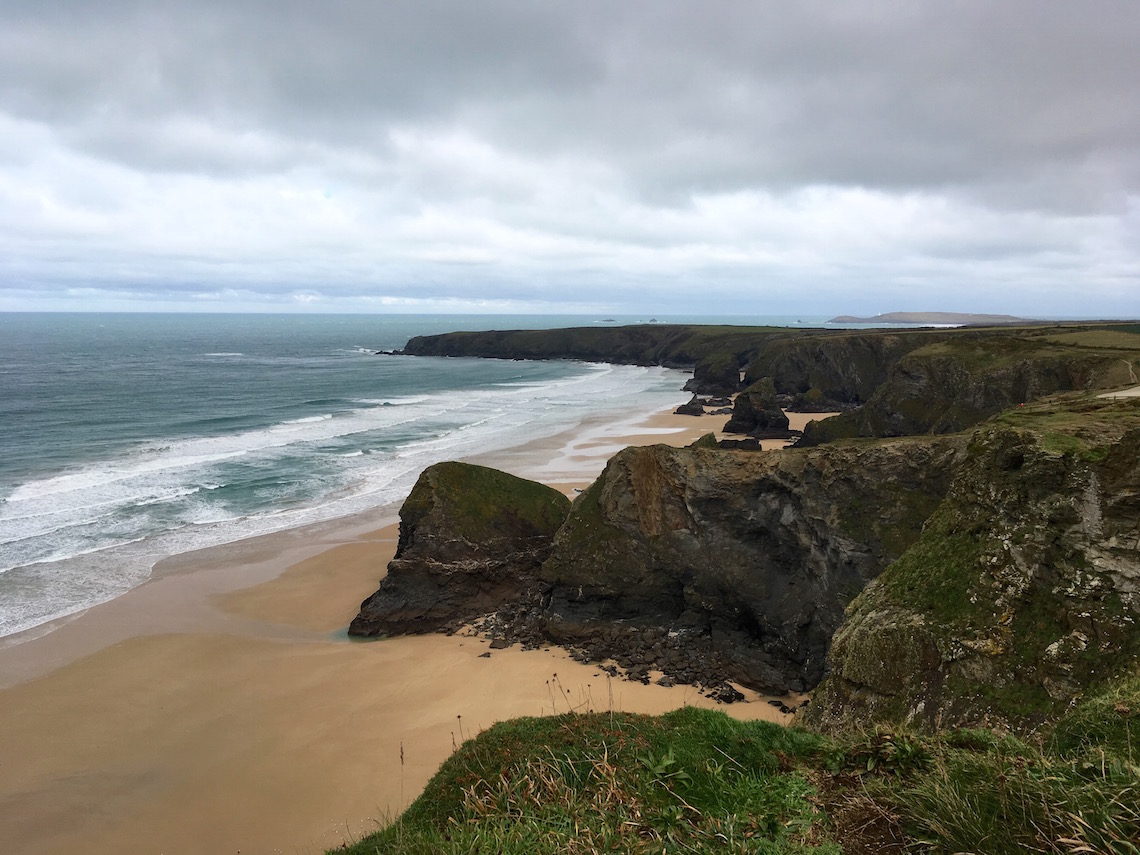 My first Air B&B experience was a very favourable one and I can't wait to book another. It's lovely to be invited into someone's home and be made to feel so welcome. Combined with sea air and beach walks, I couldn't have asked for a better start to 2017.
Have you had any great experiences of Air B&B? I'd love to hear some recommendations.