I've enjoyed a couple of cookery courses this year, and when I saw the range of classes on offer at The Foodworks Cookery School, it was an Indian cookery course that caught my eye. The cookery school is located on the edge of the Colesbourne Park Estate, between Cheltenham and Cirencester, in the Cotswolds.
It's the first time I've been to The Foodworks and it was fairly easy to find. The converted barn was brightly lit and welcoming on a dark October evening. I was warmly greeted at the reception desk with a glass of wine and a Foodworks apron, then ushered through to the kitchen.
Our group numbered eight for the Authentic Curry Kitchen course. Most were men. Most of whom, I discovered, had been bought the course as a present by their wives.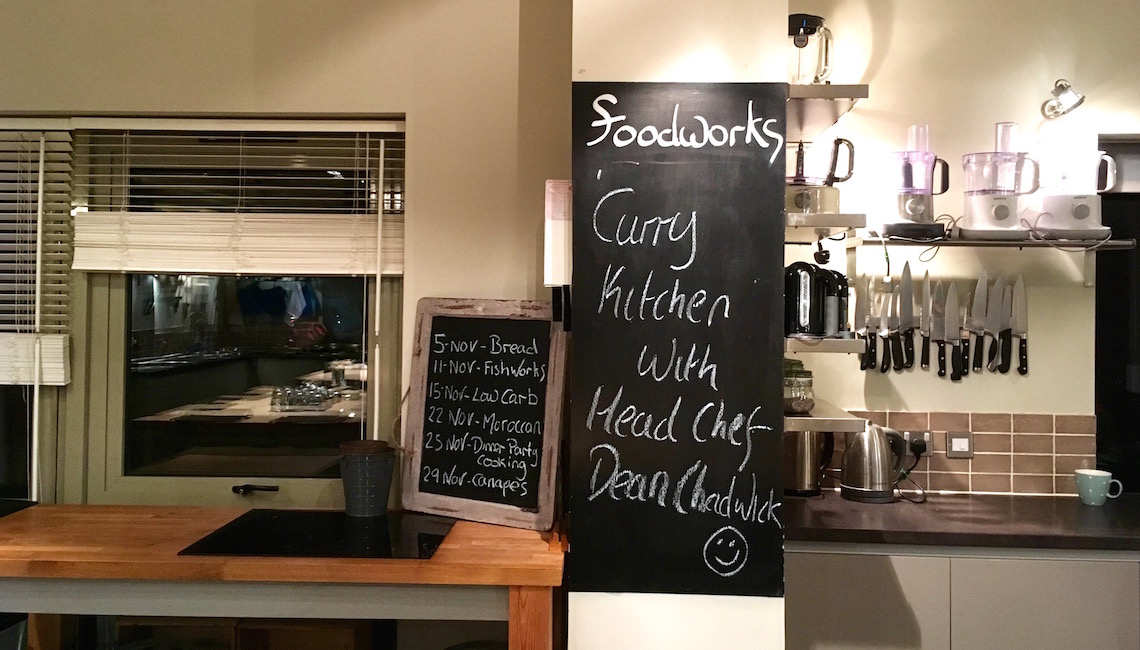 Head Chef, Dean Chadwick, welcomed us to his Indian cookery class. His cooking pedigree included working in Michelin-starred kitchens, before working on cruise ships. While he explained his main speciality is cooking French and British cuisine, it was during his time at sea, he'd learned the art of creating authentic Indian food from the many Indian chefs he'd worked with.
Dean explained this Indian cookery course would be mostly hands-on. He would first demonstrate the dishes on his bench at the front. We would then be set the task of making them. Before this though, he wanted to show us how to make onion bhajis. I love bhajis, so was thrilled we'd be getting a little pre-dinner snack.
He added a mound of sliced onions to a thick paste of chickpea flour, garlic paste, turmeric, chilli powder and salt. The magic extra ingredient he added was asafoetida, which works as a thickening agent to bind it all together. He warned us that this spice, which is essentially dried latex, has an extremely pungent smell, until cooked when it becomes more pleasant.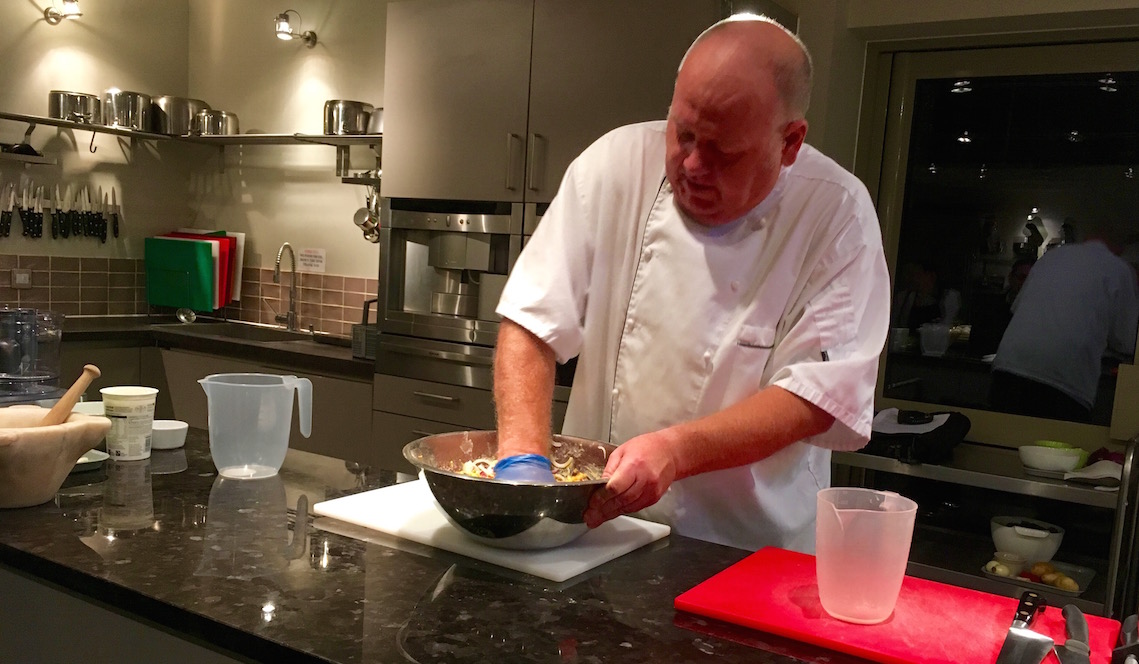 The resulting little onion dumplings were deep-fried until golden brown. We learned that to twice-fry produces the best results. After the first 5-minute fry, they can be left to cool until you're ready to cook again to eat fresh; or they can be frozen, then cooked again at a later date.
To accompany these little, golden, oniony balls, Dean blended up a fragrant coriander and mint raita, with a warming chilli hit. He said if we didn't have time to make the bhajis, just make the dip for dunking with Doritos!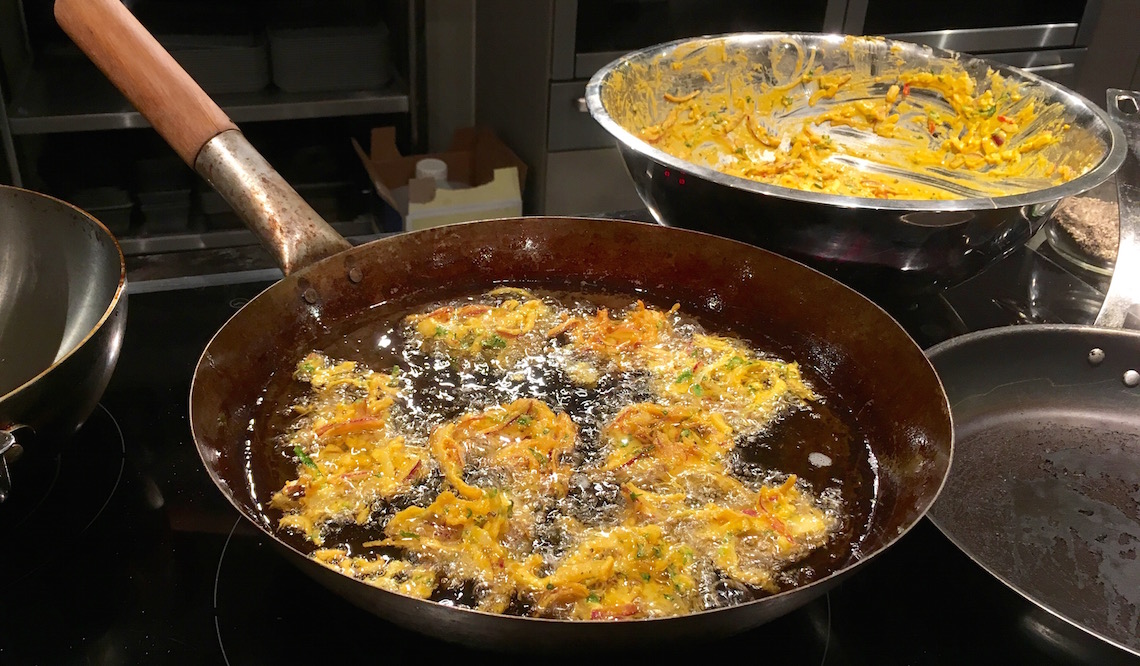 Apparently the secret of a good curry is the amount of onions you use. It's these that thicken the sauce. While we devoured the bhajis, Dean demonstrated a good technique for slicing onions. He also showed us how to make a garlic and ginger paste, by using salt as an abrasive to smooth chopped garlic and ginger with the back of a knife. This was a new technique for me, and a tip I wanted to take home.
We were set to work in pairs to make our 'home-style chicken curry.' While I bashed up cardamom, cinnamon, peppercorns, cumin seeds and star anise with a pestle and mortar, my cooking companion sliced the onions and make the garlic and ginger paste.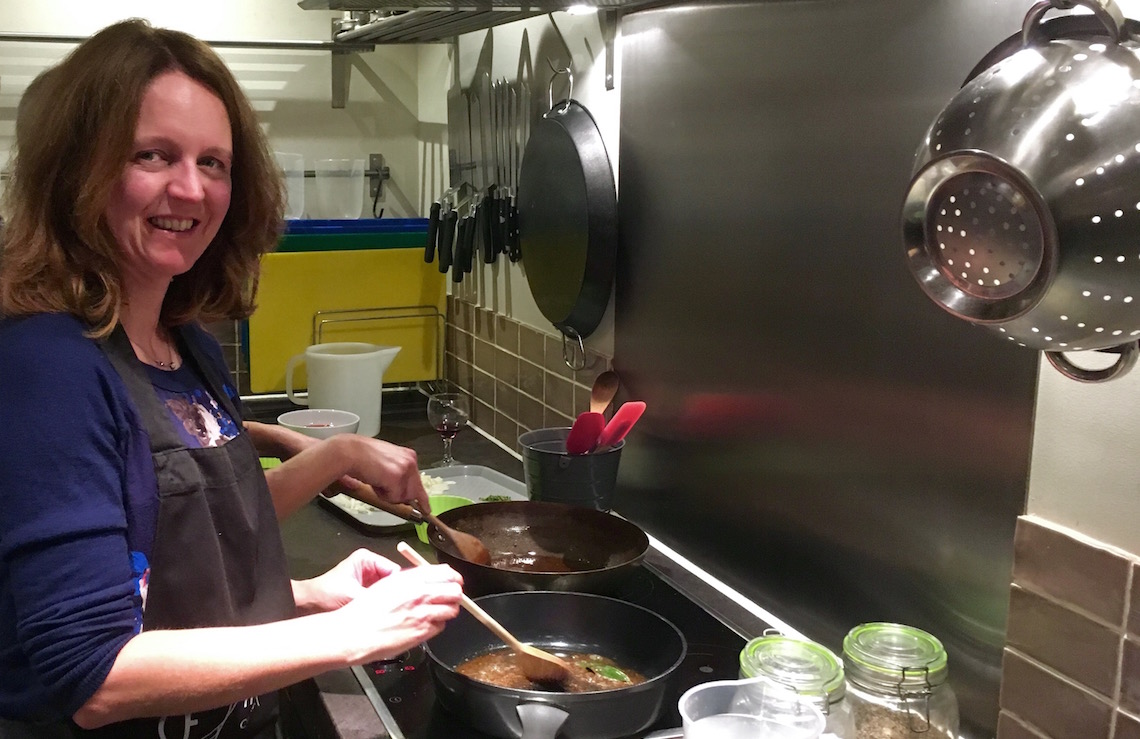 We sautéed my spice mix in a pan before adding a heap of onions, which were left to cook slowly until golden. We then added more ground spices, the garlic and ginger paste, and chopped tomatoes. Once this became a lovely, thick sauce, we added cubes of chicken breast and left to slowly simmer. Dean explained we'd get even more flavour by using meat cooked on the bone.
While our curry was gently bubbling, Chef demonstrated how to chop our ingredients to make a Sag Aloo. Joining forces with another pair, we chopped onions, garlic, ginger, potatoes and a red chilli. This was prepped to simmer in another pan for about 10 minutes, to which spinach was added until just gently wilted.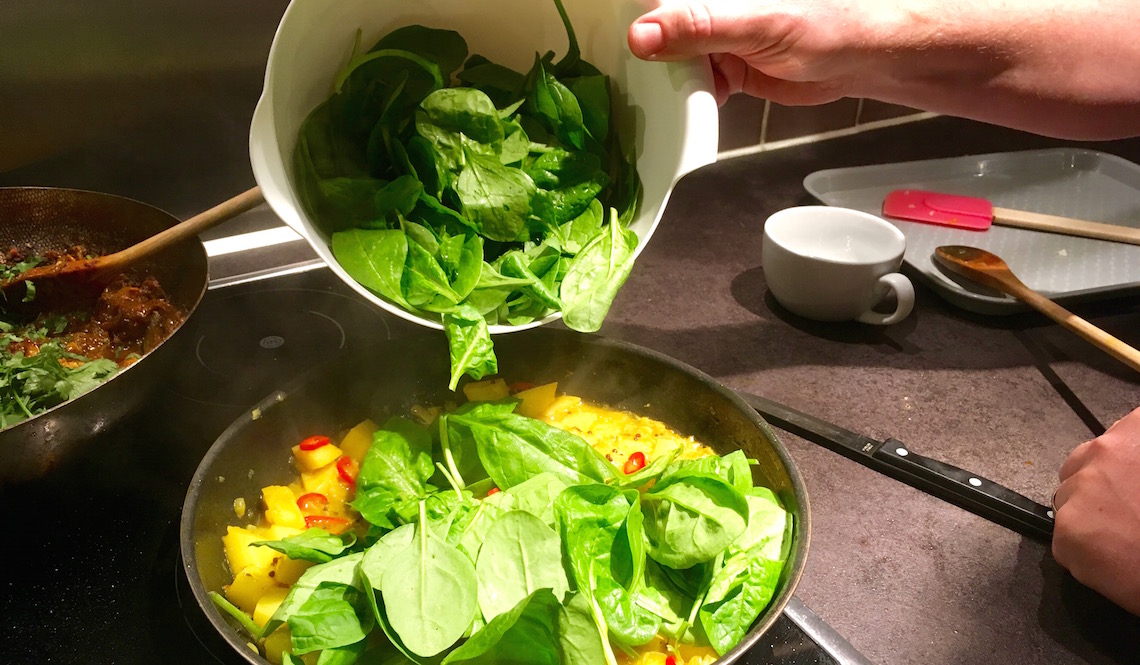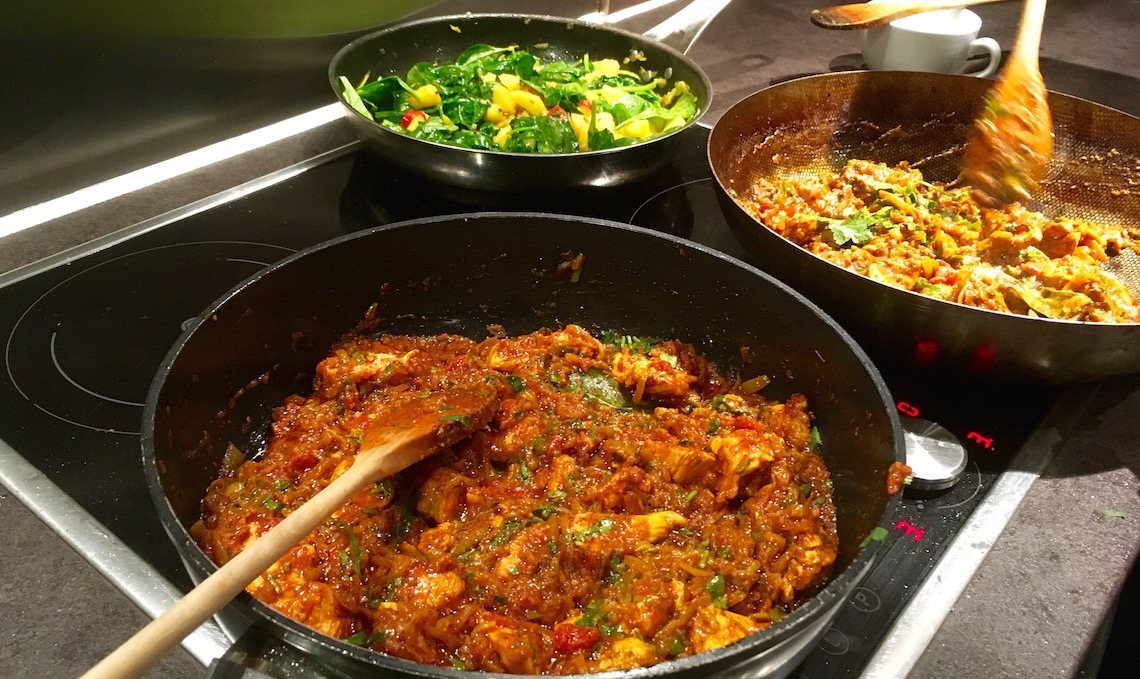 The final demo was how to make Pilau rice. Dean had soaked basmati for a few hours during the afternoon to soften the husks. Now, he sautéed cloves, cardamom and a cinnamon stick until aromatic. He then stirred the drained, soaked rice into the fragrant oil, before adding double the quantity of water. He brought the water up to the boil, added a lid and turned it right down to the lowest setting, until the water had absorbed into the rice.
When the chicken curry was almost ready, we added a little garam masala and chopped coriander to the pan.
Now all we had to do, to finish off our Indian cookery course, was serve and enjoy.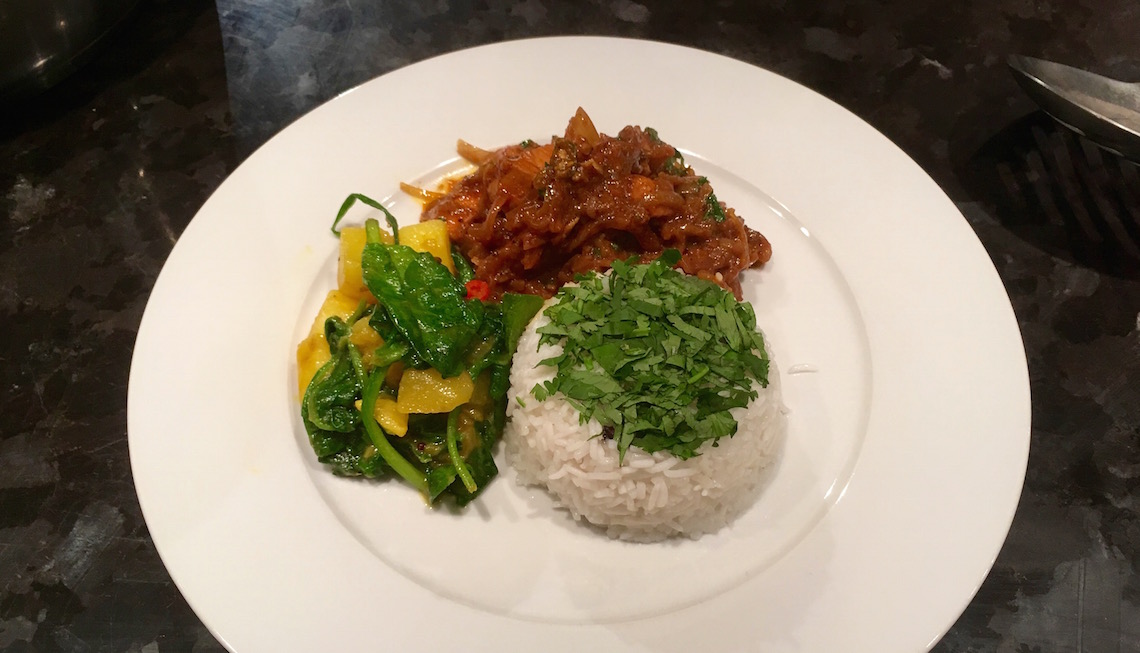 The chicken curry we learnt to make was truly delicious. It tasted just as good as a restaurant dish. The sag aloo was fresh and vibrant with chilli. We all agreed that the only thing missing was a cold beer, which, considering most of us had to drive, was somewhat wishful thinking.
I left feeling I'd learned a lot from this Indian cookery course  and gained some great tips, which I'll definitely put to good use. Let's hope all the wives who'd bought the course as a gift, would feel they'd got great value for money too when their husbands returned home with their new curry-making skills.
The Foodworks Cookery School offers a whole range of cookery courses from Asian Streetfood to Wholefoods. There's some lovely accommodation options nearby if you want to make a whole weekend of it and enjoy exploring the Cotswolds.