"Snow-clouds of elder-blossom banked in the sky, showering upon me the fumes and flakes of their sweet and giddy suffocation. High overhead ran frenzied larks, screaming, as though the sky were tearing apart."

From Cider with Rosie by Laurie Lee
Gloucestershire Wildlife Trust designed the Laurie Lee Wildlife Way to commemorate the 100th anniversary of the birth of Gloucestershire's most famous 20th century author. Their 5-mile trail takes a circular route around the beautiful Slad Valley, which has become immortalised in the words of Laurie Lee. It links four nature reserves and is dotted with ten poetry posts, each featuring one of Lee's poems.
In advance of the official opening, I pulled on my walking boots, grabbed my waterproofs and made some cheese and pickle sandwiches to join the Trust's celebration walk. Our 6-mile circular walk was a variation on the official walk and began at Hawkwood College, perched on a ridge above Stroud.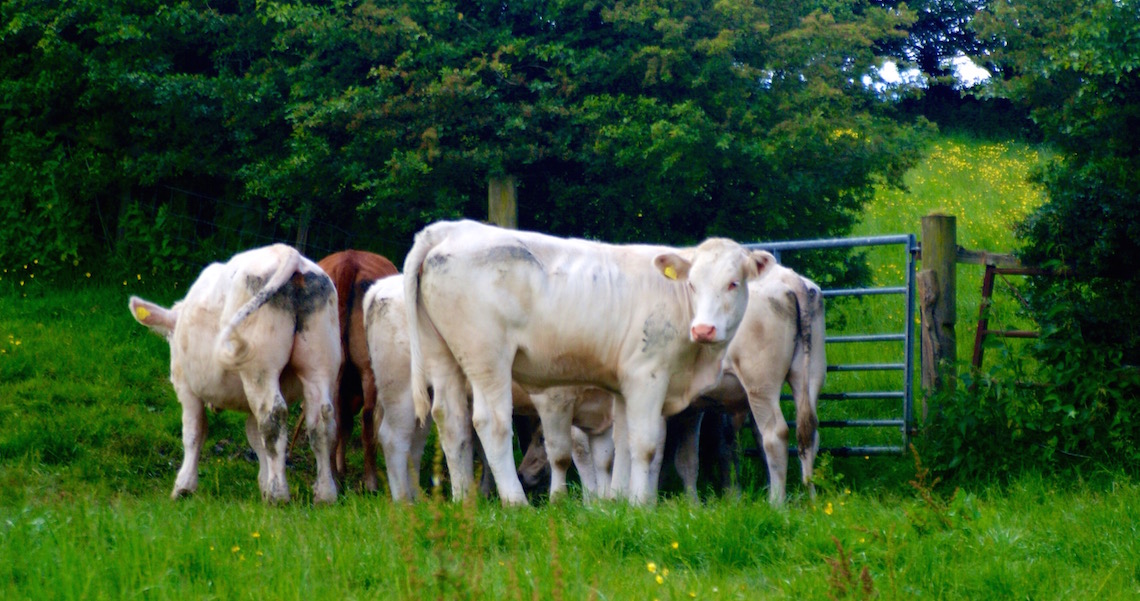 The sun shone and we made our way up Wickridge Hill and up into Worgans Wood, home to some glorious beech woodland. Into Frith Wood and I was glad I'd put my walking boots on due to the soggy mud and puddles along the path. Frith Wood features in Cider with Rosie and is one of the Wildlife Trust's nature reserves. The tall, perpendicular beeches are around 200 years old. A fresh, woody smell permeated the air and the birds sang from above.
Here I had my first glimpse of one of the cedar-wood poetry posts inscribed with April Rise. A member of Churchdown Players, dressed in the times of Laurie Lee's childhood, read the poem to us, adding to the atmosphere of the woodland, "…If ever I saw blessing in the air I see it now in this still early day…"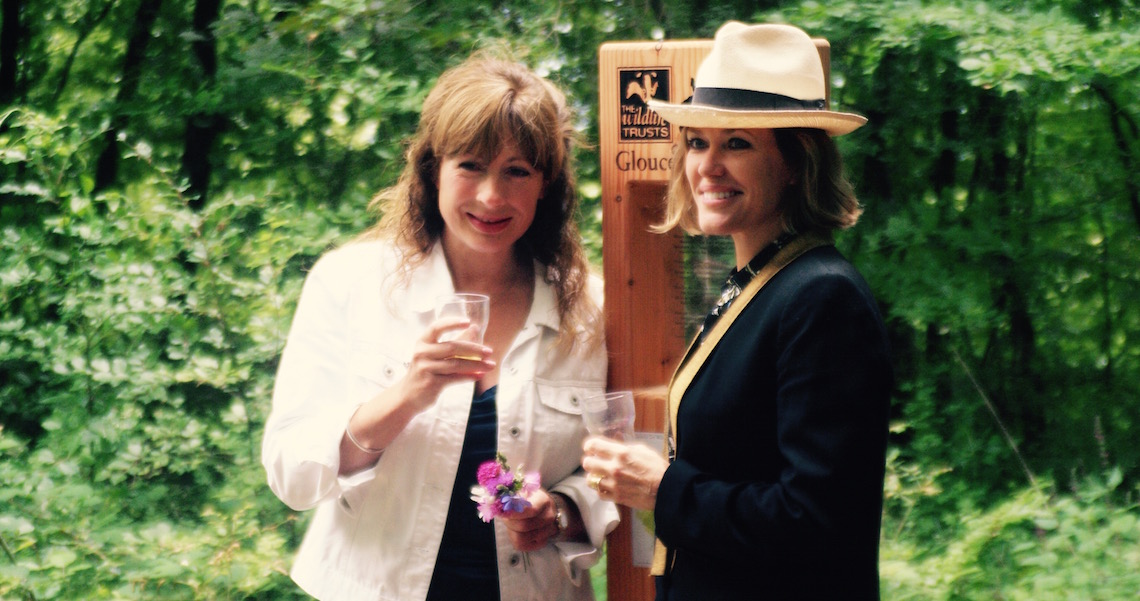 Heading down and out of the wood, we crossed the Slad Road by the war memorial. Fitting that it commemorates soldiers from the First World War, whose 100th anniversary matches that of Laurie Lee.
Passing some cute pigs, who enjoyed their ears being scratched, a rippling mill pond and heading through a buttercup field of shy cows, we were on the up again. This time the reward was a fantastic view across the valley to the village of Slad, and a farmer's young family serving up thirst-quenching elderflower cordial.
Here was a good place for those cheese and pickle sandwiches. Leaning against a wall by an elderflower tree bursting with flowers, with swifts swooping and darting above grazing goats and horses. Away from civilisation as we know it, it makes it easier to imagine what life must have been like during Laurie Lee's childhood.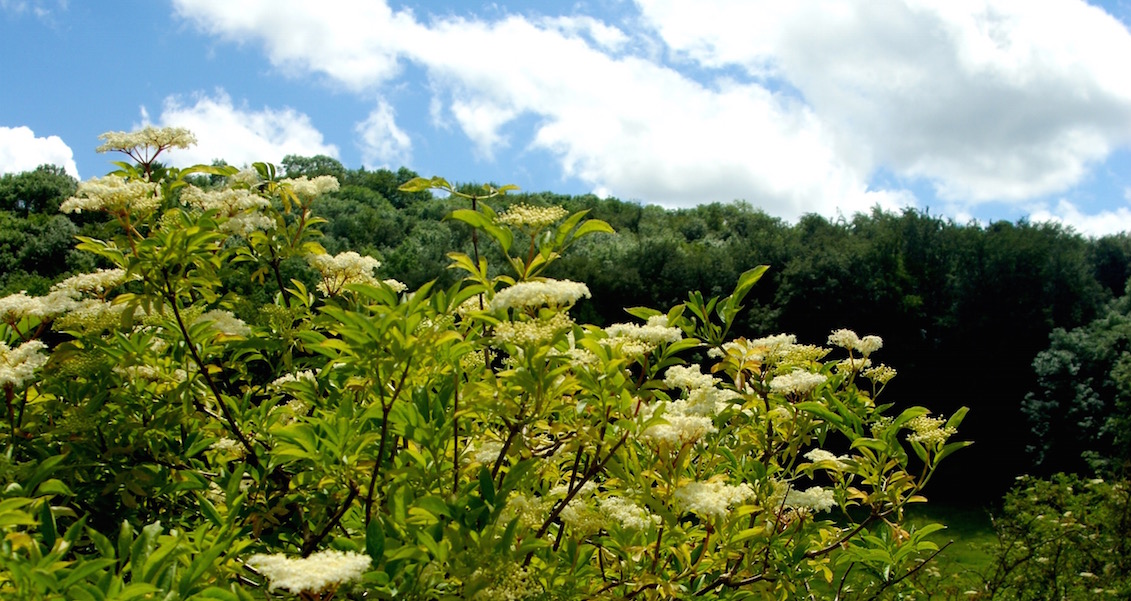 A winding path took us into Laurie Lee Wood, opened in 2013 by his widow and daughter. This ancient wood dates back to 1600 and contains a mix of ash, beech and yew. A comfortable-looking bench was an ideal resting place and a hole in the canopy gave a lovely peephole view across the valley to Slad. Another poetry post, The Wild Trees, rests in this wood and we listened to the poem read by a lady who looked like she'd stepped right out of Cider with Rosie.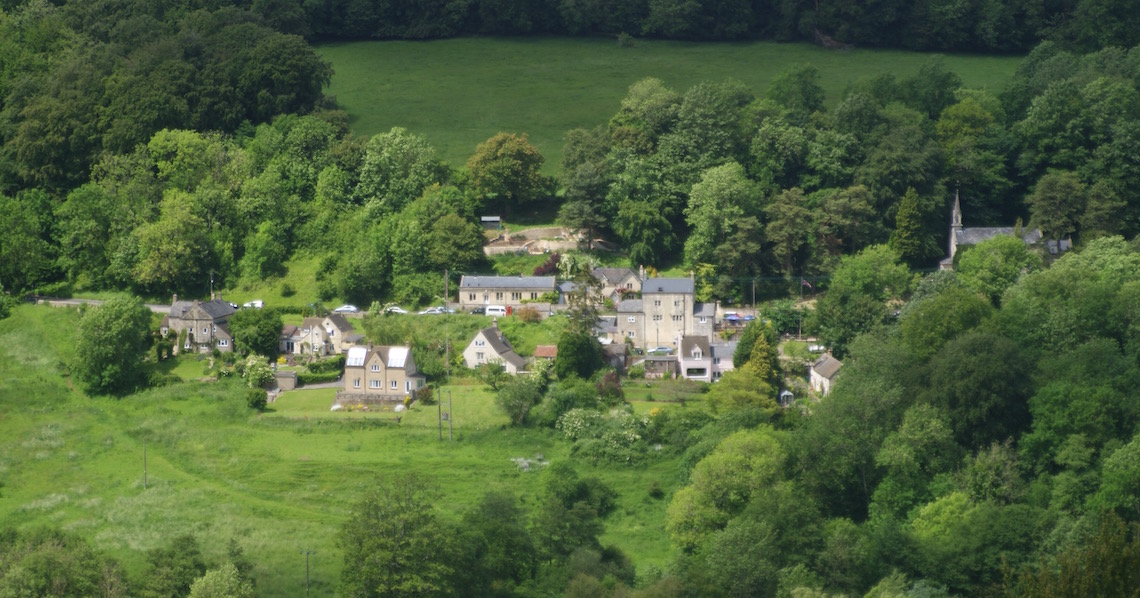 The ascent to Swift's Hill was certainly worth the effort. Wild grasses and flowers swayed in the breeze and fluffy clouds littered the sky. A different view of Slad village included the roof and spire of the church, Laurie Lee's final resting place. Looking south-west opened up a vista stretching towards the River Severn. Here was a good place to rest and enjoy the view with the final poetry reading Field of Autumn.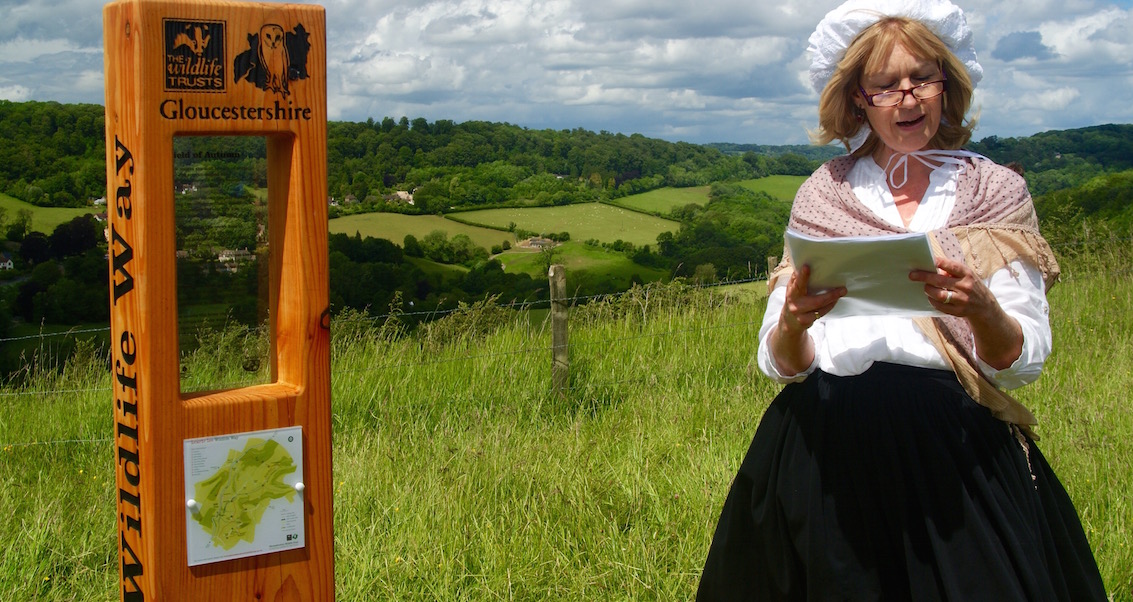 A small group of children and their docile Doberman performed a short extract from Cider with Rosie. A nostalgic glimpse back into childhood of another era, with no iPads or PlayStations in sight.
The sharp descent of Swift's Hill showed why this is one of Gloucestershire's most important wildflower habitats. Purply-pink fragrant orchids dotted the grassland and tiny common blue butterflies grazed on mineral salts.
At the bottom, another treat was in store. Painted on wooden fence posts surrounding a field, were hand-drawn pictures of badgers dressed to represent all walks of life. These lovely pieces of art represent a peaceful protest against the badger cull. Among the varied pictures were a wedding couple, a cyclist, ballerina and artist, not forgetting the one dressed in full combat gear. A visual representation of how we are invading the world of these native creatures, and not the other way round.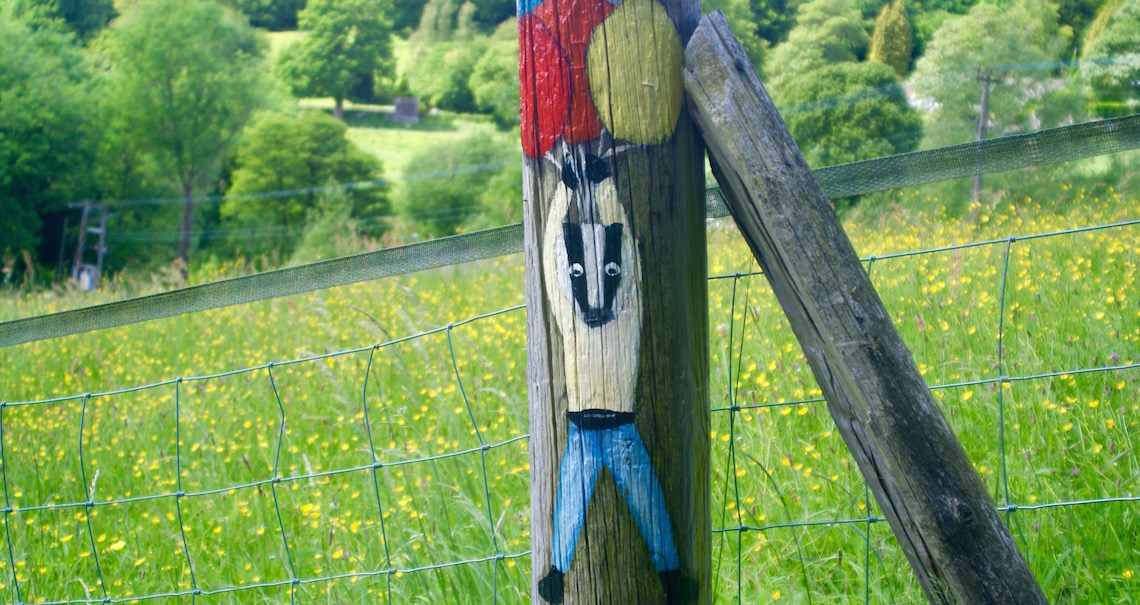 Crossing back over the Slad Road, we headed back up to Worgan's Wood and back to Hawkwood College to collapse on a hay bale for a well-earned drink. Gazing down the valley towards Stroud, a torrential downpour was edging its way towards us. Time for a hasty retreat to the car as the first drops of rain started to fall. A poetic end to a poetic day.
Find out more about Gloucestershire Wildlife Trust's Laurie Lee Way